The biggest, most detailed Spotter Guide produced, the 2013 edition of the 24 Heures du Mans, sponsored by Nissan, is now online to download. Version 1 of the guide is available for those travelling to the event for Scrutineering. The guide will then be updated early next week, so pop back them if you don't leave for a few days.
The Nissan 24 Heures du Mans Spotter Guide is bigger than ever with an extra resource page with circuit map, current WEC points, timetable and useful links. On the main guide pages, we have the usual car and team info, including Tyres, Fuel, Class and Engine. New for 2013 are FIA/ACO Driver Grading icons and Le Mans garage numbers.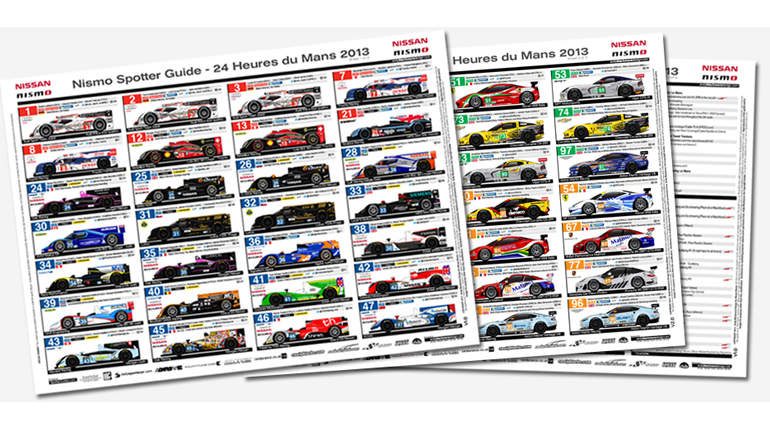 The guide is available in three formats, a large Three Page A3 Style guide for large printing, desktop and larger tablet use in PDF or JPG, or a Six Page A4 version for A4/Letter Home printers and mobile use. All versions have the same amount of info.
Thanks to Nissan for their sponsorship of the guide and ongoing support from all our partners including RadioLeMans and DailySportscar who have been with the Spotter Guide since the beginning. You can download the guide at SpotterGuides.com