The so-called 'off' season has been anything but here. My first 2020 livery comission came in early September with various discussions months before that and there has been no let up since.
My first full weekend off will actually be the weekend of the Rolex 24 when I'll be miles away from Daytona watching from BC, Canada.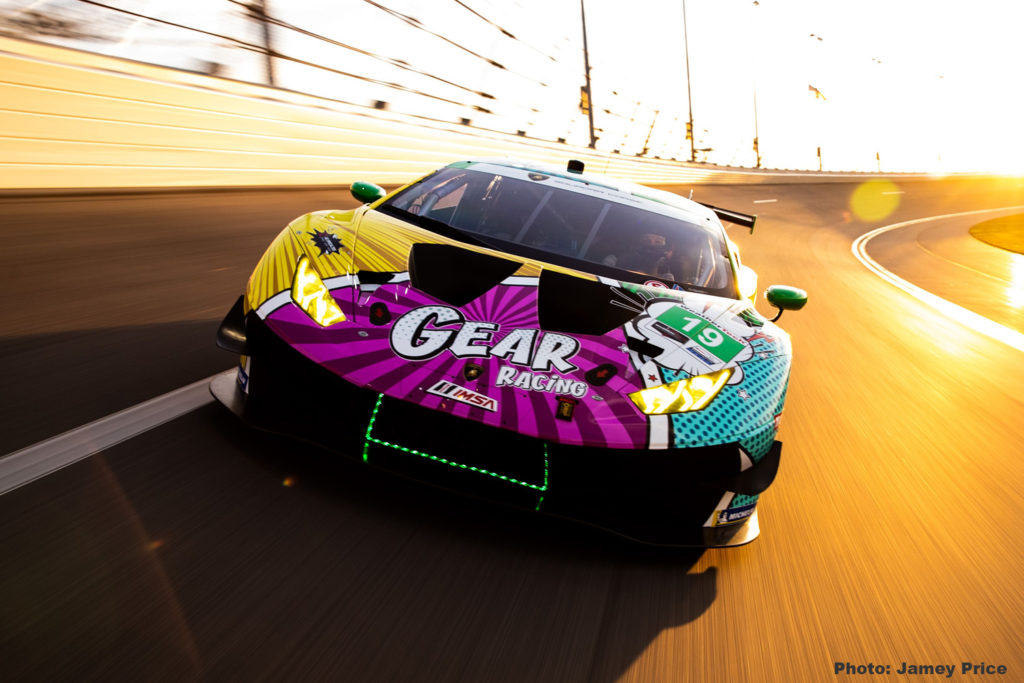 It has been a great year so far and I will endeavor to update the website more often in 2020, but for now a quick over view on the various liveries and art at the Rolex 24.
WeatherTech Liveries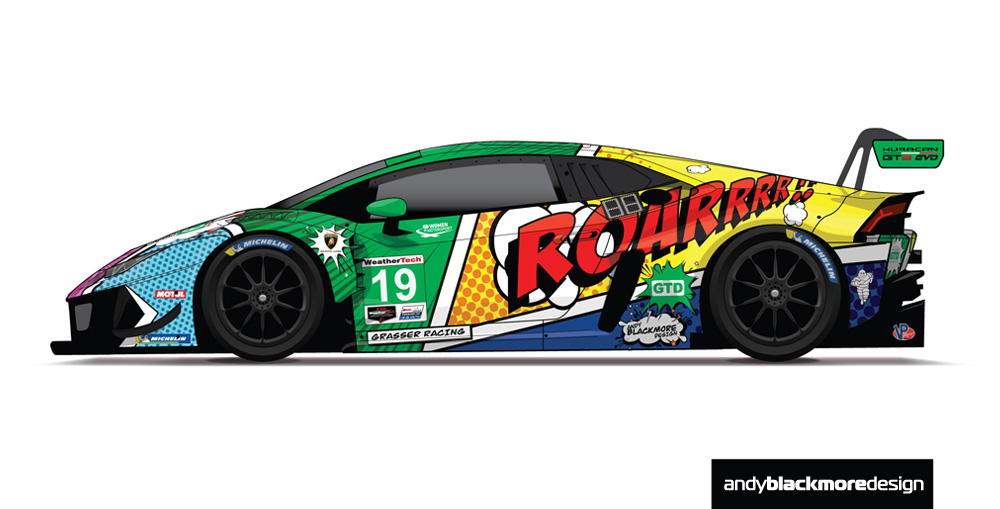 GEAR Racing powered by GRT Grasser
I have worked with GEAR's Mark Ruggieri on a number of sponsorship proposals in recent months. Just before Christmas, the team decided to make a big entrance at the ROAR with a one off livery. I had two days to pull something together, if I was going to accept the challenge.
To be honest, I was already overloaded, but I've had an idea for a Pop-Art style 'Art Car' for a few years, but as its not very corporate friendly, there was never the right opportunity until now.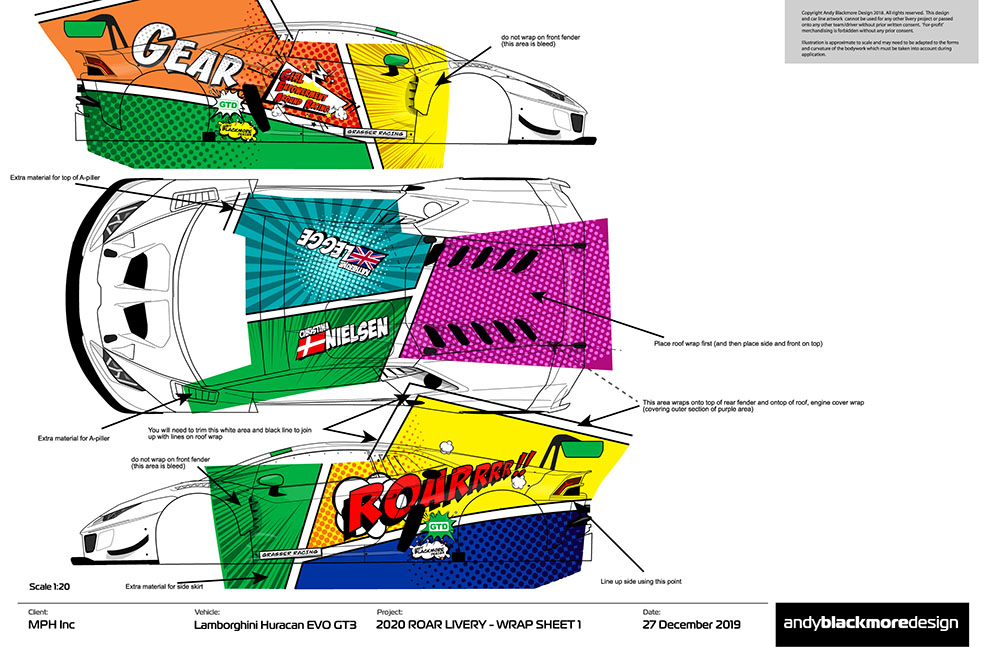 I spent Christmas Eve designing this and sending back and forth between Mark and driver, Katherine Legge. I had the basic design approved and then had a day to clean up and pull everything together.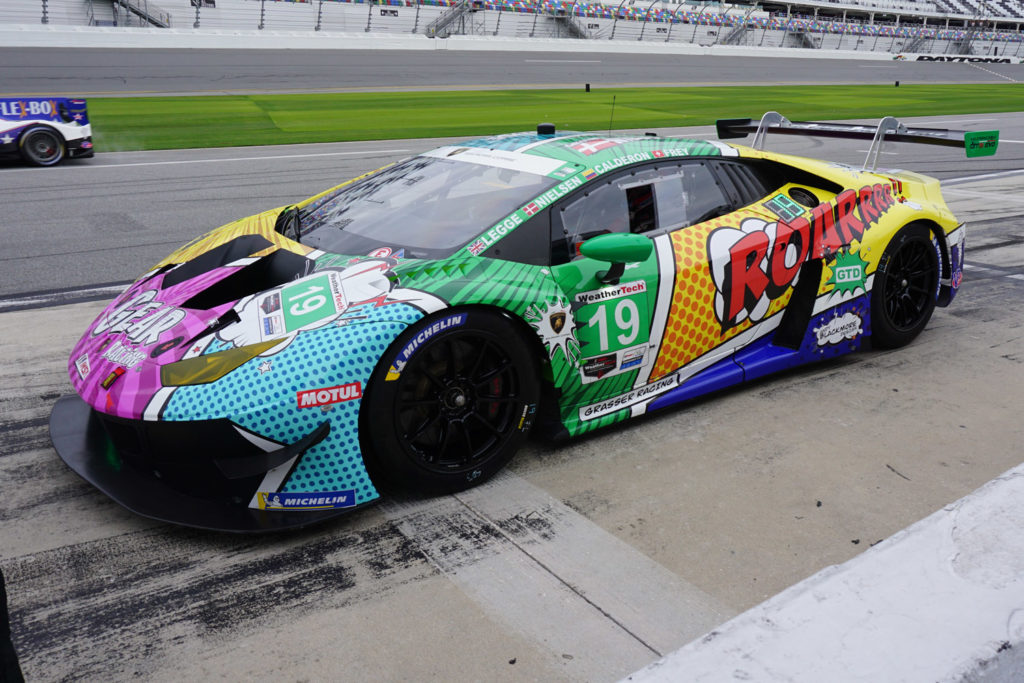 Come the 27th, all files were complete and off to the installers who then printed and wrapped it before the end of the year, enabling the team to make an enterance at the ROAR!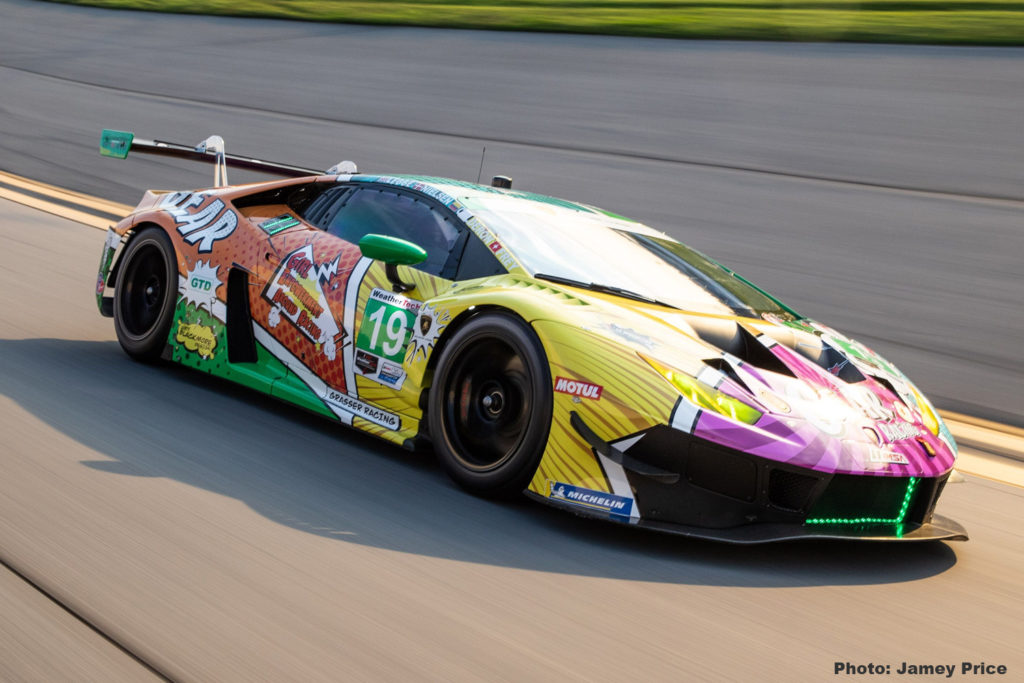 The design was so well received (phew!), we have decided to keep it for the year, with modifications as we go along. It was a big fan favourite at the ROAR and I'm sure that will continue throughout the year.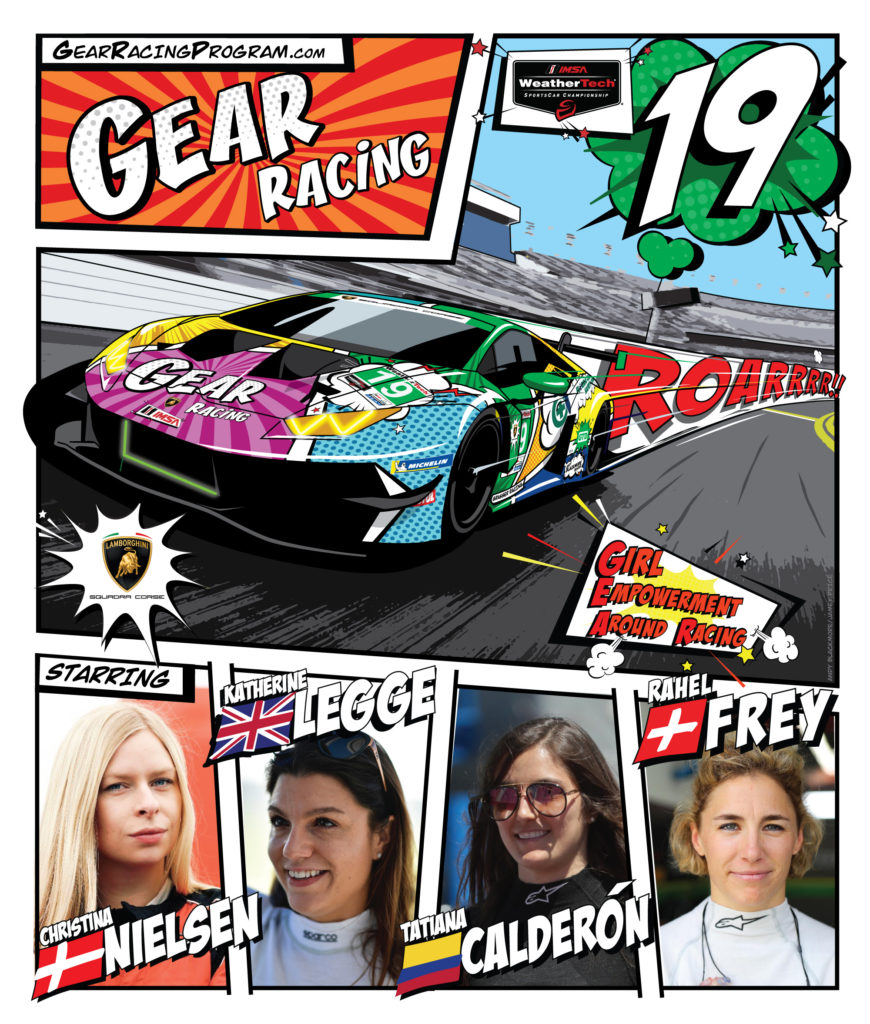 I also had the opportunity to produce some supporting art including Hero Cards for the ROAR and the Rolex24.
A fun project!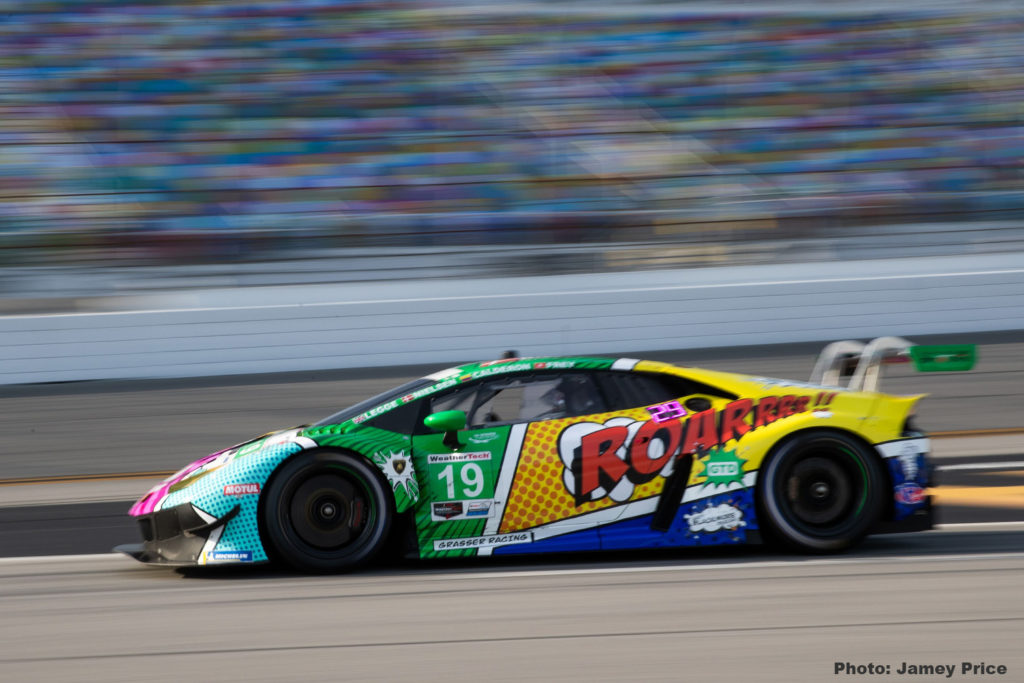 Marshall Pruett published a great article with Katherine about GEAR racing and its plans here. Its worth a read!
A full portfolio post on this livery shortly.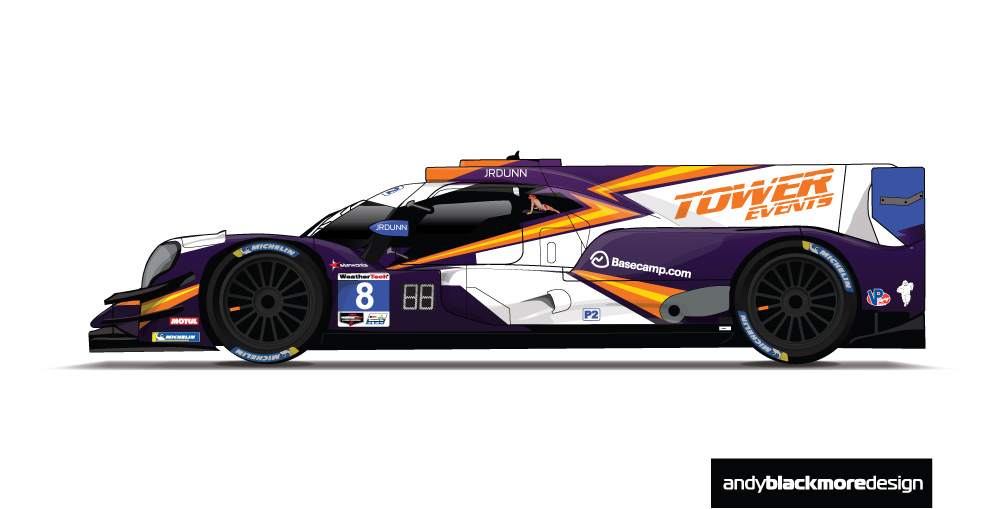 Starworks Motorsport
Peter Baron of Starworks contacted me just before Christmas for a livery design for his new Oreca 07. Peter had already chosen the deep Purple metallic and with his primary sponsor, Tower Events using Purple and Orange, the base livery was set.
I sent a few ideas over and he choose a vibrant graphic I had previous proposed on another chassis. Already good to create a livery for a Prototype. Can be quite the challenge.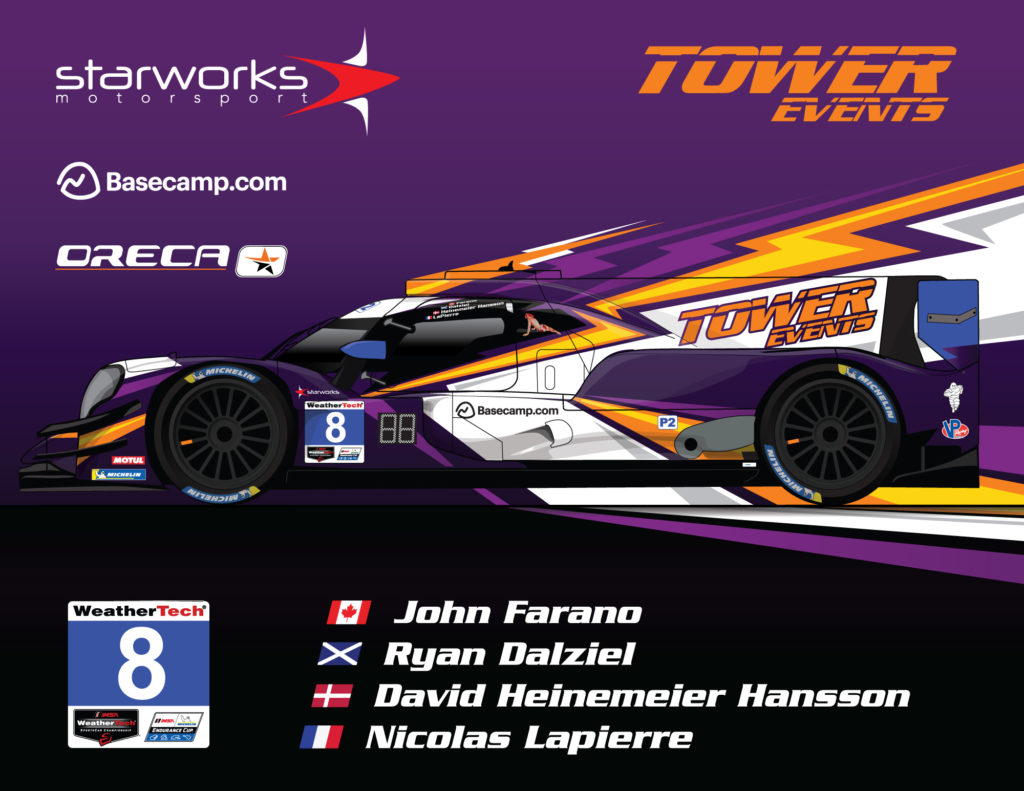 Another team where I was able to produce a Hero Card, the livery differs a little here as this was created before the car was wrapped.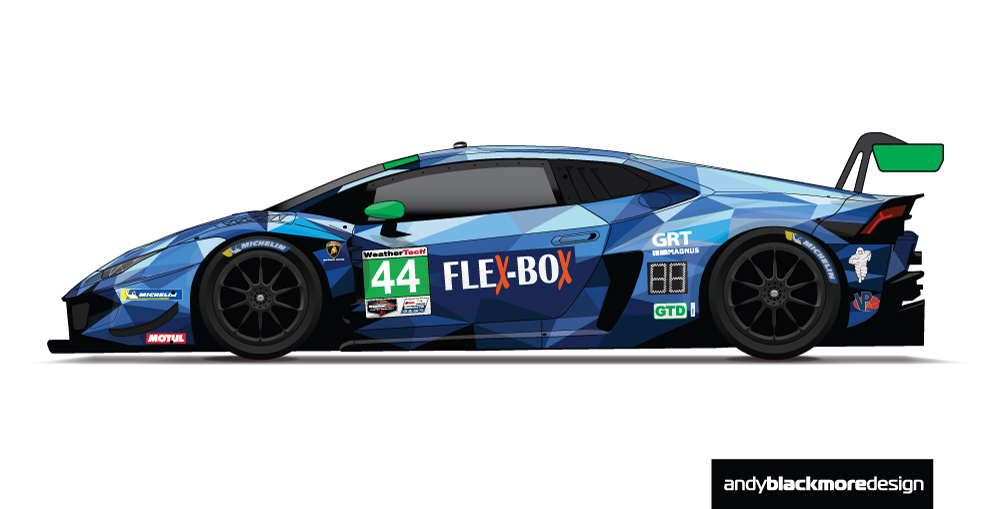 GRT Magnus
I have a long relationship with Magnus Racing and with its realignment to Grasser Racing and I was asked again to produce a livery.
As with previous years, the colors changed during the project and while this started off with Grey, Black and Green and then Blue hues, the final design ended up with a variety of blues.
The design is based on triangles, called 'facets' which is a relatively new illustration style in Graphic Design.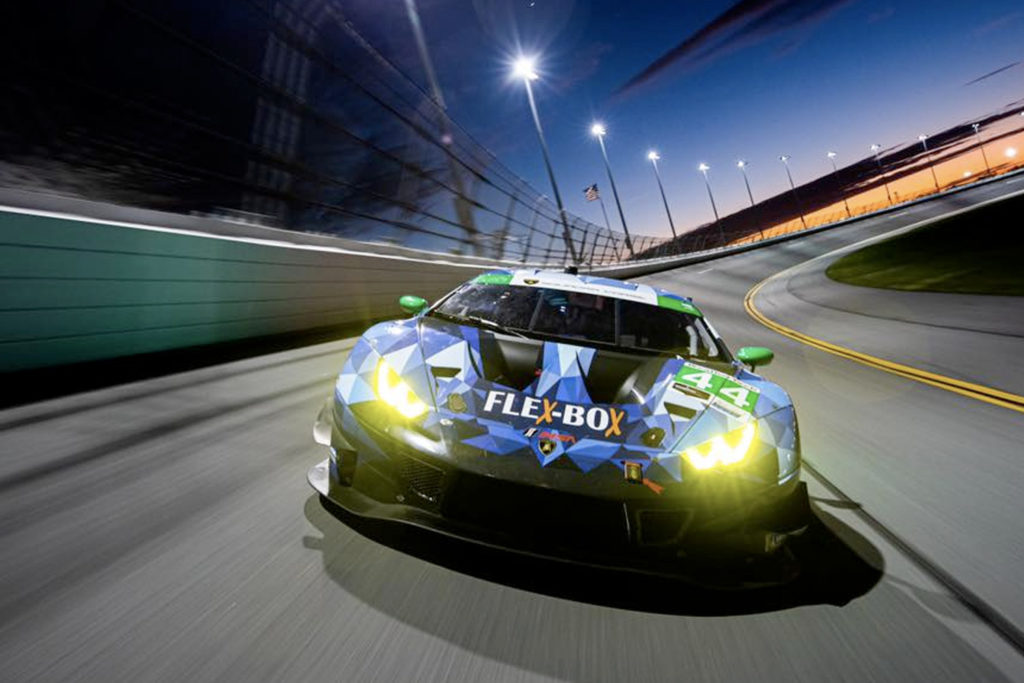 I've previously used this affect on an Audi R8 a couple of years ago. With the color change, the Lamborghini has ended up similar, but the hard geometric lines of the Huracan work perfectly with this design.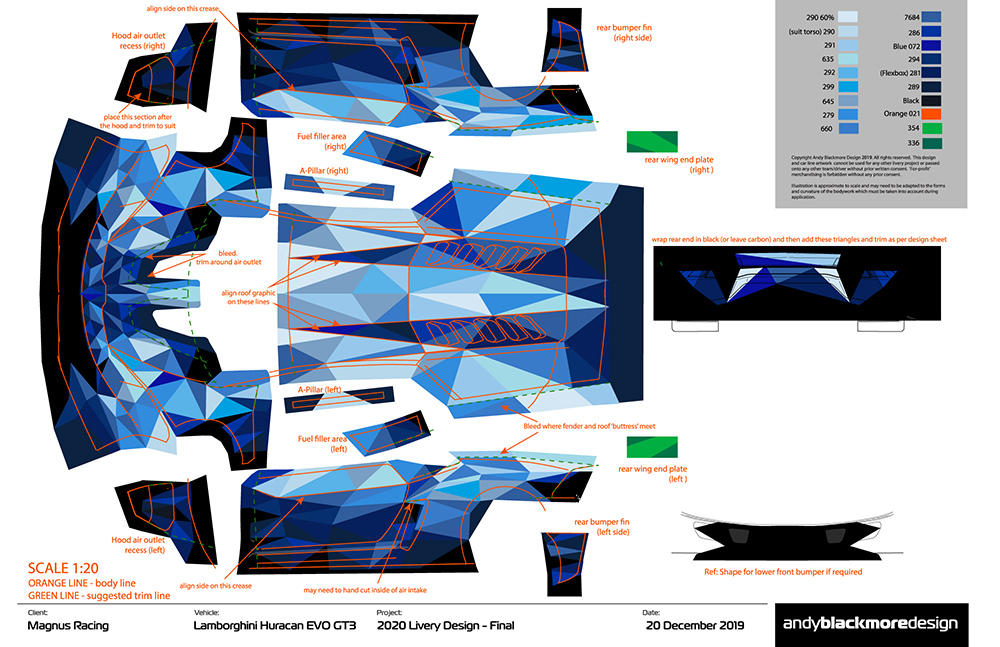 The wrap installers did an amazing job given the time constraints and accuracy required. I also designed the team's race suits.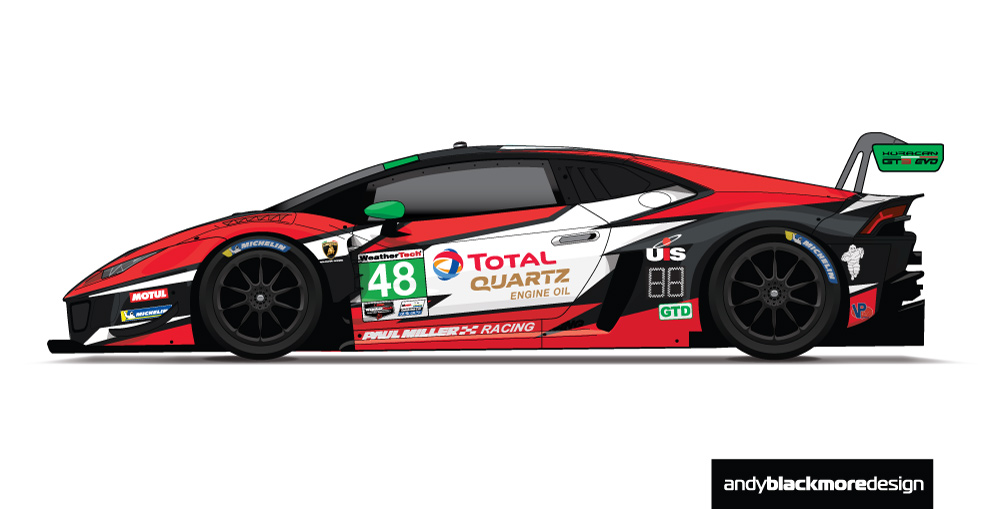 Paul Miller Racing
My first project for Paul Miller Racing was last year with their 1st Phorm livery which was received well. 2020 saw a return to the Red and Black base and the return to TOTAL as main partner. The team wanted to revisit this previous coloration and create a new look.
The original proposal, used white panels as shown, although for Daytona, the team have opted to go with a chrome look.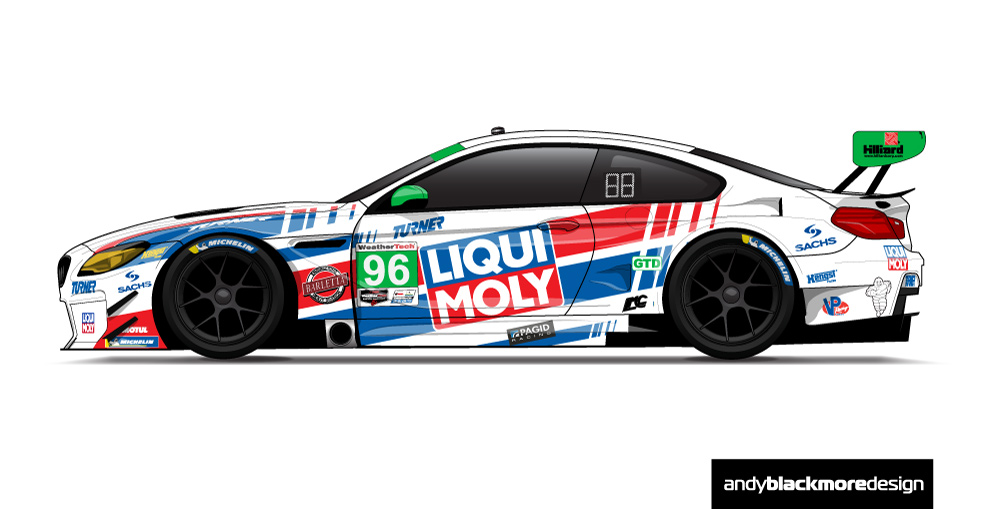 Turner Motorsport
A long term client, I'm able to produce most of the team's liveries and while we had a killer concept (which might see the light of day at a later date), Liqui Moly became title sponsor for their GTD entry in the WeatherTech series for the Rolex24 so this design returns.
Michelin Pilot Liveries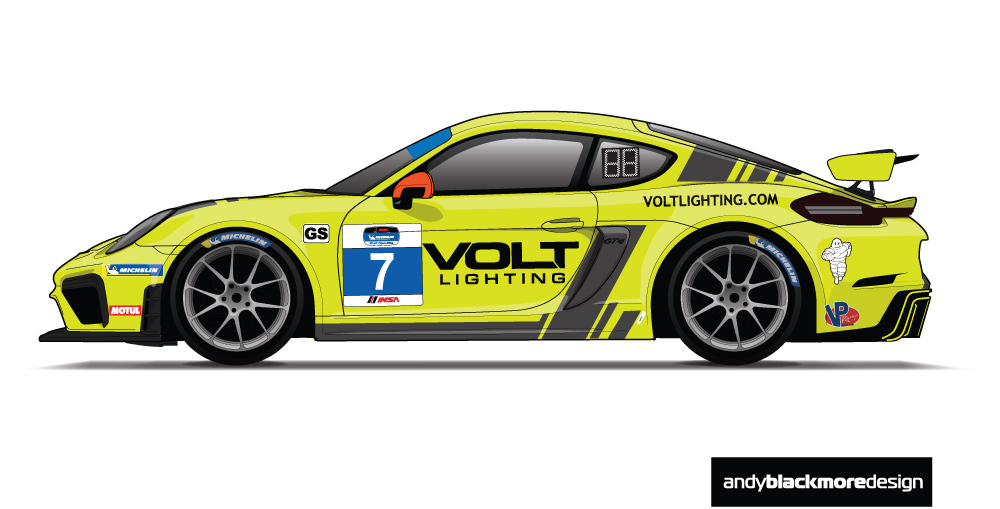 Archangel Racing
VOLT racing will be run by Archangel Racing for 2020, but the vibrant yellow livery remains!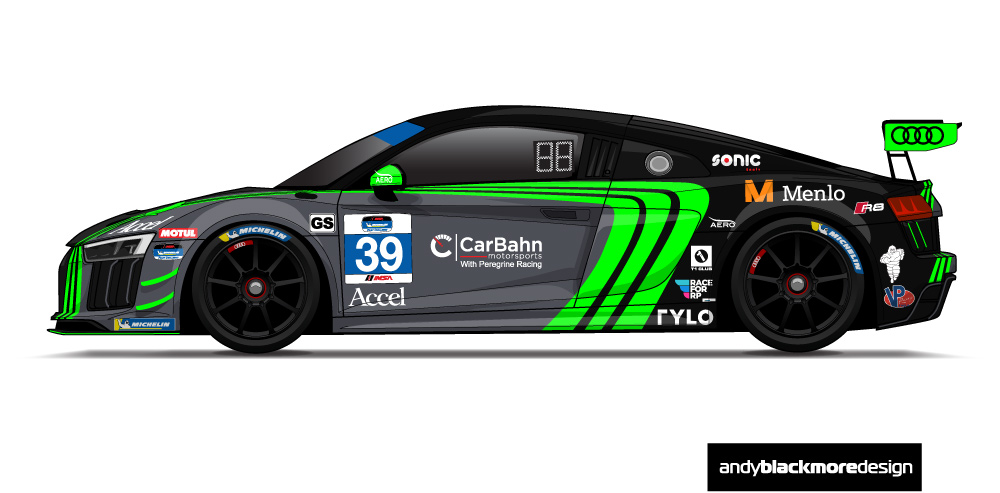 CarBahn with Peregrine Racing
Current IMSA Michelin Pilot 'GS' Champions, CarBahn with Peregrine also return with their livery for the start of the 2020 season at Daytona. The team will receive their R8 GT4 Evo with revised bodywork shortly and an updated livery will be used for Sebring.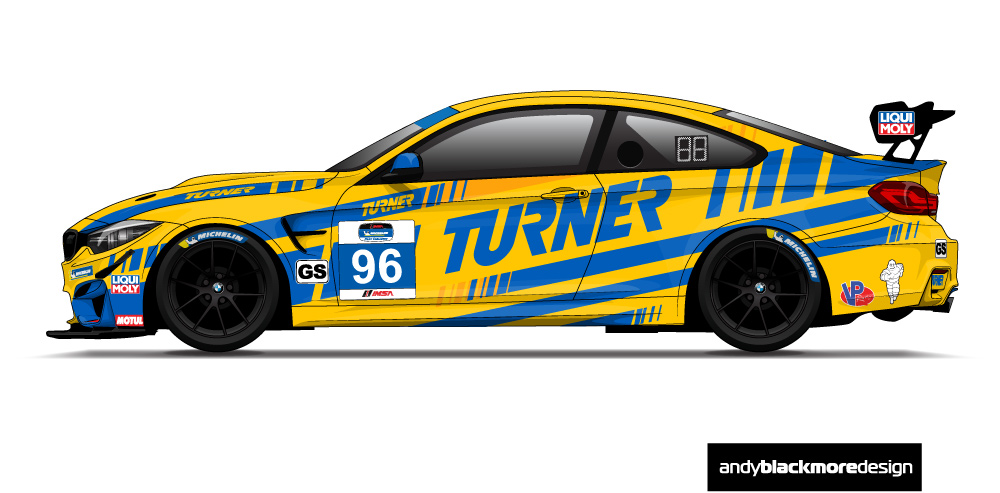 Turner Motorsport
Turner Motorsport return to the Michelin Pilot Challenge in 2020 with two entries for Daytona. Using the same car and base livery as featured in the move 'Racing in the Rain', the BMW M4 GT4 appears in its traditional yellow and blue livery.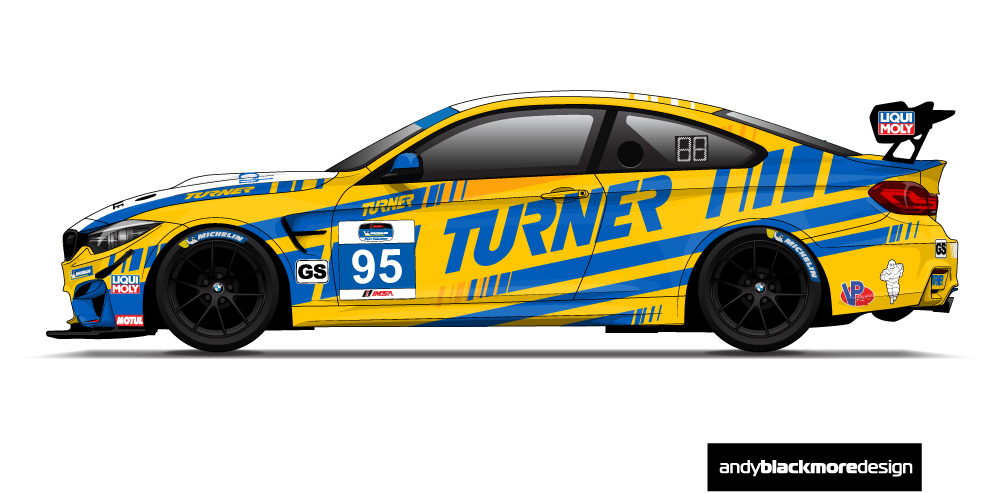 The number 95 car has a white area integrated into its design on the hood and roof.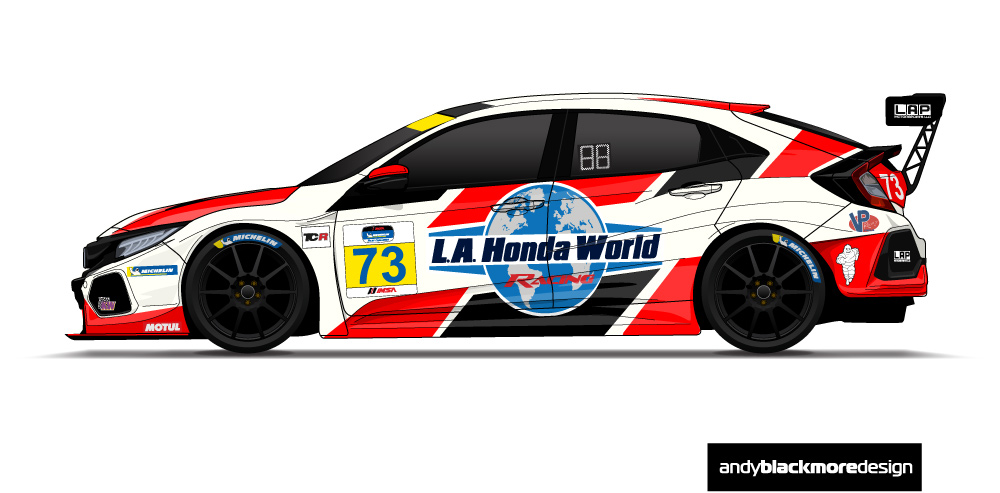 LA Honda World
LA Honda World are a new livery client for 2020, although I have worked with them on a few projects in the last year. Bit of a challenging one as the Civic is hard to design on with its many edges and busy form.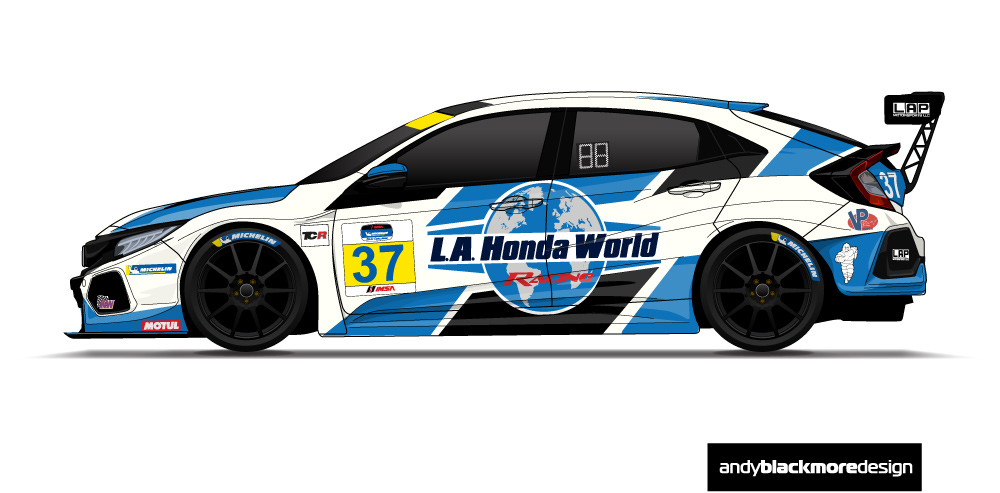 The team had to keep the LA Honda World logo in the same position and orientation as 2019 so we had to design around that.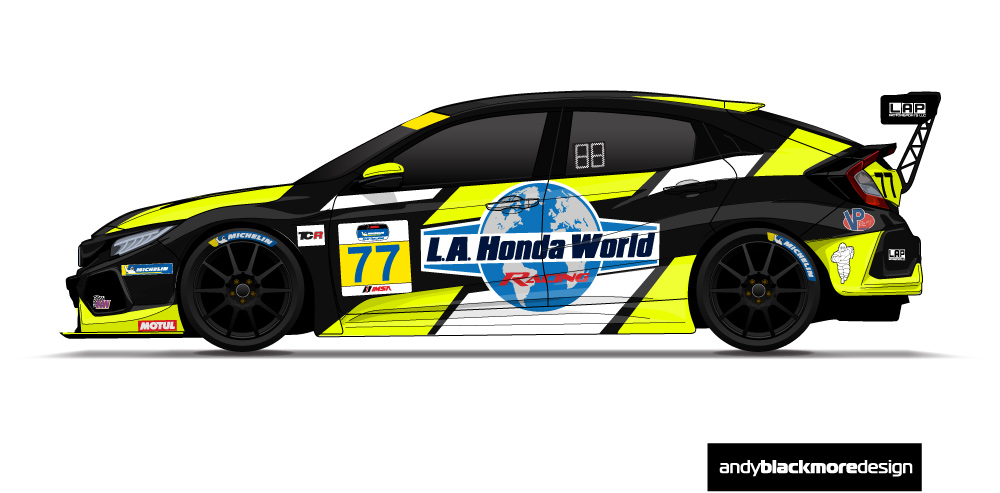 The team wanted extensive use of White with Black accents to give a traditional Honda look. At a later stage, we swapped the colors around for the #77 car and this is very striking, although not traditional Honda.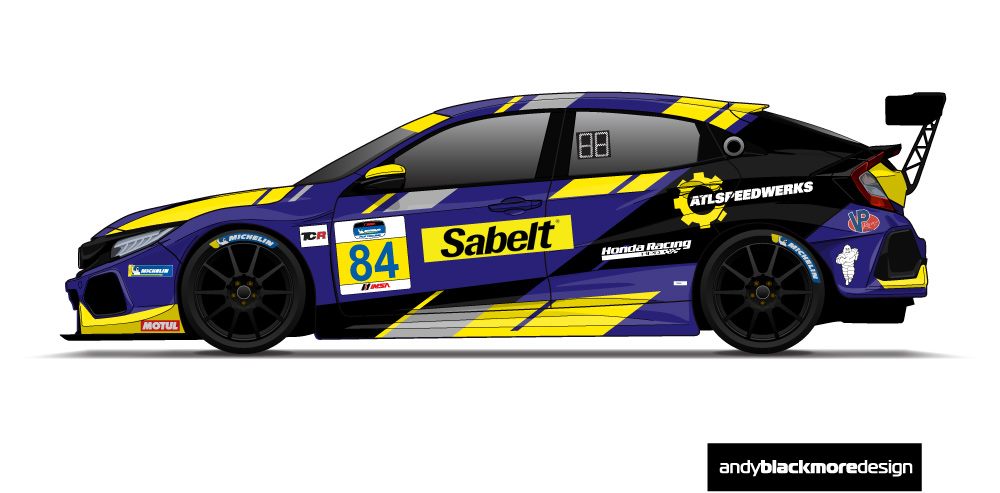 Atlanta Speedwerks
Todd Lamb and the team retain their livery from 2019 which is well known for its unusual color combination.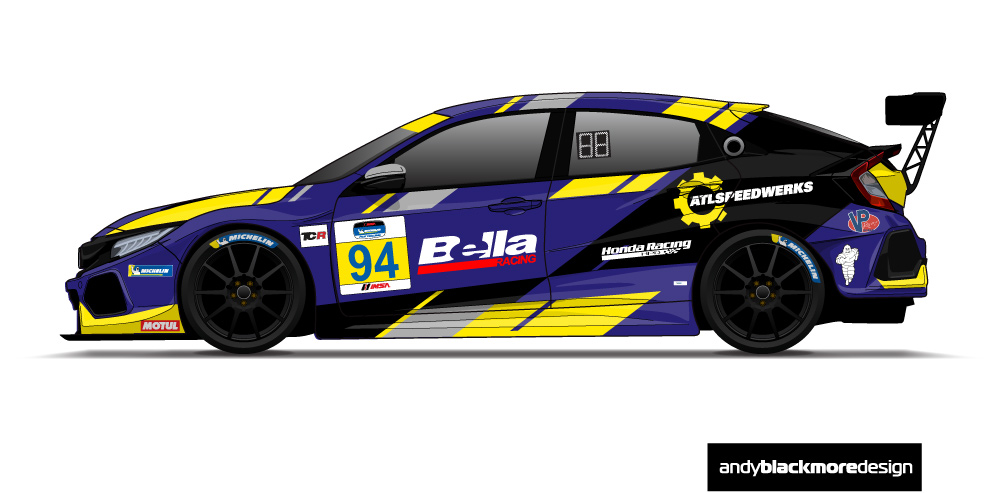 The team expands to a two car team for 2020.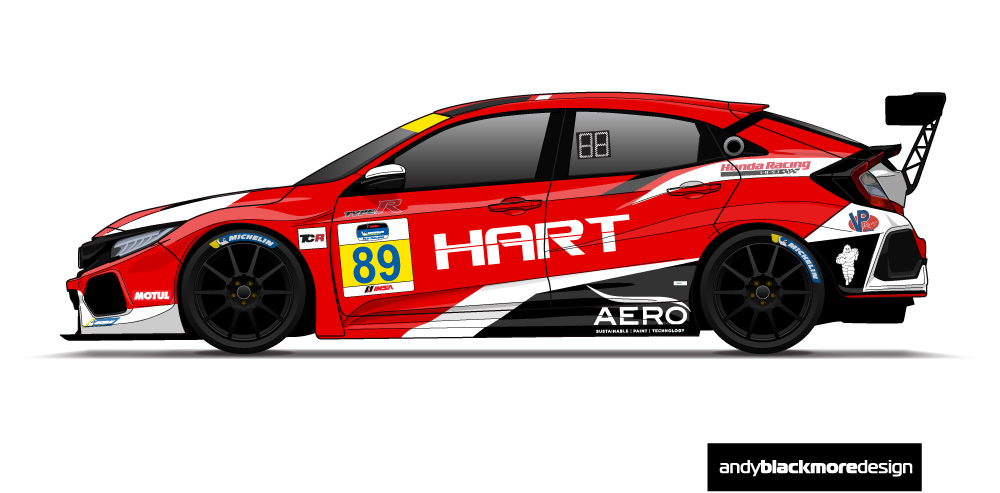 HART
HART Racing also retain their livery for their 2020 campaign, wrapped in AERO Paint film, this car is a fan favourite.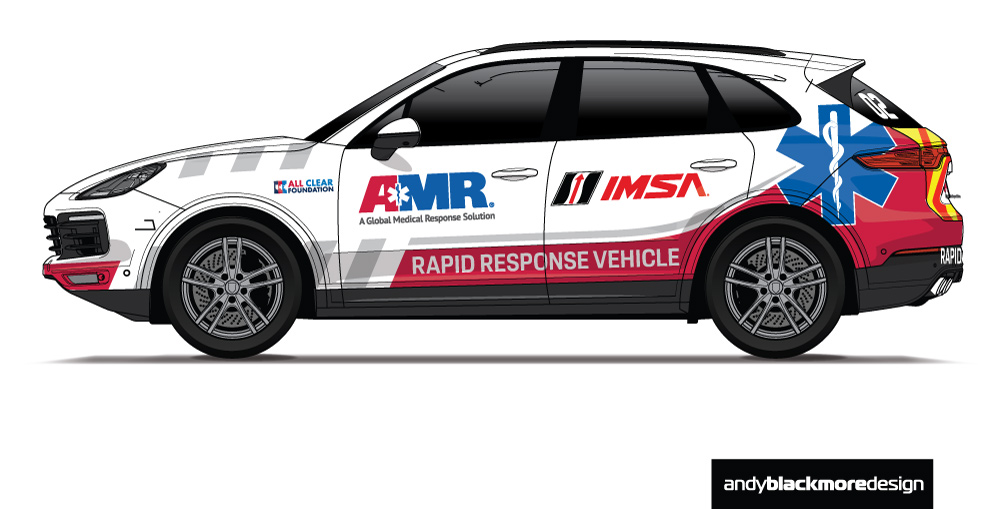 IMSA
I was commissioned by IMSA again to update my IMSA, AMR livery. This year has quite a few tweaks as well as a European style reflective chevron graphic on the rear. The Chevrolet rescue trucks will aslo be updated for Sebring.
Additional Art
In addition to these liveries, a couple of other designs to cover.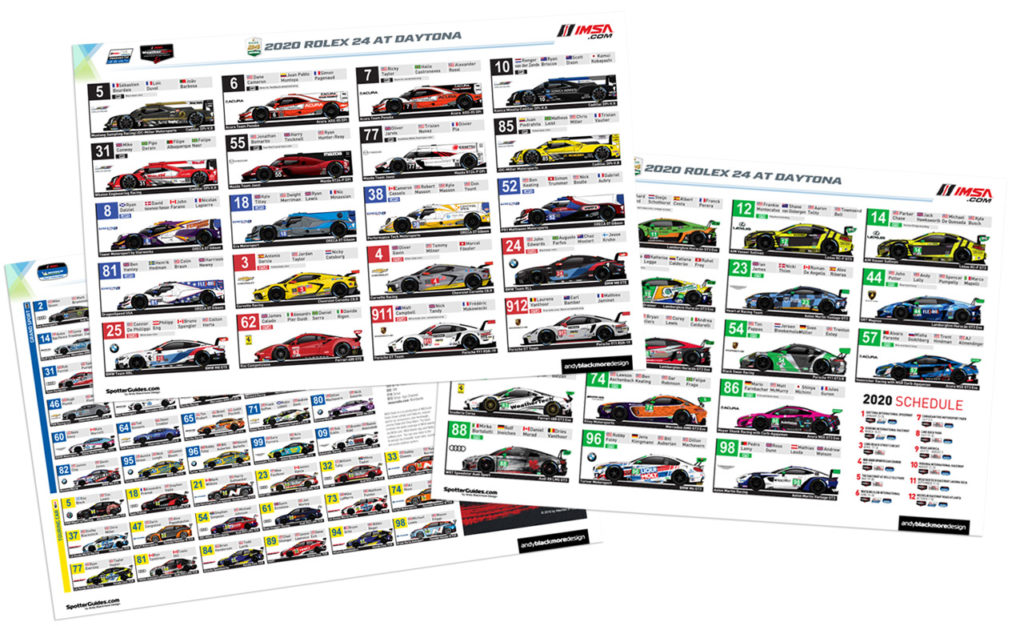 The IMSA Spotter Guide returns for 2020 and will be updated prior to each race.
Available from SpotterGuides.com in an online format , a print version is also available at all IMSA events.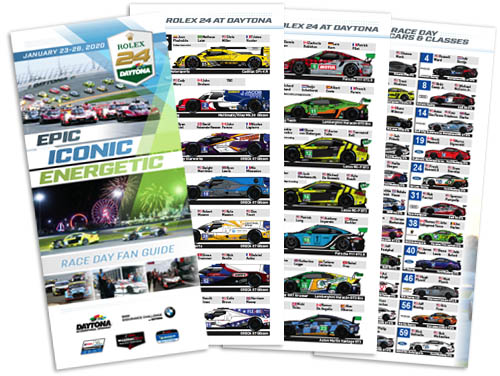 The guide is produced over a six week period and is a huge undertaking with many livery changes, sometimes on the same car. Its made a little easier by having designed allt he cars above!
The car art is also used on the IMSA.com website, the IMSA app and by NBC Sport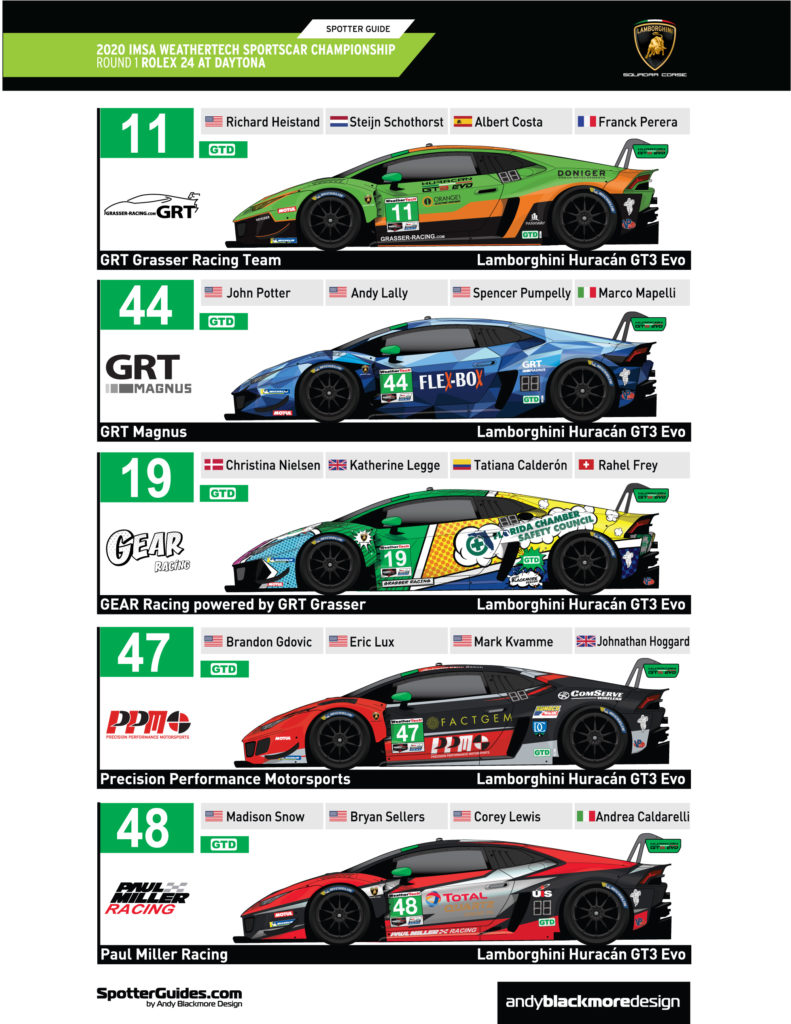 With three livery designs and a long term Spotter Guide produced for Lamborghini with their one make Super Trofeo series, I was asked to create a Lamborghini specific guide for their ViP's at Daytona.
Thanks for your continued support, either as a fan, media, marshal, series staff, team, driver or sponsor. You have allowed me to make my hobby and love, a career. I do need to take some time to recover now though!