Round Two of the Tudor United SportsCar Championship, the 12 Hours of Sebring takes place this weekend and I am delighted to confirm an additional livery in the series for Camp Boggy Creek, Bayshore Recycling and PR1/Mathiasen Motorsport. This makes a total of nine cars racing at Sebring with my liveries!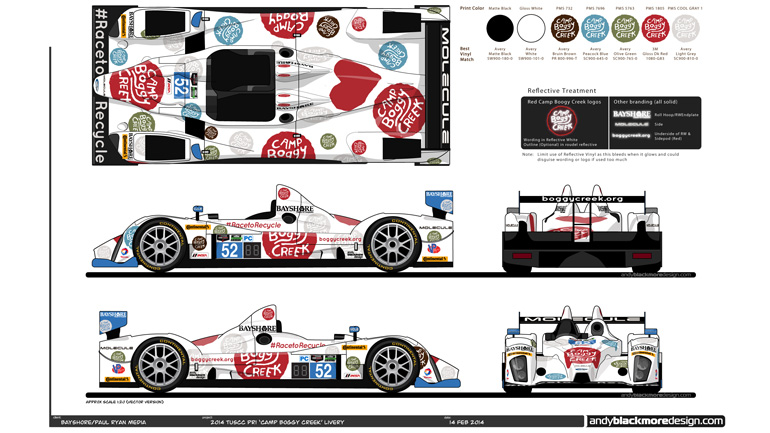 Sponsor Bayshore Recycling commissioned me earlier this month to design a livery for their new affiliation with Camp Boggy Creek – the Florida-based camp for seriously ill children. The tie-in with Camp Boggy Creek came through team partner Bayshore Recycling's desire to highlight a worthy charity for the 2014 season. The decision to form the partnership with Camp Boggy Creek is thanks to the late, great Paul Newman.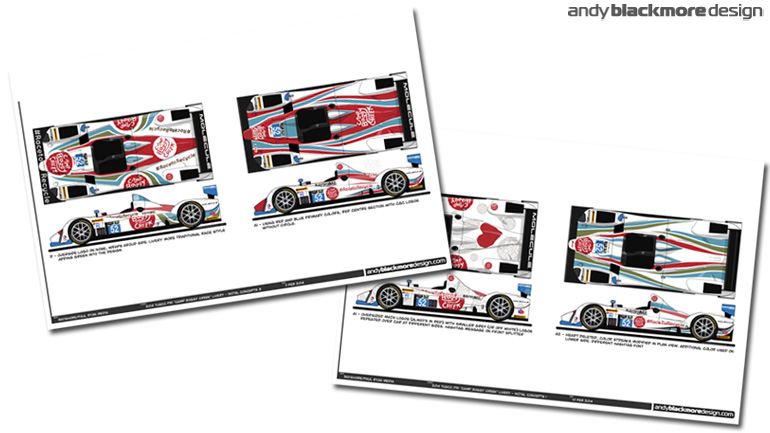 A number of design proposals were created immediately after Sebring from a traditional racecar look to designs which would appeal to children and stand out on the grid from the other race cars.
The final design features strategically placed Camp Boggy Creek roundels around the car using the Camp's 'house' colors inspired by Gunnar Jeanette's distinctive helmet with colourful dots and was a move away from a traditional racecar livery. Reflective material has also been used in places so the car will become vibrant during the evening hours. The Camp Boggy Creek PR1/Mathieson Motorsports livery was unveiled at the camp on Friday with a number of former camp attendees revealing the new livery with drivers Frankie Montecalvo and Gunnar Jeannette.
The hastag #RacetoRecycle has also been introduced.
You can read the full release here.
Thanks to Bayshore for commissioning this project. Looking forward to seeing it on track during the rest of 2014 and I hope it brings awareness to Camp Boggy creek and gains lots of younger fans.