BimmerWorld Racing will enter their fifth year running 'Andy Blackmore Design' liveries in the 2015 Continental Tires SportsCar Challenge. After almost a decade of racing with the E90 chassis, team owner James Clay has upgraded both his entries to their in-house design BMW 328i Turbocharged F30 chassis.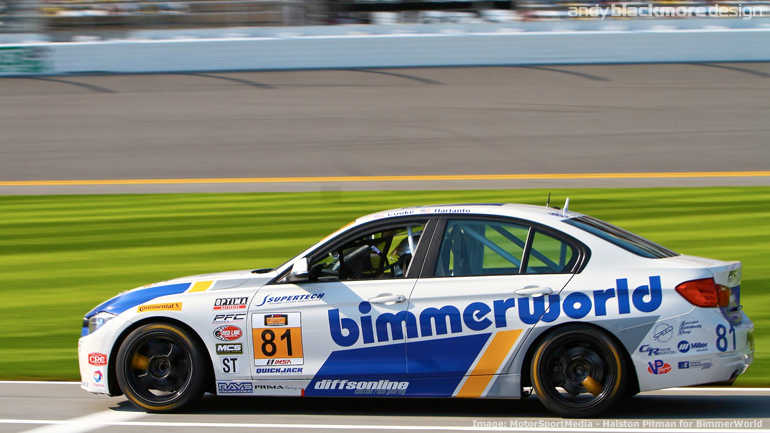 Originally introduced during 2013, complete with an all-new BimmerWorld Racing look, the team have been developing the F30 chassis alongside their older E90 racers. This year, the two entries sport different liveries, but retain a collective look but using similar graphic devices and color-breaks.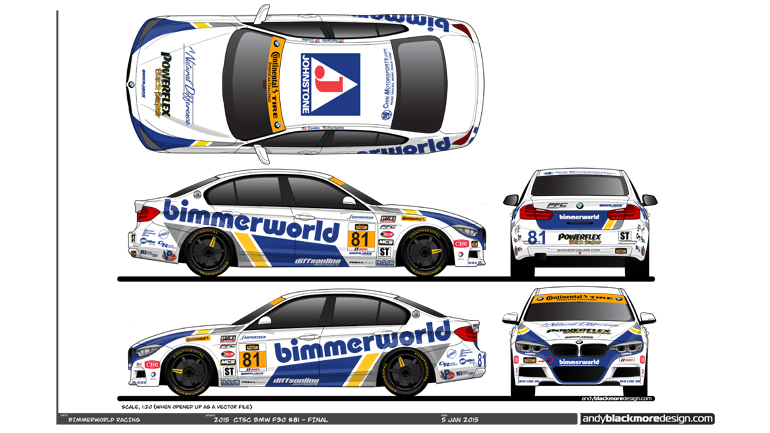 The #81 chassis retains the new BimmerWorld Racing look, with a tweak in coloration to tie-up with their new corporate graphics.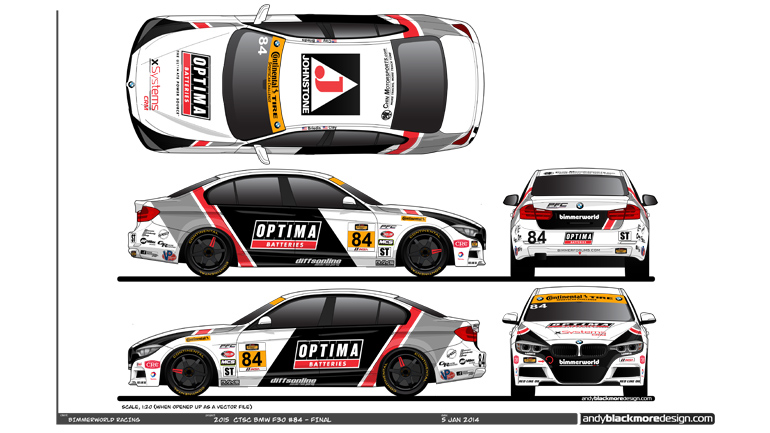 The #84 entry is sponsored by Optima batteries, a long time partner of BimmerWorld. The graphic bar is extended to incorporate the italic style Optima logo and uses a combination of Optima and BimmerWorld coloration.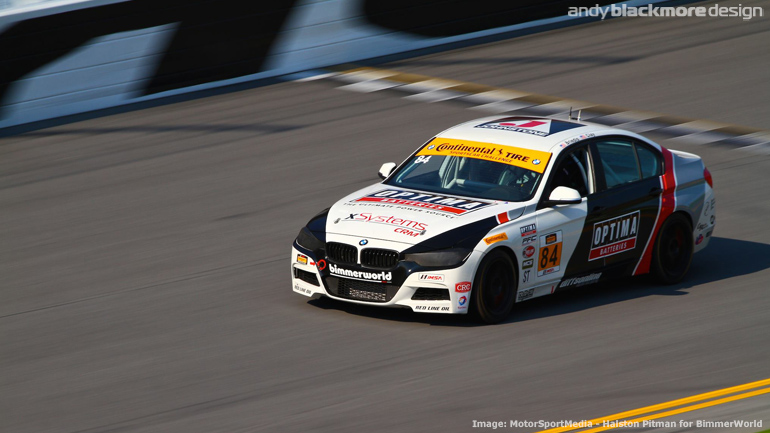 Always great to work with James. He has great attention to detail and appreciates a number of iterations of a concept is required to maximise its potential and ensure the design is resolved.
Full Press release follows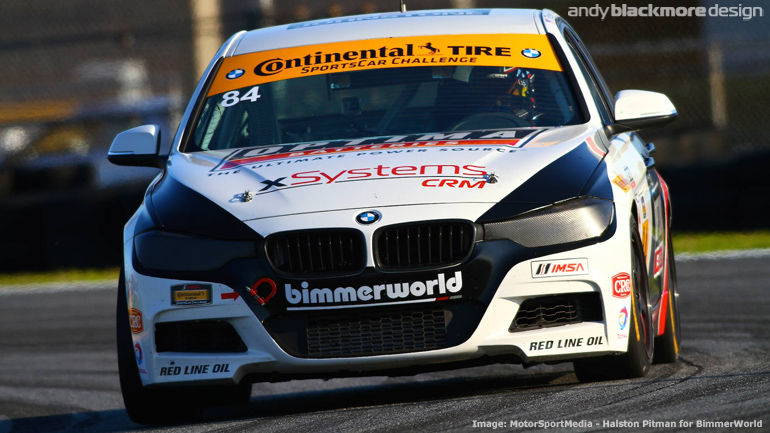 BimmerWorld's New Turbocharged BMW 328i Tandem Set For 2015 Season Opener
January 20th, 2015
Perennial Championship contender BimmerWorld downsizes to two BMW F30-based turbos for 2015
Almost a decade of BimmerWorld's race-winning research and development with the E90-based BMW 328i platform has been distilled into to its newest challenger, the turbocharged BMW 328i built on the F30 chassis architecture, which will comprise both of the team's Continental Tire Series entries in 2015.
BimmerWorld owner/driver James Clay and teammate Jason Briedis spent 2014 developing the F30 in the Street Turner class, and with a successful test on Jan. 9-11 at Daytona International Speedway to draw from, BimmerWorld's revised two-car lineup is prepared for a strong opening to the 10-race Championship.
The Clay/Briedis combo will continue in the new No. 84 OPTIMA BMW 328i, and will have team veteran Tyler Cooke and impressive newcomer Andrie Hartanto alongside in the No. 81 BimmerWorld BMW 328i at each round.
"The new BMW F30-chassis 328i has certainly been a change for us, and we had to wrestle with it a bit more than I would hope last season, but I feel like we have all the right partners and pieces in place, and I expect good things this year," said Clay. "Our No. 84 car was strong at Daytona last year with the exception of a weird engine issue. I think we have shaken most of those out and I am looking forward to bringing the new OPTIMA-branded chariot home with a strong result to start the year."
BimmerWorld's four-car effort from 2014 has been reduced, but the size of Clay's race operation hasn't changed. His new Next Level European team debuts at Daytona with a pair of Porsche Caymans in the ST class, and despite the dissimilar brands, he says both camps will contribute to a solid overall showing.
"It is helpful to have friends on track, and our change of structure this year leaves us with only two BimmerWorld BMWs, but the Next Level European Porsches are under the broad team umbrella, and we will contribute to each other's efforts," he explained. "And I think the more focused BMW effort will be helpful as we can concentrate our team's results for the marque."
QUOTEBOARD: Daytona Pre-Race
No. 81 BMW 328i: Tyler Cooke and Andrie Hartanto
Cooke: The cars at the test demonstrated a good pace and really showed they had something for the rest of the cars in the field. I'd be satisfied with top-5 and top-10 performances throughout the year which would help us big in the Championship. A good, consistent season can have a great outcome at the end of the year.
Hartanto: After a strong showing at the test, I'm very optimistic of our prospects for the 2015 season. My first impression of the BimmerWorld team was great. While I've always been incredibly passionate about racing, this has been the most excited I've been to kick off a season for a while.
Tyler is a strong driver and I believe we have one of the strongest pairings in the series. I still need to acclimate myself to the higher level of competition, especially under race conditions, so it might not show in the first race. However as the season goes on, I'm confident that we will prove that we're a championship contender.
No. 84 OPTIMA BMW 328i: James Clay and Jason Briedis
Briedis: The cars looked great at the Daytona test, and they performed well. We can definitely podium this year under the right circumstances. After the first few rounds we will have a better idea of the possibility of Victory Lane. I am looking forward to having fun this year and being a force to reckon with
every weekend.
Source: BimmerWorld Racing