Current Continental Tires SportsCar Challenge 'ST' Champions, CJ Wilson Racing has announced a two-car entry in the 'GS' class with the all-new Porsche Cayman GT4 Clubsport.
The new Cayman was launched at the Los Angeles Motor Show earlier this week. With a brainstorming session before the car was launched, it was a great opportunity to create an 'old school' digital render of the car with a launch livery. Time was the essence, so this was all completed within one day. My background is vehicle design and styling, so it was good to create one of these illustrations.
The livery itself is a development of the previous MX-5 livery with an oversized 'CJ'Â  signature graphic scaled down to allow for sponsorship space.

Full press release below :-
Austin, TX, Friday, Nov 20th, 2015
CJ Wilson announces two-car 2016 Porsche Cayman GT4 GS Class Continental Tire SportsCar Challenge campaign
For Immediate Release –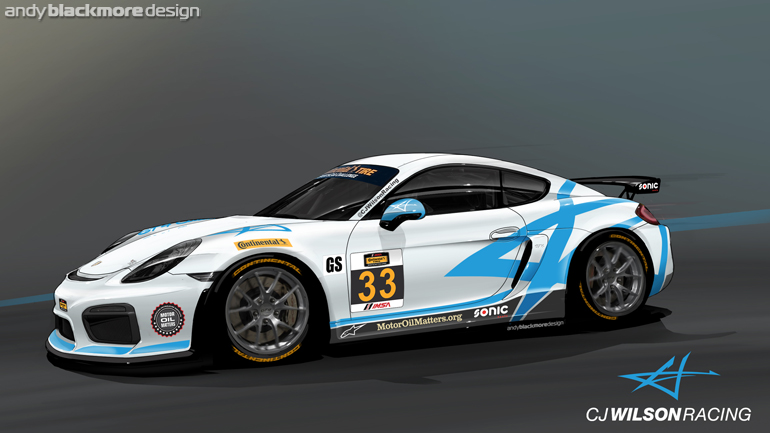 \2015 Continental Tire SportsCar Challenge Street Tuner Class Champions CJ Wilson Racing, today announced its intention to graduate full-time to the Grand Sport Class of the series for 2016. The Austin, Texas based team will run two brand new Porsche Cayman GT4 Clubsport cars in all ten races starting at the BMW Performance 200 at Daytona International Speedway on January 29th.
Team owner CJ Wilson sees the move to GS as the logical next phase in the development of his racing business. "Coming off the 2015 Championship in ST, the team's biggest goal was to continue to move forward and grow as a company. The best way to do that is to graduate to the next level of competition which is why the obvious target for us was GS. We felt like there were a lot of options in the class and having had such a positive response from sponsors and the rest of the field when we ran our limited Porsche 911 GS program last season, we were intrigued by announcement of the development of the GT4 Cayman ClubSport. We felt that it represented a very safe and very exciting move for us."
Wilson went on to describe the significant appeal of a partnership with such a storied racing brand. "One of the highlights of our affiliation with Porsche is the fact that Porsche Motorsports has such a large presence at the track already and is part of a larger community within the IMSA paddock. To have GTD cars, GT3 CUP Cars and now the GT4 race cars means we are now part of a significant community and in some ways it makes the paddock a little smaller for us as we have connections with some of the other teams that are also running Porsches."
The fact that Porsche has played such a pivotal role in his introduction to racing is a point of great satisfaction for the 35 year old two-time All-Star pitcher. "As a fan of its road cars, a lot of my track experience has been driving Porsches like the GT3, GT3RS, and the 911 Turbo, so this partnership is extremely gratifying on a personal level."
Wilson is hugely gratified by the team's achievements with long-time partner, Mazda up to this point. "We are very proud of our young team's heritage and partnership with Mazda Motorsports. Winning two championships in five years is a great achievement and everyone in our organization and dealer group contributed to that. Obviously as one of the largest Mazda dealers in the country we have Zoom Zoom DNA and that will always be the case."
"We are all very excited about the new challenges ahead for our team, and we welcome the stiff competition in the GS class," declared Andris Laivins, the CJWR Team Manager. He went on to add that "the new Porsche Cayman GT4 Clubsport is a perfect tool for the job, and being in the top class will have a direct impact on our commercial efforts on and off the track."
Laivins also believes the partnership with Porsche will have a longer term impact on the team's ambitions. "Taking a broader view, this move is also a proper next step towards CJ's eventual goal of fielding a team at the highest levels of sportscar racing, which adds to the excitement.  We are committed to earning our way to that goal, and stepping into the Cayman GT4 also dovetails nicely with our expanding customer racing business, building and servicing various high-performance track cars here in Austin."
Like his Team owner, Laivins is extremely grateful for the opportunities that the team's partnership with Mazda were able to seize. "We have had a tremendous run in ST, and we couldn't have had the success we did without our great partners, ModSpace and Mazda.  Our ability to win races over several seasons and, ultimately, an ST Class Championship speaks volumes about both companies' passion for success in this sport."
CJ Wilson Racing and the new Cayman GT4 Clubsport are a perfect match," said Jens Walther, President and CEO of Porsche Motorsports North America. "The team has made its first steps in racing with Porsche in a modified street car in 2015 and we are very pleased to see CJ and the team stepping up into a full race program with the new product taking the talented team to the next step/level.
The team plans to begin testing the 3.8 ltr, 380 bhp, mid-engined Cayman in mid December. The final driver pairings will be announced before the end of the year.
– Ends