I was recently commissioned by AERO Advanced paint Technology and Compass 360 Racing (C360R), one of the leading teams in North American Touring Car Racing to livery their all new Audi S3 Sedan which will make its debut in the Continental Tires SportsCar Challenge at Sebring
C360R have a distinctive livery using a thick stripe of Florescent Red along the side of their car. The clients wanted to promote the Audi relationship so we developed a number of ideas influenced by Audi sport coloration and previous liveries including the current R18-etron look, all the way back to the original Audi 80 GTO IMSA Cars.  In the end we settled on a clean livery which incorporates both elements.
AERO paint film is a very cool replacement for vinyl which is lighter, gives paint quality and judging by 2014 machines, much tougher as it is literally thin layers of paint. I have been lucky to work with AERO on a few projects directly and indirectly including the liveries for the CJ Wilson Racing Mazda MX-5's and the Tyler McQuarrie Racing Chevy Camaro. The use of their paint film and chrome options combined with the vibrant red will ensure these two Audi's stand out on track.
On a personal level, it is great to see Nico Rondet back in the series. I worked with Nico while I was freelancing at Simraceway (Performance Driving School at Sonoma and PC Racing Sim) and he is very quick.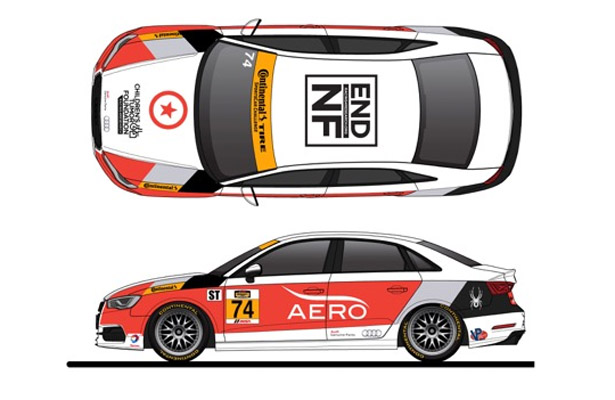 Press Release:
CTSCC: McGuire and Rondet join C360R Audi program with AERO
COLUMBUS, OH — Jim McGuire and Nico Rondet have been signed to drive the one of C360R (Compass360 Racing)'s brand new Audi S3's for the 2015 IMSA Continental Tire Sports Car Challenge season, with AERO Advanced Paint Technology™ becoming a technical partner of the team.
"We are beyond thrilled to welcome AERO to our squad as a technical partner," said Team Principal Karl Thomson. "Having seen teams in IndyCar, IMSA's DP and GTLM classes use AERO, we think their technology is simply amazing and look forward to rolling it out across our fleet."
Initially, AERO products will be used exclusively on new Audi S3 CTSC Street Tuner-class cars the team will campaign in 2015, with AERO being added to new Audis as they come on line over the next few seasons to compete in CTSC Grand Sports and Pirelli World Challenge GTS and TC classes.
McGuire and Rondet will helm the #74 AERO / Racing4Research Audi S3, joining Paul Holton and Kyle Gimple in the sister #75 CTF.org Racing4Research car.
"This is a very strong driver line-up across both cars," remarked C360R Technical Director Ray Lee. "We always planned to bring our 'A' game to the development of the new Audi, and the arrival of Jim and Nico gives us two good cars for 2015."
McGuire, CEO & Founder of entrotech, the parent of AERO. Rondet is the Chief Instructor at Simraceway at Sonoma Raceway, which hosts the Audi Driving Experience School featuring a variety of Audi cars including the R8, S- and RS-models.
"We've known Nico for many years, and he actually did a one-off race with us back in 2009," explained Thomson. "It's taken us a while, but Ray and I are really excited to finally have him with us full time with Jim."
Testing of the new Audis is progressing well, and the team expects to debut the two cars at Sebring in March. The squad will use its trusted Honda Civic Si platform for the Daytona race, January 21-22, as the track has proven to suit those cars well and will allow additional time to fine-tune the Audis in preparation for the challenging mid-Florida track at Sebring.