2015 Pirelli World Challenge 'TC' Champion, Corey Fergus will move up to the GT Cup class of the Pirelli series with an updated livery on his new racecar, a Porsche 991 GT3 Cup Car. I designed the original AERO livery on his championship winning Porsche Cayman for the 2015 season from a joint commission by Corey and AERO paint films.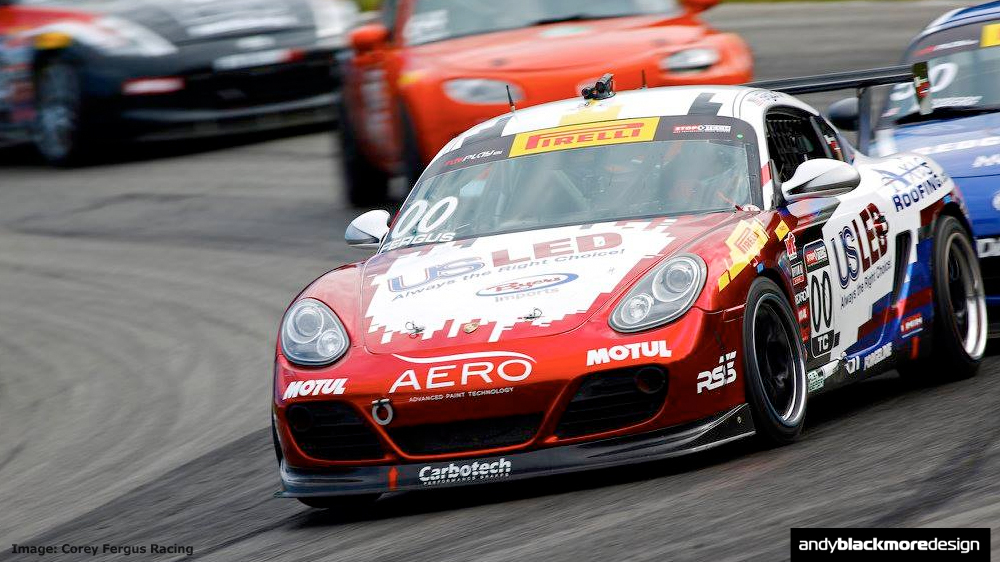 The livery has proved successful and recognizable in the crowded PWC grid in 2015, so the best approach was to update it to fit on the new 997.
Slightly different proportions and additional sponsor requirements resulted in an extensive rework on the side to ensure it was resolved on the longer wheelbase car. No cutting corners here.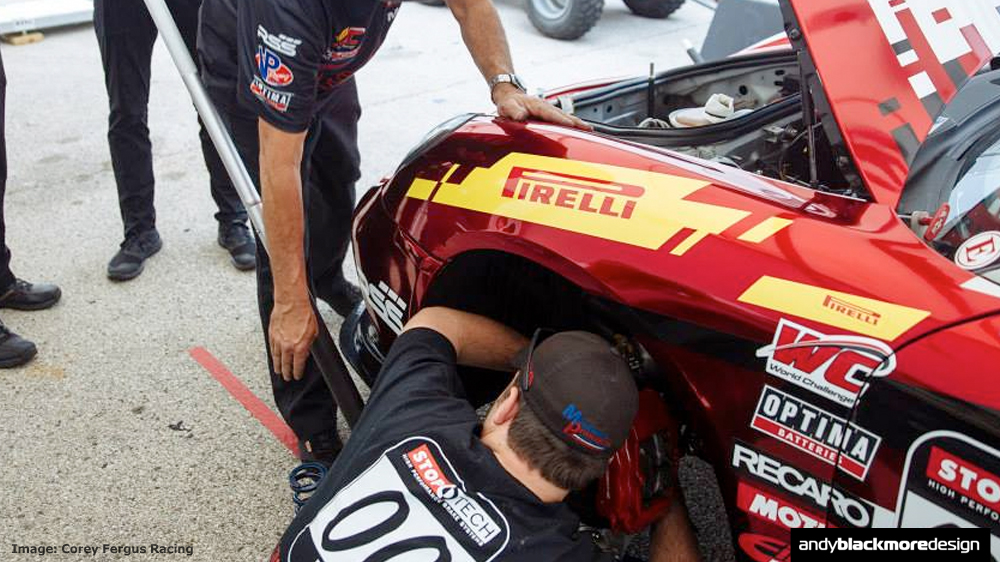 We continued the theme of integrating series sponsors where possible to give a clean look as you can see on last year's Cayman.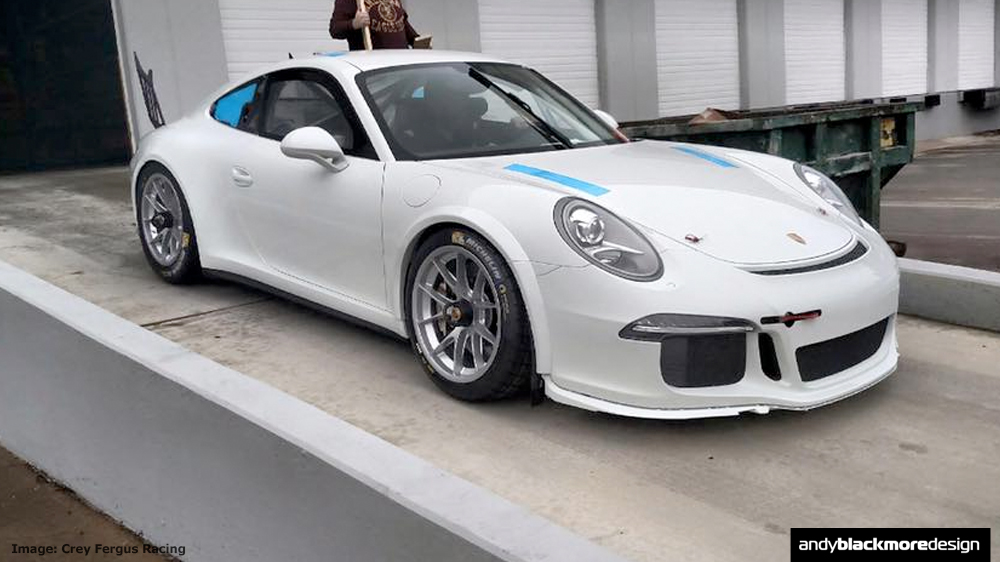 Corey has been testing the new car and AERO will be wrapping the car in their paint film shortly.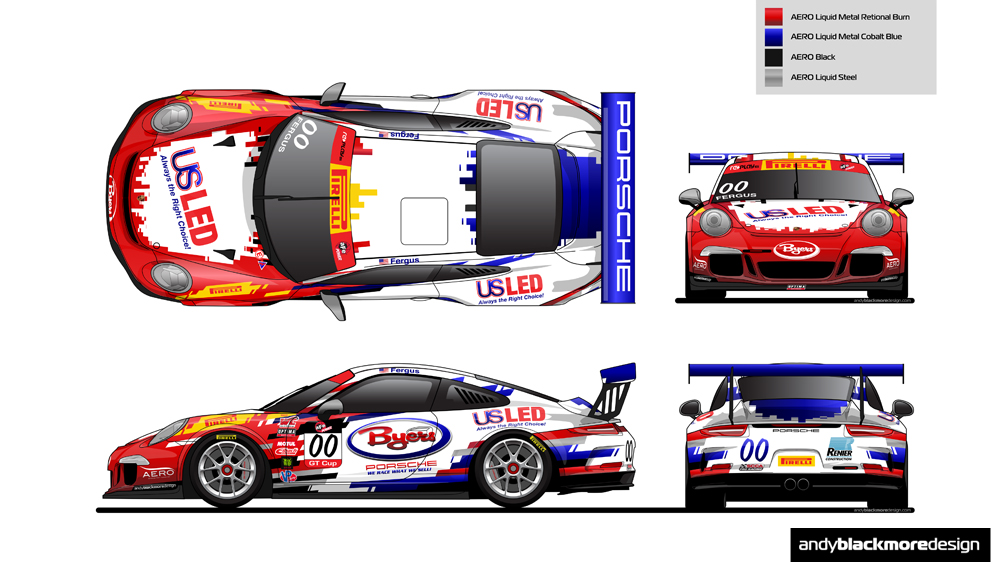 Once completed, all my liveries are supplied in a detailed to-scale full vector design file (above) and a wrap file which includes bleed, color breaks etc to make wrapping a more efficient process for the installer.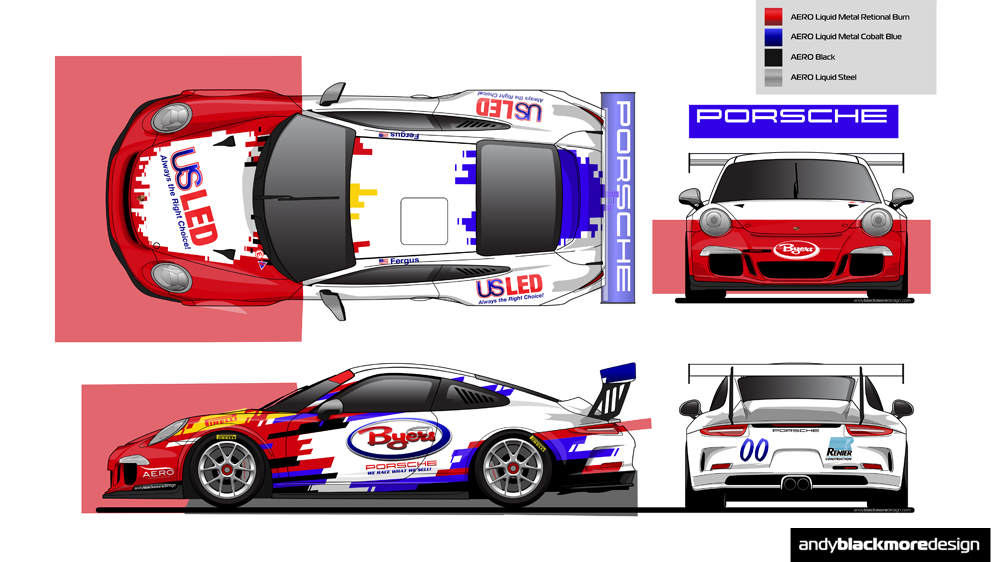 The 2016 Pirelli World Challenge season starts on March 3 at the Circuit of The Americas, Texas. Full design feature on the liveries in the coming weeks.
Links: Corey Fergus Racing
Press Release:
Corey Fergus to compete in GT Cup class
2015 Pirelli World Challenge Touring Car champion Corey Fergus will return to PWC competition in 2016, but he will move up to the GT Cup class driving a Porsche GT3 Cup car prepared by Motorsports Promotions and owned by Byers Imports.
The Columbus, Ohio native claimed his first professional championship last year driving a Porsche Cayman, and he is looking forward to continuing on with the brand as he is a Porsche Brand Specialist in his day job working at Byers Imports.
"I've been a big fan of Porsche for a long time, so it was an easy decision to stay with Porsche and move up to a GT Cup car after winning the TC class last year," Fergus said. "If the high level of competition in the TC class was any indication, I know we'll be up against stiff competitors again."
As a Porsche Brand Specialist at Byers Imports in Columbus, the 27-year-old had the unique opportunity to drive the same type of cars that he sells to his customers, at some of the best race tracks in North America.
In 2016 Byers Imports is going to increase their involvement by purchasing and owning Fergus' race car. "Byers Imports purchasing my race car for this season shows the huge level of support they provide, and that means a lot," Fergus said. "I knew when they brought me on board they supported my racing, but this is taking it to a new level. They truly see the value in having me race what I sell in their showroom."
According to Fergus, having a presence in PWC racing provides Byers Imports with an opportunity to expand their customer base.
"PWC provides great advertising and promotion opportunities, and we ship cars to customers all over the country," he said. "I hope we can gain even more out of state clients in 2016. This is really a win for everyone."
Fergus will receive his No. 00 Porsche 991 GT3 Cup car at the end of January, leaving a month of testing before the season opens March 3 at the Circuit of The Americas.
"The GT3 Cup cars come ready to take to the track, but we have a lot of setup stuff we want to experiment with and try out during testing," he said. "We plan to test twice before the season starts."
Motorsports Promotions will prepare Fergus' car for the second year in a row, and the team is comprised mostly of friends and family members.
"We'll have the same team back this year, and since we accomplished a lot last year we want to continue that success," Fergus said.
The challenge of a new class and competitors in a single driver format is attractive to Fergus.
"I've never raced a car with 460 horsepower, paddle shifters, sequential transmission, or a closed cockpit," he said. "I expect and need to get up to speed quickly, and I'll try to bring home another championship. I know our team will be capable, so it will be up to me to make it happen on the track."