Press Release:
24-hour sports car endurance races are as much a matter of survival as competition – an adage even more accurate this week, as DeltaWing Racing Cars prepares to battle more than 60 fellow competitors in the inaugural event of the TUDOR United SportsCar Championship, the Rolex 24 at Daytona.
A host of new elements have made the virtually nonexistent off season an interesting one for the DeltaWing team: a new livery, designed by Andy Blackmore Design, a new tire (the Prototype class runs exclusively on Continental tires), a new television network (all TUDOR Championship races will be on the FOX network) and of course, the new series itself. With the former American Le Mans Series and Grand-Am series now united, the Prototype class has grown to a whopping 18 cars.
So what is the best strategy to handle 68 sports cars on the high banks of Daytona at the same time? Ask any number of people what the key to success in the endurance classic will be and most likely, each of those answers will include the phrase "stay out of trouble." DeltaWing drivers Andy Meyrick, Katherine Legge, Alexander Rossi and Gabby Chaves all know that how they handle 24 hours of relentless traffic will go a long way toward determining the outcome of their race.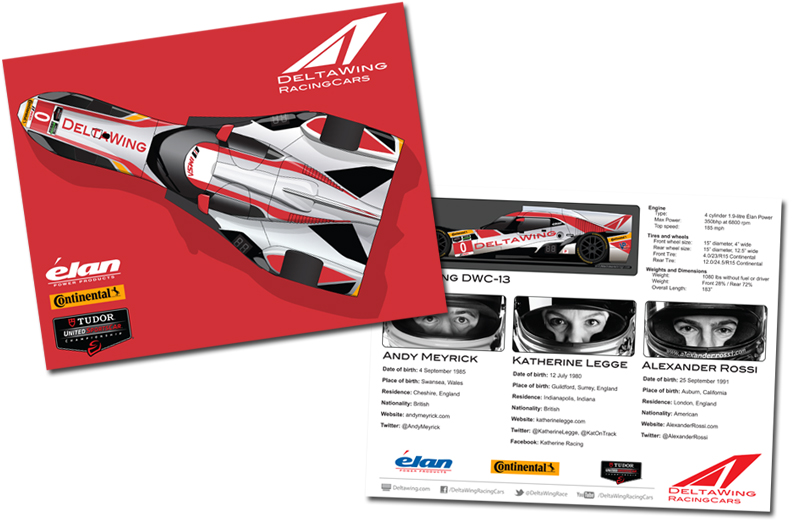 Meyrick and Legge return to the DeltaWing team for 2014, joining Rossi, the 2013 Caterham F1 reserve and GP2 driver and Chaves, the 2013 Indy Lights vice champion.
Source:
DeltaWingRacingCars