Local branding specialists and regular client, Torque Branding have announced a new range of motorsport themed apparel and accessories under the 'Full Torque Gear' brand. As part of this announcement, the company will have branding on Alex Welch's Porsche 911 GT3 Cup car in the Pirelli World Challenge.
I was commissioned by Torque branding to produce a launch illustration which combined Alex's existing livery (an ex-Parr Motorsport car) and car with Full Torque Gear's coloration in full vector. This will also form the header for their to be launched website.
I will be supplying Full Torque Branding with a small number of designs during the year.
Press release:
A N N O U N C E M E N T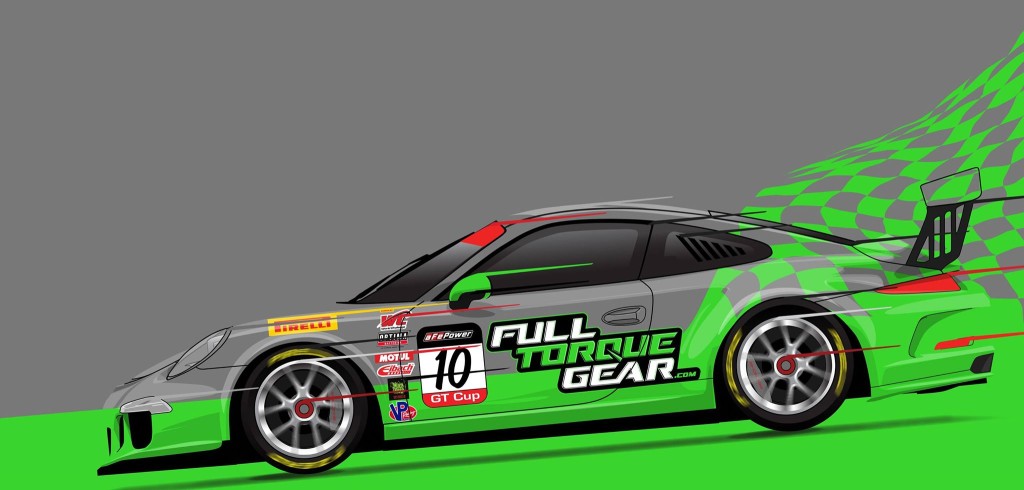 After years of testing products in the marketplace, Torque Branding of Langley, BC – known primarily for its work in the promotional product and apparel industry – has now taken the world of design and pushed it into full gear.
Introducing Full TORQUE Gear – a BRAND NEW, cutting-edge apparel and accessories line from the designers at Torque Branding. Using racing, fashion and good ol' rock n' roll as inspiration, the artists are creating one-of-a-kind designs printed on only the best quality gear the industry has to offer. The power of the FULL TORQUE line is embedded in the comfort of the wearables and the flat-out commitment to authentic race detail.
"For decades, upscale racing enthusiasts like us have been searching for a brand consistent with our love of the sport, but also with our need to be fashion-forward." says President Mark Mullens. "Parting from traditional 'billboard-style' race designs was our initial goal, and that goal has fueled the development of some incredible artwork that only ever lived in our imaginations, until now. I am stoked to be offering these styles to the larger market of loyal motorsport fans and athletes."
FULL TORQUE GEAR prides itself on its respect for racing history, which shows in its vintage aesthetic and historical design references. You can buy Full Torque Gear this April at fulltorquegear.com. Get ready to wear a shirt that feels like driving flat out on the open road with the music blasting and nowhere to be.