I have been fortunate enough to have been commissioned by Nissan and NISMO again to produce more car illustrations.

this time their Super GT500 entries which were used in a preview post ahead of the 2016 Super GT Championship in Okayama, Japan this weekend.


With the help and support of Nissan and their teams in Japan, I was able to accurately show the cars in their 2016 liveries prior to their launch.

I have also produced a NISMO Motorsport set of illustrations for a Paul Ryan Media designed infographic to announce their broader range of Nissan motorsport in 2016 from the Nissan Micra cup through to Super GT and the World Endurance Championship.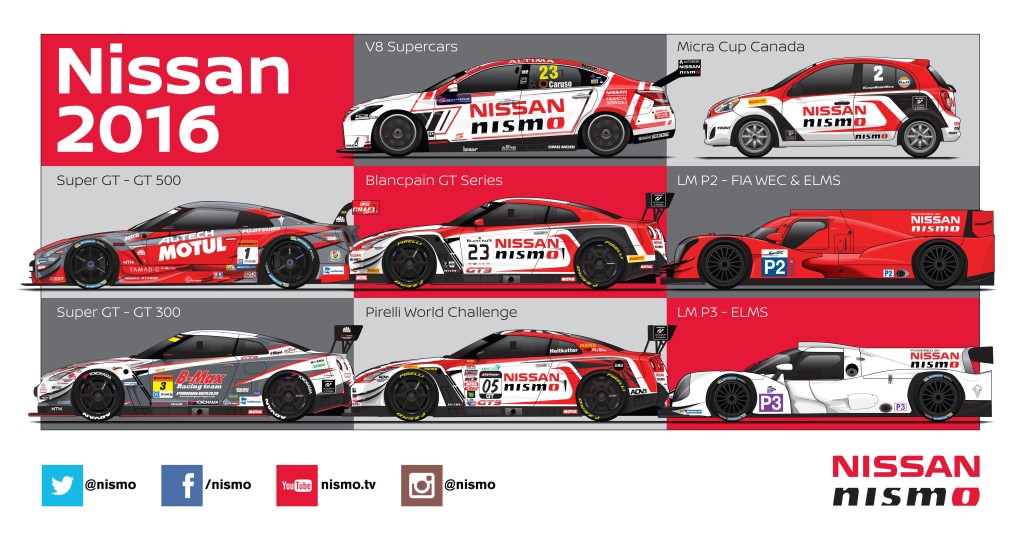 You can read more about my Nissan and NISMO illustrations here
Full press release follows:
---

NISSAN AND NISMO BEGIN SUPER GT CHAMPIONSHIP DEFENSE
NISMO has triumphed in four of the past five Super GT GT500 championship battles and now Nissan has its sights set on repeating its winning ways when the 2016 championship kicks off this weekend in Okayama, Japan.
Last year's championship victory by Tsugio Matsuda and Ronnie Quintarelli was their second consecutive title win and Quintarelli's fourth in total (he won with Masataka Yanagida in 2011 and 2012).
The GT-R has now claimed the Super GT GT500 crown on five occasions but 2016 was the first in Super GT GT300 for the GT-R.
Nissan previously claimed the GT300 title in 2008 and 2010 with the Nissan Fairlady Z Z33. Prior to the commencement of the Super GT era in 2005, Nissan took seven top class titles starting from 1993 along with four GT2/GT300 crowns.
Nissan's 2016 Super GT GT500 line-up will feature:
1 – NISMO – Tsugio Matsuda / Ronnie Quintarelli Team Principal: Yutaka Suzuki MOTUL AUTECH GT-R / Michelin
12 – TEAM IMPUL – Hironobu Yasuda / João Paulo de Oliveira Team Principal: Kazuyoshi Hoshino Calsonic IMPUL GT-R / Bridgestone
24 – KONDO RACING – Daiki Sasaki / Masataka Yanagida Team Principal: Masahiko Kondo Forum Engineering ADVAN GT-R / Yokohama
46 – MOLA – Satoshi Motoyama / Katsumasa Chiyo Team Principal: Toshiomi Oeki S Road CRAFTSPORTS GT-R / Michelin
In GT300 former GT Academy winner Jann Mardenborough will race full-time in Japan with NDDP Racing alongside two-time GT300 champion, Kazuki Hoshino.
Sunday's opening round of the championship will be fought over 82 laps (300km) starting at 2:40pm local time. In last year's opening round of the championship Hironobu Yasuda and JP de Oliveira were the top Nissan performers in third place with Hoshino and Lucas Ordóñez scoring fourth position in GT300.