AERO paint films and Race driver, Corey Fergus, recently approached me to design a livery for his new Motorsports Promotion Porsche Cayman which he will compete in the the Pirelli World Challenge. With AERO as a partner, it was important to showcase the paint films which they create as well as supply  other racers including Michael Shank Racing and  my designs for  CJ Wilson Mazda MX-5 (CTSC) and Tyler McQuarrie Racing's Chevrolet Camaro (Formula Drift).

To give a sense of speed I used chrome blocks of color which taper slightly along the length of car, breaking up in various places for sponsors on a traditional gloss white base. Despite the variety of colors and finishes, this is actually one single wrapping paint film!
I prefer to incorporate series branding where possible and on this design, I've integrated the series Pirelli branding on the front fenders and the series windshield strip (see artwork).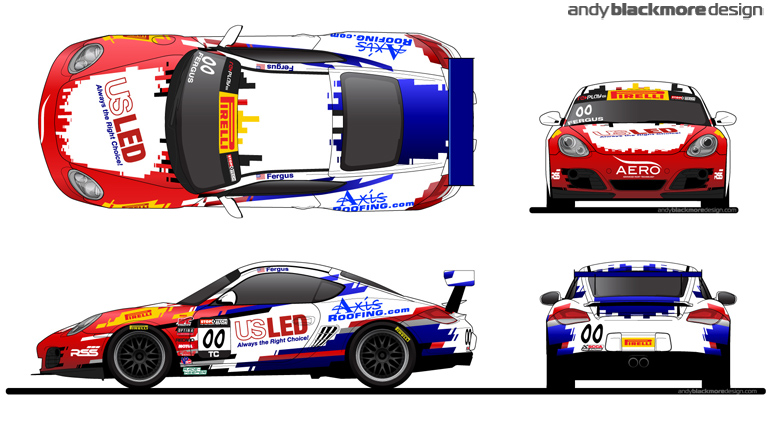 Having driven with my liveries in 2014 for BimmerWorld Racing, Corey will make his debut in the TC class of the Pirelli World Challenge at Circuit of The Americas on March 6th. One of six cars featuring my liveries including HPA Motorsport and Turner Motorsport.
You can follow Corey on social media at
Twitter at @CorwinFergus
Facebook at facebook.com/CoreyFergusRacing
Press release:
Fergus and Motorsports Promotions to Contest 2015 PWC Touring Car Championship
COLUMBUS, Ohio (Feb. 16, 2015) — Racing driver Corey Fergus, a 26-year-old Columbus, Ohio native, will compete in the 2015 Pirelli World Challenge Touring Car Championship (PWC) driving for Motorsports Promotions.
Fergus joins the PWC fray after three years in the Continental Tire Sports Car Challenge. He will drive a Porsche Cayman backed by USLED, RSS, AERO, Axis Roofing, Byers Imports and Motul.
"World Challenge has had a huge amount of growth this year," Fergus said. "They'll have the biggest Touring Car field ever, so the competition should be amazing. I feel confident in our team and in myself as a driver to get the job done."
Adapting from endurance to sprint races could be the biggest change Fergus will encounter in his move to PWC.
"For the most part the touring cars are very similar to the street tuner cars I raced the past three seasons," he said. "It will really come down to strategy. Instead of conserving the car and only pushing the limits at the end of an endurance race, I'll be giving it everything I've got for the full 30-40 minutes."
The TC Class Championship's compact schedule packs a lot of action into six race weekends, and Fergus is looking forward to being the sole driver of his racecar.
"The most attractive quality about World Challenge to me is the single driver format," he said. "It gives me more track and seat time, and a much better opportunity to show people what I can do."
Fergus tested his Porsche Cayman for the first time Feb. 11-12 with Motorsports Promotions at Roebling Road Raceway in Bloomingdale, Ga. The 26-year-old relished the opportunity to work with his new team and prepare for the season.
"I had never driven this exact Porsche on track, so it was great to get comfortable in a car that will be my home for the next year," he said. "It was one of the strongest cars I've ever driven right out of the box. My team is comprised of talented people who have been family friends for years, and we gelled well immediately."
Emory Donaldson, former Factory Dodge, Factory Ford, IndyCar, TransAm and NASCAR team manager will be working closely with Fergus and Motorsports Promotions in 2015.
"After working with Corey at Roebling Road, I firmly believe he's one of the premiere young drivers out there right now," Donaldson said. "He's a smart driver, and he's going to take care of his equipment. His ability to provide the team with valuable input to make changes to the car's set-up was fantastic."
Fergus' car owner Matt Coffman also joined Motorsports Promotions at the test.
"I watched Corey race several times last year, and his abilities are huge," Coffman said. "We've gathered a very positive group for his team, and we're anticipating a great season. Our test at Roebling Road allowed us to work through different set-ups, brake combinations and tire levels. Corey helped us collect a solid batch of data that we can draw on throughout the entire season."
Fergus and Motorsports Promotions will complete one more pre-season test at Barber Motorsports Park before the Pirelli World Challenge Touring Car Championship kicks off March 6 at Circuit of the Americas. For the latest updates from Fergus, follow him on Twitter at @CorwinFergus and on Facebook at ffacebook.com/CoreyFergusRacing.