Congratulations to clients, VermontSportsCar, Subaru Rally Team USA and their drivers David Higgins and Craig Drew on an amazing perfect season in Rally America in a brand new car.
I have been working with Vermont for the past couple of years on their liveries in Rally America and Global RallyCross.
Congratulations guys, an amazing achievement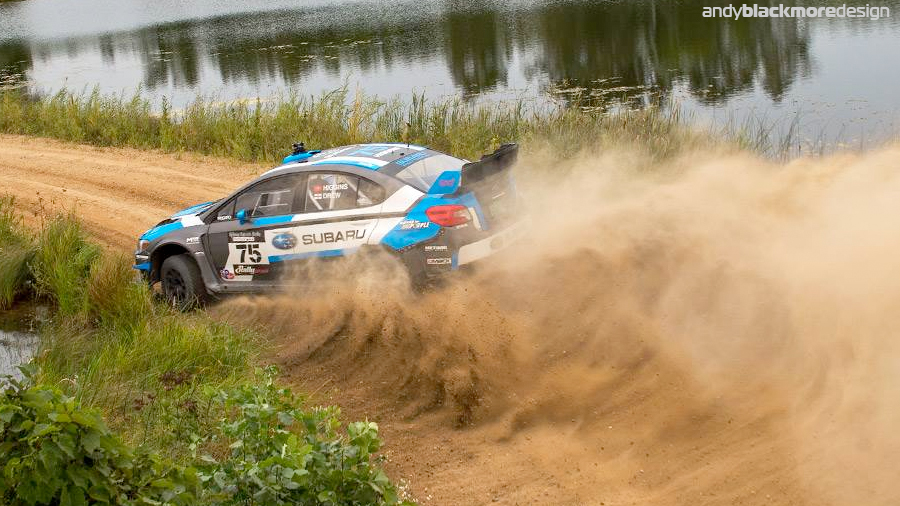 Press release:
Subaru Driver David Higgins Completes Perfect Undefeated Season with Victory at Lake Superior Performance Rally!
Subaru Rally Team USA driver David Higgins and co-driver Craig Drew capped an extraordinary season by winning the 2015 Lake Superior Performance Rally to complete the first undefeated 'perfect season' in U.S. rallying since 1987.  Higgins and Drew were unflappable for the eighth straight rally, winning all but two of the event's 15 competition stages at the wheel of their  2015 Subaru WRX STI prepared by Vermont SportsCar.   The win officially netted Higgins' fifth straight Driver's Title in the Rally America National Championship.
"It was hell of a long weekend," Higgins said, at the podium celebration. "It is amazing to do what we have done, but you can only do it with a great team that we have. Craig (Drew) has been awesome as always and we have been on a good winning streak for a long time, but this one was special. Stages were in good condition and for us the big task was to bring it home."
The last perfect undefeated season in U.S. rallying was achieved 28 years ago by John Buffum, an 11-time national champion. Buffum is now the Team Manager for Subaru Rally Team USA and was on hand to help celebrate with Higgins on Saturday.  On the challenge of achieving a perfect season Buffum commented, "It takes not only a skilled driver and navigator, but a reliable car. It also takes a great team. All of those things came together for David and Craig this year and it is cool to see it and be part of it."
"The team's result this season is simply impressive," stated Rob Weir, Subaru Motorsports Marketing Manager. "They began the season with an all-new rally car, and despite adversity from the competition, mechanical setbacks, and Mother Nature, were able to claim the top of the podium at every round. We couldn't ask for more from Higgins, Drew, and the entire staff at Vermont SportsCar this season."