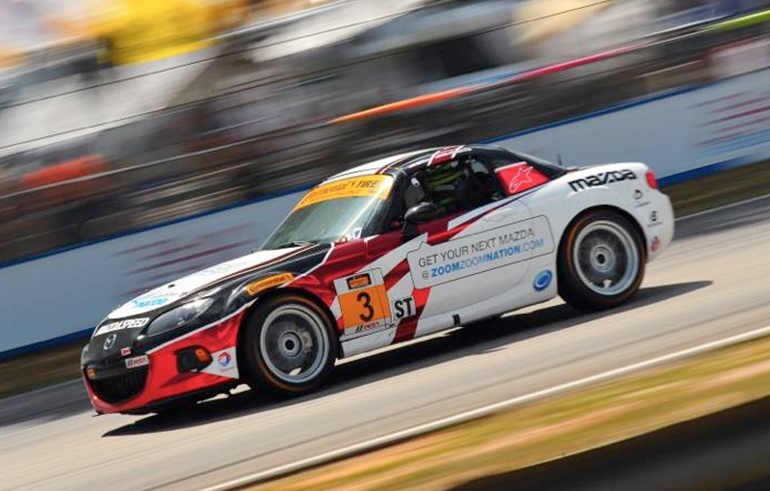 Client: CJ Wilson Racing
I had the opportunity to create a new look livery to the fleet of Mazda MX-5's which CJ Wilson Racing, owned by the Baseball star would run in the 2014 IMSA Continental Tires SportsCar Challenge and the Mazda MX-5 Cup.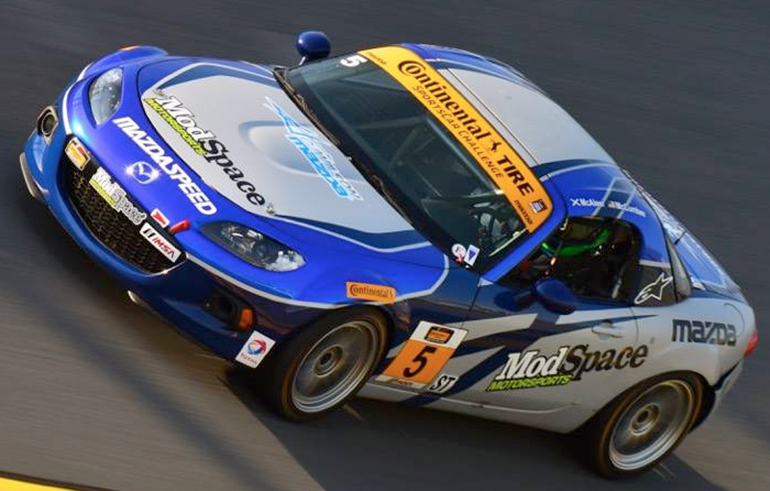 CJ is very well known throughout the US and as such his name is a valuable asset so unlike many teams, it was vital his identity was maximised. We used CJ's autograph known as the 'CJ Star' was the starting point.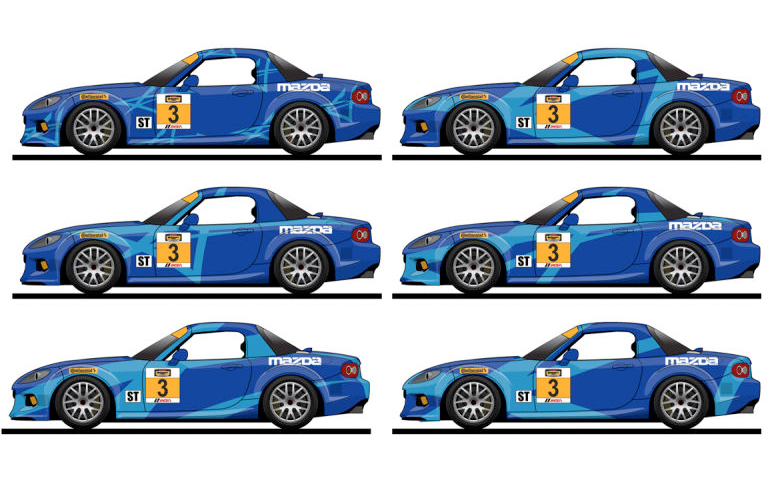 The design would featured on multiple cars so it was important the graphic worked in different tones and also left room for sponsors. We focused on the two IMSA Continental Tire entries.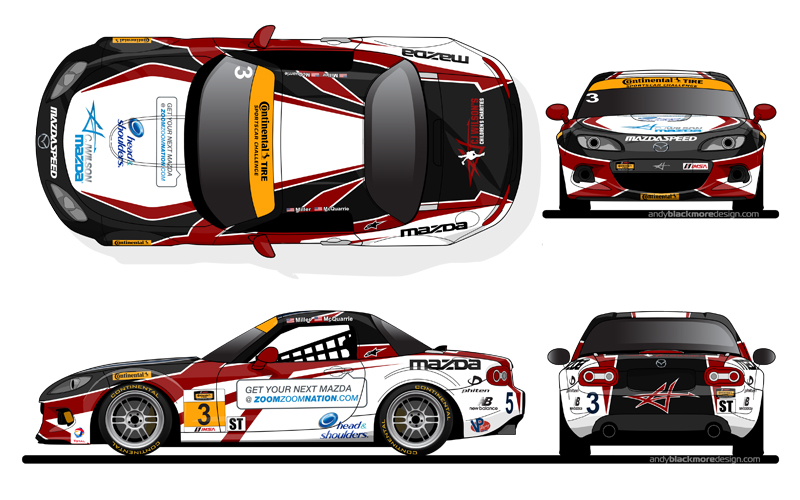 CJ was excited by the new look in the initial press release in January 2014 "Our MX-5s look fantastic! We have kept the same graphical shape but we have added new types of material to both wraps. The #3 and the #5 cars will be showing up in a lot of Daytona pit lane pictures for sure!"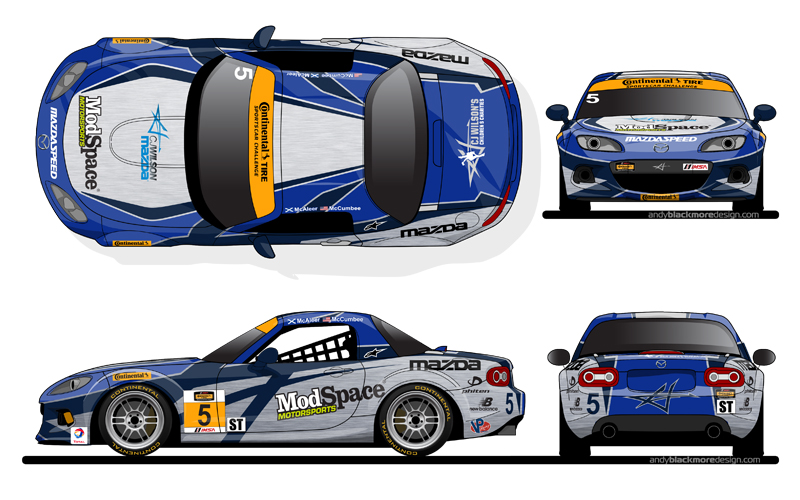 These two MX-5 use chrome effect AERO material an accent while the ModSpace car uses brushed Aluminum  as a reference to ModSpace's technical.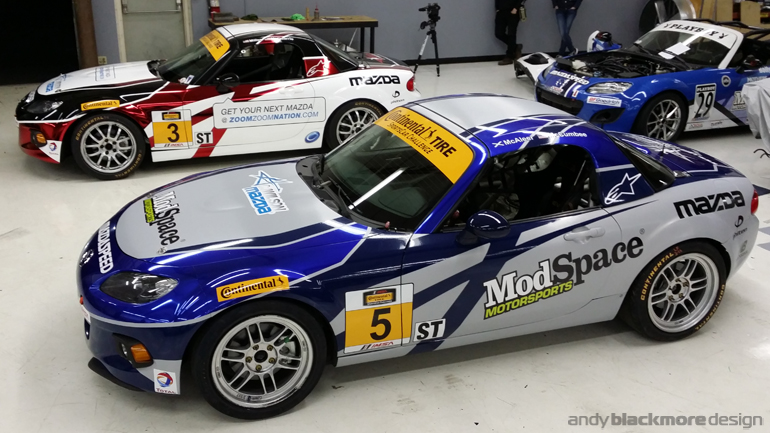 There was also an opportunity to design a one off TOTAL livery for the team. TOTAL insisted the oil bottle was used which proved a challenge.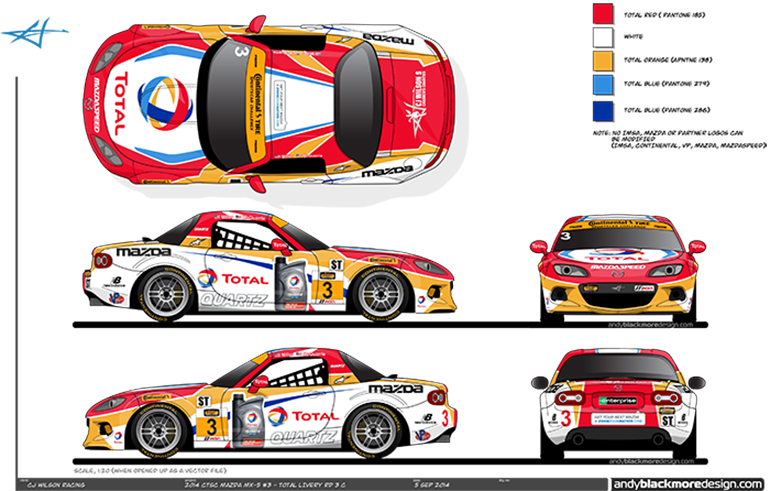 Being honest, adding a graphic like this will ALWAYS compromise a design, but the sponsor calls the shots. I'm quite pleased with how it came out in the Total colors.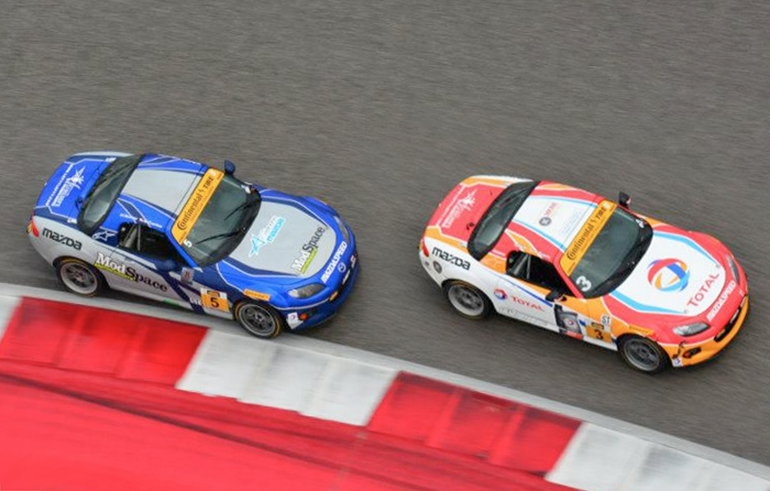 The design was then adapted for the Mazda MX-5 one make series entries.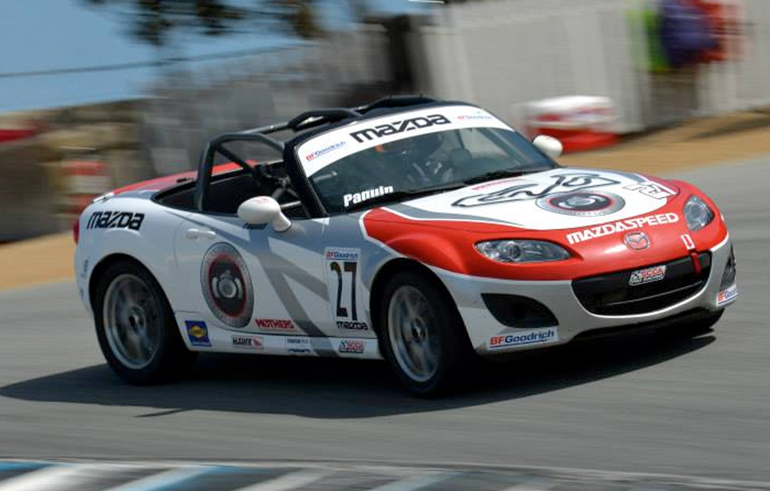 The different chassis retain the team look despite the color changes.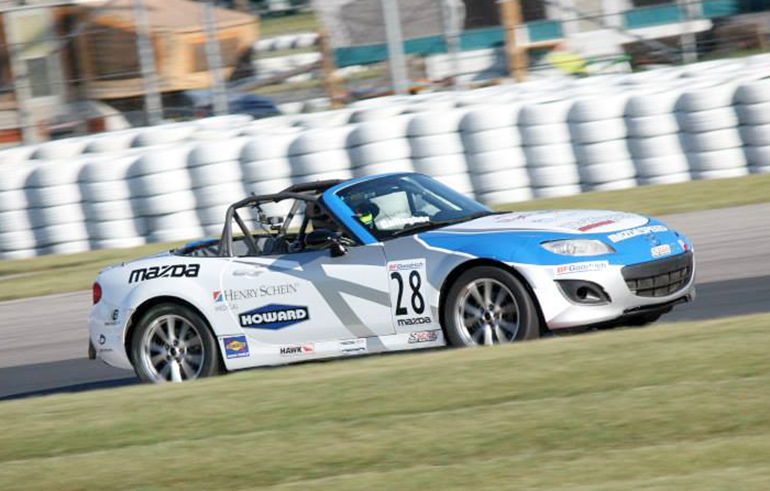 In addition to the graphic, the oversized CJ Star is retained in Silver.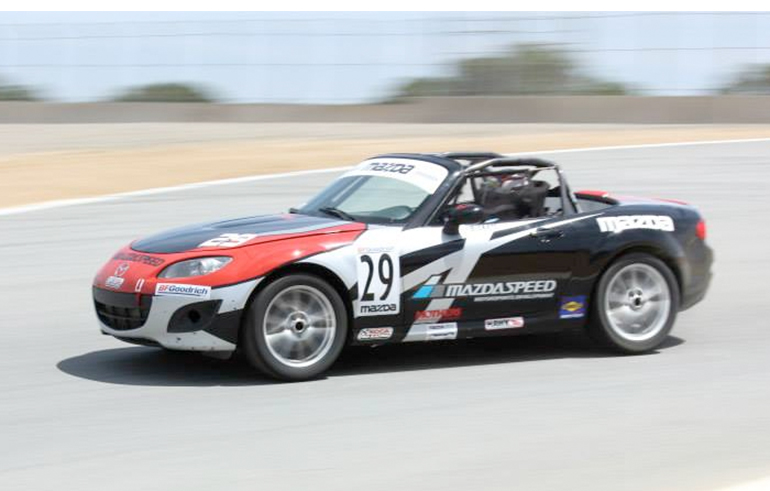 This is a great example of how you can retain (and build!) a team identity even though you may have multiple sponsors. Retain or evolve the design each year and you are half way to creating an iconic livery!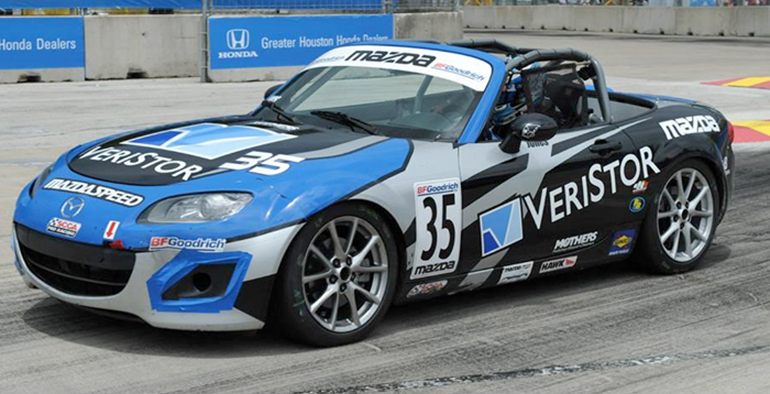 Iconic liveries tend to be ones people remember and if you have this across multiple cars and seasons, then your battle has just been made easier.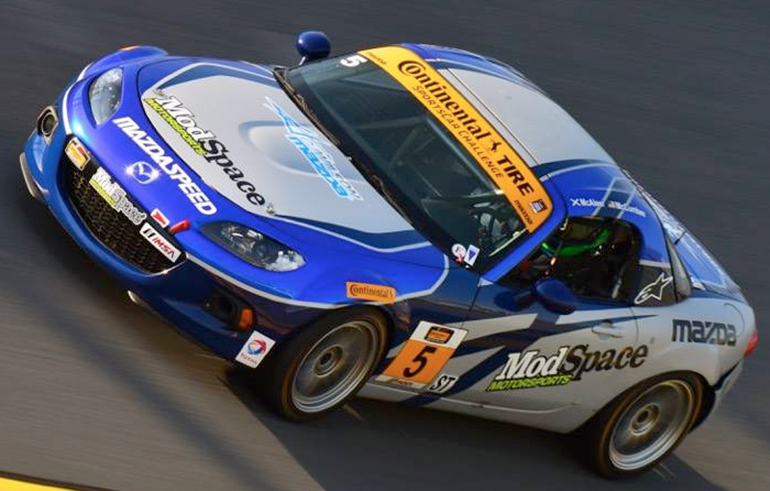 CJ Wilson Racing became team (and driver) champions of the ST Class in the IMSA Continental Tires SportsCar Challenge in 2015 and IMSA celebrated the achievement by a limited edition t-shirt which included my art.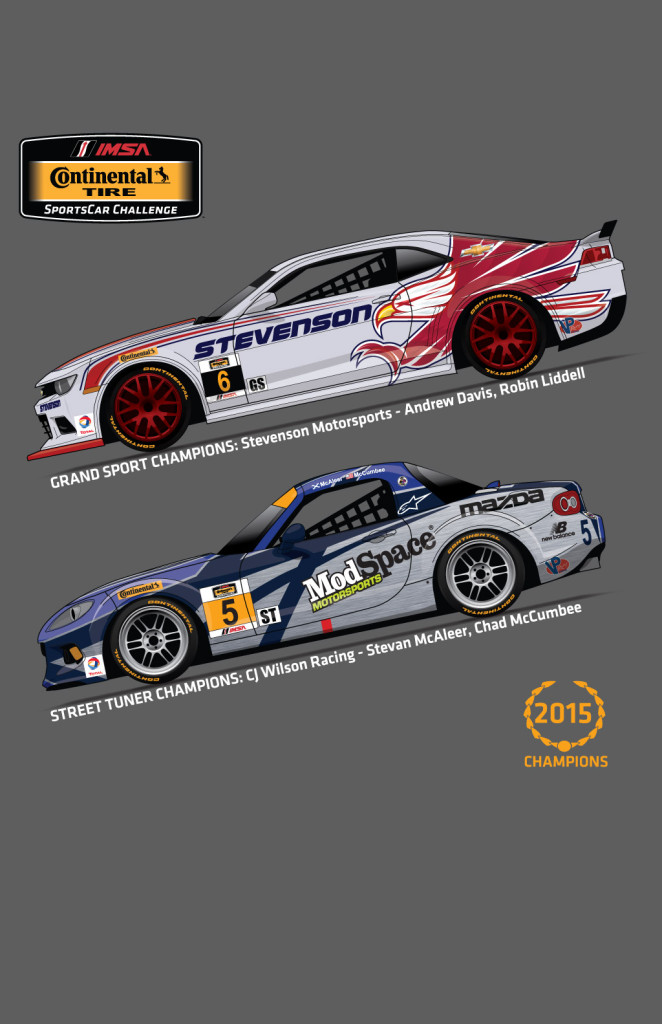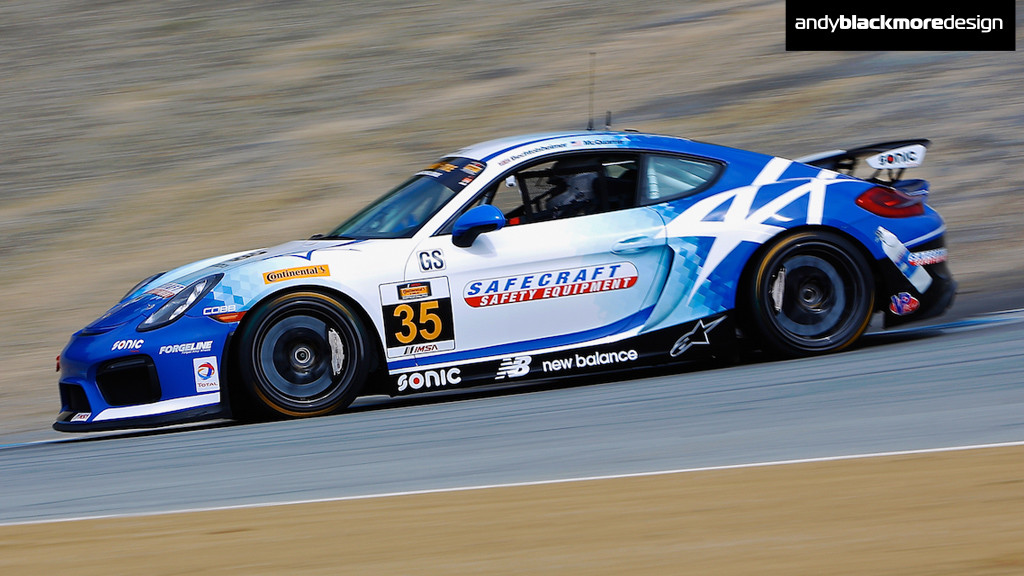 Post Script: In 2016, CJ Wilson moved up to the GS class of the Continental Tires SportsCar Challenge permanently, running a Porsche Cayman GT4 CS. You can follow the design process for this new car here, a development of the MX-5 livery.