Formula Drift Champion winning team, Papadakis Racing commissioned me earlier this year to create a new livery for their all-new Formula Drift car, the Toyota Corolla iM (Toyota Auris in some markets).
I had previously styled a number of liveries for Papadakis way back to the Team Need for Speed days when current champion Frederic Aasbo joined the team.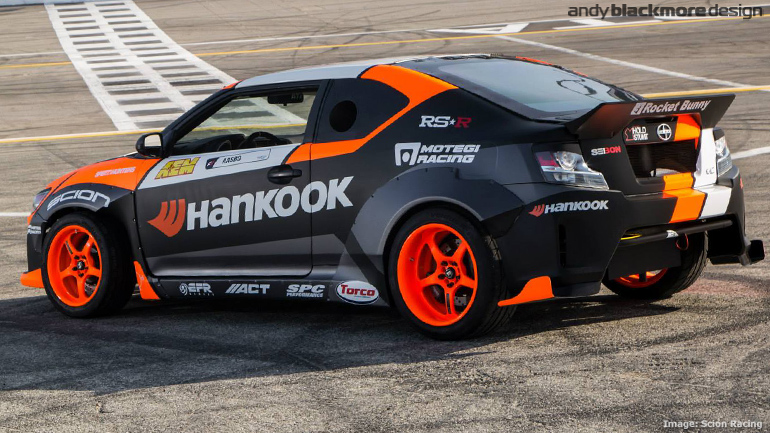 With the Scion brand and the 'tC' model disappearing from the market place, Toyota needed to showcase a new product. The easy option would be the Toyota 86, but the 5 door iM was chosen instead.
Not your typical Formula Drift car, despite its Corolla heritage, we need to make the car stand out and look dynamic.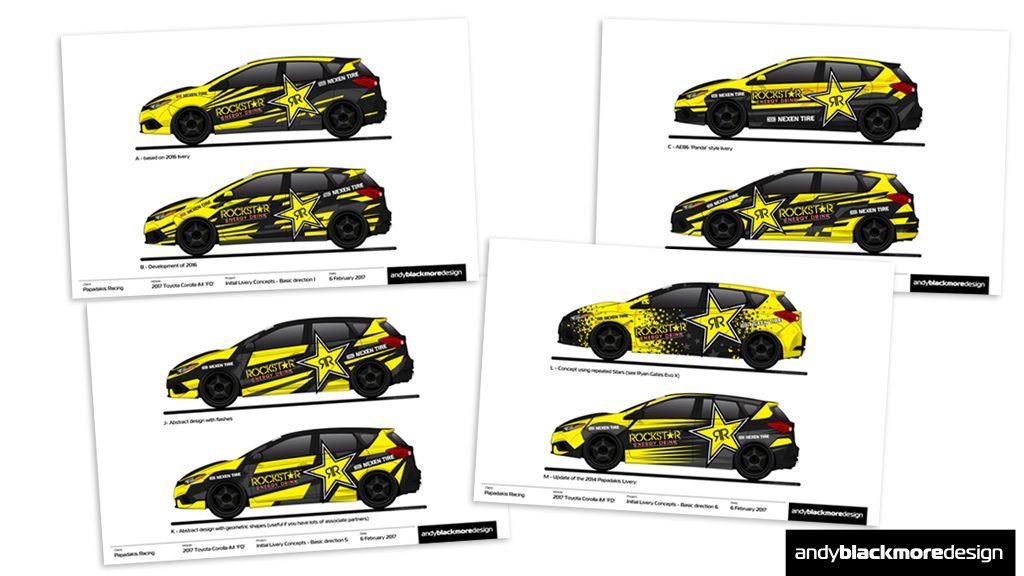 While team owner Stephan Papadakis developed their own bodykit, I started work on some concepts. These first round concepts show some of the early variations. Traditionally Rockstar have busy liveries with tight corporate identity requirements, but with a design chosen, their feedback was for a cleaner livery, so working with the Marketing Director, Jen Horsey.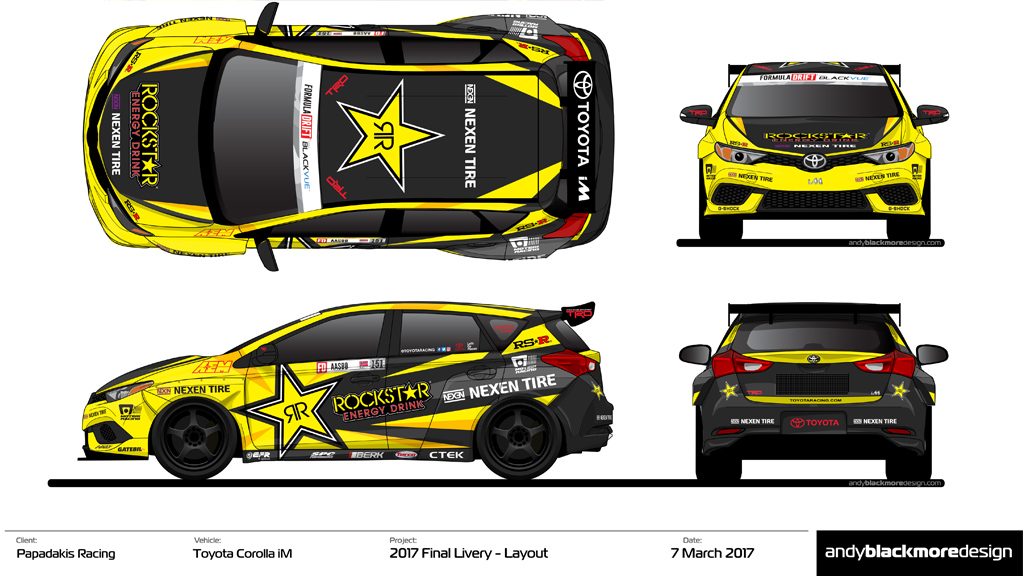 Forumla Drift liveries can be quite the challenge as it has to look cool and appeal to the Drifting community but also meet the needs of partners and sponsors who at the sharp end of the Top 16 are the same high level multi national companies you see in circuit racing.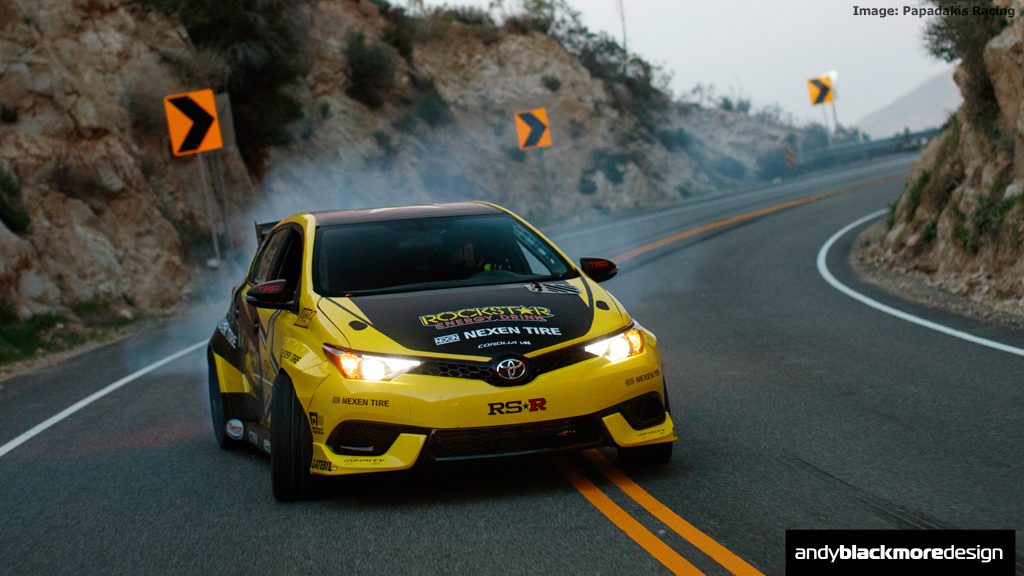 Despite a crazy build time line for the team, the end result is a car with typical Papadakis build quality full of clever ideas. This is no ordinary Corolla. If you want to see some more detail on the build, which this video from Speed Academy .  I'm really pleased Rockstar wanted a cleaner livery.
Hopefully, when time prevails, the darker yellow emitting from the Rockstar icon shown on the original artwork (above) will be added. The team had a crazy amount to do the past few weeks.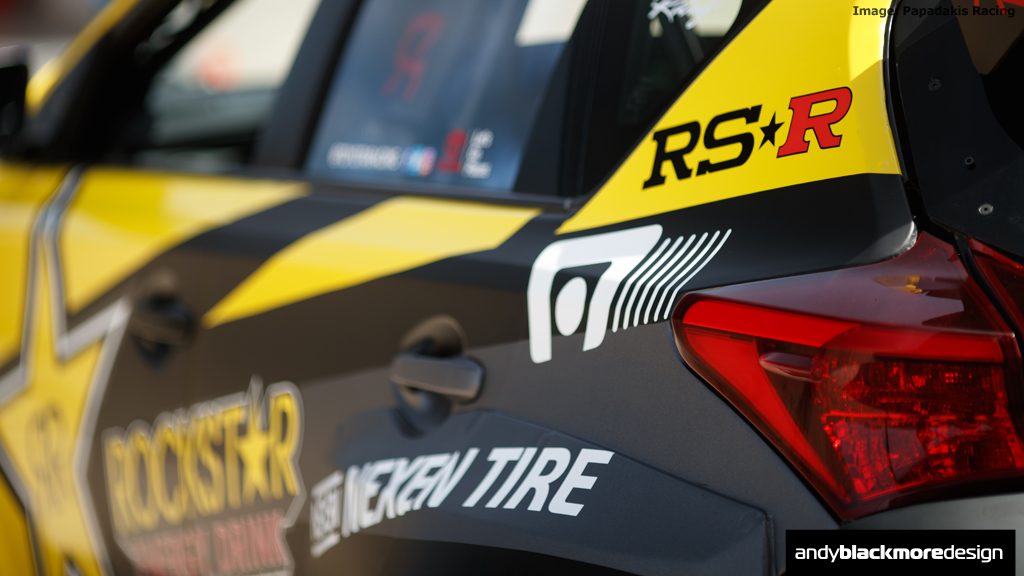 One area I always concentrate on is the material finish. Liveries shouldn't just be about color, so the base, as with all recent Papadakis vehicles (see Hankook Scion tC earlier) has a Satin Black finish with Satin Silver Graphite accents.
This is mated with Gloss Yellow with the majority of logos in White or Black to give maximum contrast.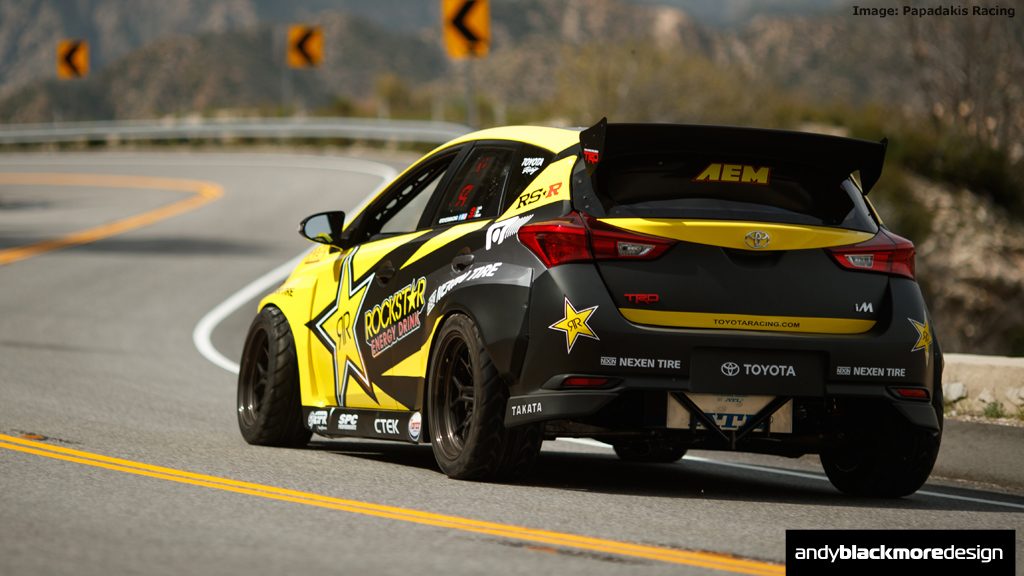 I think this is my favourite angle. A good example how angled graphics can give a real sense of speed in a single frame….or stationary in the paddock
The team also hired good friend of mine, DC Chavez to create an awesome launch video based off the iconic Initial D movie, thanks to the Corolla connection. Every scene was matched to the original.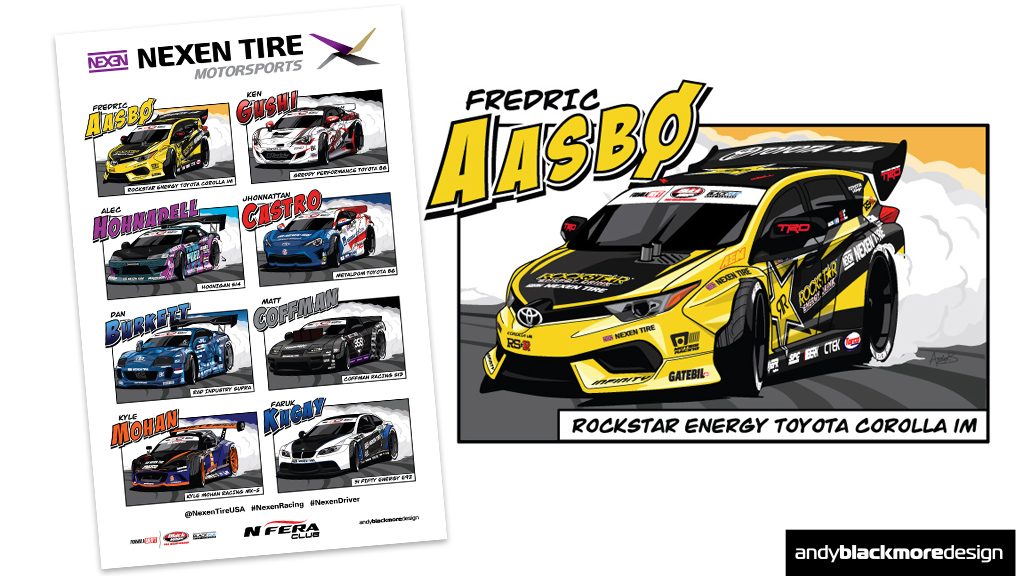 Finally, sister site, SpotterGuides.com will carry a Nexen Tire Spotter Guide from March 31st which features their runners, including the new Toyota iM in toon form. Great fun creating these. You can download them at SpotterGuides.com or pick up a copy in the Paddock at FD events during the season.
The Formula Drift season gets underway this weekend at Long Beach. You can follow with online streaming at Formula Drift while the event will air on CBS Sports at a later date.
Thanks to Papadakis Racing for the opportunity to design this livery. Now time for a back-to-back championship!
---
Original Press release from Papadakis Racing
Rockstar Energy Drink / Nexen Tire Toyota Corolla iM to debut in Long Beach
HAWTHORNE, California (March 27, 2017) — The most winning team in Formula Drift history surprised fans on Monday with the unveiling of their latest Formula Drift competition machine. Champion driver Fredric Aasbo will pilot the all-new Rockstar Energy Drink / Nexen Tire Toyota Corolla iM in the 2017 Formula Drift series.
"We know we kept people guessing in the off-season as we built our 2017 car, and we couldn't be happier to finally have a chance to show it off," said team owner Stephan Papadakis. "Corolla is an iconic nameplate in drifting and we're proud to bring it back to the championship."
The vehicle was revealed Monday in a short online video titled Rockstar D, a live-action, shot-by-shot remake of the opening to the cult-favorite Initial D anime series.
WATCH HERE:
"So many of us who love drifting grew up watching Initial D and it was fantastic to take the car out into the mountains and pay tribute to drifting history," said driver Aasbo, who is the 2015 Formula Drift world champion.
The rear-wheel drive Rockstar Energy Drink / Nexen Tire Toyota Corolla iM hatchback produces 1,000 nitrous-boosted horsepower from its four-cylinder turbocharged Toyota 2AR engine.
It features a four-speed dog-engagement transmission, a Borg Warner EFR turbo, AEM Infinity-8 fuel injection, and RS-R suspension. Custom-designed Dzine Unlimited fenders make room for sticky Nexen N'fera SUR4 tires on Motegi Technomesh D wheels.
The Toyota Corolla last year celebrated its 50th anniversary of production and is a global best-seller.
Fans will get their first chance to see the car in person at the Formula Drift opener Friday (March 31) and Saturday (April 1) in Long Beach, California.
Drifting is a high-skill, high-powered motorsport with an emphasis on car control. Drivers compete in knockout heats on a closed course, sliding sideways in trials judged on speed and style. With origins in Japan, it is one of the fastest growing forms of motorsport in the world.
The #RockstarD video is a frame-by-frame tribute to Initial D created in co-operation with Bounty Content and Rockstar Energy Drink, produced by Jon Brewer and directed by DC Chavez. Initial D is distributed in the United States by Funimation.
SHARE IT: It's on! @FredricAasbo to drive the all new Rockstar Energy Drink / Nexen Tire Toyota Corolla iM in @FormulaDrift. #RockstarD
ABOUT FREDRIC AASBO:
Known for his flat-out style, Champion driver Fredric Aasbo has achieved 100-plus podium finishes on three continents over the past decade of competition. He returns to Formula Drift in 2017 for a full season. He finished second in the championship points last year.
In 2015, he scored four U.S. wins en route to the Formula Drift championship title and now holds the series record for most wins scored by a driver in a single season. Popular with fans, he was named "Fan Favorite of the Year" three years in a row (2012-2014).
Aasbo made his U.S. debut at a global drifting invitational in 2008 and turned heads as the winner of the 2010 Formula Drift Rookie of the Year title. Since then, he has charged through the drifting ranks around the world and is both a fan favorite and championship winner.
Originally from Ski, Norway, Aasbo now splits his time between his native country and Southern California. He campaigns a full international season, with competition stops in the USA, Canada, Europe, and Asia.