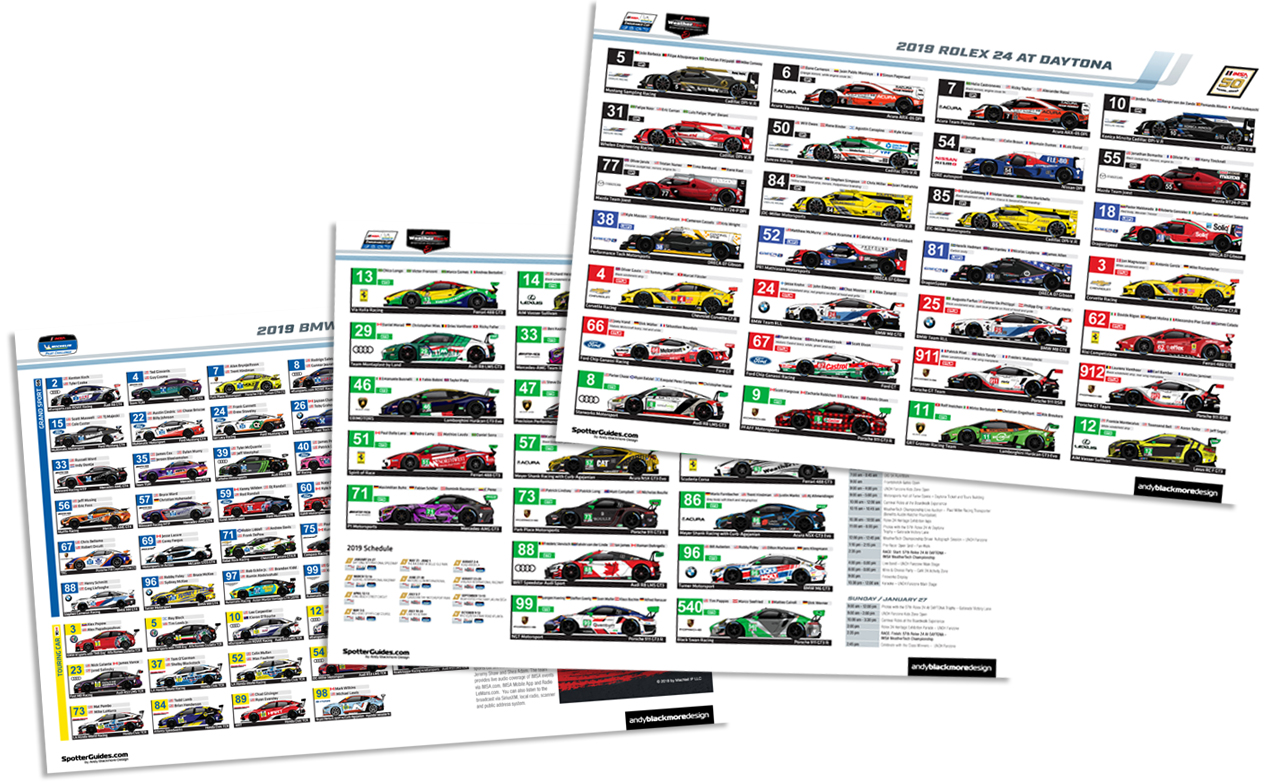 The Spotter Guide series has become a very successful piece of art and visual aid in Endurance Racing in recent years and is now the larger resource of its kind in the world. The majority of our guides are comissioned by various series and thus are 'Official Guides of the series'.
During 2017, there were over 120,000 unique downloads of the  Le Mans Spotter Guide.Each year our downloads numbers increase.
If you would like to know more about a sponsor partnership with the Spotter Guide series, please download this
PDF
Our main Spotter Guides center around the premier classes of Sportscar racing.
I have worked  closely with IMSA for the past thirteen years to produce various Official Spotter Guide and Illustrations. I currently produce the Official IMSA Spotter Guide online and supply the car art for their printed Raceday Fan Guide book, available at the circuit.
The guides are updated prior to every race with the help of the series and the teams and feature the WeatherTech SportsCar Championship and Continental Tires SportsCar Challenge.
Introduced in 2016, I have also produced Official Spotter Guides for the IMSA Mazda Prototype Lites, Porsche GT3 Cup USA and Porsche GT3 Cup Canada. These are season long guides available to download and as printed hand outs in the relevant Paddock Areas at IMSA events.

Following success with the IMSA Guides, Lamborghini Squadra Corsa commissioned me to produce official Spotter Guides for their Lamborghini Blancpain Super Trofeo North America and European guides. Both guides are updated prior to each race, available as an online download and also as a hard copy in the Lamborghini Paddock and ViP area.

WeahterTech  were the partner for the 2018 Le Mans Spotter Guide. Produced over three pages featuring all the cars, track map, timetable  and infographics this was a very useful guide for fans and for WeatherTech who could co promote their two entries in GTE-Am, a class which doesn't always get much coverage.
In the past Nissan and Dunlop have sponsored the Le Mans Spotter Guide
In 2017, the guide was available online and also printed by Dunlop and Travel Destinations to give out at the track. Over 150,000 fans ended up with the Dunlop brand in their hands!


I produced a Hero Card/Spotter Guide for Nexen Tire's re-introduction into Formula Drift. This featured car-toon style illustrations of each car.
In Formula Drift, I produce a Hero Card style guide of Hankook Tire runners.
Nissan and their brand NISMO helped to bring various guides to the public between 2012-2015. The NISMO Spotter Guide series included  World Endurance Championship, the European Le Mans Series and the 24 Hours of Le Mans. A change of Prototype participation has paused their involvement.
In addition to these, I have also produced guides for the 24h of Dubai, BTCC, Formula Drift, DTM, Formula One and even Tour de France.
The Spotter Guide series is very popular with race fans, team and series personnel, corner workers and the media including commentators as they provide masses of information quickly and concisely.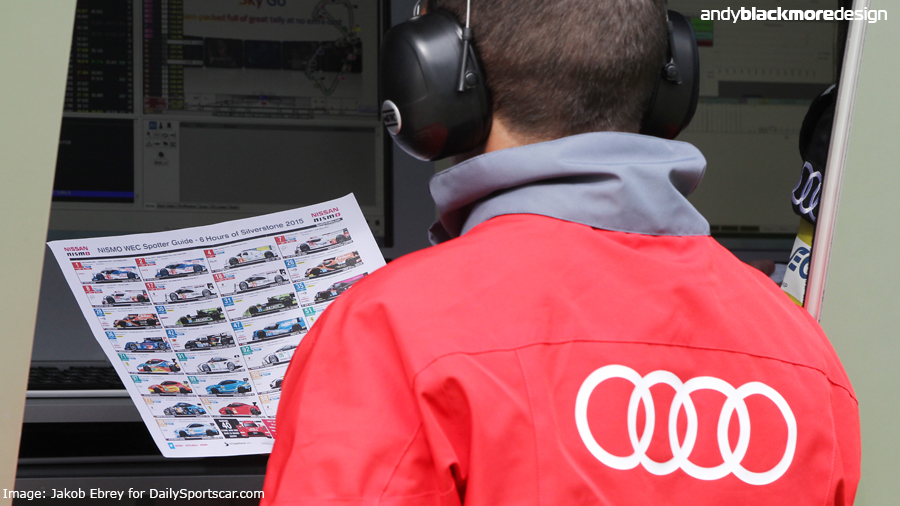 EVERY Commentary team on-site at the 2015-2018 24 Hours of Le Mans used the guides!
We are currently welcoming sponsorship partners to support some of the guides including the Formula One Guides. Each guide takes between 50-100 hours of work with most receiving race by race updates of 1-3 hours a time so it can be time consuming.

In summary, the benefits of title partnership :-
Partnership branding (fonts and coloration) of your choice.
Partner info panels when empty spaces are involved – at Le Mans, third page usually features Partner content, engine specs etc
Additional highlight or call out on Partner supplied entries if required
FULL RIGHTS for Partner to print the guides as they see fit as a free ViP/ customer style gift – full vector available for high res printing
FULL RIGHTS for Partner to host/post the guide on their websites
Use individual cars for features on Partner website, printed media etc.

If you would like to know more about a sponsor partnership with the Spotter Guide series, please download this PDF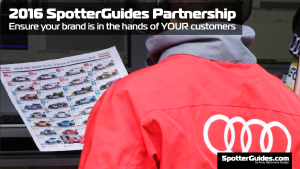 In addition, I am available for commissions for individual vehicle illustrations. Please visit this page if you are interested in this aspect.
The following image show examples of how Spotter Guide illustrations have been used.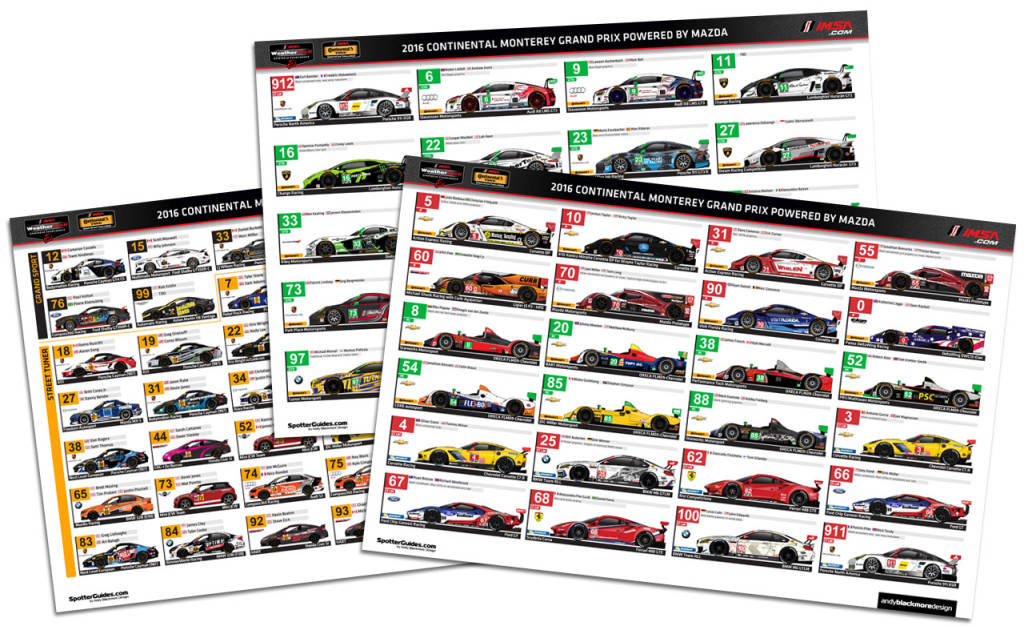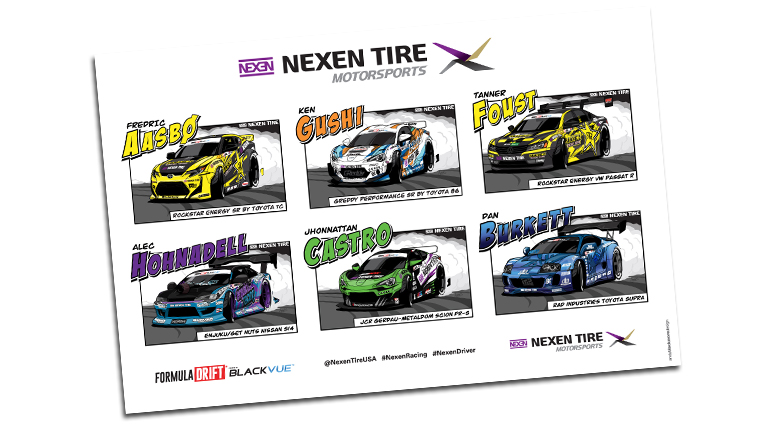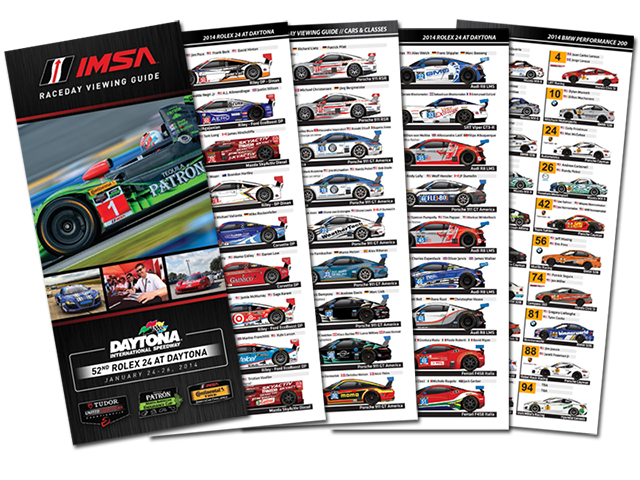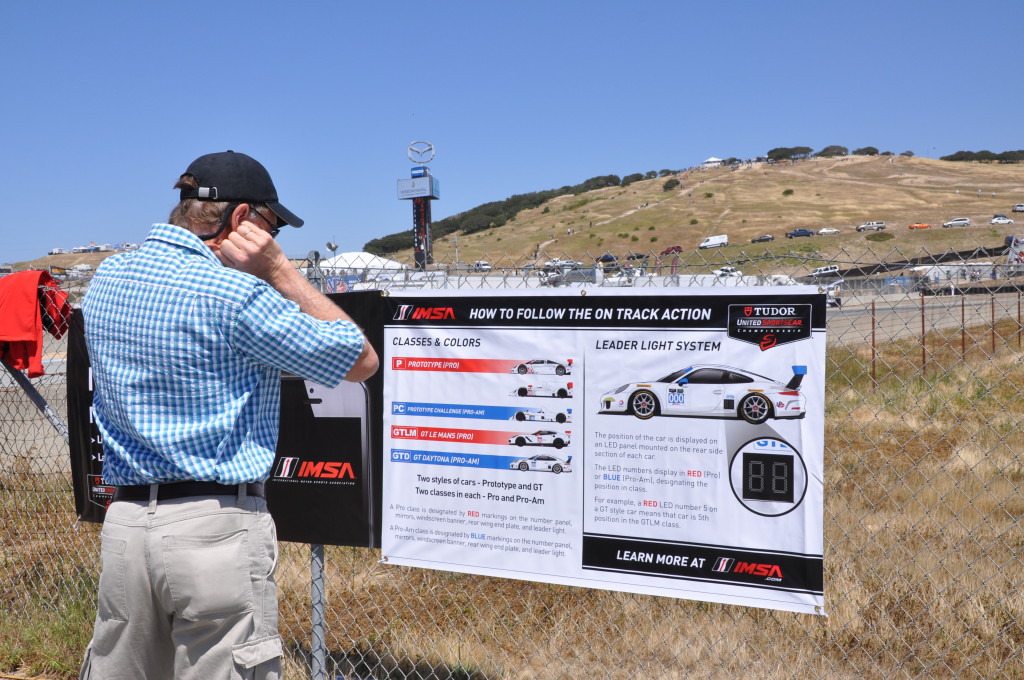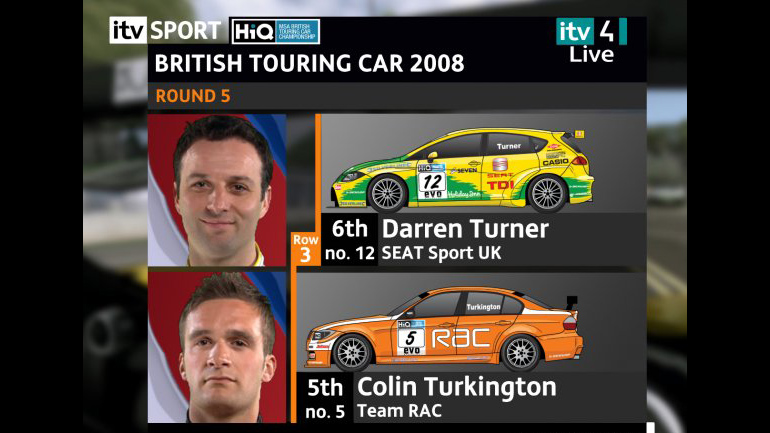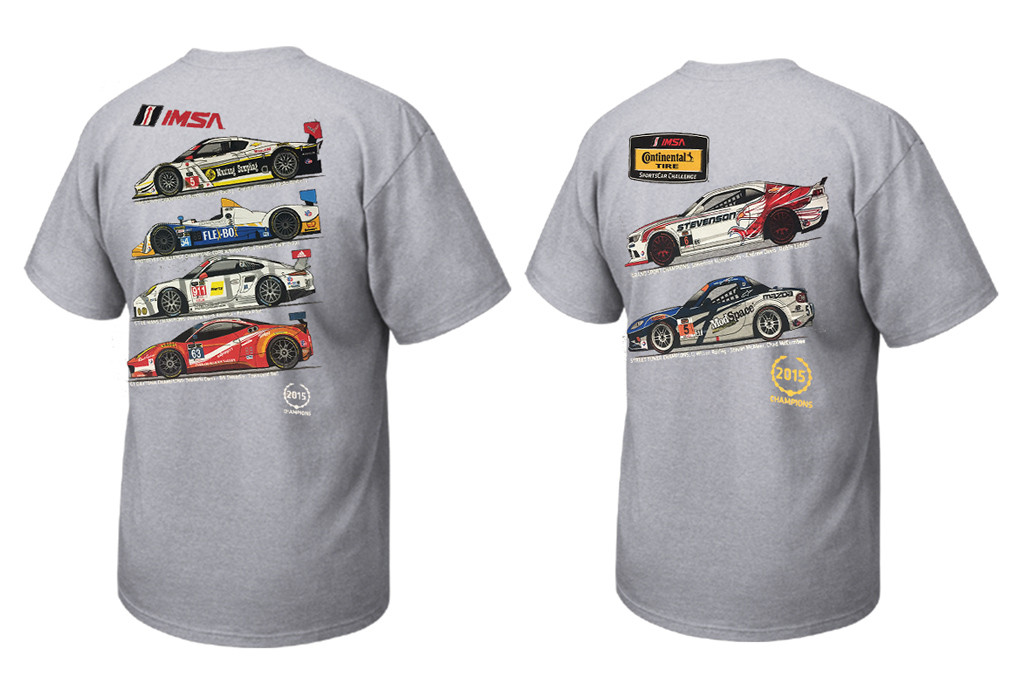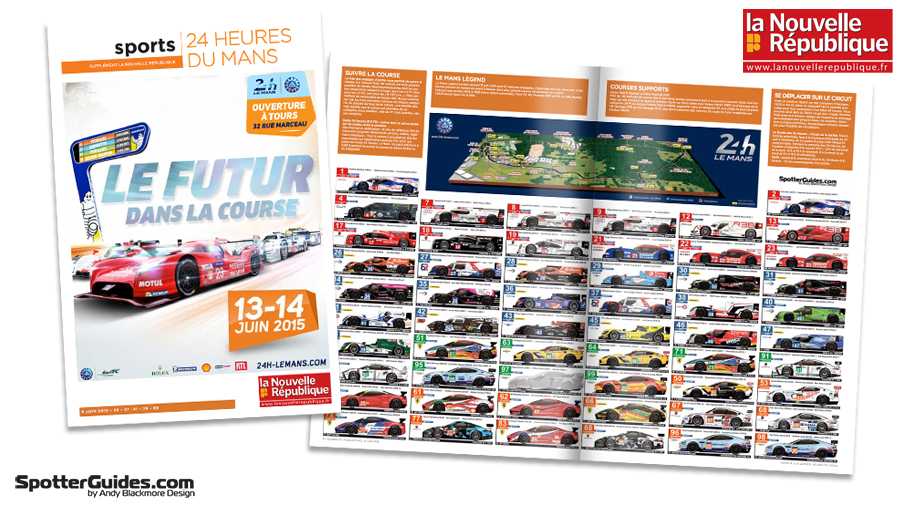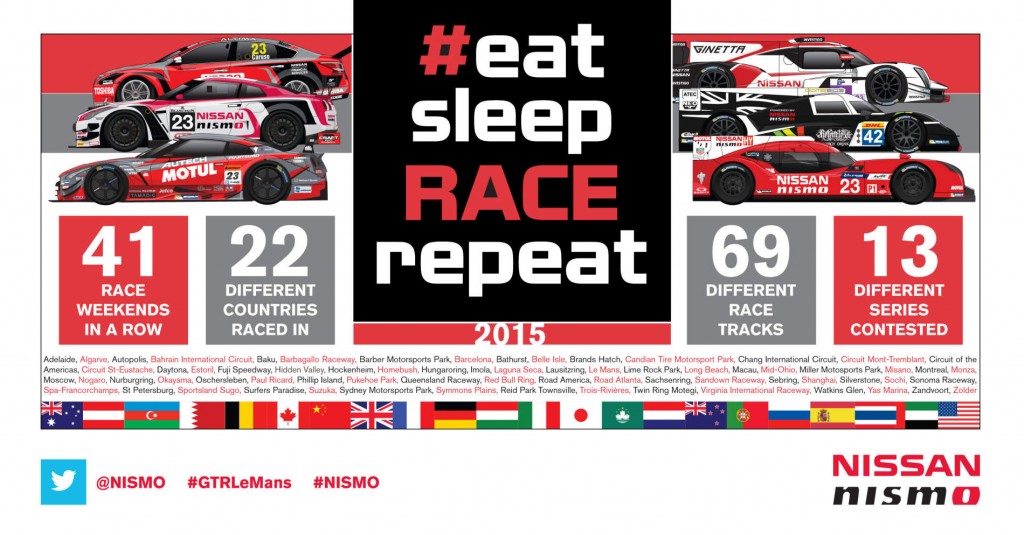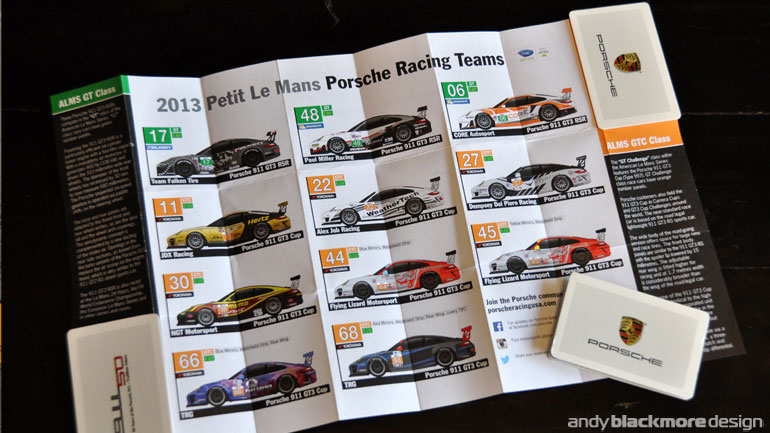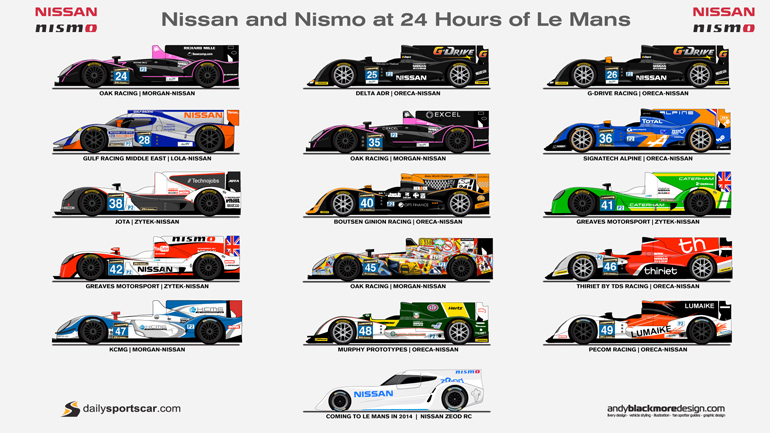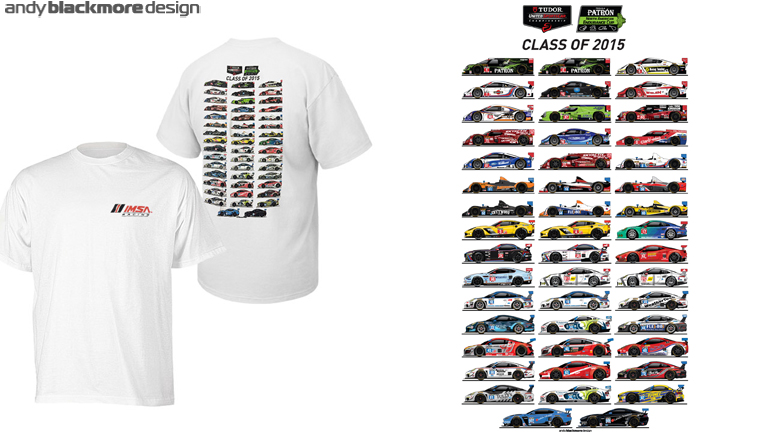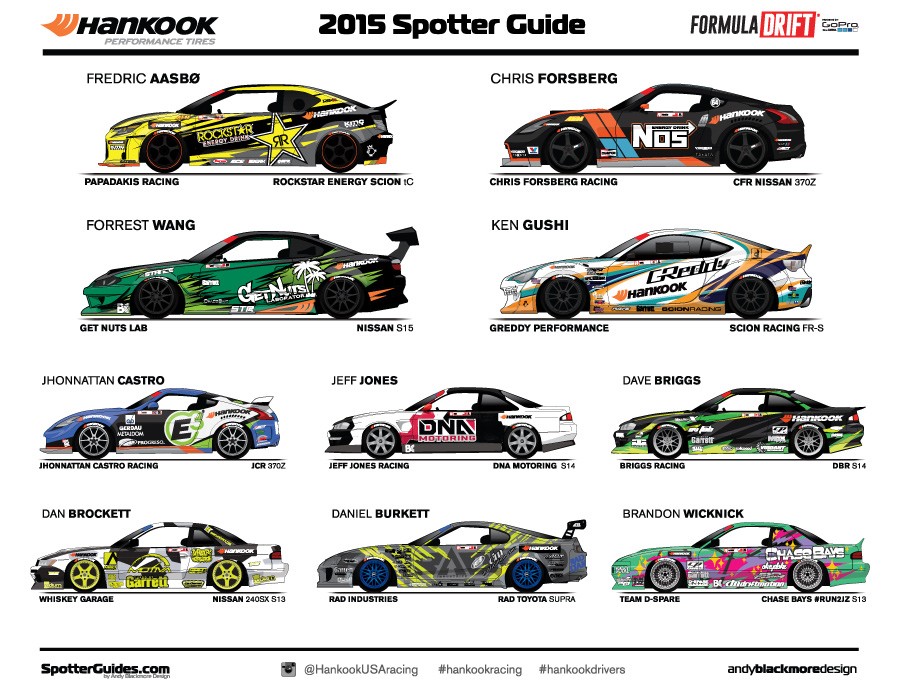 Spotter Guides Sponsorship Partners
Spotter Guides Media Partners