Following on from my recent posts featuring my liveries for Subaru Rally Team USA for Rally America and in launch trim, the Global Rallycross Championship, the new 2015 WRX STi will make its debut in the opening round of the Red Bull Global Rallycorss Championship. The new cars have been extensively developed by VermontSportsCar with additional input from Subaru Tecnica International.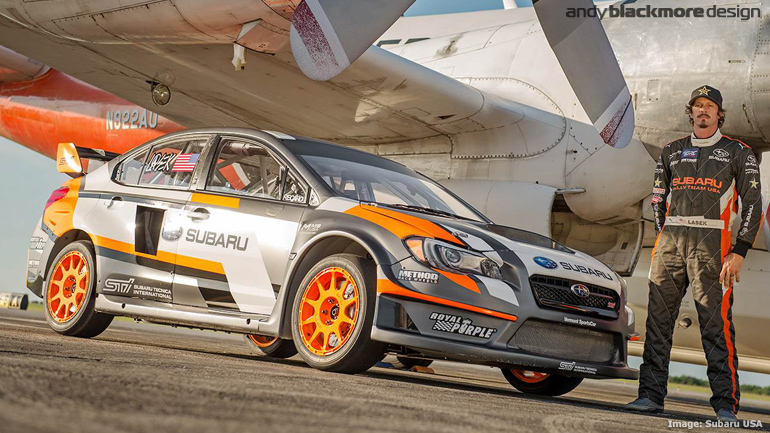 2014 X Games Rallycross Silver Medalist, Bucky Lasek will compete in the Orange accented machine, the hue has become his Subaru trademark in recent years….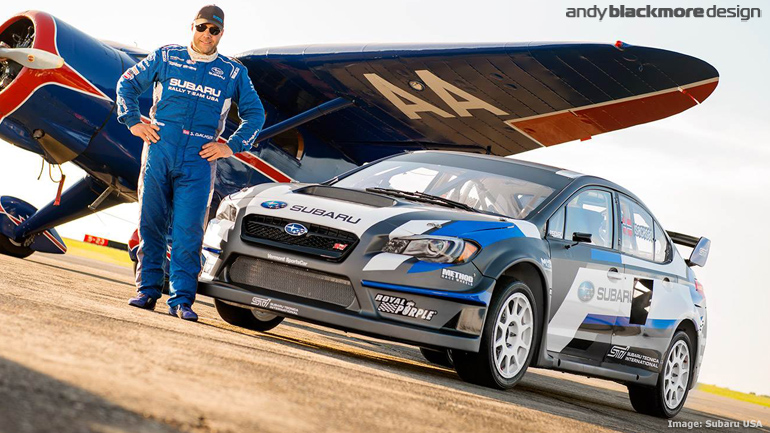 …while 2014 GRC Seattle winner, Severre Isachsen will run in the more familiar blue accented coloured car.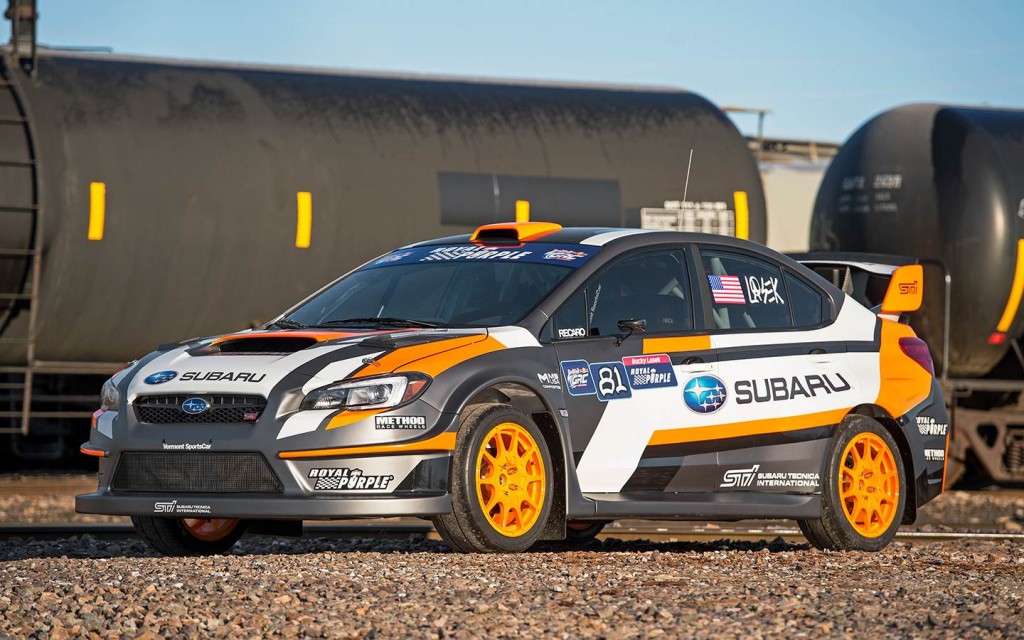 The new car made its show debut at the recent New York Auto Show.
Round One of the series takes place on Sunday 31st May in Fort Lauderdale, Florida. US residents can watch same day coverage on NBC. A non championship round takes place a week later at X Games Austin which will have significant exposure. The Rallycross segment of X Games will be broadcast on ABC on Sunday 6th June. The season then continues through to Round 12 during SEMA show week in Las Vegas.
Original Press Release: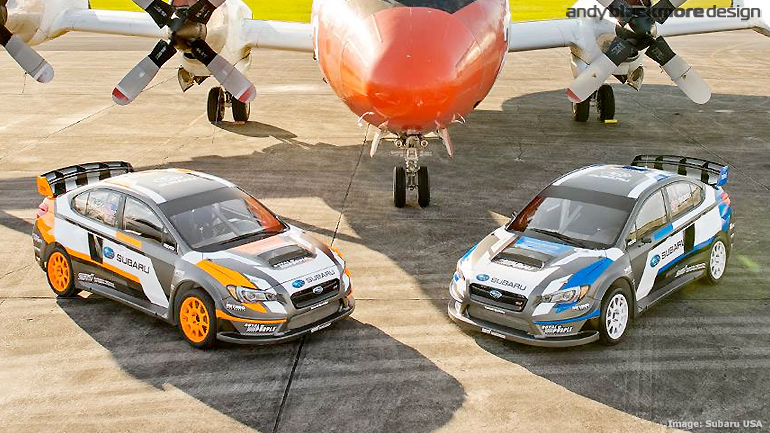 Subaru Rally Team USA Completes 2015 WRX STI Rallycross Car Testing Ahead of Red Bull GRC Season Opener
Subaru Rally Team USA has completed pre-season testing of their new VT15x rallycross car ahead of the first Red Bull Global Rallycross Championship round set for May 31 in Ft. Lauderdale, FL. Subaru factory drivers Bucky Lasek, Sverre Isachsen, and Travis Pastrana took part in the final pre-season test session at the Florida International Rally and Motorsports School in Starke, FL.
Co-developed by Vermont SportsCar and Subaru Tecnica International, The VT15x starts life as a production 2015 WRX STI, then receives extensive upgrades to the driveline, suspension, and aerodynamics creating an STI capable of 0-60 in 2 seconds that can handle pavement, dirt, and jumps. True to its factory design, the VT15x features a turbocharged four-cylinder SUBARU BOXER® engine and all-wheel drive.
As a warm up to his X Games Rallycross entry, Subaru team driver Travis Pastrana joined the test as well. Pastrana will compete in the 2014 WRX STI rallycross car he ran last season with new performance upgrades until his VT15x is completed.
"The technical collaboration between Vermont SportsCar and Subaru Tecnica International is beginning to show its fruits in testing," stated Rob Weir, Subaru Motorsports Marketing Manager. "Compared to our last version of rallycross car, which took us to five podiums last year, the VT15x is a revolution in terms of outright speed and manoeuvrability. We're still learning and will continue to develop this new STI, but our confidence for the start of this season is strong."
"This new STI is such a great car," said Bucky Lasek. "The power and handling is amazing, it's much easier to push to its limits around a rallycross track. She flies nice too!"
Sverre 'The Viking Warrior' Isachsen also weighed in on the new 2015 WRX STI rallycross car. "You need a strong car in GRC to handle the big jumps, hard landings, and door-to-door battles. The team has done a great job of making the car both faster and more durable for this season."
2014 X Games Rallycross Silver Medalist Bucky Lasek and 2014 Red Bull GRC Seattle winner Sverre Isachsen will lead the charge for Subaru Rally Team USA in the 13 round series. Travis Pastrana will serve a duel role for Subaru, competing in X Games plus select Red Bull GRC and Rally America events.