Excited to announce I have been working with Subaru USA Technical Partner, Vermont SportsCar, on the 2015 Subaru WRX STi Rally America Livery.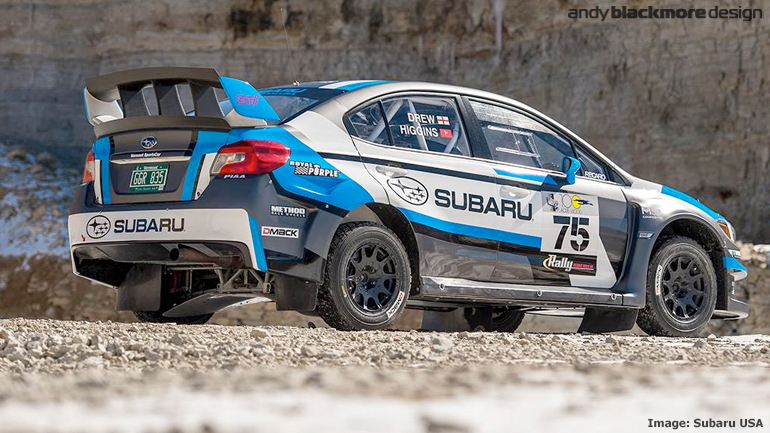 I was originally brought on board by Vermont SportsCar, the team who run Subaru USA's Rally and Global RallyCross (GRC) programs this time last year, to bring an existing concept to life for their previous generation GRC Car (below).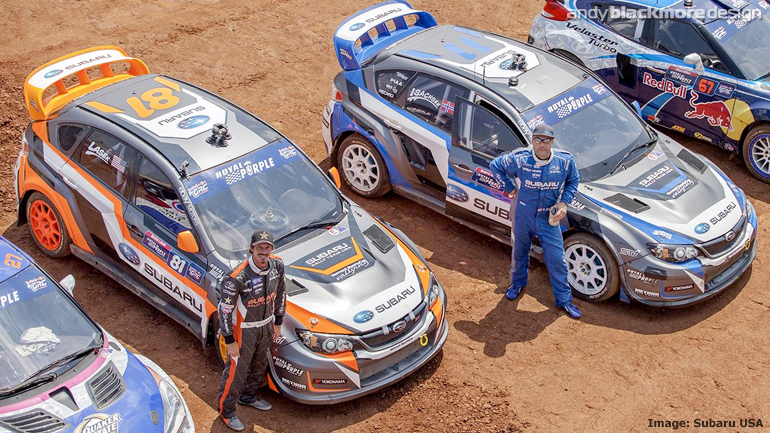 With a new car and body kit for 2015, I have been working with Vermont on various designs. Very much as a collaboration between the team and another designer early on.
The Blue and White have become signature colours for the #75 entry of defending Rally America Champion David Higgins in recent years
In addition to this livery. I have also designed various race transport and trailer liveries during the past 12 months for the team.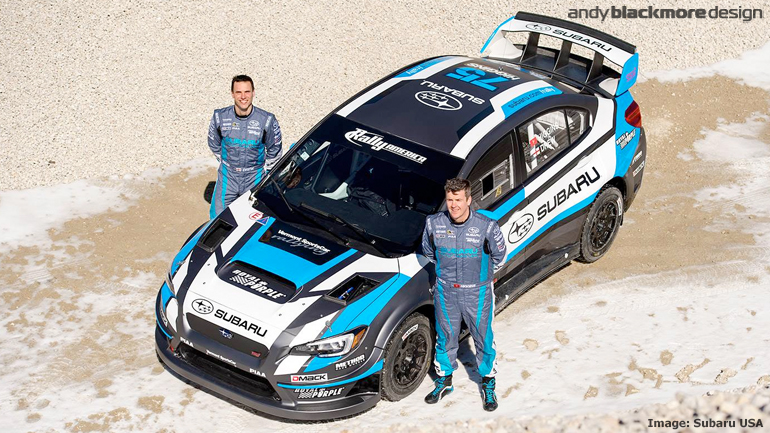 Only two teams run the new shape Subaru WRX STi in rallying, Vermont for Subaru USA and Rocket Rally for Subaru Canada. Very fortunate to have liveries for both of these awesome machines.
The new Widebody kit and livery will make their debut at the 100 Acre Wood Rally this weekend in Missouri.
Press release (Subaru): http://www.subaru.com/content/subaru/en/motorsports/articles/2015-wide-body-rallycar.html
February 25, 2015
Subaru Rally Team USA Reveals New Livery and Widebody on their 2015 Subaru WRX STI Rally Car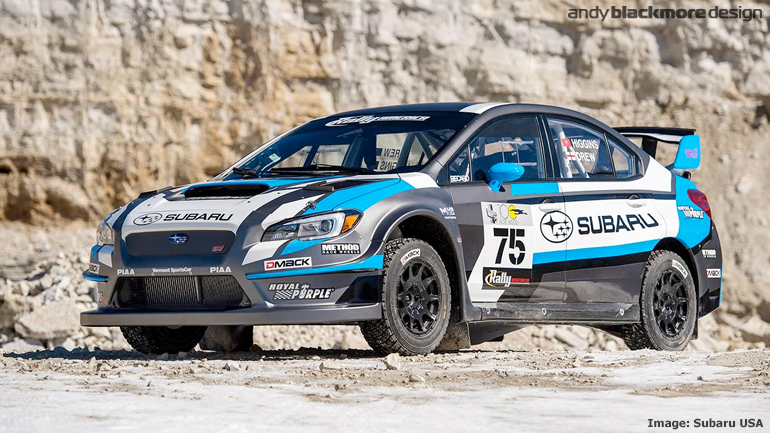 Subaru Rally Team USA reveals their new widebody 2015 Subaru WRX STI Rally Car wrapped in a fresh new 2015 team livery for the Rally America Championship. The car is an updated version of the #75 car which debuted last month and drove to victory at the Sno*Drift Rally by defending Rally America Champion David Higgins and co-driver Craig Drew.
The updated 2015 Subaru WRX STI rally car, built by Subaru technical partner Vermont SportsCar features an aggressive wide stance and body lines molded to optimize the car's aerodynamic performance.  Subaru Rally Team USA will compete with the car at this weekend's Rally in the 100 Acre Wood, based around Salem, Missouri.
"The new car is more stable and has less oversteer, and that really suits my driving style," explained David Higgins. "In our gravel tests we have seen improved cornering speeds compared to the 2014 car and the new 2015 chassis is proving to be much improved in many areas. In all my years of rallying I have never felt so at home in a new car as this one and that's credit to Subaru and team for the hard work they have put in to produce such an amazing car."
Named after the storybook home of Winnie the Pooh, The Rally in the 100 Acre Wood is set in the foothills of the Ozark Mountains of Missouri. Representing round two of the eight event Rally America
Championship, the rally features very high-speeds on smooth and flowing gravel roads that are a favorite of many rally drivers.
"This rally is always difficult, we go from the slowest event of year at the Sno*Drift rally on the ice, to the fastest here in Missouri. It's so fast that it's now known as the 'Gravel Grand Prix' and it's all about the big high speed commitment. One brake in the wrong place has such a big affect on the next straight. The stages can be wide and that's makes them a little bit more forgiving than some of the other Rally events and that makes it very popular with the drivers."
Conditions at this year's rally could prove extremely difficult with snow and ice still covering many of the roads in the area.
Higgins had expected a big battle with rival Ken Block at the Rally in the 100 Acre Wood, but after officially entering the rally Block recently withdrew for undisclosed reasons. "It's a big shame that Ken is not here, it's always a great battle and it's like training for a big boxing match then they don't show."