EDIT: The print is now sold out. Thank you to everyone who purchased the print and rasied over $6000 for the Wilson Children's Fund
Words: Marshall Pruett, Racer Magazine.
Justin Wilson fans have a new charity print to purchase that will support the wife and children of the late racecar driver. Created by renowned livery designer Andy Blackmore and IndyCar digital artist Ryan Long, the two have come together to create a print depicting each car Wilson drove to victory in a career spanning three decades.
From the Formula Vauxhall Junior car Wilson used to earn his maiden win in 1994 to the Dallara DW12-Honda that took the Briton to Victory Lane for the final time in 2012, 14 cars have been created by Blackmore & Long. And in some cases where images and logos were hard to find, the Wilson family, including Justin's father Keith, provided invaluable help to accurately recreate the cars.
Altogether, 32 people came together to make the $125 print possible, and of note, Noblesville, Ind.-based Rowland Printing donated the labor and material costs to produce the print. The batch of 50 prints, done at 18″x12″, will be sold on eBay starting at approximately 9 p.m. ET at the following link: http://stores.ebay.com/Celebrity-Charity-Auctions/Justin-Wilson-Memorial. All proceeds will go directly to the Wilson Children's Fund.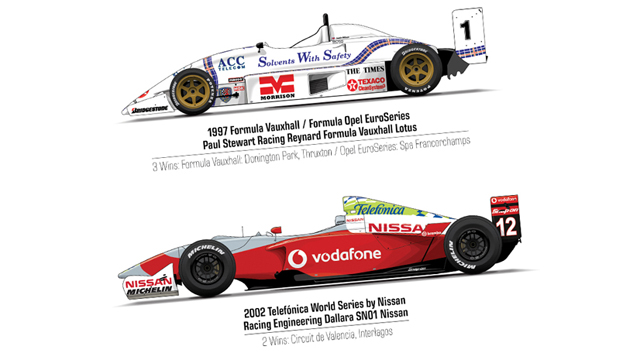 "I had originally met Justin a few times when we were both still in the UK during his time in Formula Vauxhall and always followed his career more closely than others," Blackmore told RACER. "I wanted to help Justin's family following his untimely passing and used the helmet graphic from an old Champ Car illustration as the basis of the helmet tribute sticker that helped spread the word, was used as a tribute, and more importantly, raised funds for the Children's Foundation. Continue Reading