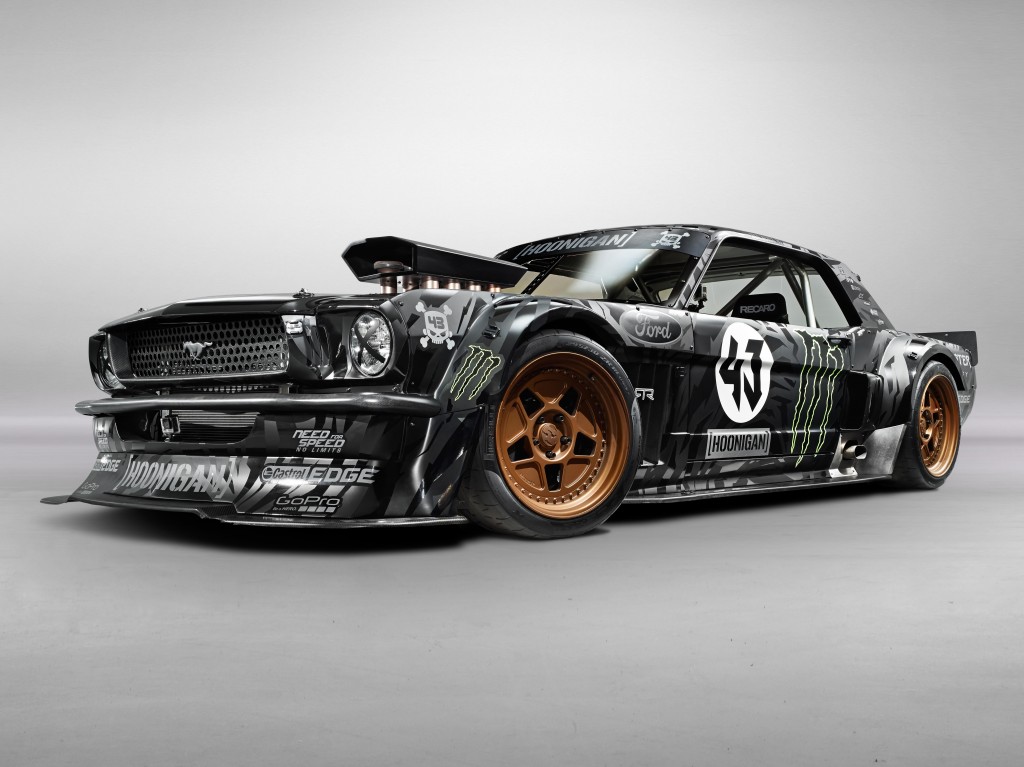 Client: Vaughn Gittin Jr/ 'RTR'
Back in early 2012, Formula Drift Champion, Vaughn Gittin Jr commissioned me to work on the vehicle styling of a special Mustang like no other. We had taken this path once before an designed the Ford Mustang RTR-X, supported by Need for Speed. This had been based on a Reproduction 1968 Boss 302 to a very high standard with clean resolved lines.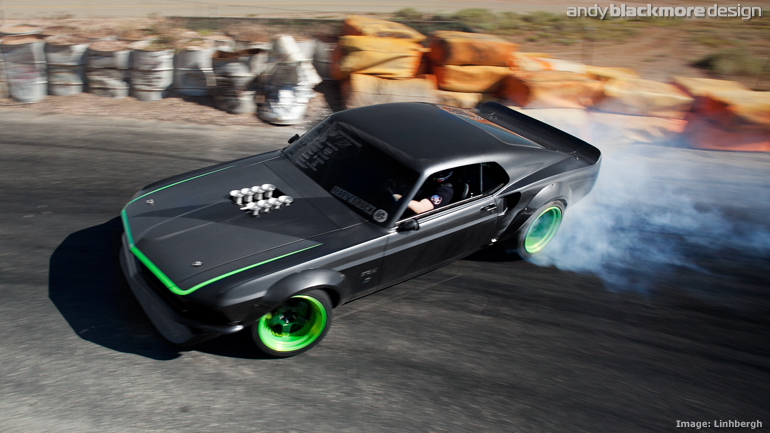 This new Mustang project was almost a Polar Opposite!
Vaughn had been contracted via his RTR brand to build the most insane 1965 Mustang you have ever seen for Ken Block for a then forthcoming Gymkhana project. Mad-Max meets RTR-X meets Rat-Rod were the first thoughts.
Vaughn and Ken had already trashed out the basic concept, very wide track, ITB's sticking out the hood, low as you can go, so with some reference boards covering everything everything from DTM to modern race and rally through to classic Le Mans cars, it was time to put pen to paper and then tablet.
At each stage, the art was reviewed by Vaughn, Ian Stewart of ASD (the car builder) and Ken and fed back to me.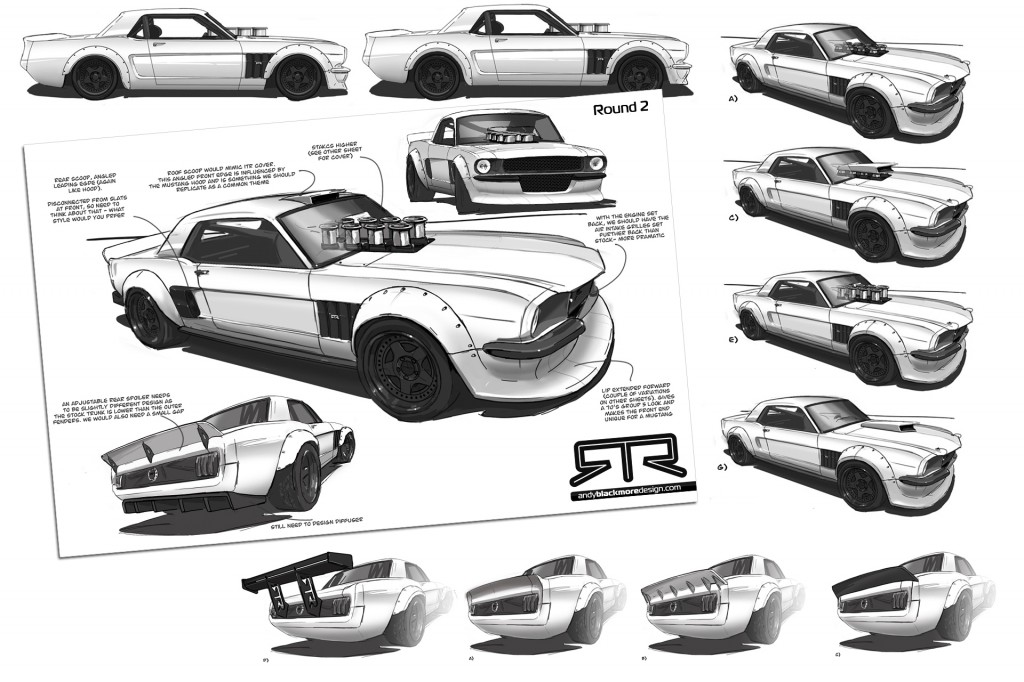 Initial concepts were a bit 'too' resolved, clean and heavily ' RTR-X ' influenced. The team required something a little more bad-ass, aggressive and more Mad-Max influence which ensured I left my comfort zone!
These sketches from Round 2 (above) of the initial concepts show ideas for some of the main areas of the build including the front and rear spoilers, cut down over-fenders and an air intake. You can see some of the softer form around the overfenders and front lip.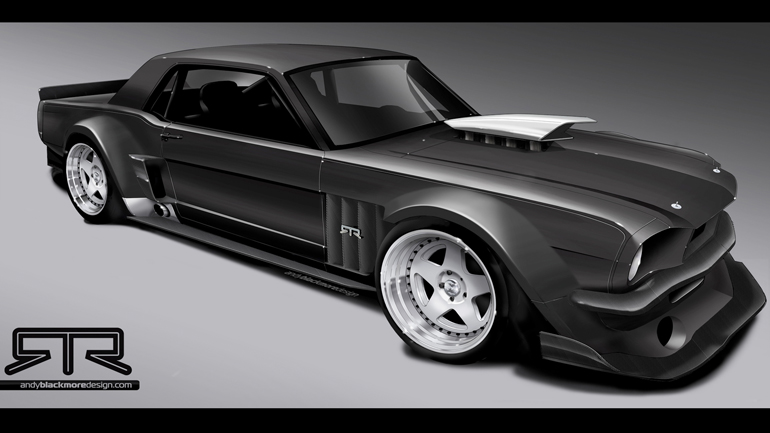 We ended up developing this over a few months with reviews and feedback back and forth. This render being Version 10 🙂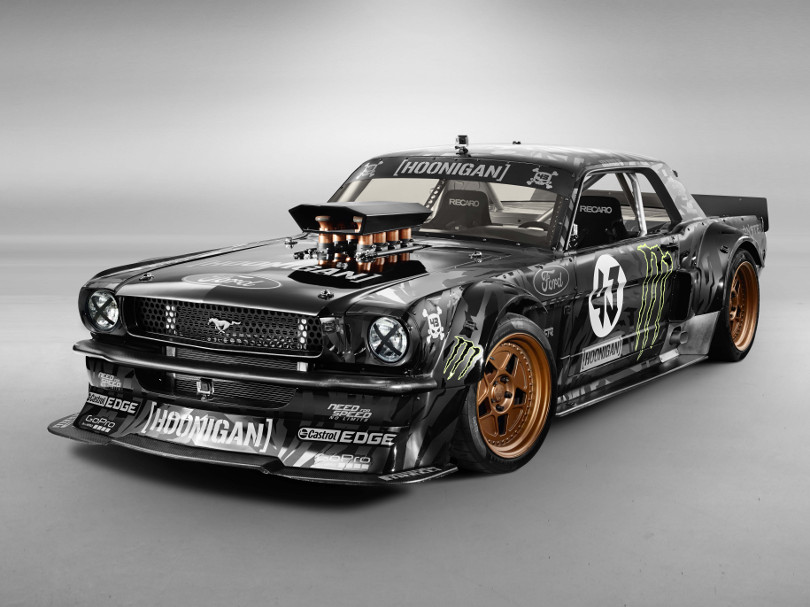 Some small changes with the fenders, deleting of the front lip brake air intakes and different fifteen 52 wheels, but pretty close!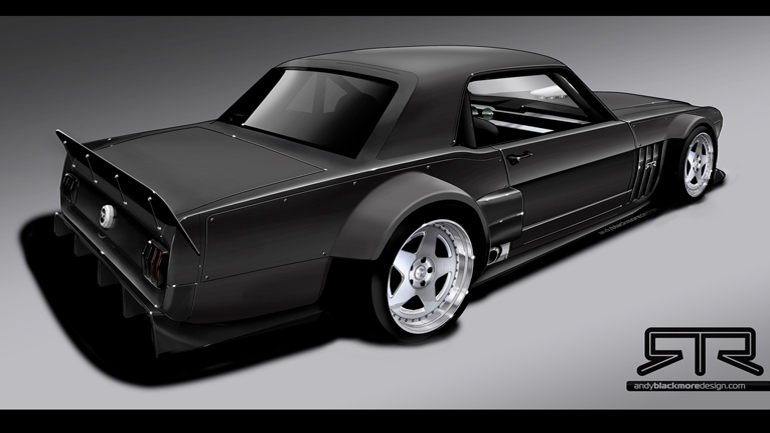 Once the 'concept' design was complete, it was down to Vaughn, RTR, ASD and the Hoonigan organisation to develop the car into the beast you see today.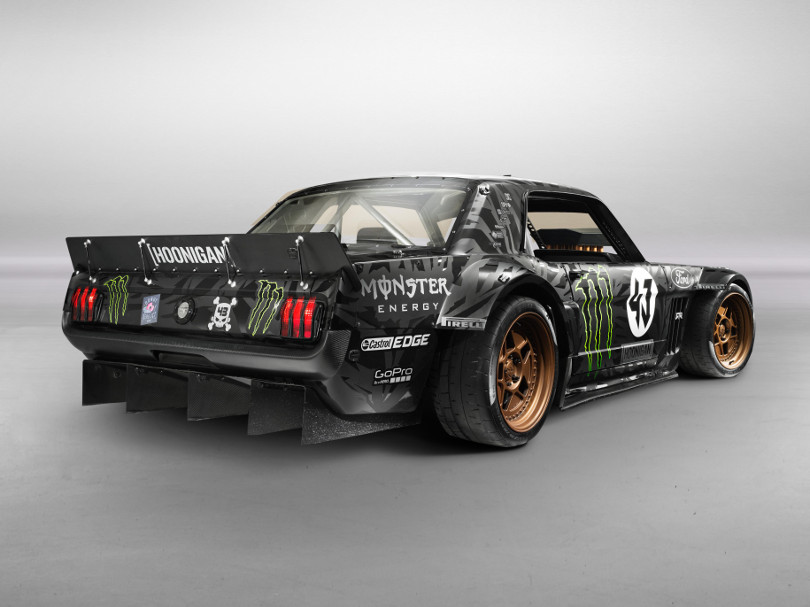 The livery design was created in-house by the Hoonigan team. Works well as it doesn't destroy or disguise the car form.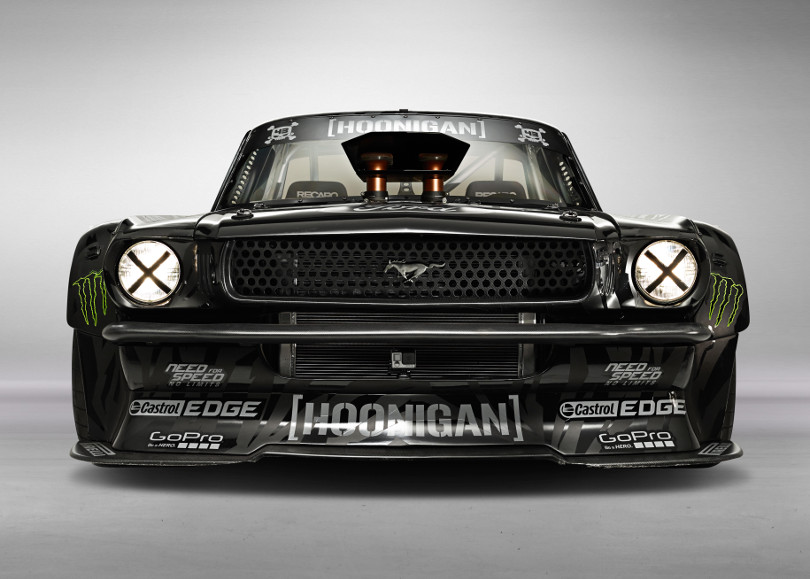 These final images by Tom Harmer ( Studio ) show the final car on the eve of its debut at SEMA while the on location images from Larry Chen show the car during filming.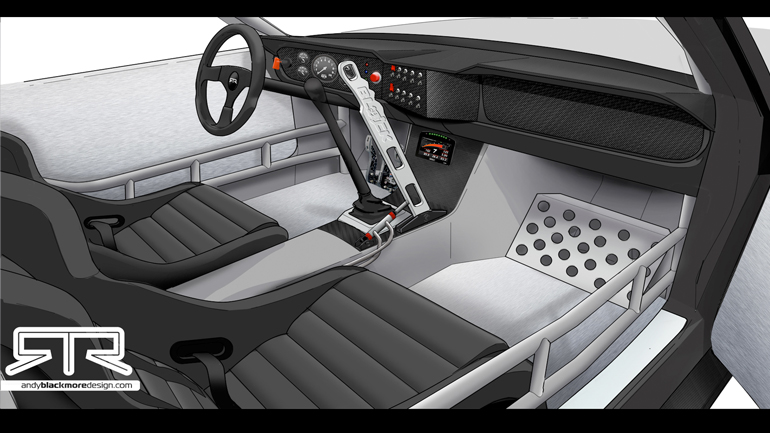 The interior went through a number of iterations and was a real challenge.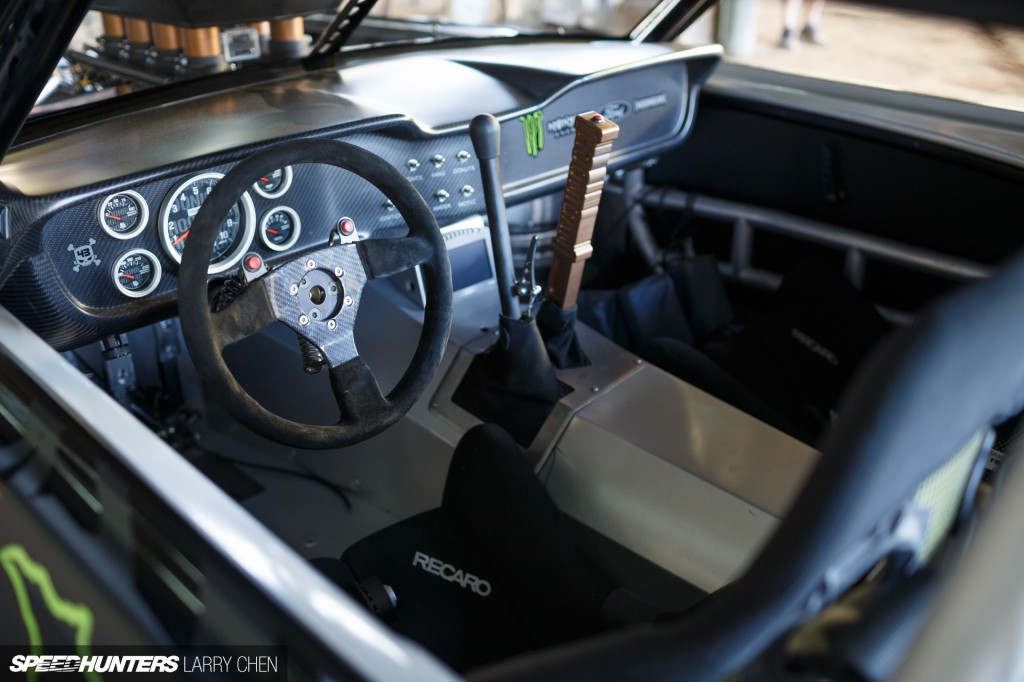 The final interior has a similar concept with a carbon dash, with an angled panel for switches including the now in-famous 'Doughnut' Switch.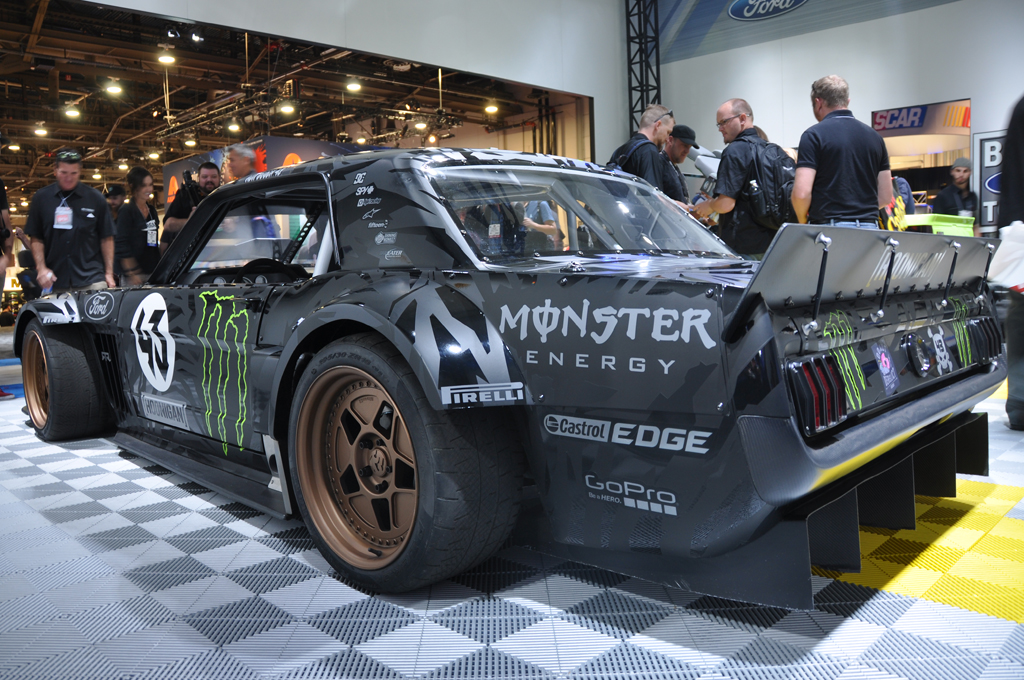 The project was top secret and no one knew about it until one weekend in late summer when LA was woken by screeching tires. I didn't get confirmation the car was going to be at SEMA until a couple of days before. With Gymkhana 7 release a few weeks away, I half expected it to be held back for that.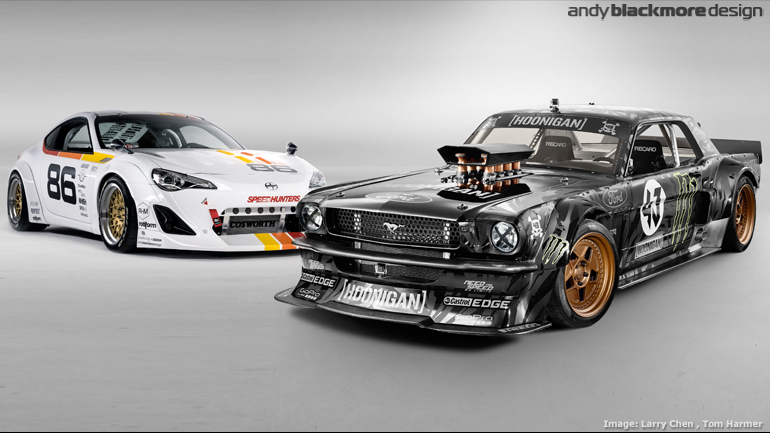 Along with the Speedhunters Scion FR-S which won the Scion Tuner Challenge, these two designs were a couple of the stars of the show. A very proud moment.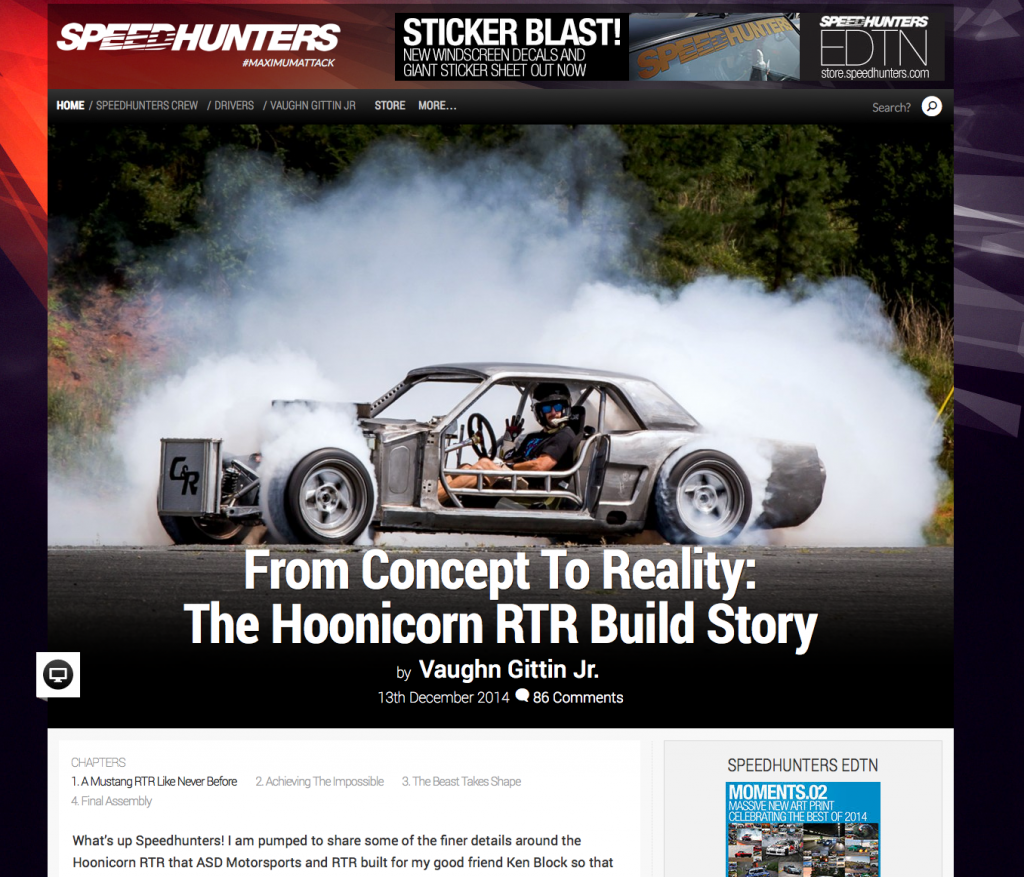 You can read more about the entire build with this awesome post on Speedhunters by Vaughn Gittin Jr
Or this cool walk around video from Chris Harris where he states…
"So, its a stunning set of aesthetics, a stunning piece of engineering and possibly the coolest Mustang… ever built"- Chris Harris
and finally, if you haven't seen it, Gymkhana 7 then take a look. Join one of the 29million viewers who have. Enjoy
A fun project to work on which shows the diversity from the Scion Tuner Challenge Scion FR-S and the Mustang RTR-X. Thanks as ever to Vaughn Gittin Jr and to Ken Block to get the chance to play a small part in this awesome project.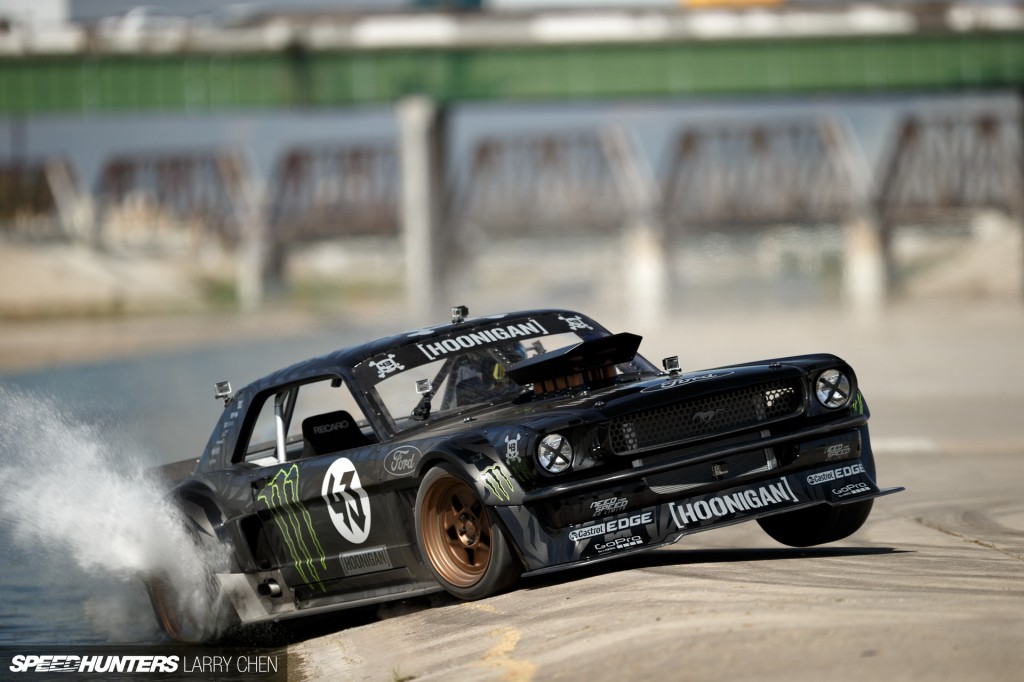 Ken Block's 1965 Ford Mustang 'Hoonicorn RTR'
Numbers
Max Power: 845hp, Max Torque: 720lb/ft
Engine
410 cubic inch Roush Yates V8, 8x Kinsler individual throttle bodies, MoTeC engine management system
Driveline
6-speed Sadev SC90-24 all-wheel drive transmission with hydraulic handbrake system, Quarter Master 7.25-inch triple-plate clutch, ST03 differentials front/rear
Suspension
Custom designed and fabricated at ASD Motorsports, inboard cantilever JRi dampers, Eibach springs
Wheels/Tires
fifteen52 R40 18×10.5-inch wheels, custom Ken Block compound Pirelli Trofeo R 295/30R18 tires
Exterior
1965 widebody Ford Mustang designed by Andy Blackmore Design, RTR, Ken Block and Hoonigan, ASD Motorsports full tubular chassis and front/rear suspension mounts, RTR carbon fiber body panels. Livery Design by Hoonigan
Interior
Styled by Andy Blackmore, Design, ASD Motorsports custom rollcage and door bars, one-off carbon fiber dash, MoTeC display, Recaro race seats, Sparco harnesses, custom Auto Meter Hoonigan gauges, Hoonigan machined handbrake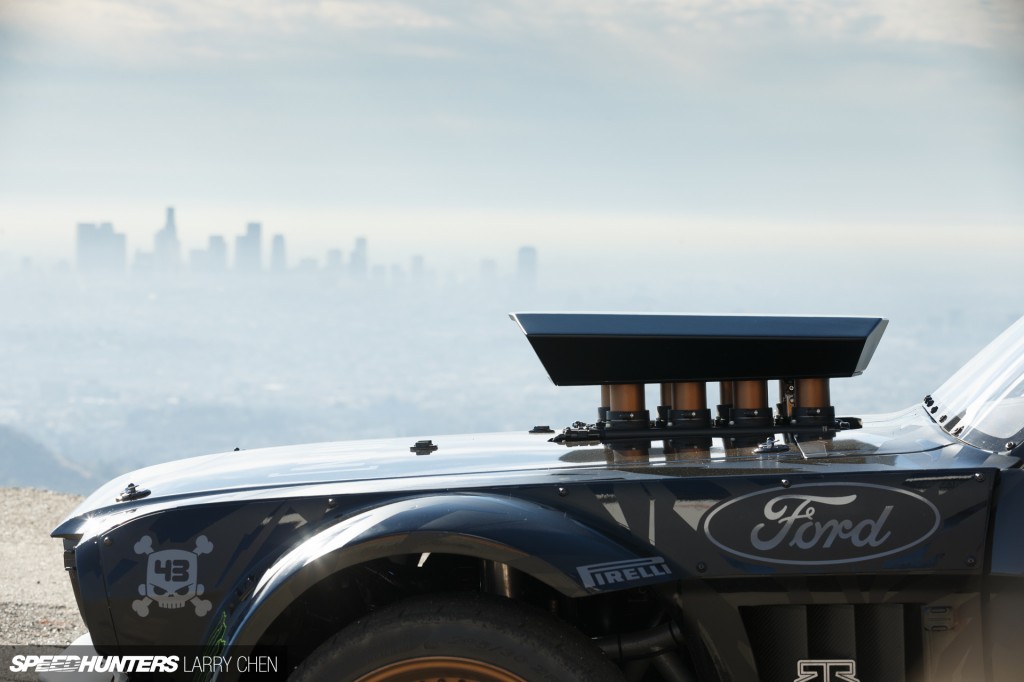 Studio Images : Tom Harmer/Hoonigan
On location Images : Larry Chen
SEMA Image: Andy Blackmore