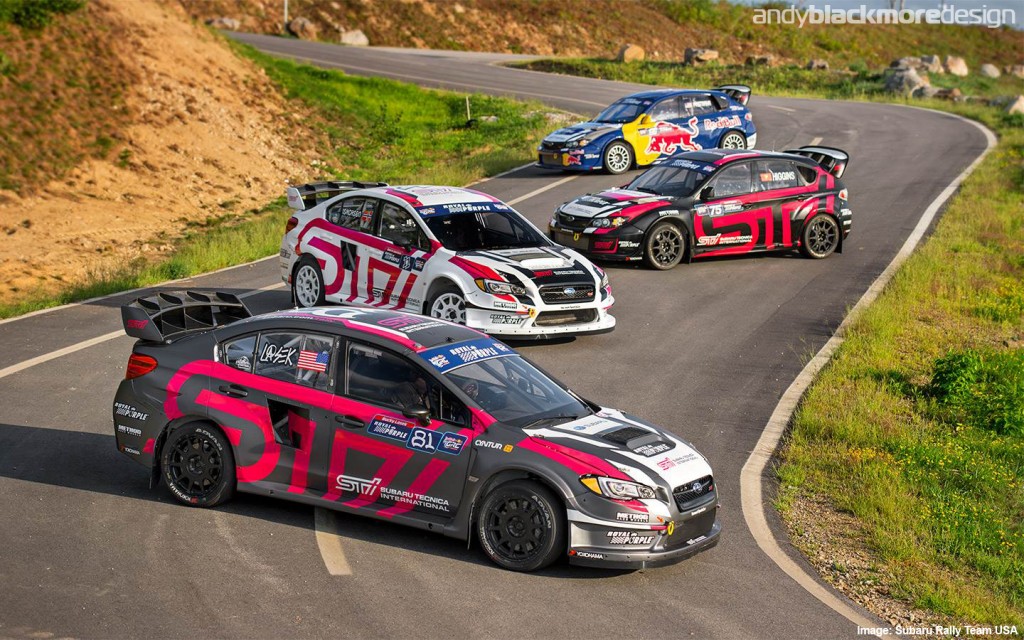 With so many series and teams competing, the racetrack is a cluttered and busy marketplace. With social media fast and online streaming of races taking over as one of the media paths for motorsport its even more important than ever you stand out on track. The key to any design is a strong foundation and design process. This page is an overview of a typical design process, but EVERY client and project is individual and tailored to their needs.
Some teams will require full identity including car, team logo, trucks and team gear (the key to a promoting a consistent message), while others will just want a car livery.
Vehicle Livery and Team Identity Projects
I work with the client closely from the outset to create a brief, getting inside your head to understand what you want and develop from there. I have discovered its very useful to find out designs which you DON'T like. I can then direct my thoughts in other directions. This is a key foundation to a successful collaboration and ensures an efficient process follows.

I like to push the boundaries in design, often working with contrasts such as Solid and Chrome materials, using the vehicle body lines to enhance the design. My original background is in Vehicle Styling so my knowledge of 3D form and how to cover this with 2D art puts me in a unique position in the marketplace.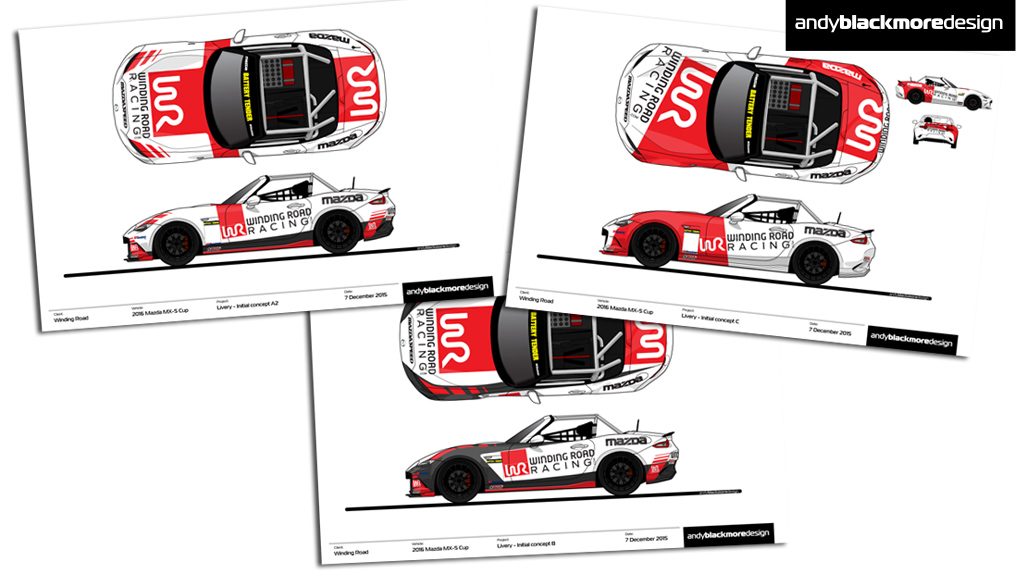 Round 1: Initial Concepts
Once I have a brief and details of sponsors, series and car, I set to work. I have drawn up most popular racecars. These are to scale and have often been created with reference from CAD and manufacture reference in the majority of cases.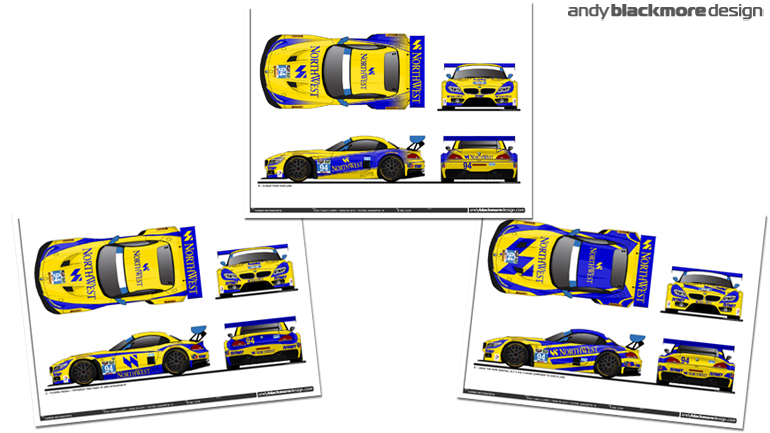 When this base car illustration is compete, Round 1 consists of working rough sketches to explore different directions. I will then transfer some of these to the computer and create a package of sketches for first review. These help me to understand what you like and more importantly dislike.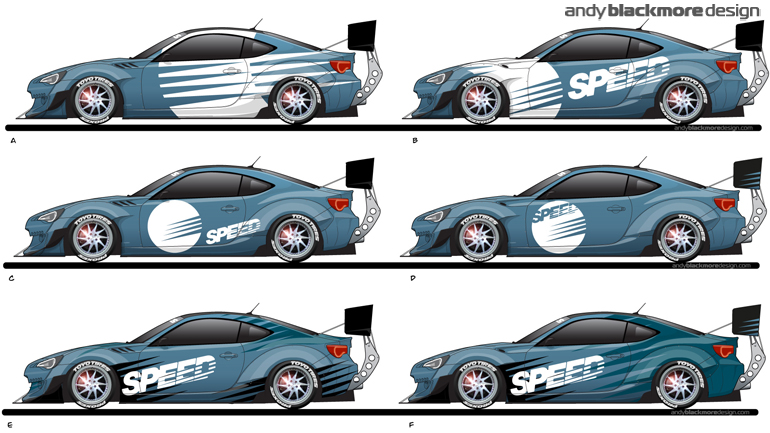 Round 2: Concept Development
After consultation, we focus on 1-2 designs and develop the design. Multiple variations will be produced for review. I will firm up more details such as associate sponsors, series branding It is better to do this later in the design process as its a more efficient way of working and doesn't disrupt the creativity.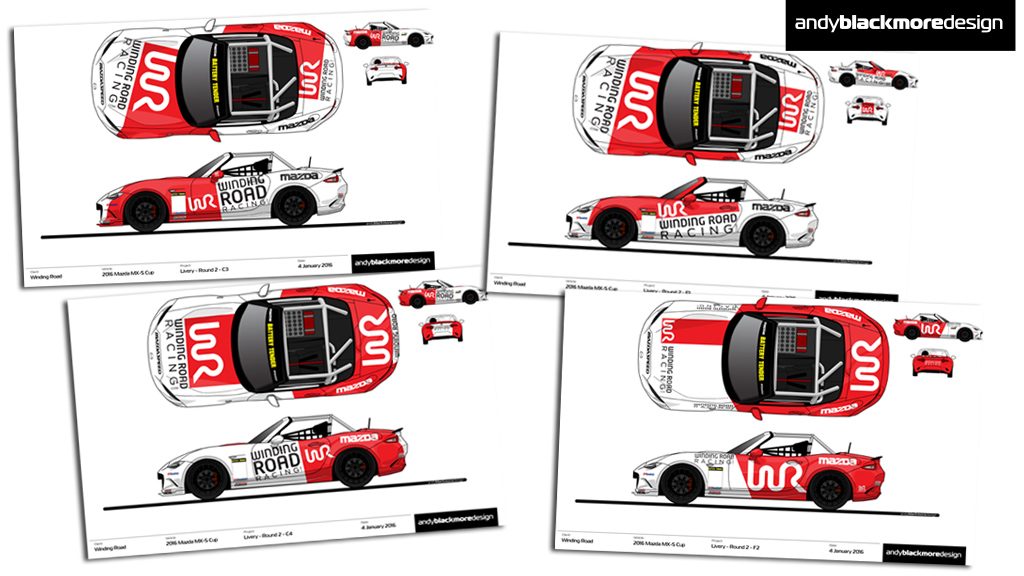 Once these are complete, back to the client for review.
Round 3: Resolve and Sign off
Once you and your partners are happy, the final round is about resolving the design, clean up, finish and export the design.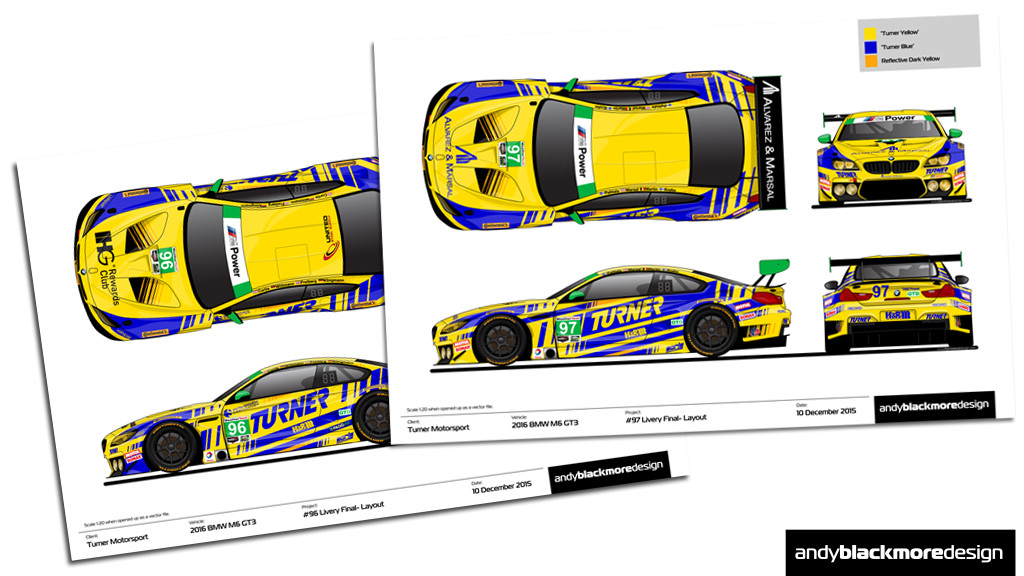 Attention to detail is vital and I will ensure that every avenue has been explored.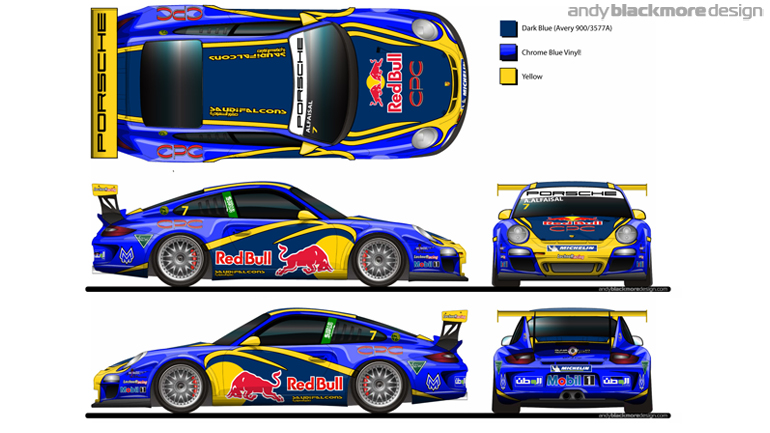 These are then reviewed and hopefully signed off by the client. If changes or additional details (such as front end car ID graphics, below) are required, that is not a problem, we continue until everyone is happy!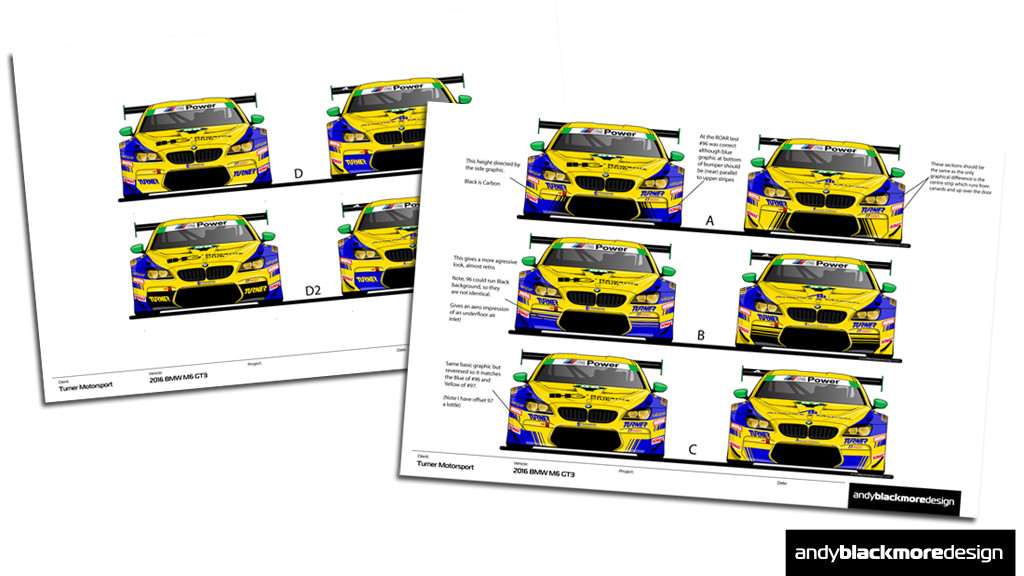 Additional 3/4 views can be created as shown below.
No design leaves my office unresolved!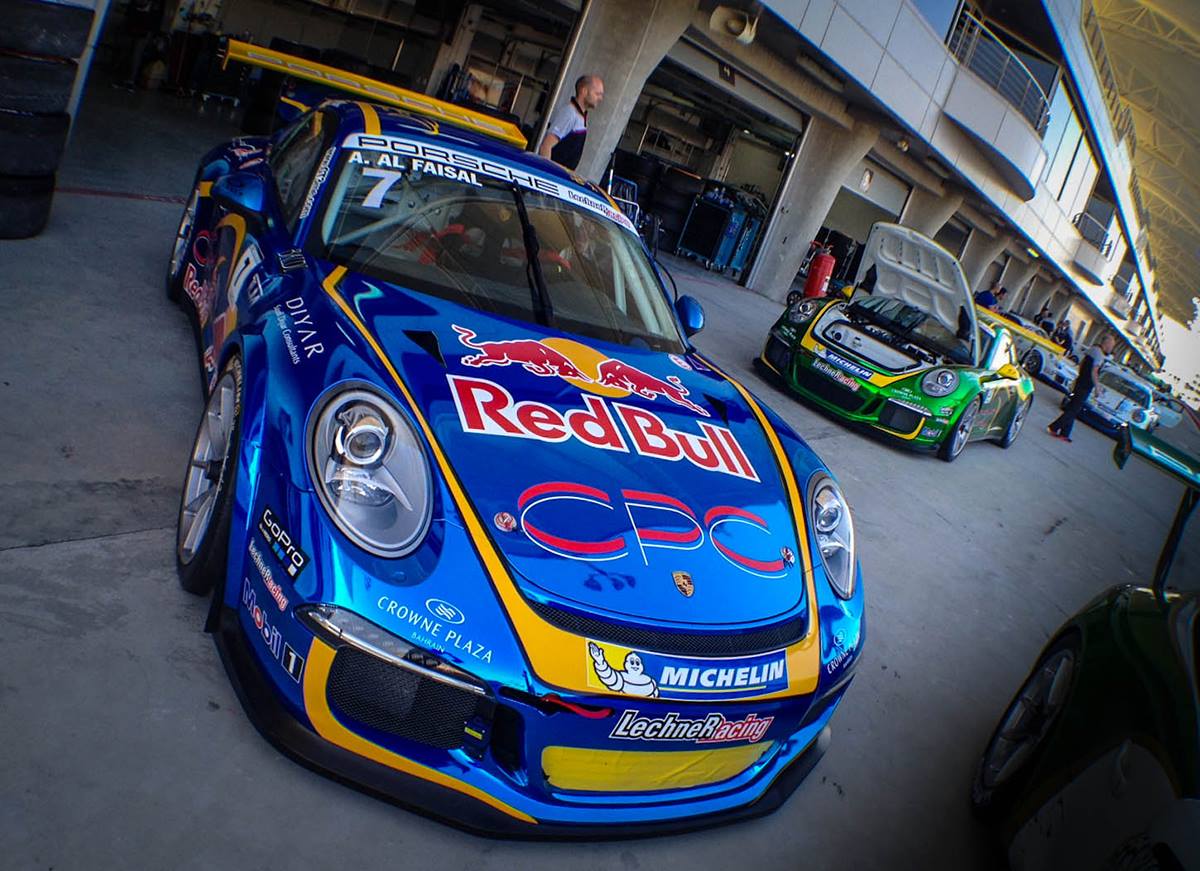 Final Artwork
Final artwork is always supplied in vector, set up, so a vinyl shop, printer or an embroider can work with the file straight away. For example, this Red Bull sponsored Saudi Falcon Porsche was wrapped in the pit lane in Bahrain!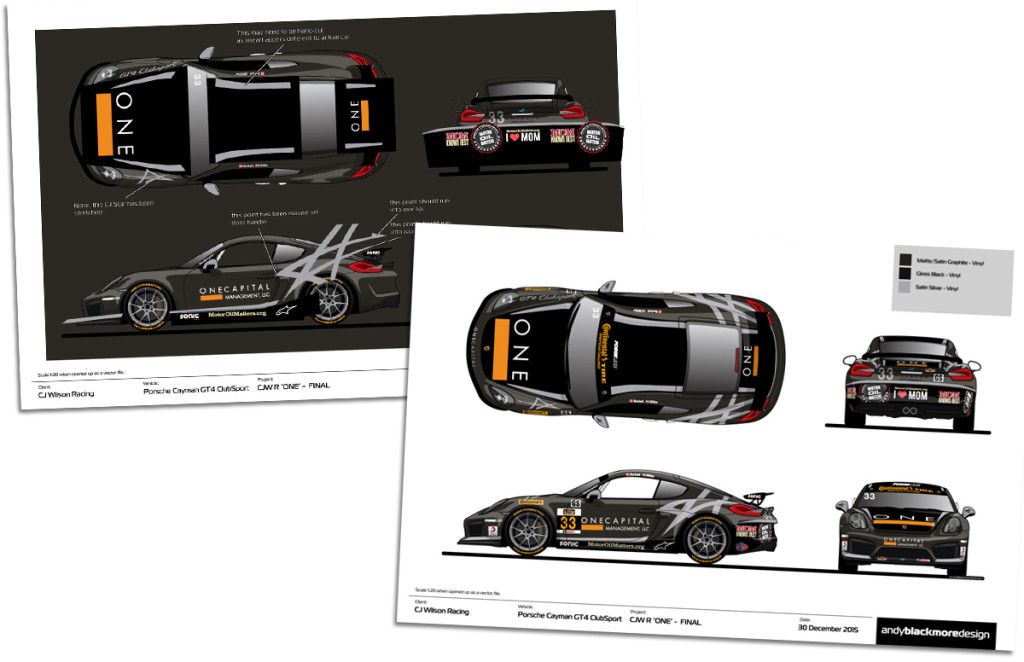 Where necessary, I will also supply a 'wrap file' which includes bleed and annotations. This gives the installer a head start.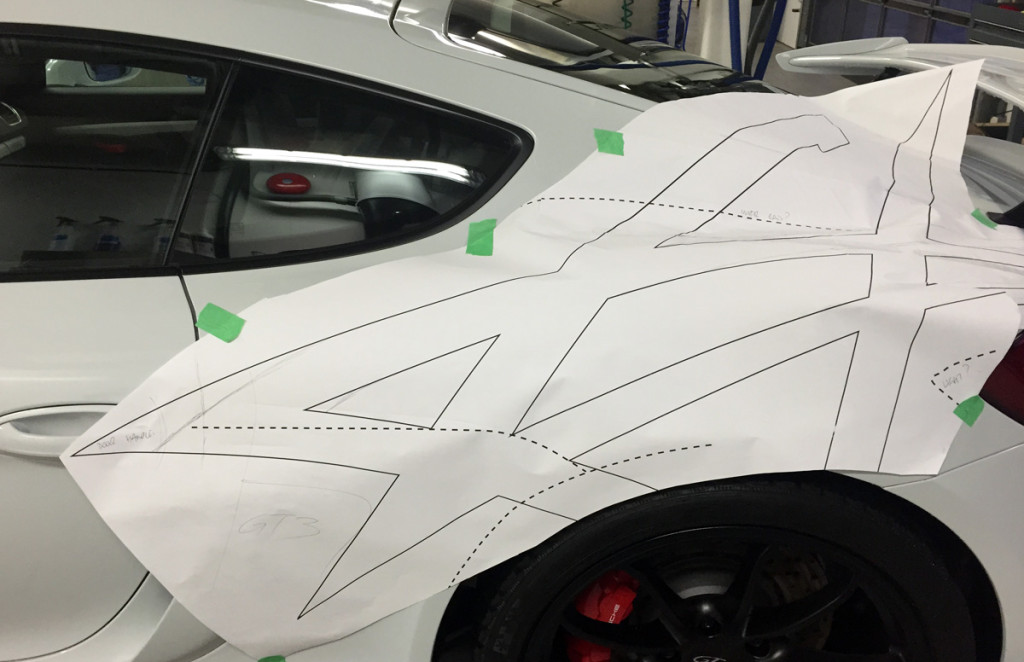 As I have a degree in vehicle styling, I understand how a 2d graphic will run over a 3d surface.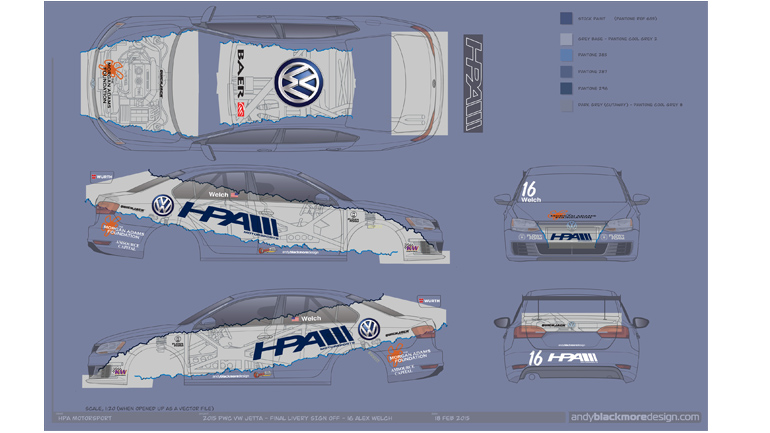 Another example of a final wrap artwork with bleed.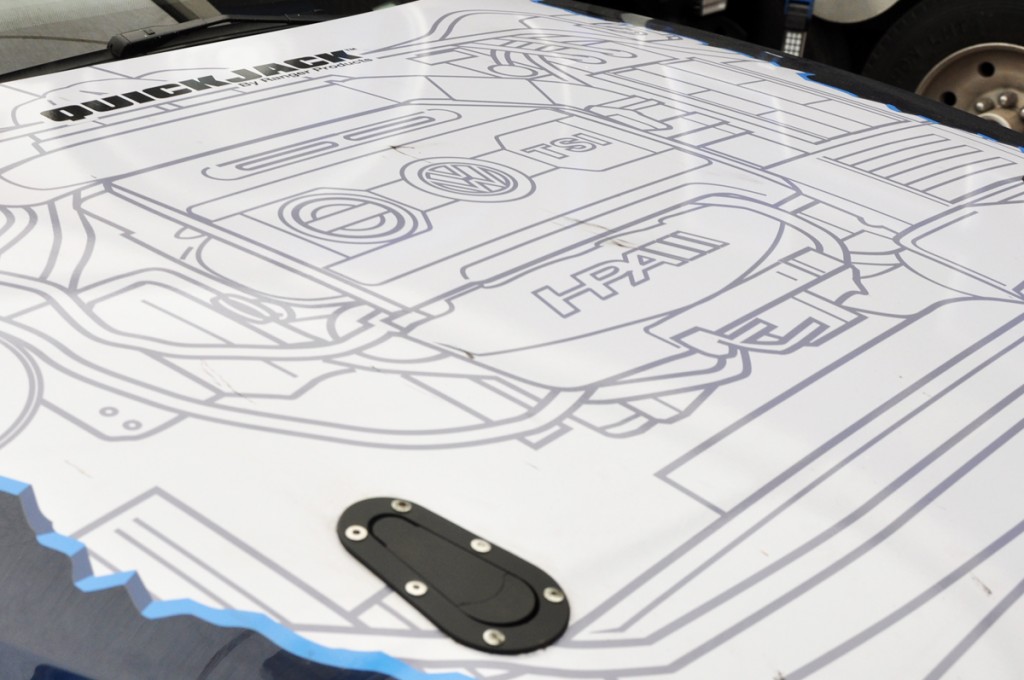 On this occasion, VW tuner and build shop, HPA Motorsport specialise in aftermarket parts in a similar way to Turner Motorsports. I came up with a cutaway livery design to showcase their products.
This is a great example on why I choose to invest time early on with the client to understand THEIR needs, and THEIR requirements.
Concept renders and illustration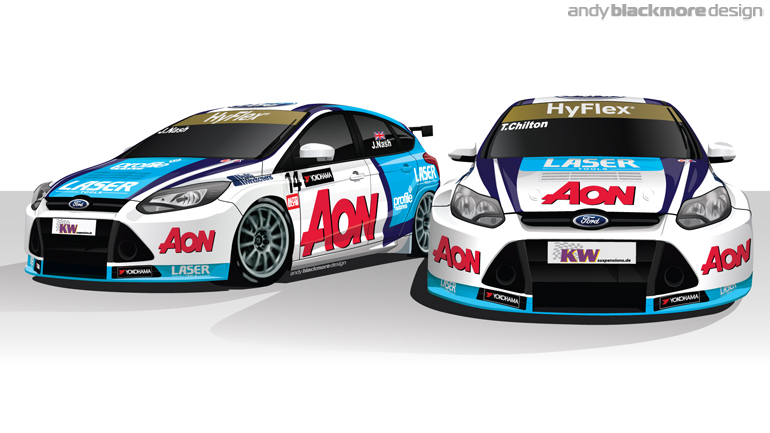 I also produce a large number of illustrations which can be used to preview the designs, marketing, media or internal documents. I offer four approaches to suit your needs.
Option 1: Vector
The Ford Focus image is full vector which allows this to be produced at any size.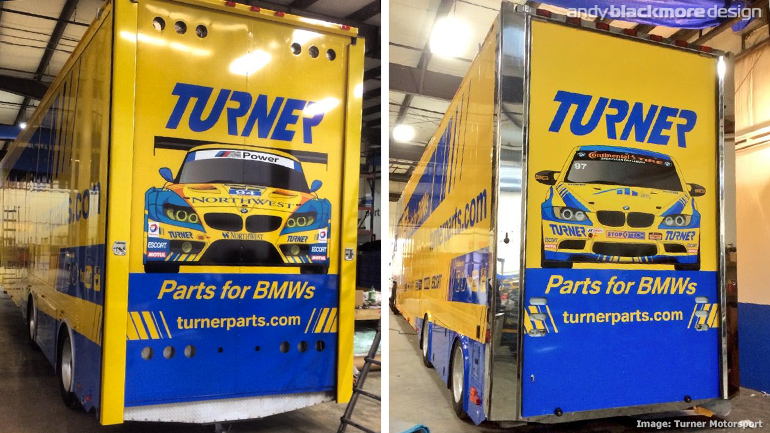 Turner Motorsport use my front view annually as a huge graphic for their race transporter. If a sponsor changes mid season, they take the art from my livery concept illustrations and strip it in.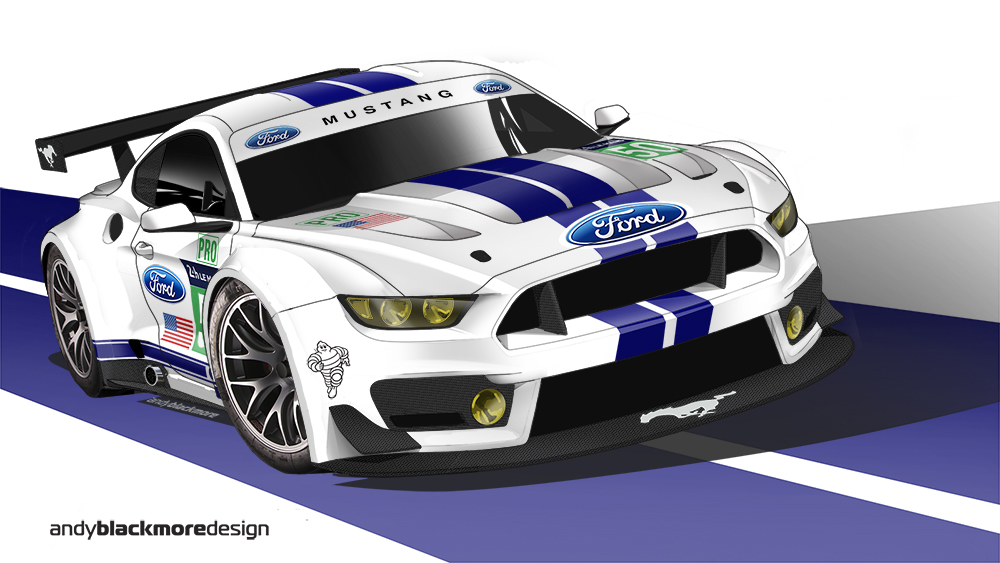 Option 2: Digital Illustration
This looser concept sketch, produced in Photoshop is a relatively quick media to show off a proposed design.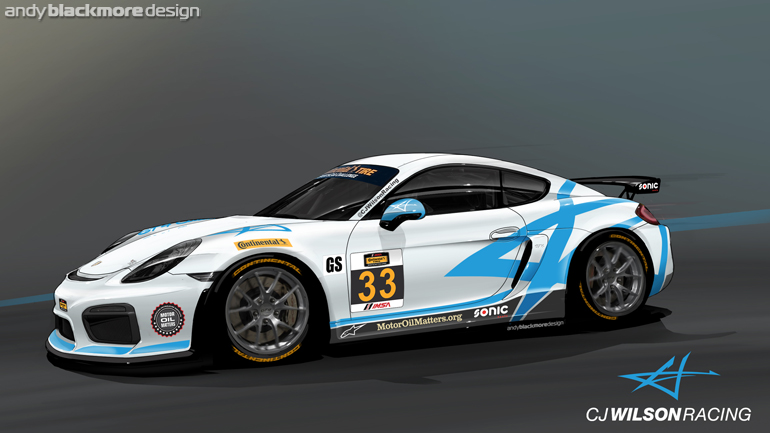 Also produced in Photoshop, this design has a looser 'concept render' style. Useful for press releases, hero cards or marketing handouts before the car is built!
Option 3: 3d based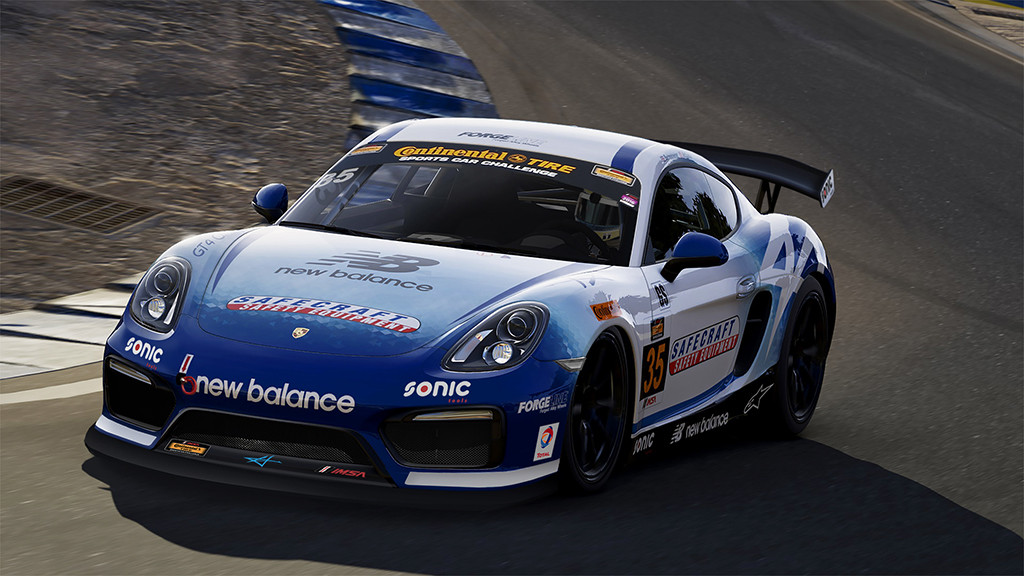 New for 2016, I am now offering a 3d based 'hybrid' illustration. These generally start out from Forza or an existing 3d model render. The in-game car is then modified to suit its real life counterpart.
In this case, to turn the Cayman GT4 into a IMSA spec GT4 ClubSport, we had to modify the front bumper, wheels, rear wing, interior and various branding.

Branding and livery can be added in Photoshop or Forza.
If completed in Forza, then you have the option of sharing the design with Forza players, helping to spread awareness of your team and sponsors to a NEW audience! CJ Wilson Racing has found this most effective.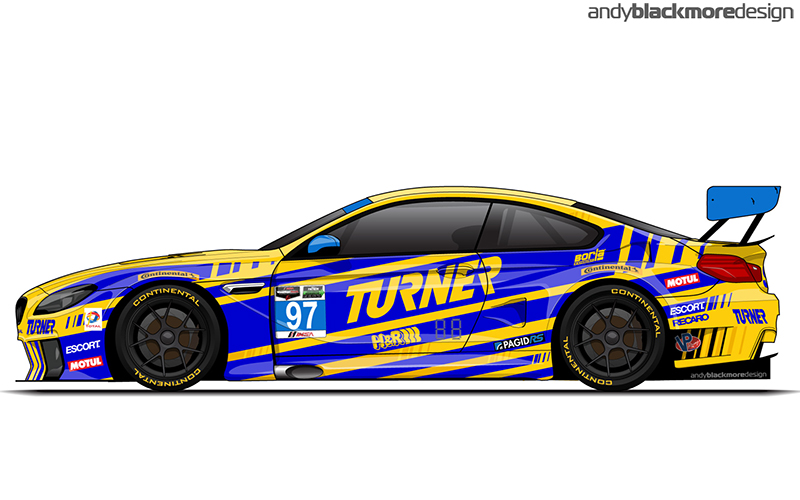 Option 4 : Side elevation
This full vector image was taken from the livery design files was used by Turner Motorsport to announce their 2016 program with added detail, months before any car had been release to customers.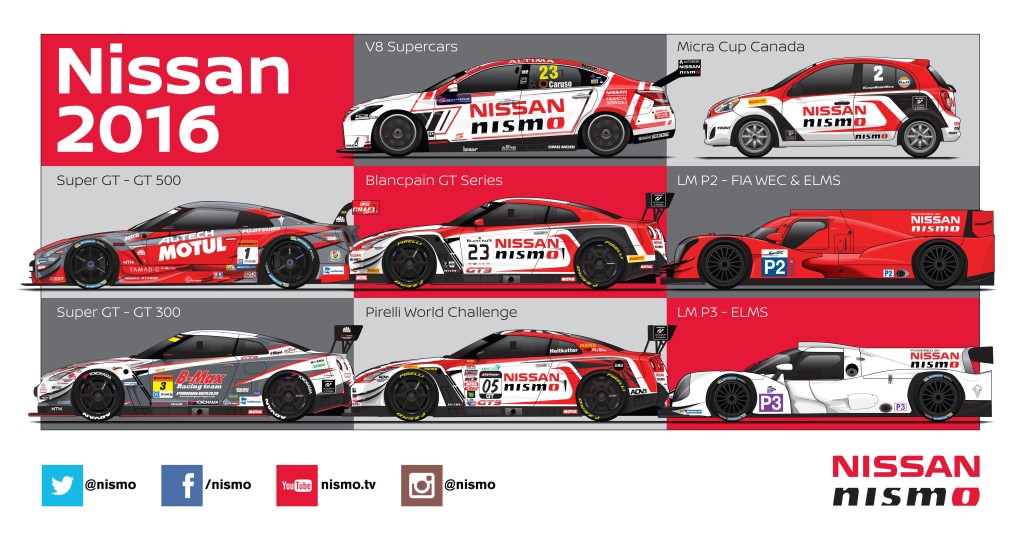 I have produced many high detail illustrations for Nissan Motorsport in recent years. Used in their press releases, social media and a number of infographics.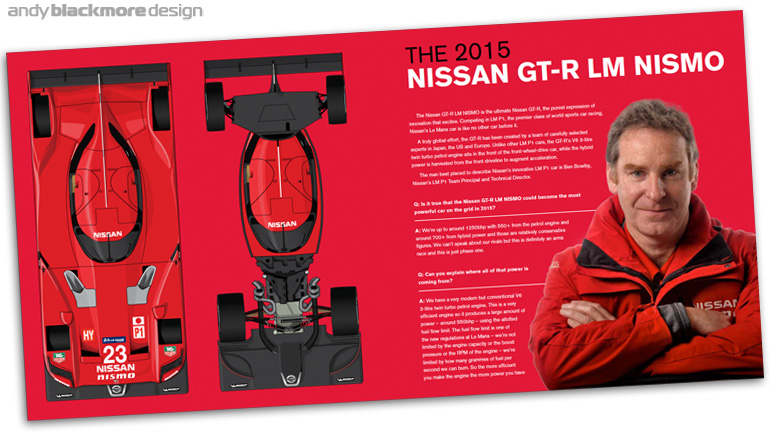 Illustration of the Nissan GT-R LM P1 used in the original press pack. This was drawn up from photo reference before the car had been built from photo reference. The team were not allowed to send me CAD.

I can also illustrate your road or race car in high detail. Additional details are available here
I have produced many illustrations for Nissan for their press packs, media and marketing documents.
Additional Creative Design and support materials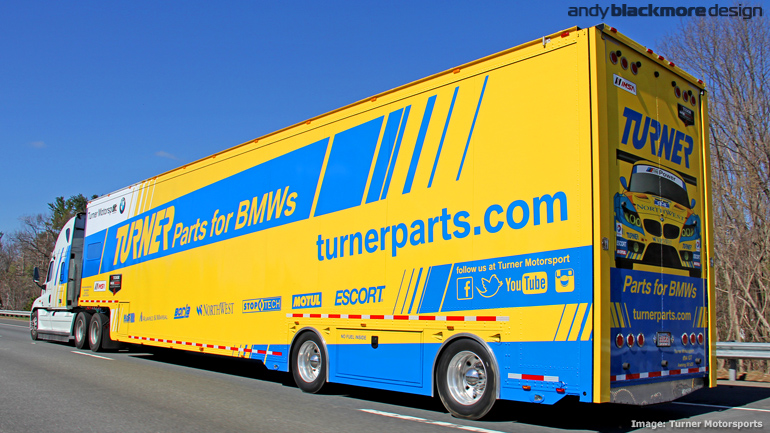 To present a cohesive, resolved look to your team, other visual elements of your team should be created to reflect the race car and team/sponsor identity.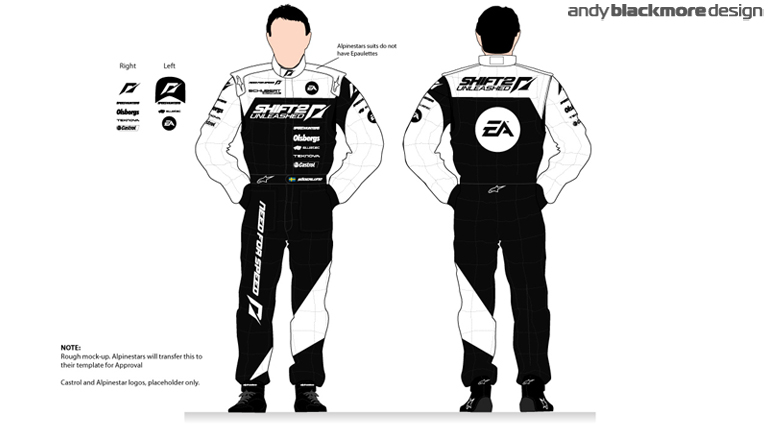 From race liveries to team identities, apparel, support vehicles and pit equipment, the same rules apply, I can develop all your creative design needs to ensure you and your partners convey a consistent message.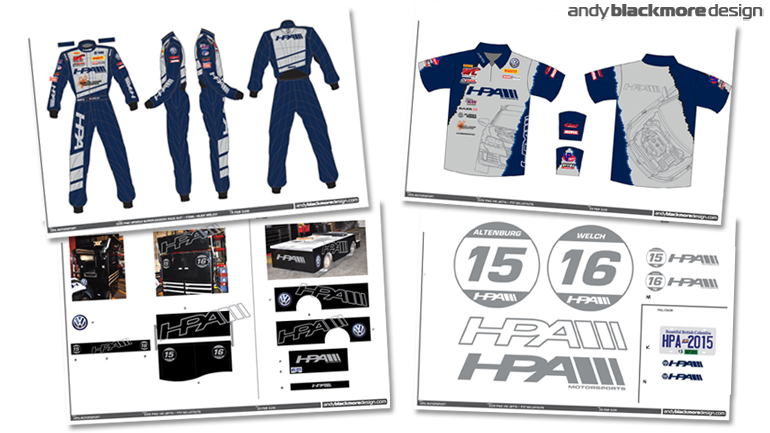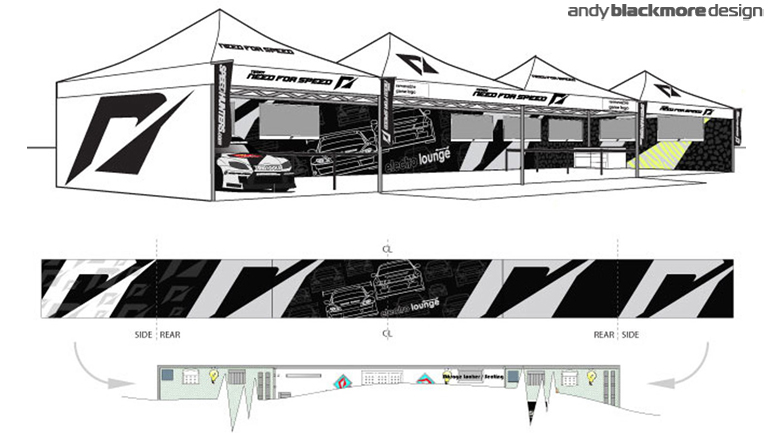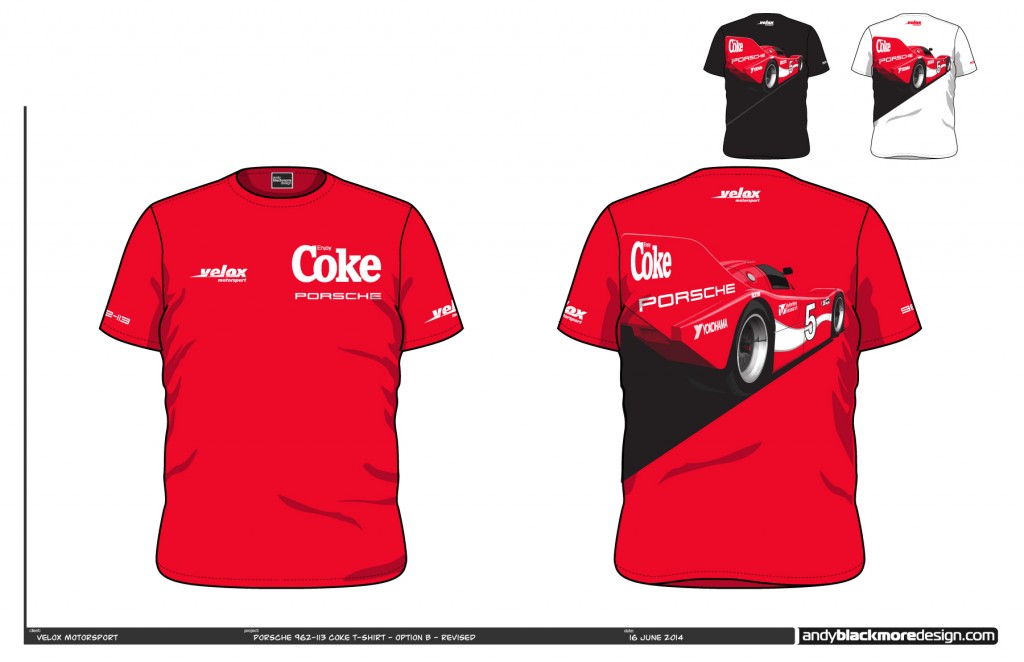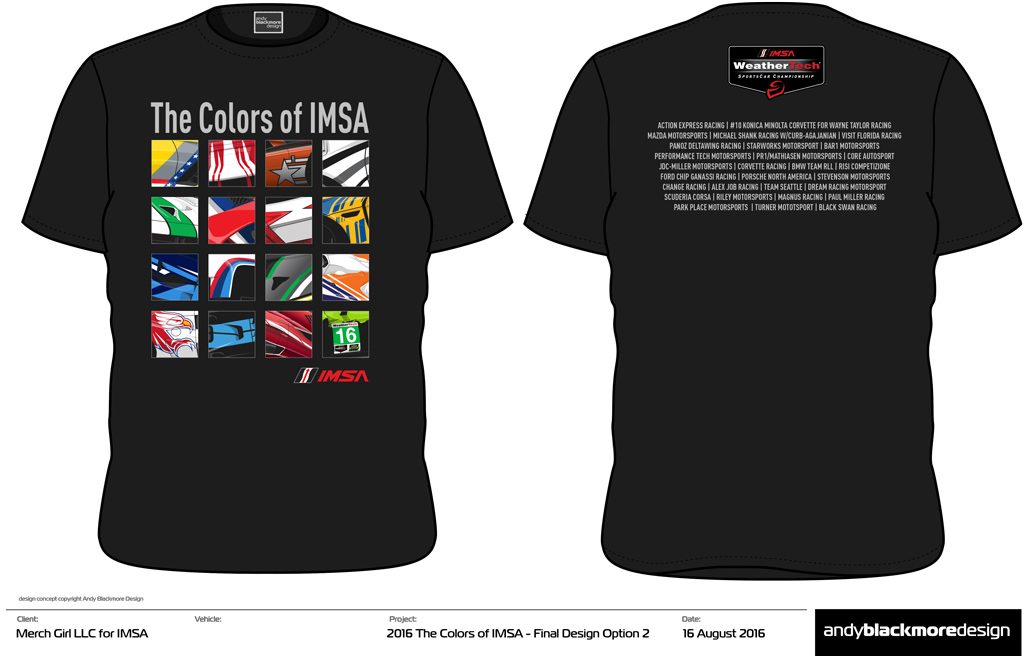 I have a full set of clothing templates as well as a number of Race transporter and Pit Garage templates.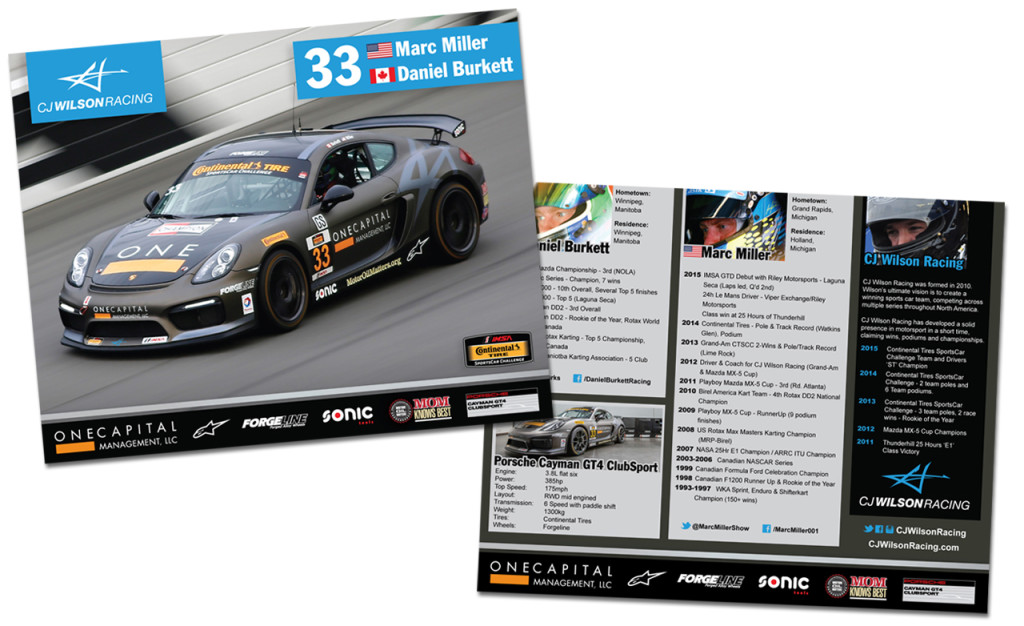 Hero Cards are a fan favourite and a proven way to get new fans and audiences on-board.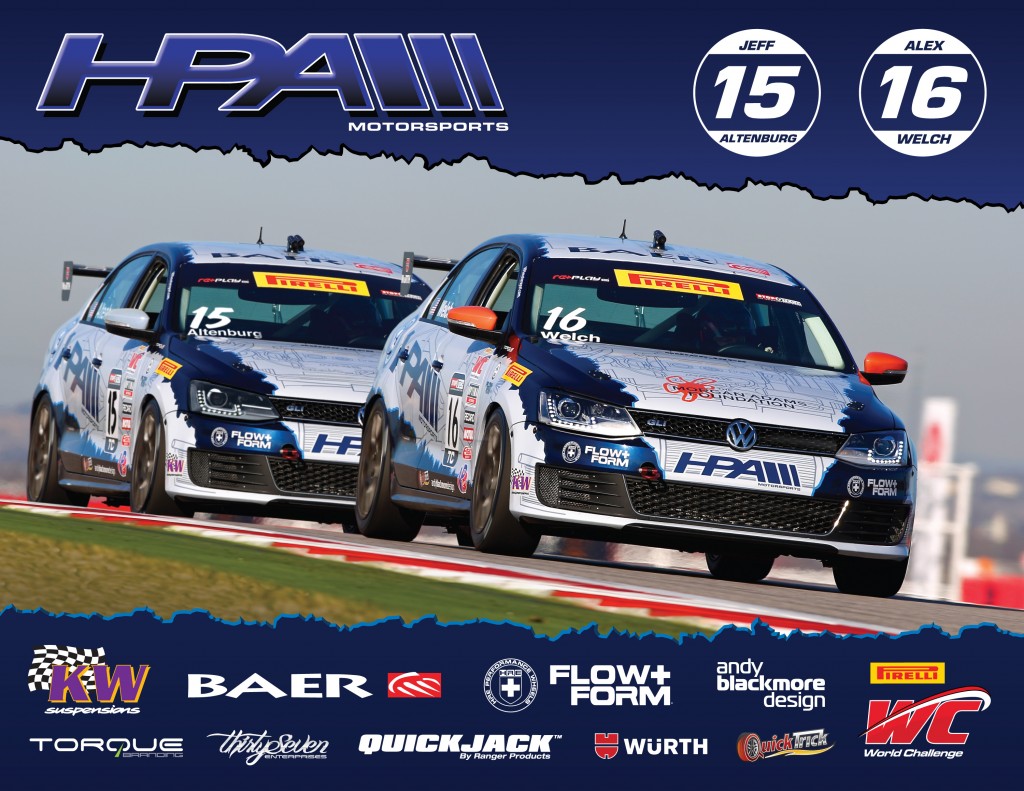 The original image from Halston Pitman showed only one Jetta at CoTA, but I was able to add their second car and change position on track,along with small details including branding, different reflections, headlamp detail and even the suspension loading on the second car!
It is all in the details.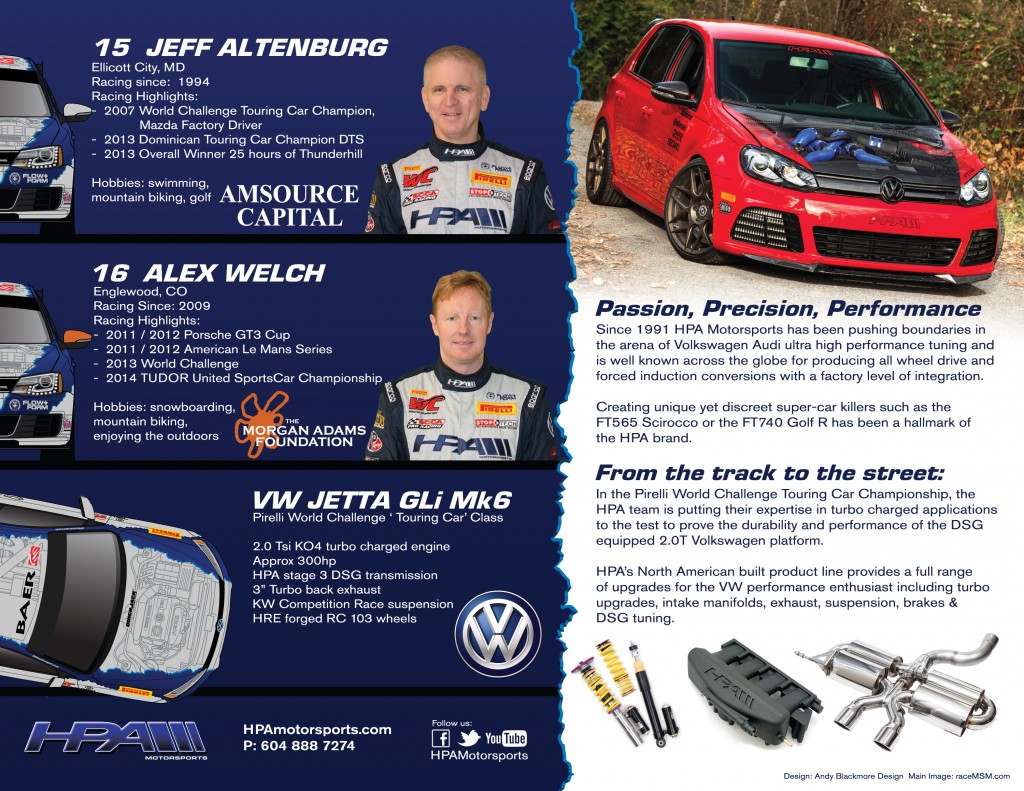 On the reverse, my original livery artwork was used to showcase each entry.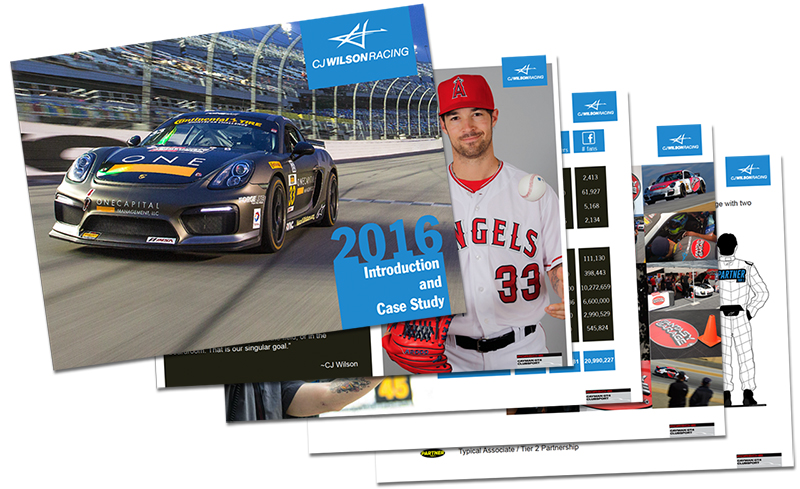 I can also design Sponsorship Proposals, These can be one off high end design pieces such as the CJ Wilson Racing example above, or a more basic design which you can update accordingly. Note, these ARE time consuming to produce unless you already have a detailed storyboard, so due to other livery work, these are only available April-December.
Helmet Livery Design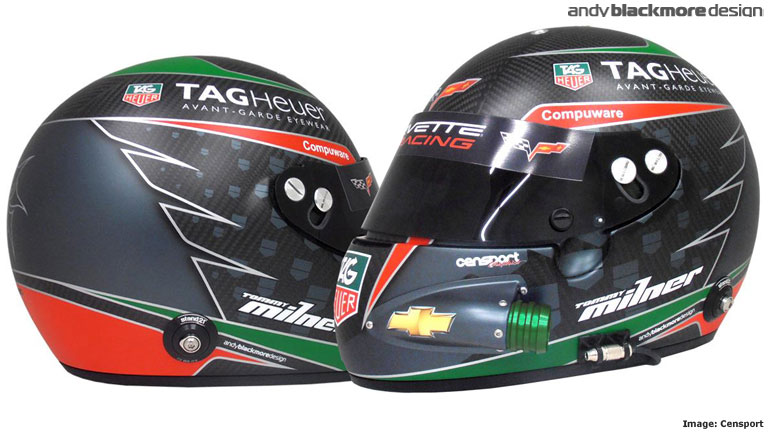 I also work with a number of helmet painters.
Vehicle Styling Projects

Vehicle Styling projects follow a similar but longer process, where we have a number of design rounds where the ideas can be narrowed down, developed and then fully resolved.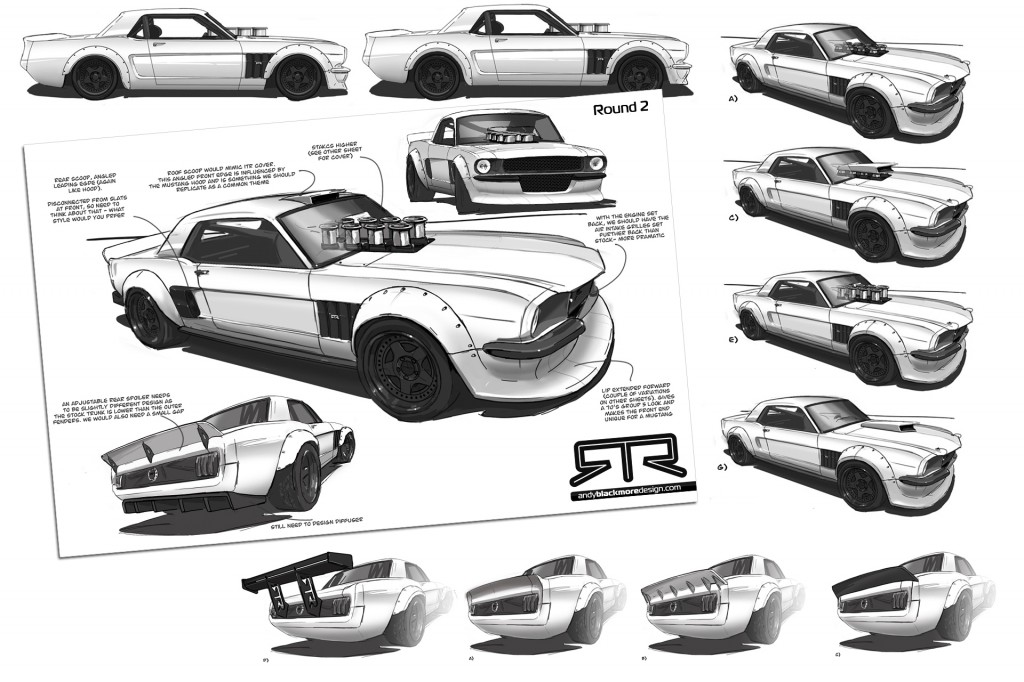 We can explore the car as a whole or focus on individual areas and iterate every detail quickly before anything is built.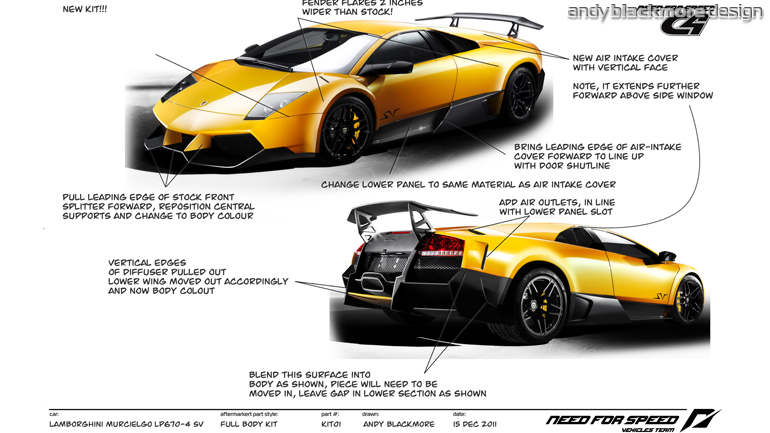 Final car art can be annotated sheets as shown above which is very useful to builders.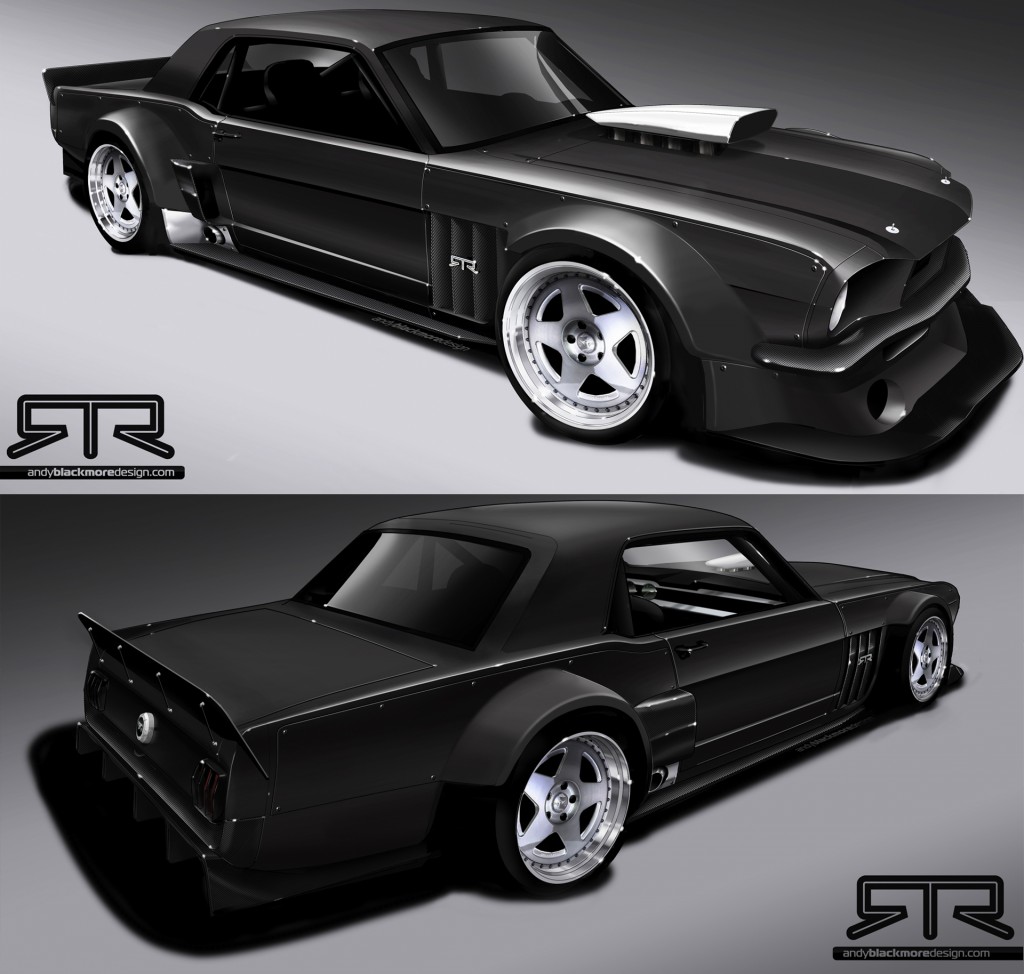 Full renders (normally digital illustrations, although 'Photo-Chops') to display the final look.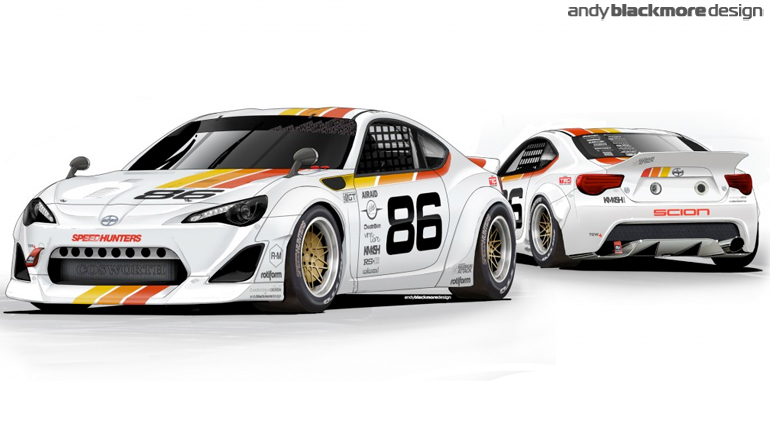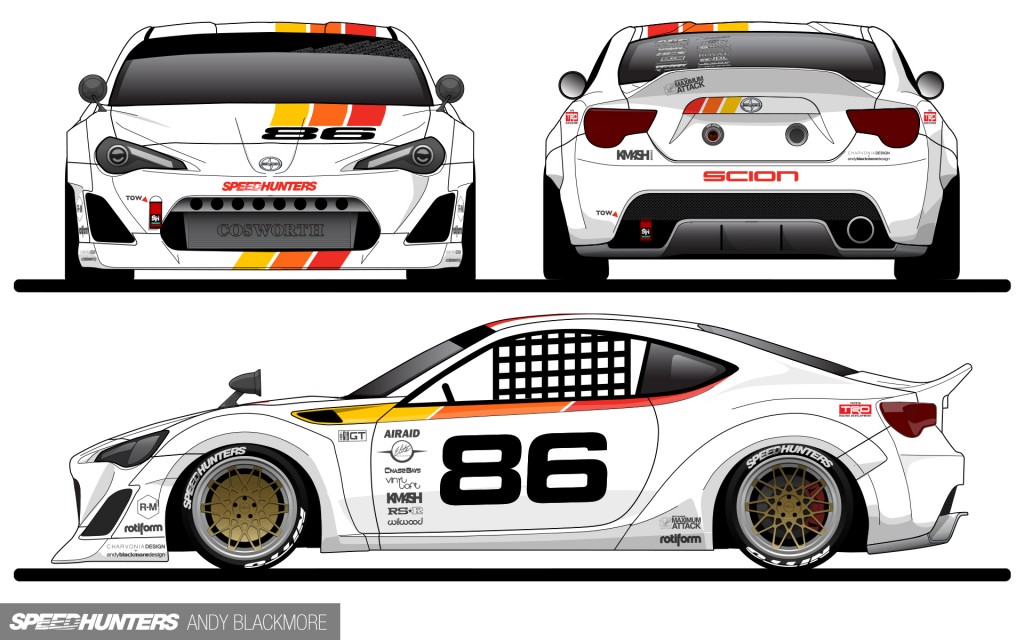 Overview of Services
Creative Services include but are not limited to
Vehicle Livery Design (race, road, virtual and team support)
Automotive Vehicle Concepts (aftermarket, race, road and virtual)
Automotive Parts Styling
Full Team Identity
Corporate/Branding Identity Guide
Sponsorship Proposal Decks
Apparel design (promotional and team-wear)
Illustration/Prints
Photo retouching and 'chops'
Hero Cards
Promotional items
Product Design
Video Racing Game consultant and designer
Race action Photography
Fan Spotter Guides
Please do not hesitate to contact me if I can assist with your plans. All the very best for the rest of 2016! 2017 isn't far away.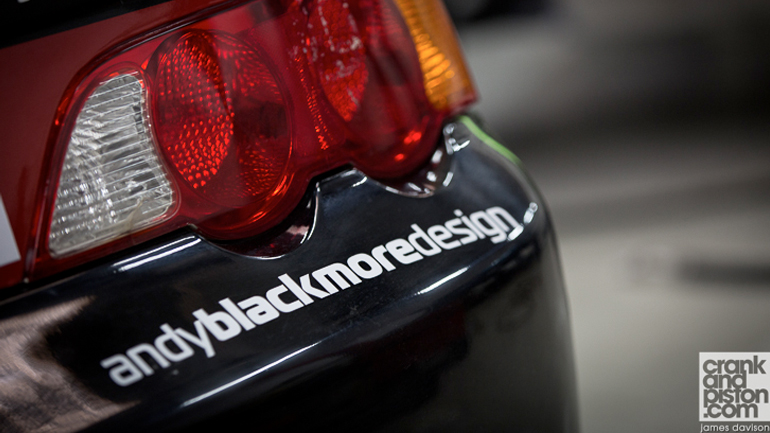 Other pages in this section: