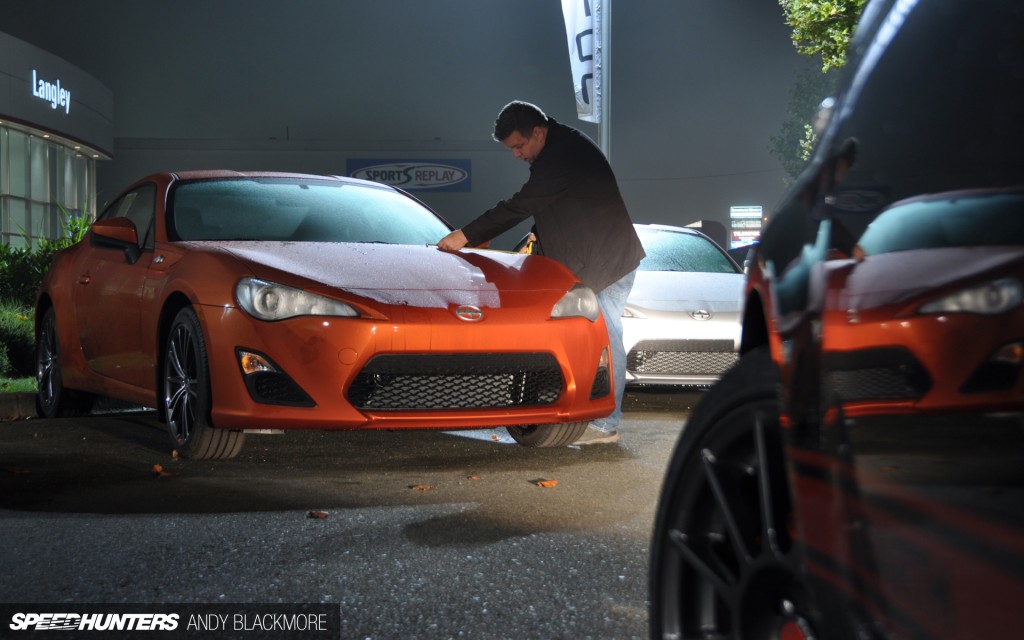 I am available to design all your team identity needs, from car livery, concepts,  illustration, apparel, pit/paddock areas, team logos, race transporters to VIP motorhomes.
I work with the client to build a relationship so I gain an understanding of the needs of the team in order to create a distinctive package. If you are interested in commissioning a design, it is useful to know vehicle, brands, time scale and series. More details below in the FAQ.
You can also use this contact form for any Spotter Guide related discussions including Sponsorship.
I aim to return your email within 48 hours. Thank you for your interest in Andy Blackmore Design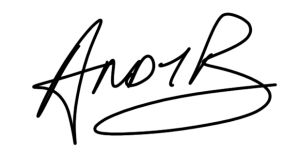 To assist us both, please see the following FAQs
---
 FAQ
DESIGN PROCESS :
Each project is tailored to the client. I am fortunate as I have a Honors degree in vehicle styling and I therefore understand 3D form. With my experience I know how a 2D graphic will work across the 3D form before the car is wrapped putting me in a unique position in the market place. With vehicle liveries, the process is normally as follows.
Initial Brief, discussion: Understand what you want, what you like, but more importantly what you 'hate'. This helps direct me down a certain path.
Round 1: Initial sketches, quite a wide range to cover all avenues. Often just side/plan view. Client reviews, discusses and we narrow down on 1/2 designs or directions
Round 2: Focus on a couple of designs and develop, producing variants along the way. Add any other views in, secondary sponsors etc. Cline reviews, discusses and we focus on one design.
Round 3: Resolve chosen design, often producing a few variants along the way. Add in last details. Client Reviews, discusses etc
Any updates required, and reviewed and repeat until client approvals.
More details on the process is available here.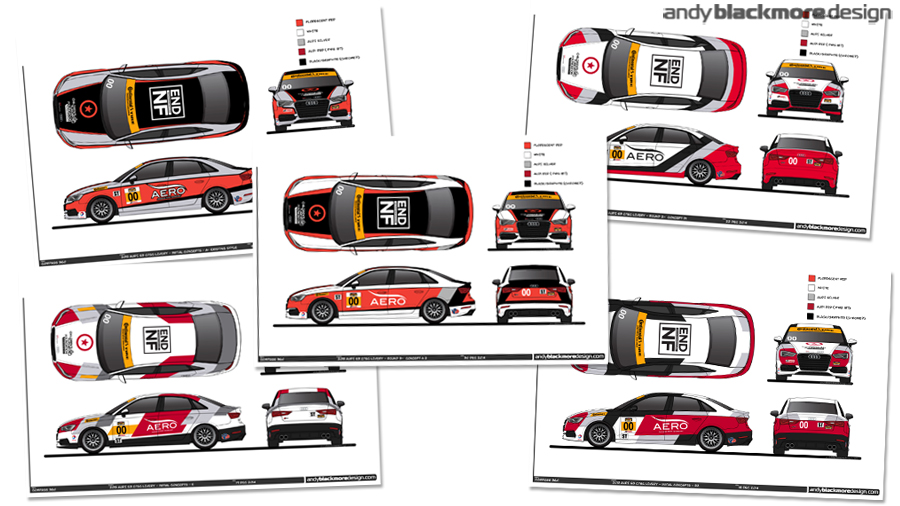 STYLE:
Each design project is unique to the client and sponsor(s) and therefore I don't keep to one distinct style. My liveries are often 'clean' to ensure sponsorship branding and clarity remains as your car races down the main straight.
Where possible, I like to integrate series branding into the design of the livery from the outset. I also like to play with material finishes as well as colour. if a retro/historic livery is part of the brief, I prefer to create a modern, different take on it rather than a complete copy.
My aim is to create a killer livery design which stands out on track. Visit my folio and news sections for previous examples. NOTHING leaves my office unless I am happy. As a general rule of thumb, less logos and more graphics will allow for a more striking livery.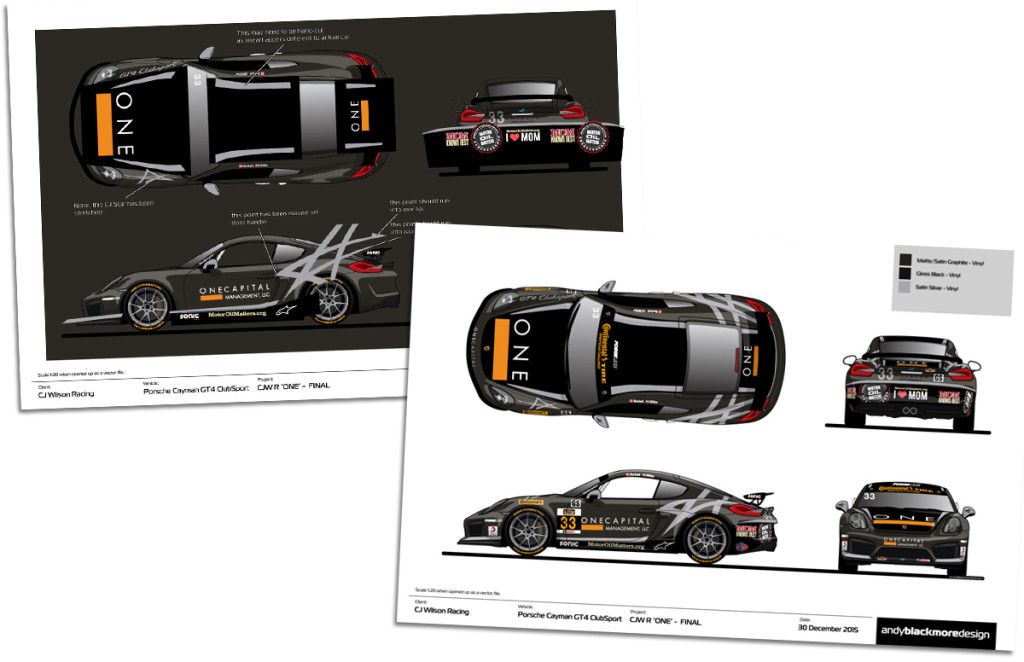 WHAT DO I GET AT THE END?
Final artwork is usually to scale. Where possible, you and I will obtain scale line work from the team, car manufacturer etc. Final art will usually be layered vector file showing the final design and also a 'Wrap file' when necessary. This will include bleeds, extra graphic areas etc for your sign writer/wrap installer to work with to make a more efficient process. Art is sent digitally.
You can use the art for PR, marketing etc as you desire. You can also use the art for saleable items following approval, discussion.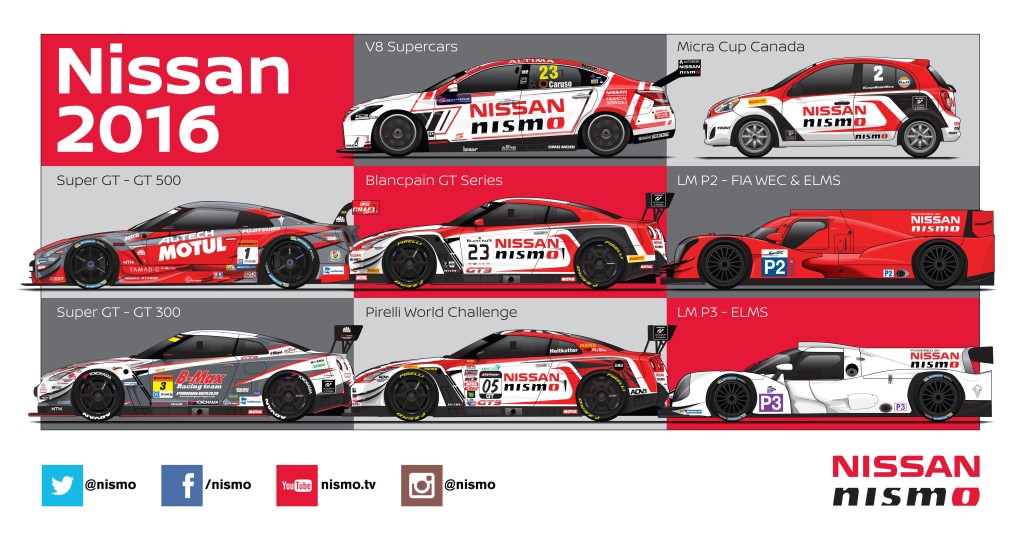 ESTIMATES/QUOTES:
I am unable to quote on any project without a brief or outline of what you require. It is important to advise on car (and variant). If I need to draw up a car from scratch (4-8hrs) , this will have an impact on price.
Designing a clean two-tone is a quicker, different process to a multi-layered drift or Ken Block style livery.
If you can give me a brief, car and timeline I can then give you an estimate. Additional charges will apply if breif changes significantly during project, if a design 'reset' outside of ABD control.
PAYMENT:
Payment can be made by Electronic Bank Transfer, Check, Credit Card and PayPal.
Note, Credit Card payments will have an additional 2% service fee. Payment terms are strictly 30 days from invoice. Deposit will be required for all new clients.
TURN AROUND TIME:
This depends on the time of the year. My workload ramps up towards the end of November and is very busy from Mid December-March. All projects are first come first serve basis. If you need a quick turn around and I'm already booked up (i.e: all-nighers required), then a rush fee will be added, discussed before hand.
Thank you for your time in considering Andy Blackmore Design