Client: Nissan Motorsports
It's always great to get a livery commission, but there's real responsibility in this game, particularly when there's a brief that involves incorporating an iconic heritage livery.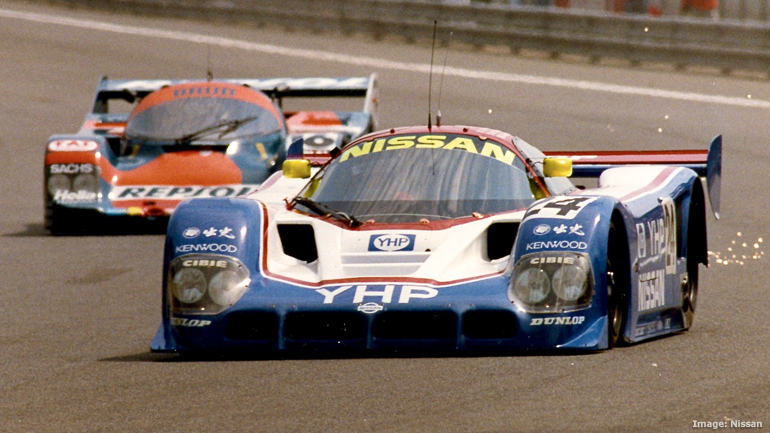 Earlier this year such an opportunity arose when long standing client, Nissan and their NISMO brand asked me to assist in the design of an homage to the 1990 Nissan R90CK which Mark Blundell drove during his now legendary Pole lap at Le Mans 25 years ago (video below)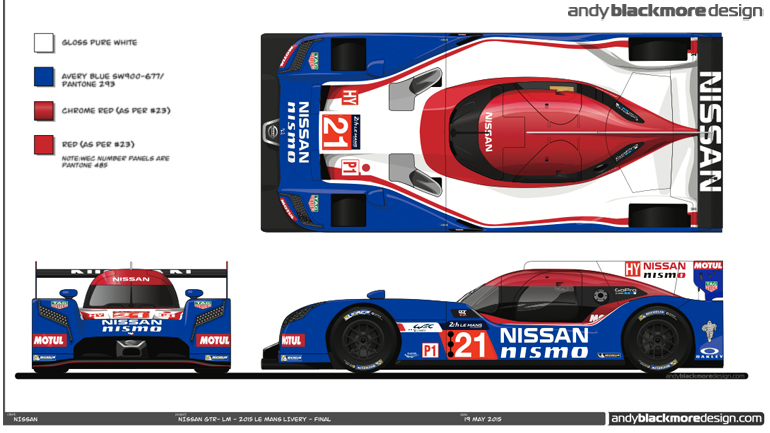 As soon as the Nissan GT-R LM NISMO was launched the online community started to play with the possibilities and the blue and red NISMO livery, or a derivative of it, was a favourite of many.
There were some really good interpretations of it, including some excellent work by James Gibson with some very cool renders.
This design is based on a similar car to one of James' renders (I believe he based his concept on the IMSA car without the red stripes on the top body). Naturally then, they are very similar, hence why I'm specifically calling James out here, he did some great work.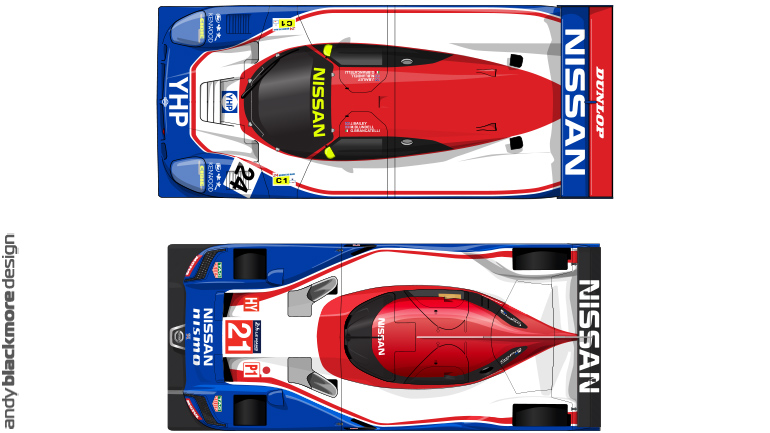 I think they both look great, but that's just as much a credit to the designer of the original livery – There's only so many ways you can have a Red, White and Blue car with horizontal colour splits – so credit is due more to the brave original than to any of us (not so) young(er) designers!
Compared to the original Le Mans R90CK spec, In assisting Nissan, I chose to modify the red stripe starting from inside the air outlets at the front, over the horizontal bodywork taper it along the way, so emphasise the more organic form airflow over the car.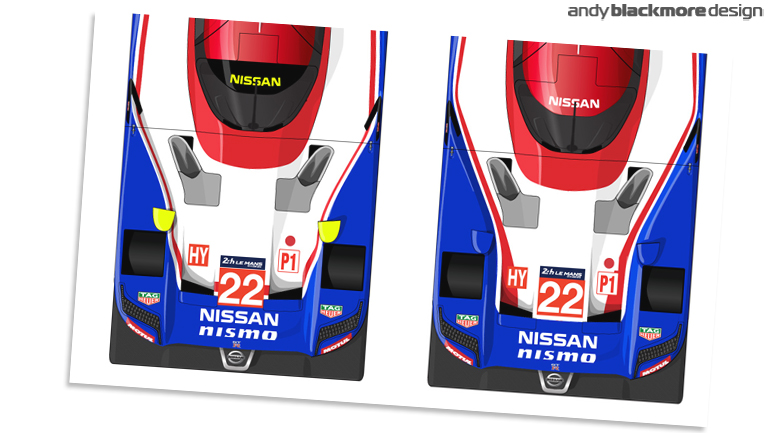 While the red stripe rolls over the top of the front fender on the original racecar, I simplified its application avoiding the front fenders. Nissan have more pressing things to worry about that trying to wrap a tricky area. These issues always have to be considered when working with race teams.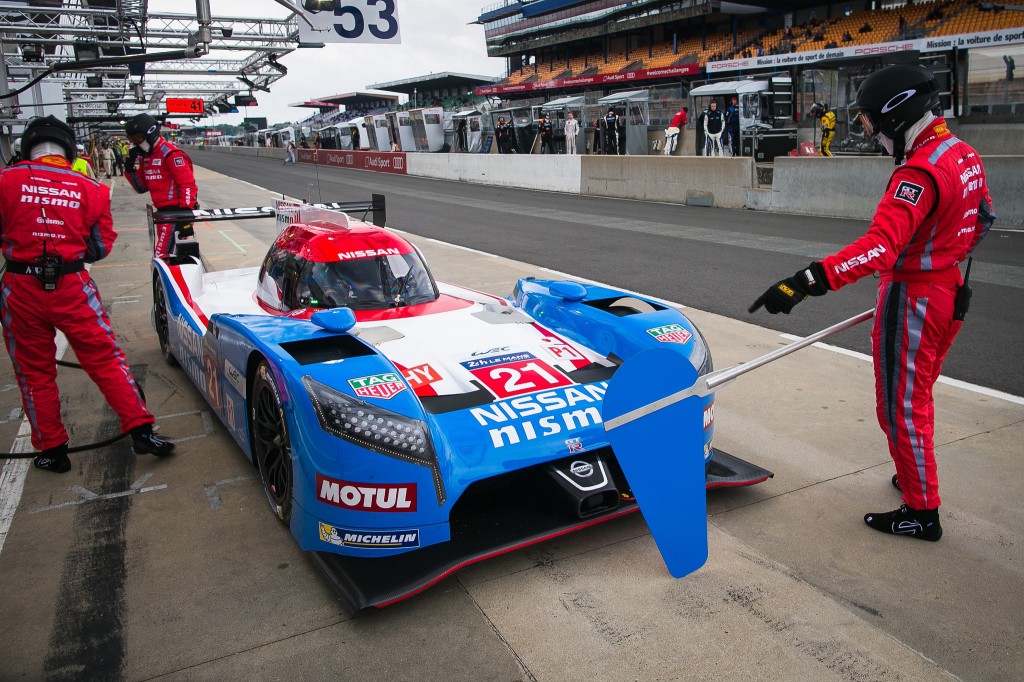 The livery was announced earlier today (press release below) and went down really well which is always one of the aims. With the R90CK racing 25 years ago, it also educated a new generation of race fans to Mark Blundell's stunning pole lap.
…and yes, the boss was pleased!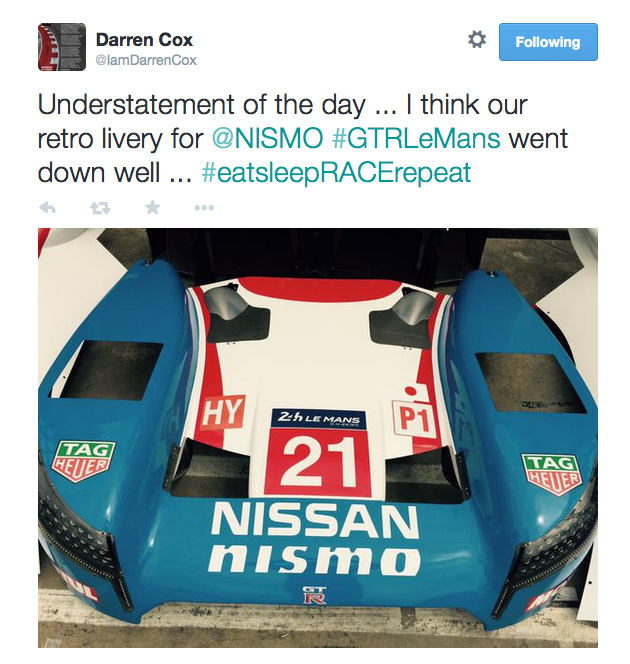 Thanks to Darren, and Paul Ryan for the opportunity!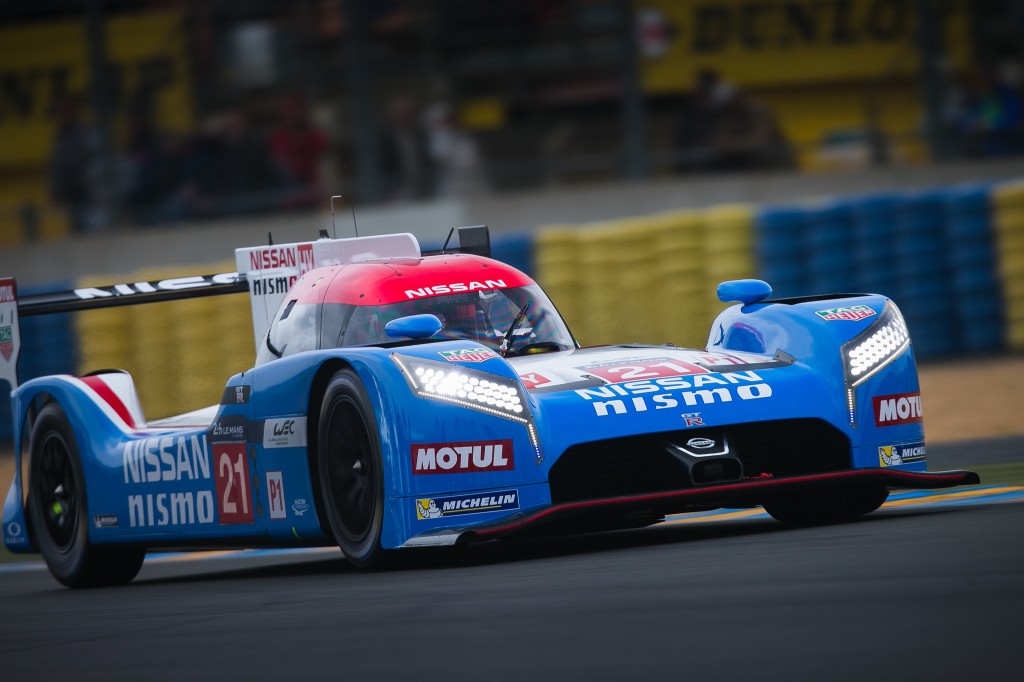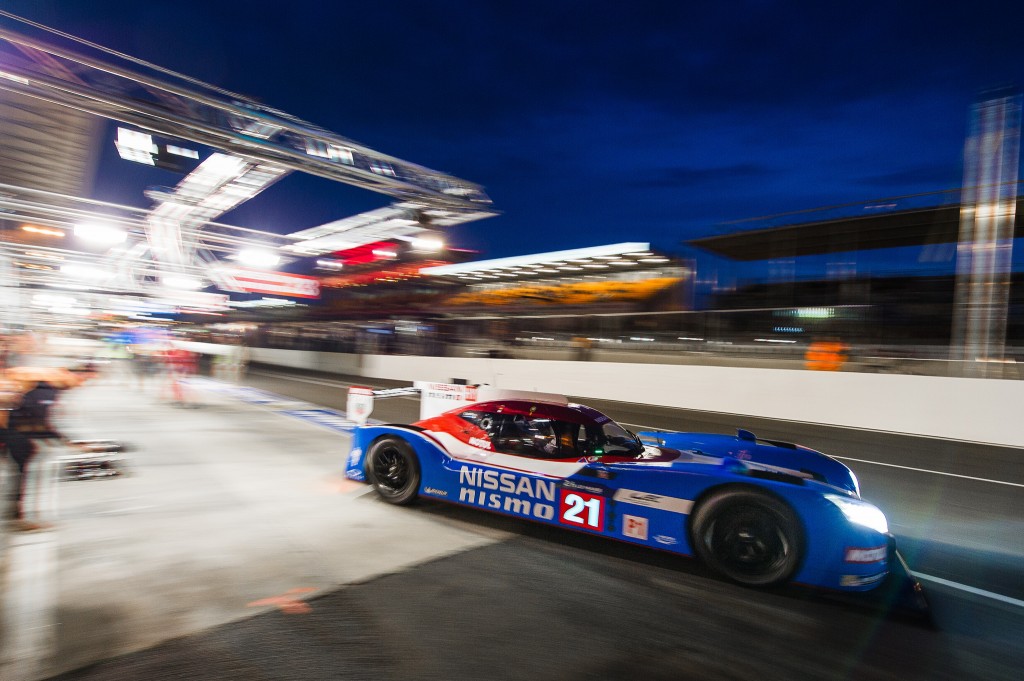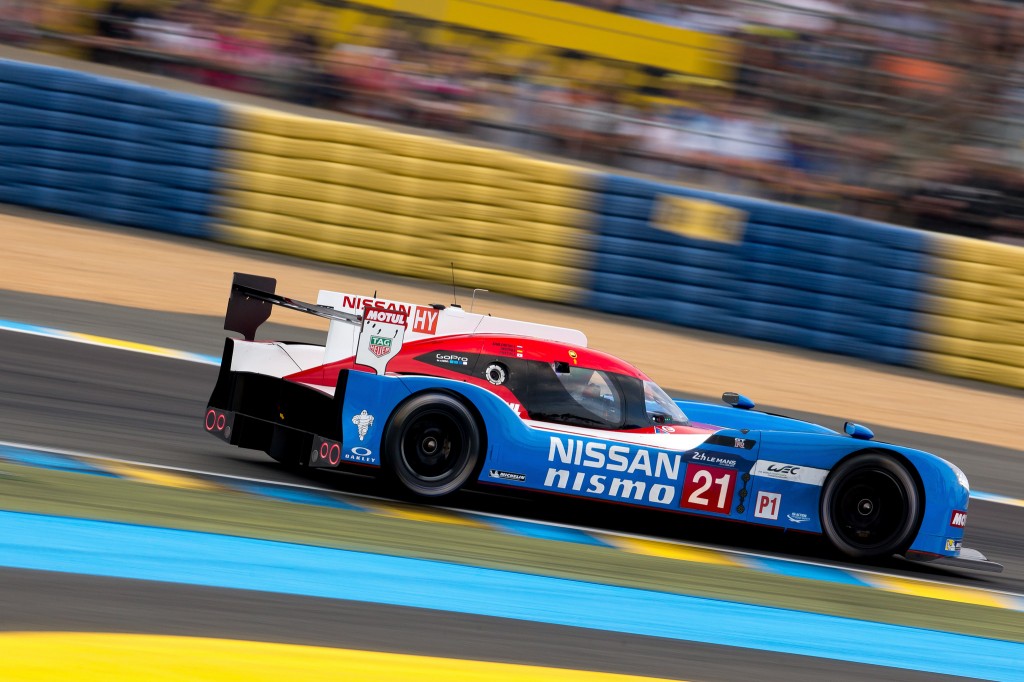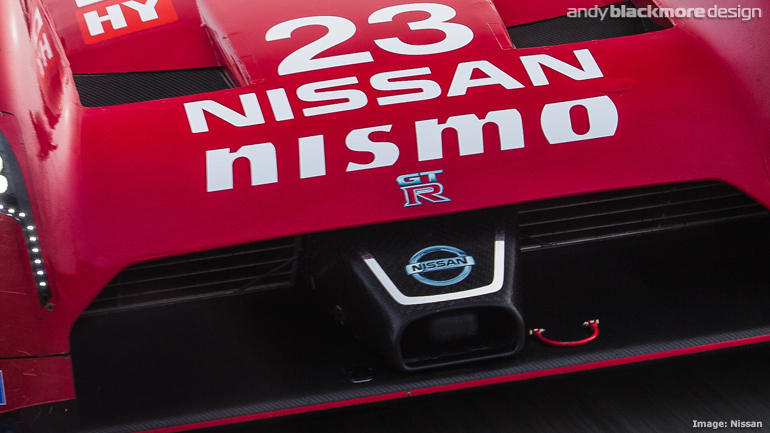 I had previously created a range of livery concepts for Nissan last year, while the car was being designed ,including some retro inspired designs. One thing which was carried over from these concepts were these small chrome 'horseshoe' graphics which mimic the Nissan identity on the majority of their roadcars.
Small wins 😉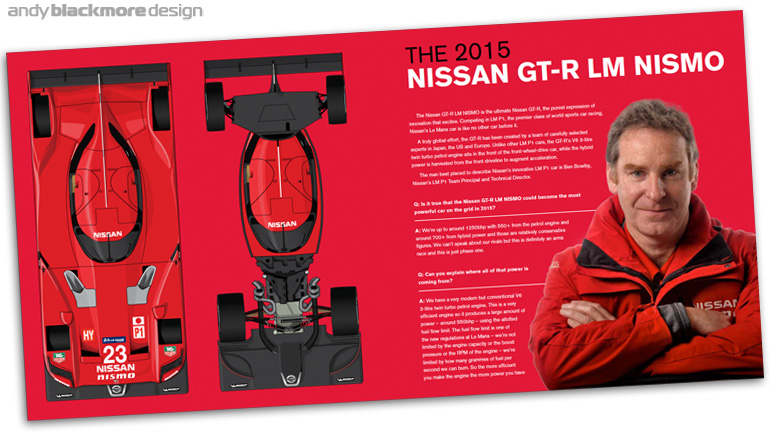 Not a big project, but an enjoyable one. I have been working with Nissan for a while now, supplying illustrations and design work for a variety of NISMO projects including these launch illustrations of the GT-R LM. They are a great company to work for and are always exploring exciting avenues across all forms of motorsport. In addition, Nissan sponsor my series of WEC, ELMS and Le Mans Spotter Guides.
Thanks to Nissan for the opportunity and of course for allowing the Le Mans Spotter Guide to be a free download for over 100,000 fans.
Original Press Release
NISSAN CELEBRATES 1990 POLE LAP OF LE MANS WITH RETRO LIVERY
The No.21 Nissan GT-R LM NISMO to run in R90CK livery at Le Mans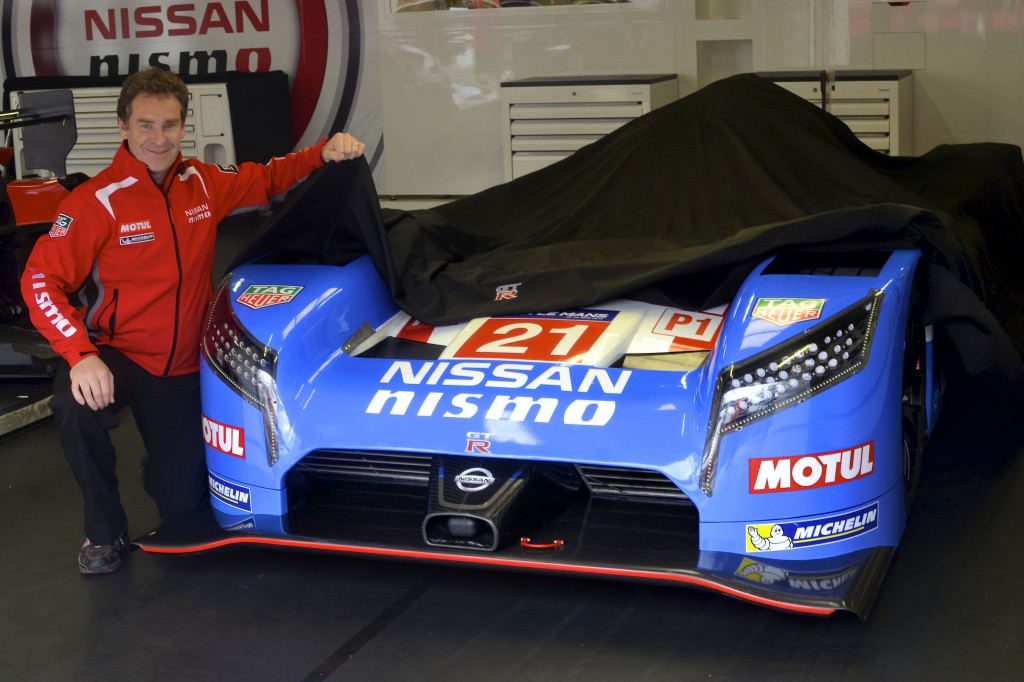 LE MANS, FRANCE – Thursday 28 May 2015: Nissan today revealed the first glimpse of a very special livery that will feature on the No.21 Nissan GT-R LM NISMO at Le Mans. Exactly 25 years ago, at the peak of the Group C era, Mark Blundell put the Nissan R90CK on pole position with a stunning 3:27.020 lap of the Le Mans circuit.
Ben Bowlby provides a preview of the livery that will be seen in all its glory at the Le Mans Test Day
See more of the #21 livery in the film: BUILDING THE GT-R LM NISMO
The No.21 Nissan GT-R LM NISMO is Nissan's third LM P1 car that will be raced by current Super GT Champion Tsugio Matsuda (JAP) and two winners of GT Academy, Lucas Ordonez (ESP) and Mark Shulzhitskiy (RUS).
The No.24 Nissan R90CK will also appear at Le Mans in a special parade to mark the anniversary of the pole lap, in the hands of the man who took it to the top of the tables 25 years ago, Mark Blundell. The 1100bhp car may not reach speeds of 366 km/h (227 mph) as it did in 1990 but it is certain to grab everyone's attention.
The Nissan R90CK on track at Le Mans in 1990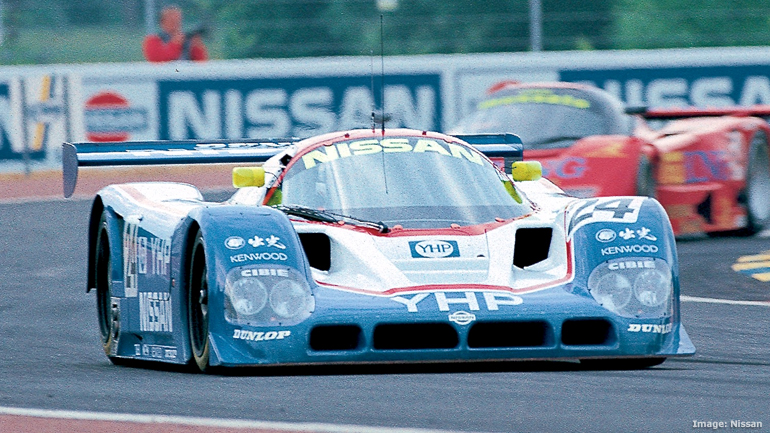 "That lap of Le Mans is certainly a very fond memory for me," said Blundell. "It was one of those moments where time stood still and everything went perfectly. You remember those moments as they don't happen all that often! It's great to see Nissan celebrating that time with the retro livery on the #21 Nissan GT-R LM NISMO. I can't wait to see it on track at Le Mans."
"Our racing heritage is hugely important to us," said Darren Cox, Global Head of Brand, Marketing & Sales, NISMO. "Our 1998 car hangs on the wall at NISMO HQ in Yokohama as a reminder of our Le Mans podium and the blue liveries of the Group C and IMSA era of the 80's and 90's are a firm favourite with the fans. So much so that when we first started talking about the possibility of a third car livery specifically for our LM P1 debut at Le Mans this year, this was the one that fans across our social media channels called for. It's a great way to celebrate our past achievements at such a key moment in our current motor racing history."