CJ Wilson Racing will continue in the 2015 Continental Tires SportsCar Challenge in 2015 with a unchanged livery for the #5 entry of Chad McCumbee and Stevan McAleer.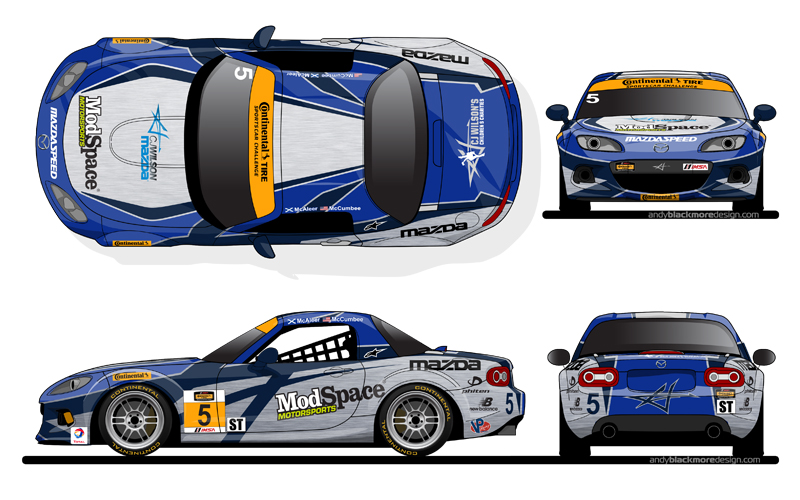 Entering the last season of competition with this generation of MX-5, the roadster retains the livery design based off team owner and NBA Baseball star, CJ Wilson's signature. Using AERO materials, the chrome Blue paint film works with a brushed Aluminum vinyl to tie in with partner Modspace.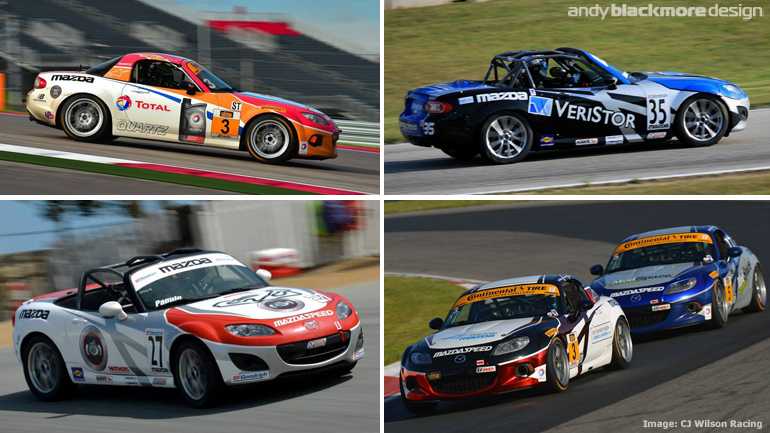 The design allows for multiple variations as seen on CJ Wilson's fleet of MX-5 Cup cars in 2014 and the CTSC Total and Zoom Zoom liveries used by their #3 entry in 2014.
A tough start to the season at Daytona is expected, where the long straights and banking of the speedway do not help the MX-5, but as the season progresses the team should move up the ranks and improve on their three straight podium finishes from 2014.
Full press release follows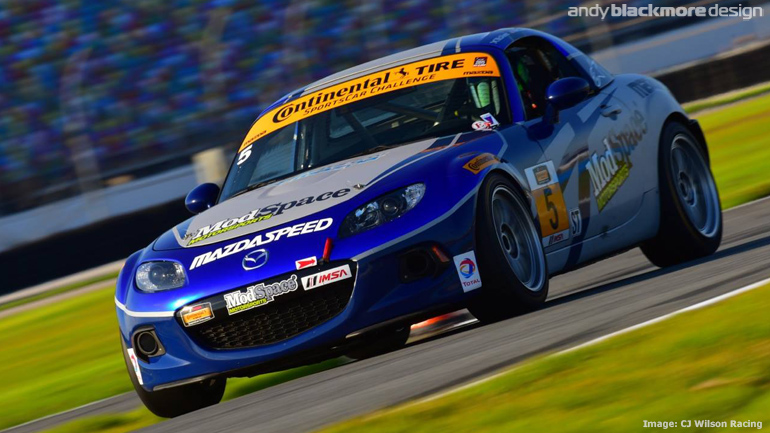 ModSpace Motorsports returns for another title shot with CJ Wilson Racing
Austin, TX, Friday, January 21st, 2015
The #5 CJ Wilson Racing Mazda MX-5 will compete for the 2015 Continental Tire ST title once again with the full backing of ModSpace Motorsports
Austin based, CJ Wilson Racing today announced that its #5 Mazda MX-5 will return to the ST Class of the Continental Tire Sports Car Challenge once again with the backing of long-time Mazda partner, ModSpace Motorsports.
The car will, once again, be driven by Chad McCumbee and Stevan McAleer. The pair enjoyed considerable success in 2014 including a run of three straight podium finishes at Sebring, Mazda Raceway and Lime Rock but they found Victory Lane elusive.
Team Manager, Andris Laivins is delighted to have such a strong pairing returning for 2015. "We are thrilled to have Chad and Stevan back this year in the ModSpace #5.  Having those two in a car together makes my job a lot easier, knowing that either one can qualify, start, or finish a race up front."
The 2015 season starts on the high speed banking of Daytona International Speedway. The flat out nature of the its Sports Car Course does not suit the MX-5's balance and handling which will hand an initial advantage to some of the higher horsepower entries. The duo may have to wait until the following round at Sebring International Raceway for a shot at the top step of the podium.
Laivins knows, however, that this Championship is marathon and not a sprint. "The Mazda MX-5 Miata is a platform we love dearly as a team, and though we might be out-muscled on the wide open Daytona oval, we wouldn't trade our efficient, nimble cars for any other.  It's a long season, and we have to look at this week as step one on our quest for a championship.  I have every one of our dedicated crew back with CJWR this year, and everyone is anxious to get back out there."
"ModSpace is excited to be back with Mazda and CJ Wilson Racing for the fourth season," stated William Mann, Vice President of Motorsports for ModSpace.  "It is great to be part of this amazing team and ModSpace is thrilled to have Chad and Stevan back behind the wheel of the No. 5 car.  Both drivers are great ambassadors for our brand on and off the track. We have the perfect components to deliver a strong performance at Daytona and carry that momentum throughout the 2015 season."
Team Owner, CJ Wilson knows exactly what McCumbee and McAleer are capable of. "I'm very proud of the fact that we have the same driver lineup returning.  As a team we work really well together and to put drivers as talented as Steven and Chad together, it means we'll get every last drop out of the car every race.  We had challenged for the season points crown at times last year and expect to win a championship very soon."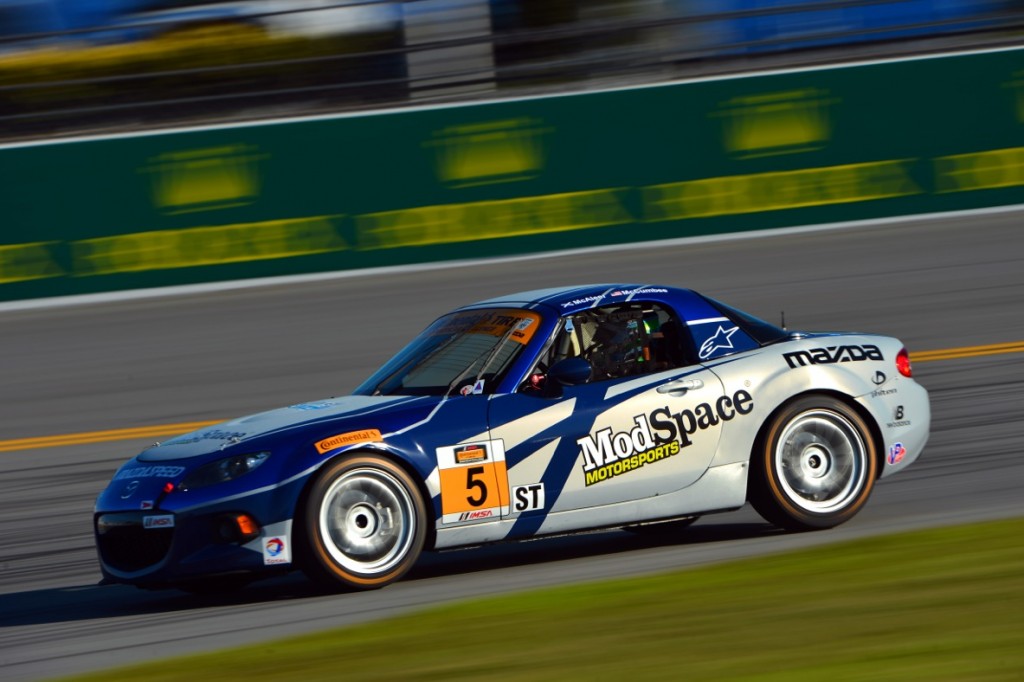 "ModSpace has been a great partner over the years, and without them we couldn't put great driver pairings like this together. Hopefully we can show our gratitude with a spectacular season," concluded Laivins.
Round one of the 2015 Continental Tire SportsCar Challenge, the BMW Performance 200, will take place at Daytona International Speedway on Friday, January 23rd at 1:45 PM. You can watch the race live on www.imsa.com, you can also follow via IMSA Radio at www.radiolemans.com. For lap-by-lap updates on the #5 ModSpace Motorsports Mazda follow the CJ Wilson Racing official Twitter account @cjwilsonracing.
– Ends