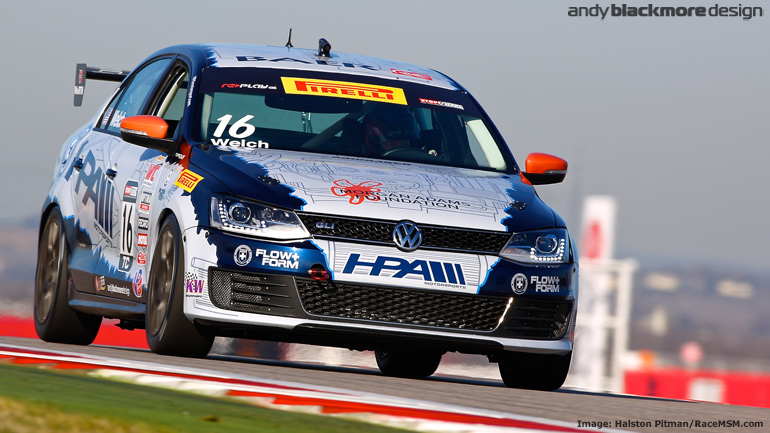 HPA Motorsports are a well known Volkswagen specialist, renowned for their extreme SEMA show winning builds. The Canadian company were also the first to legally import and sale a limited run of Volkswagen Golf R32 and later Volkswagen Scirocco into North America.
Following partnerships with Pirelli World Challenge (PWC) teams in recent years, team owner Marcel Horn set up a new race team to compete in the Touring Car (TC) class of the 2015 PWC series using Volkswagen Jetta GLi's.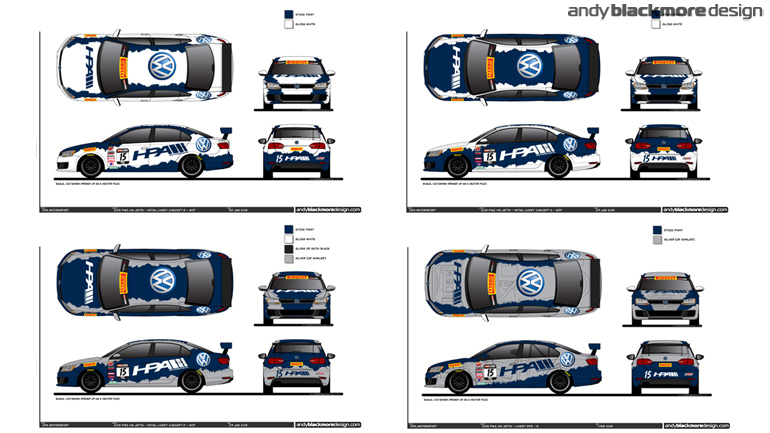 Late in February, I received an email from Marcel asking if I might be located near his base and required a stand out livery and team identity. As it transpired, the team had located to a new shop less than a mile from my office!
As HPA's main business is selling performance parts and extreme builds, it was immediately apparent we had to promote this side of the business on the race cars so I developed a few initial ideas, one was a cut-away livery showing some of the parts of the car as a line drawing.
As a new team, there were significant front end costs, so we also decided to be efficient and make this a partial wrap, leaving elements of the Metallic Blue body visible.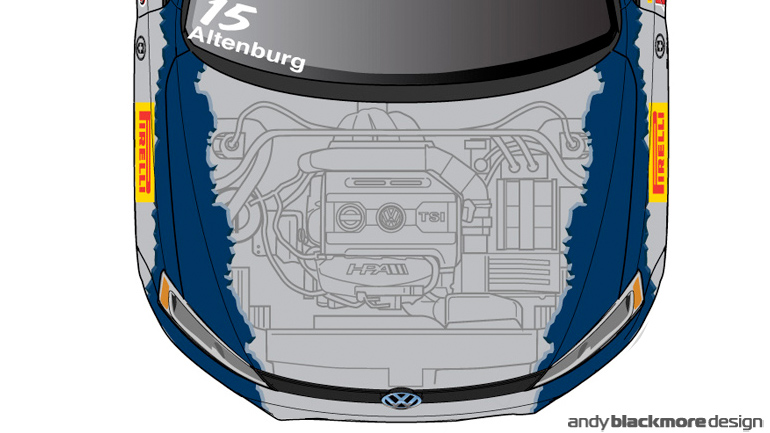 The jagged graphic was developed from the teams existing corporate identity, so it looks like the metal work has been torn away to reveal car parts.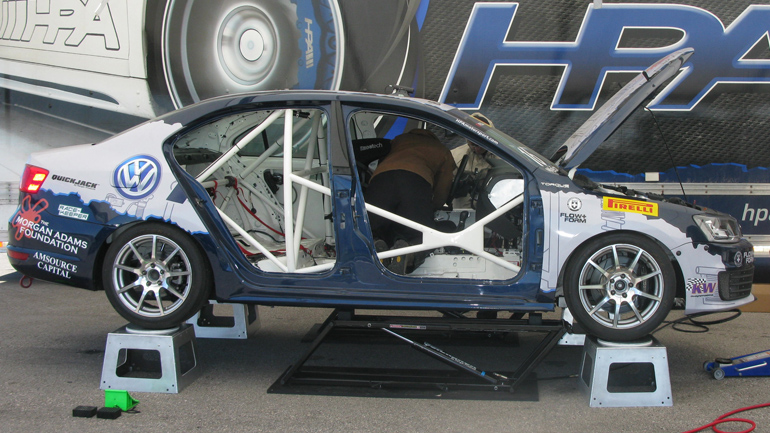 With this idea, the final concept was resolved quickly, but the actual drawing up of the parts was more time consuming.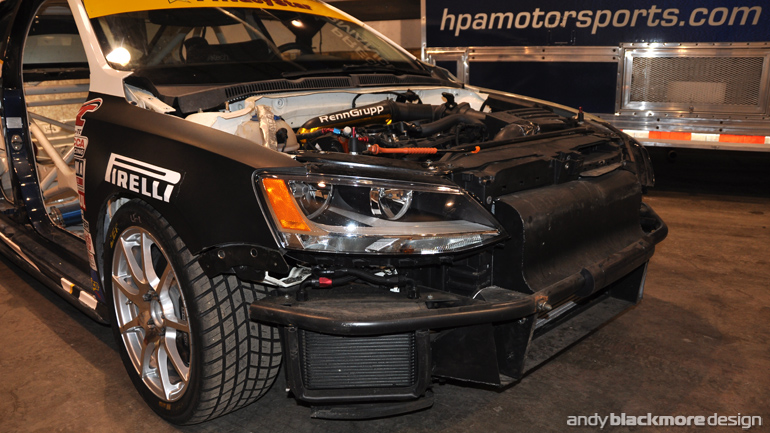 Luckily with the team local to me, I was able to repeatedly visit the shop to measure and photograph parts to ensure the cutaway was accurate.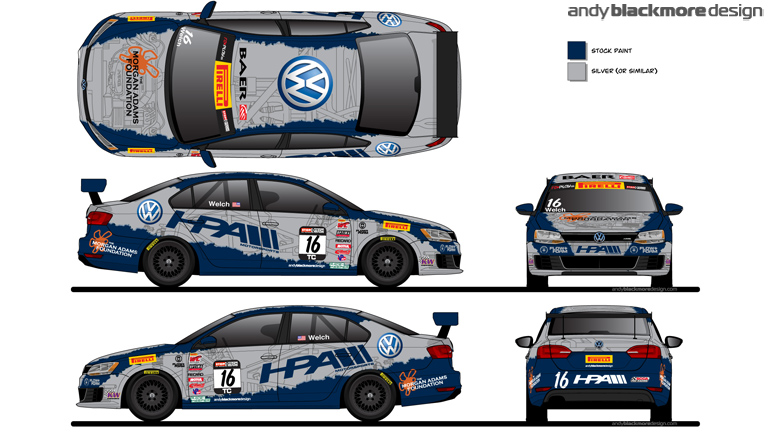 It was also important to decide what elements to keep and what to leave out. For example, we don't display the door jams as this much detail reduces clarity of the cutaway and and the branding which sits on top of the line art. The cutaway line art is in dark grey (instead of Black) so it doesn't interfere with the branding on the car.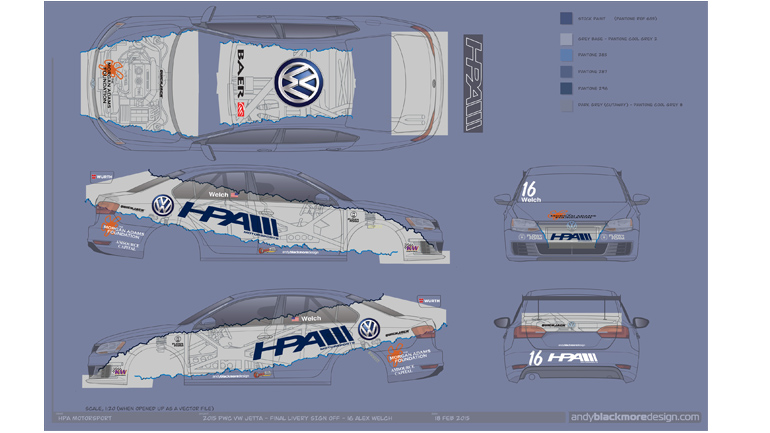 The car was wrapped expertly by local company ThirtySeven Enterprises and thankfully, everything lined up!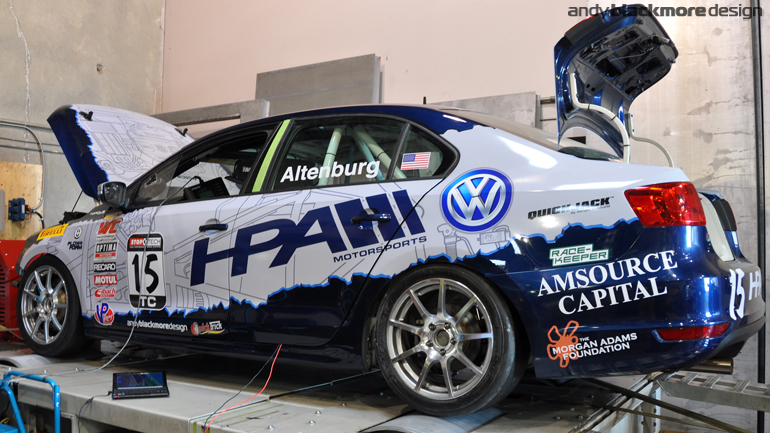 In addition to the car I created many elements of the team identity…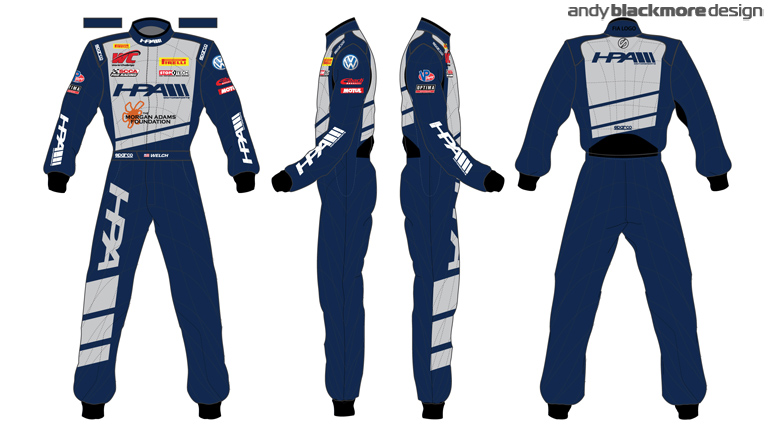 including the driver race suits and….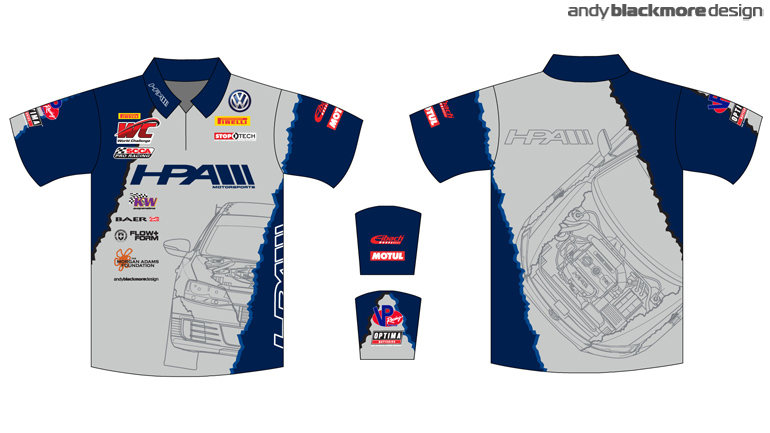 mechanic shirts. As these were screenprinted, we could use elements of the racecar livery.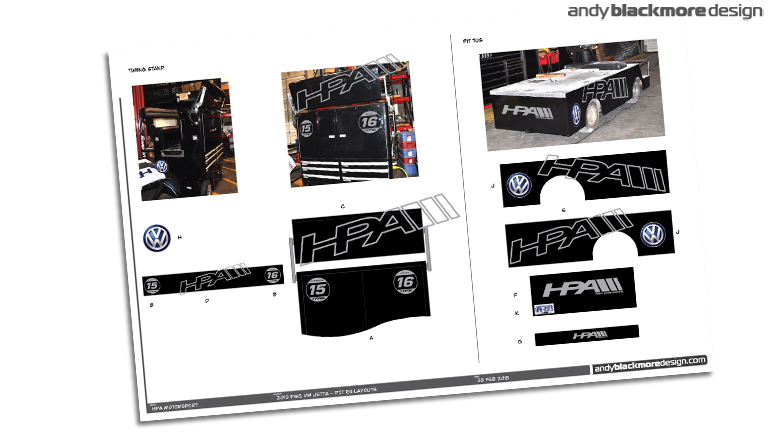 and associated cost effective branding for pit equipment.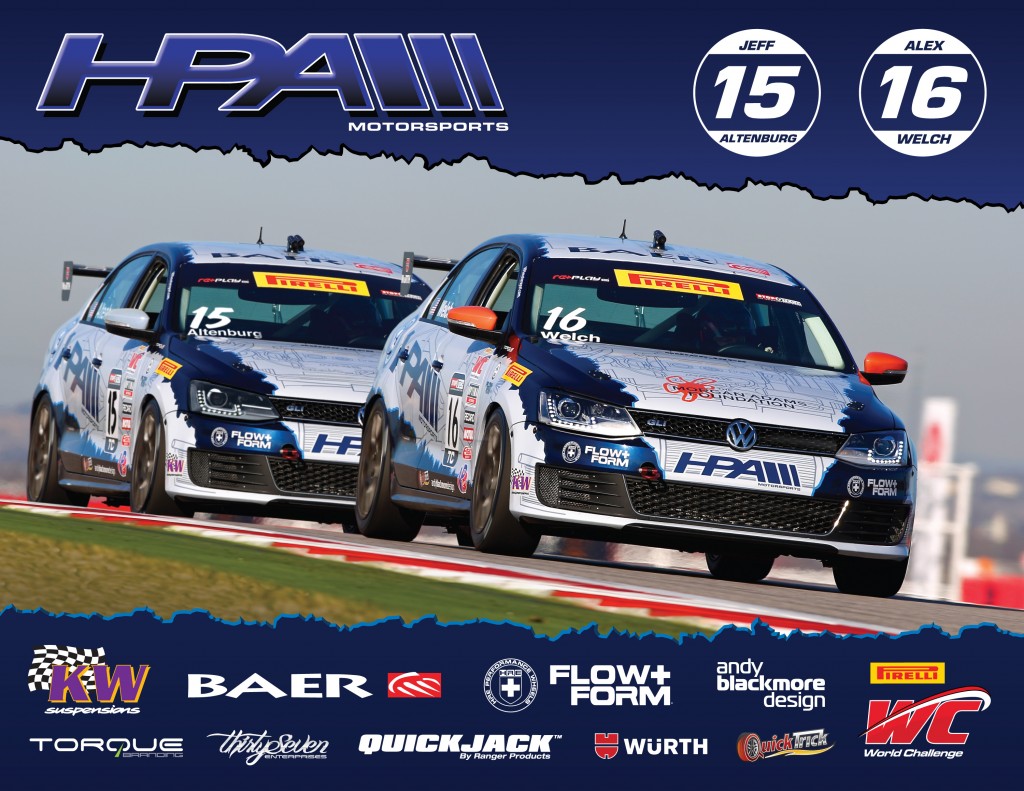 To complete the corporate identity I produced a Hero Card for the team which included significant photoshop work to create an additional car.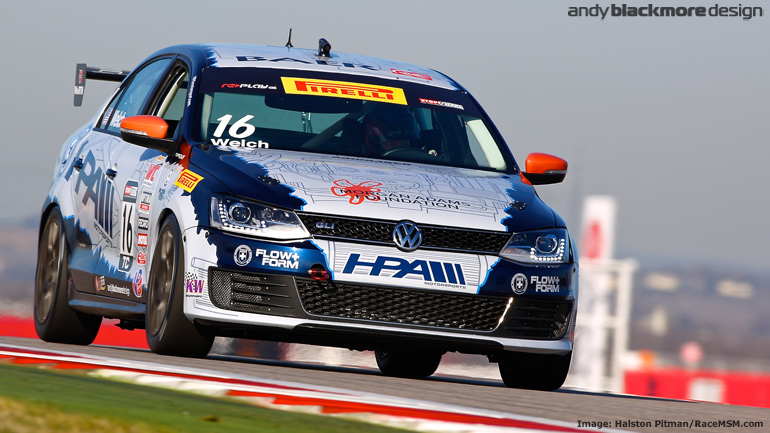 This is the original image from top photograher Halston Pitman (RaceMSM.com).
As you can see, I added in a second car!  In addition to the usual clone and updating race numbers, I also adjusted elements including headlamps, mirrors, changed highlights and even suspension under the cars.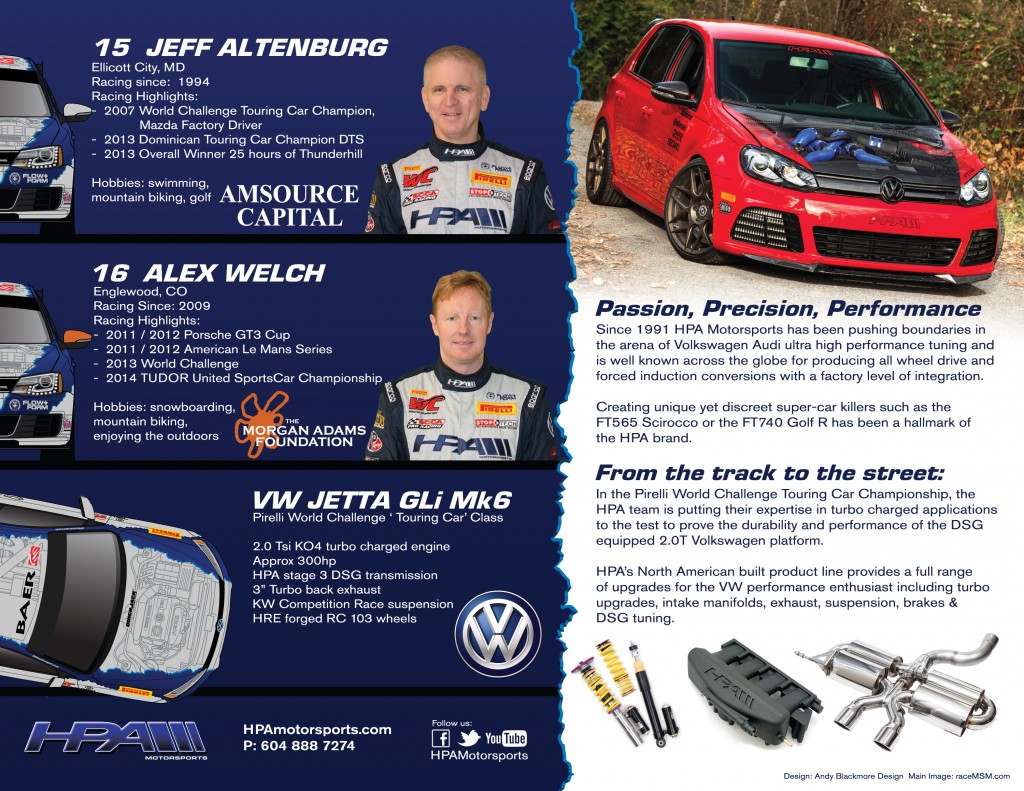 The rear includes some of the original car art, along with a panel showcasing HPA's main line of work. The Golf FT740R is amazing, quicker than a Lamborghini.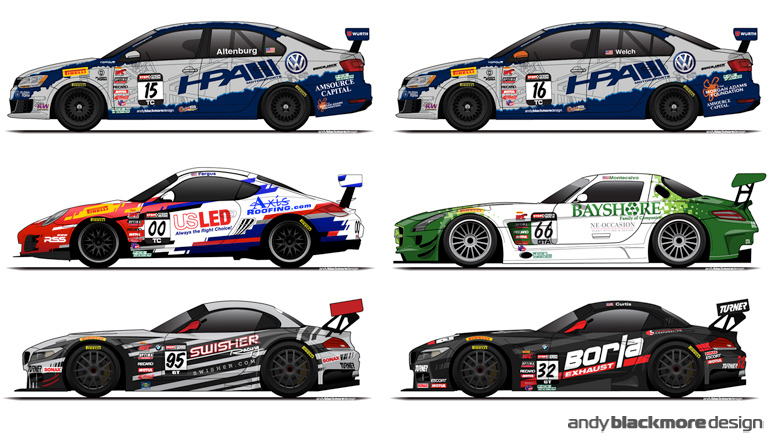 With a busy grid of cars it was important the HPA Motorsport VW Jetta's, along with my other 'TC' class design, Corey Fergus' Porsche Cayman stood out on the grid. I also produced a further four (three shown above) liveries for the 2015 series.

It was an impressive achievement for Marcel and his team to build up a team from scratch in two months. It did result in a tough 'character buiding' first event as they developed the car but later in the season they took their first win and a couple of podiums along the way.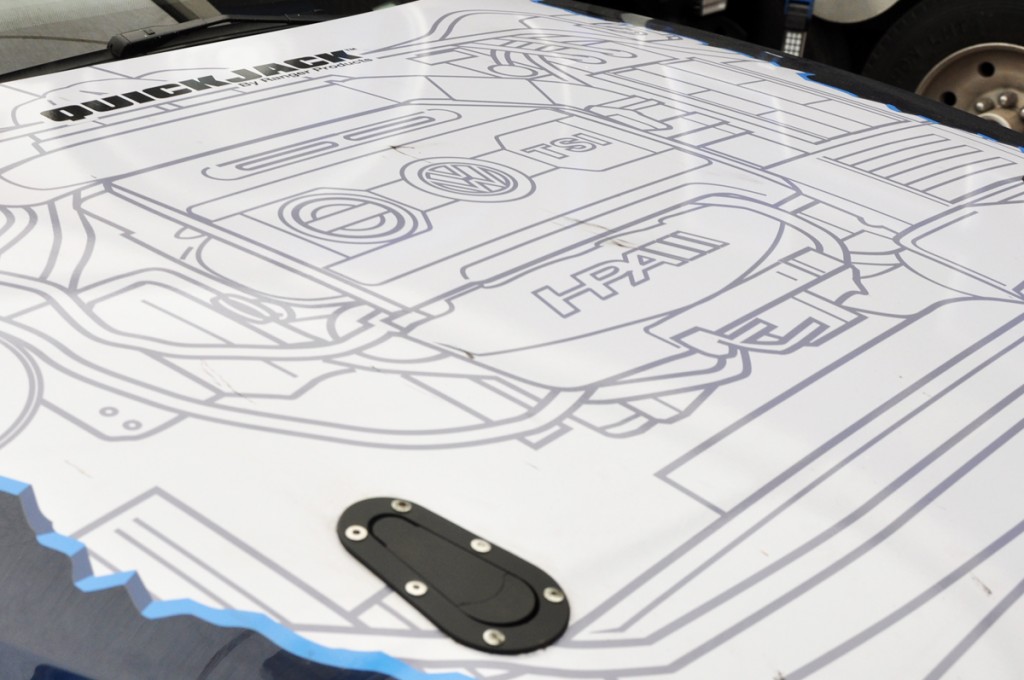 It has been an awesome project to work on and a real pleasure working with a local team that have high attention to detail. I'm already onto their next HPA Motorsports project!