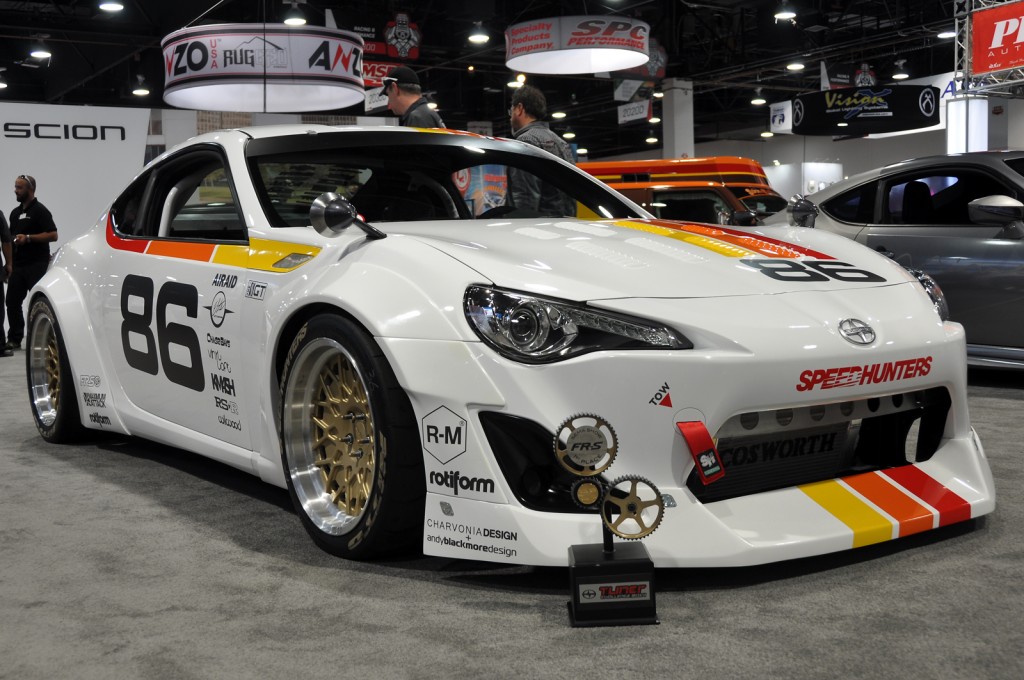 Client: Speedhunters/ Electronic Arts
Winner: 2014 Scion Tuner Challenge
This post is in two stages. The first part is a design feature originally published on Speedhunters.com The second part covers the actual car, the show and the build Winning the Scion Tuner Challenge!
Designing the Speedhunters Scion FR-S.
With the deadline for completion just days away, it's time we brought you up to speed with our 2014 SEMA Show bound Scion Tuner Challenge FR-S. Firstly, it's name: MAXIMUM ATTACK. It's a fitting title we think, not only because it's instantly recognizable as a Speedhunters slogan, but also because the idea behind the car is track day/vintage IMSA racer. Of course, it's built to be driven in true Maximum Attack mode too!
The Scion Tuner Challenge (STC) celebrates its 10th anniversary this year, and if you've caught our previous updates you'll know it involves three teams each being given a new Scion FR-S, 90 days and $15,000 towards the build. We're up against Super Street magazine and GT Channel, and a panel of judges will evaluate the entries and announce the winner at SEMA. There will also be a fan vote element that forms part of the final judging, but more on that shortly…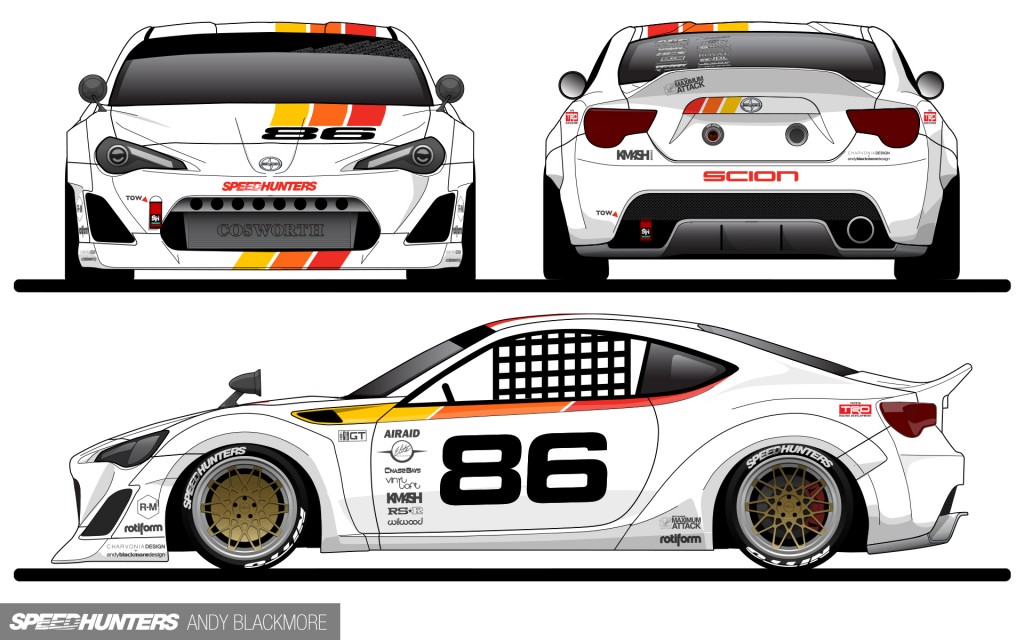 he Speedhunters STC team consists of three main people. Rod Chong, Speedhunters' founder, who has guided and focused the vision; Keith Charvonia, Speedhunters' Technical Editor – who is by far the most important member of the team, currently spending every waking hour (between a day job and his family) to bring this build to life in his own garage with a small team; and myself. I was one of the original Speedhunters team members in 2008 and stayed on until 2012 when I left to start my own motorsport design business. My role in the FR-S build has been to design the aesthetic and style of the car.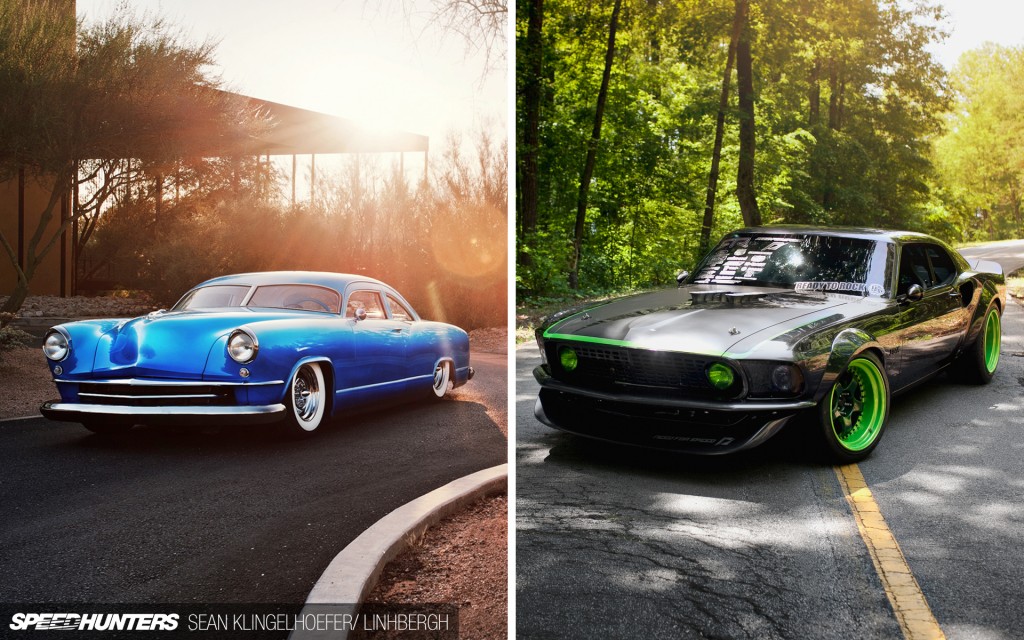 We all have some experience of builds, myself and Rod with Vaughn Gittin Jr's Ford Mustang RTR-X which I styled; and Keith with a number of cars including his awesome Drag'n Kaiser and more recent Project ZN6 KM4SH FR-S. As Speedhunters confirmed their entry in the Scion Tuner Challenge, Rod and Keith began brainstorming.
Here's how Keith puts it: "Rod and I started chatting about a theme and throwing out some really wild ideas. I wanted to build a hot rod, really clean with deep black paint and chrome, inspired by the Doane Spencer '32. Meanwhile Rod threw out ideas ranging from a gasser to a Bellflower custom lowrider – so I would say we covered the full gamut of concepts. As we honed in on a theme it became clear that we both were really digging the idea of a track car, which made sense to us given the FR-S's roots and physical layout. We started leaning towards a vintage Trans-Am theme, and this was around the time that Andy came on board. His depth of knowledge when it comes to racing and history was an enormous help in nailing down a really solid theme. He took our Trans-Am idea and turned us in the more brand-appropriate direction of a vintage IMSA racer by connecting all the historical dots with Toyota's 2000GT and Celica cars."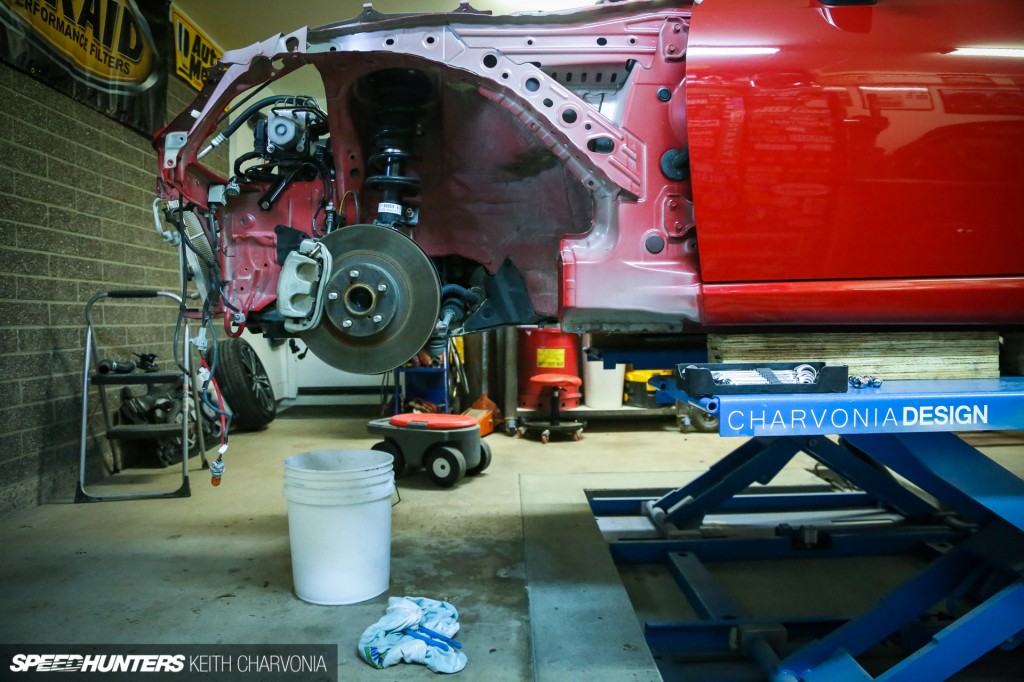 As for me, I was approached to get onboard the build back in August. Truth be told, I had a pretty packed schedule, but the Scion Tuner Challenge competition has always interested me, and having seen the results at previous SEMA Shows (this year will be my 10th) I just had to find the time. It's turned out to be a truly international build too: myself in British Columbia, Canada; Rod in Sweden (or a plane) and Keith in Phoenix, Arizona – with a Japanese car and a North American brand. Time to brainstorm and lock down a clear vision…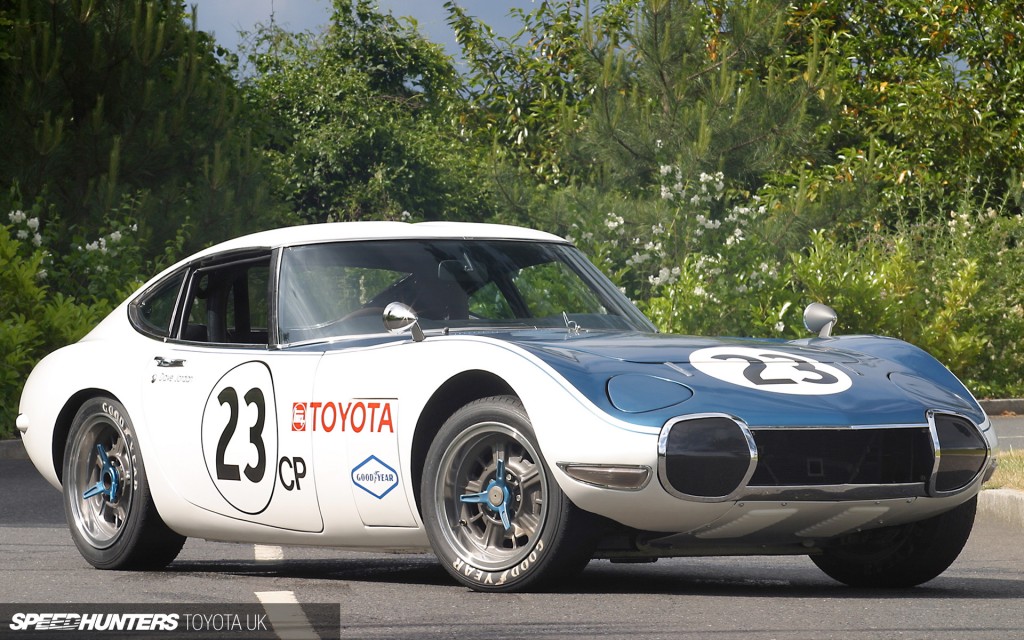 By this time the team were moving away from a '60s-style vehicle and more into a take on a '70s racecar. SCCA, Trans-Am and the newly-formed IMSA were our focal points.
As a massive motorsport fan, it ticked all the boxes for me! I've always loved the Toyota 2000GT – it's a stunning piece of automotive art which competed in SCCA with Carroll Shelby at the wheel in 1968. Initially, this was one of our reference points. Liveries were still in their infancy during this era of racing, which led to clean, uncluttered appearances – and in the case of these Japanese chariots – often in their national motorsport color of white. We would retain this clean look as the project moved forward. While this 2000GT shows a blue hood, the initial intention was to run with the red top of the sister car, as shown in a couple of the early sketches.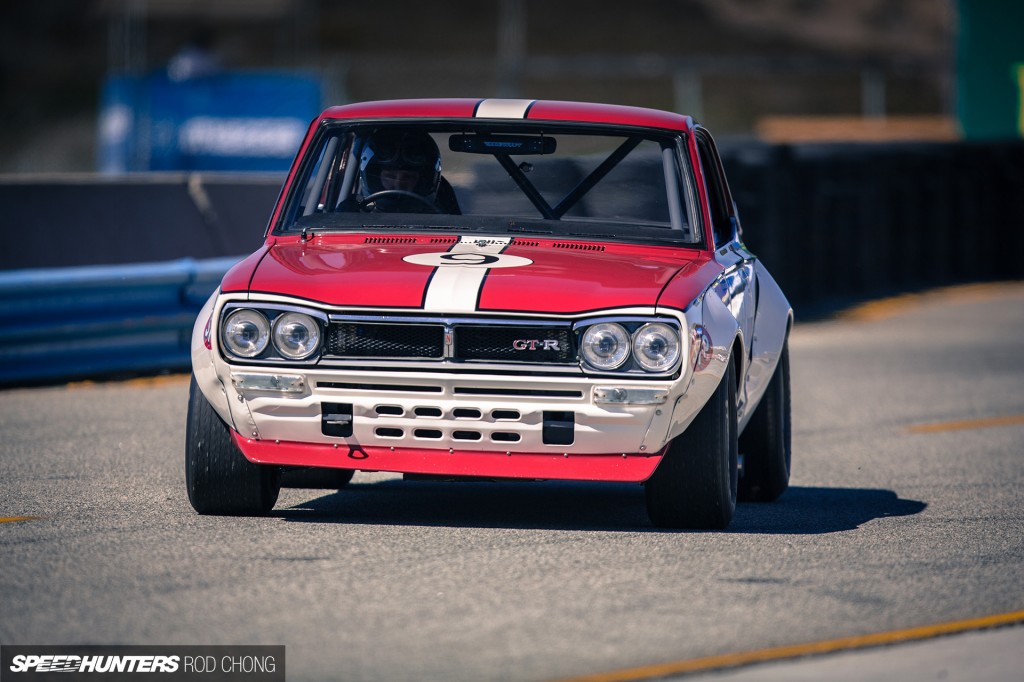 One of the common modifications made on these early racecars were chin spoilers. Similar in appearance to the angled devices found on late '60s muscle cars, these evolved a little and by the mid '70s eventually wrapped all the way around to the front wheels.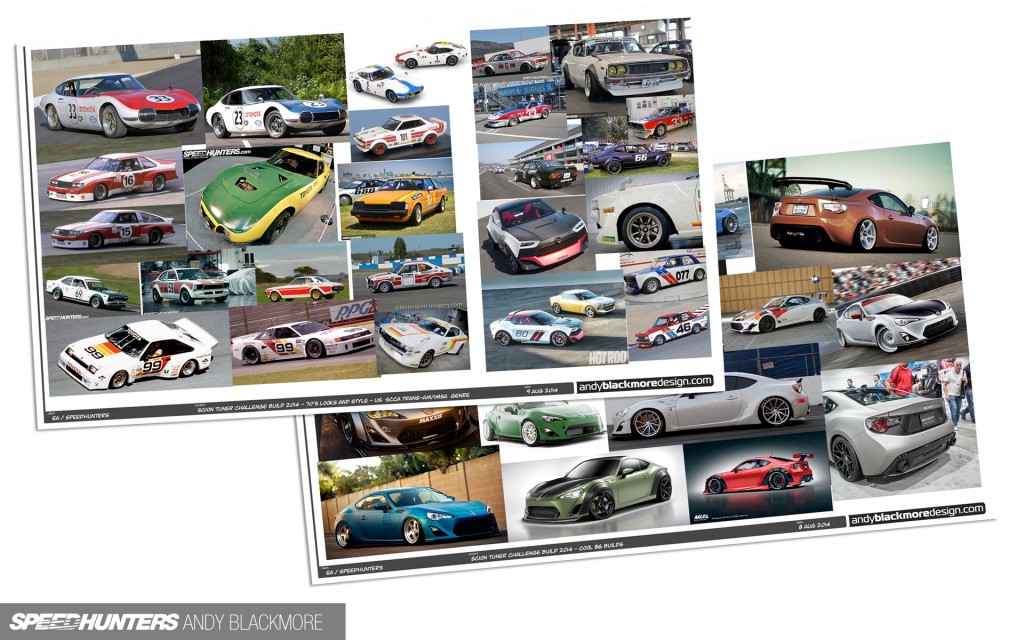 As we looked around at the motor racing scene in North America it became apparent we could improve our build by cherry-picking various ideas from the '70s and early '80s. This mood board shows the range of racers that inspired us, and at this point we had started investigating later styles including the Toyota Racing Development (TRD) Celicas of the '80s. As soon as we started to reference these later IMSA cars, we could not ignore the iconic TRD look which the championship-winning Celica and later GTP cars carried in the '80s and '90s. Our build was a Scion, born out of Toyota after all.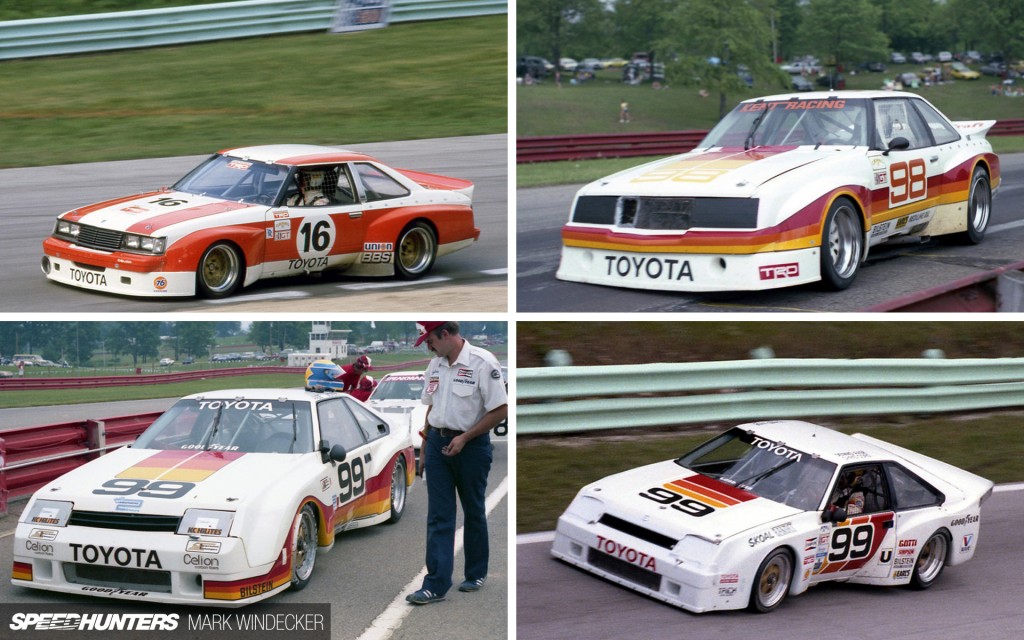 We now had a solid theme: 'A track day level racer, inspired by the early days of IMSA and the dawn of Japanese racers in the States'.
Toyota and TRD first became involved with IMSA GTU (under 3.0-litre) racing in 1981 with a Kent Racing built A40/50 series Celica – albeit with limited success. Rivals, Mazda were dominating with the RX-7 and became the most successful GTU car in its class history. In 1982, The orange, red and yellow graphic made its first appearance on the final year of Kent Racing's entries (top left above). By 1983, Dan Gurney's All American Racers (AAR) took over the TRD entry and initially ran the previous chassis before an all new AAR tubular chassis was raced. The success flowed almost immediately.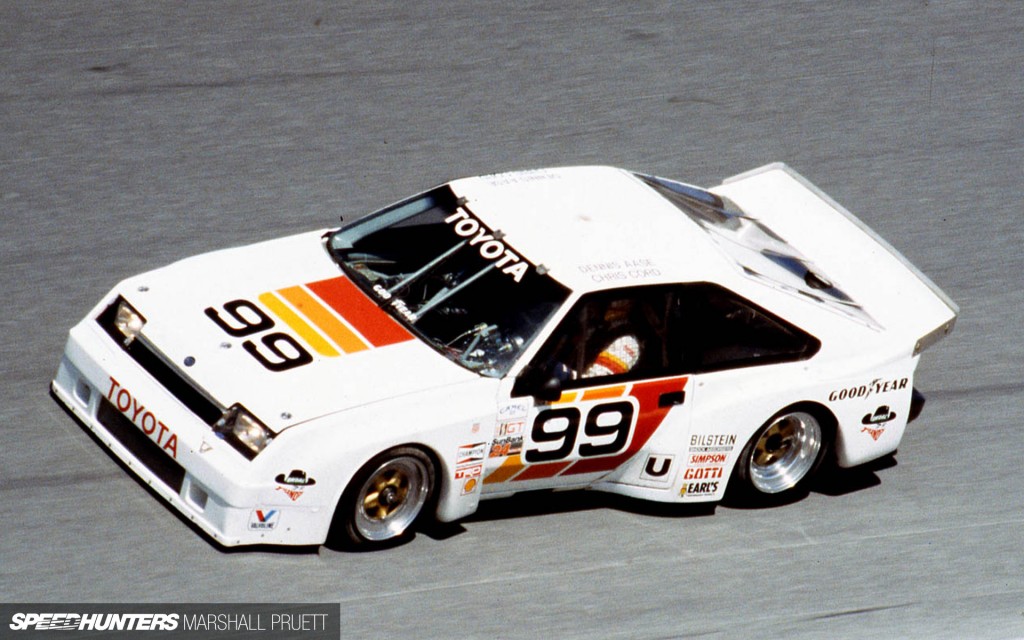 The new 'slash' side graphics were introduced in 1985 and it is this basic appearance which people remember as the original TRD look.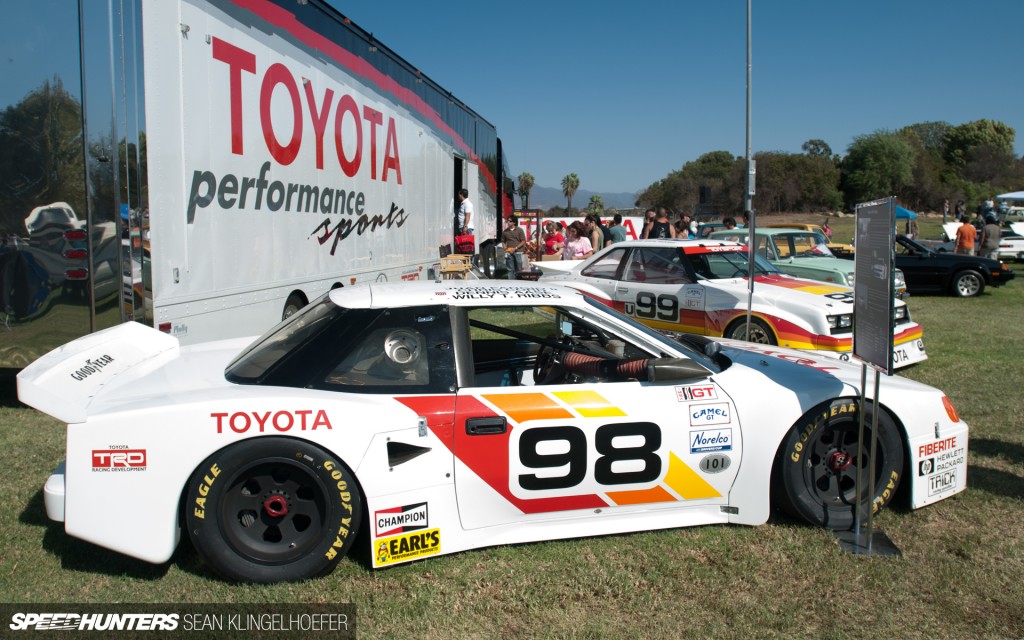 Following 10 class wins, TRD and AAR moved up into the GTO category in 1986 with a 2.1-litre turbocharged 4T-GT engine. The team took a win at Laguna Seca in the first year, followed by the Drivers' Championship (with Chris Chord) and the Manufacturers' Championship in 1987.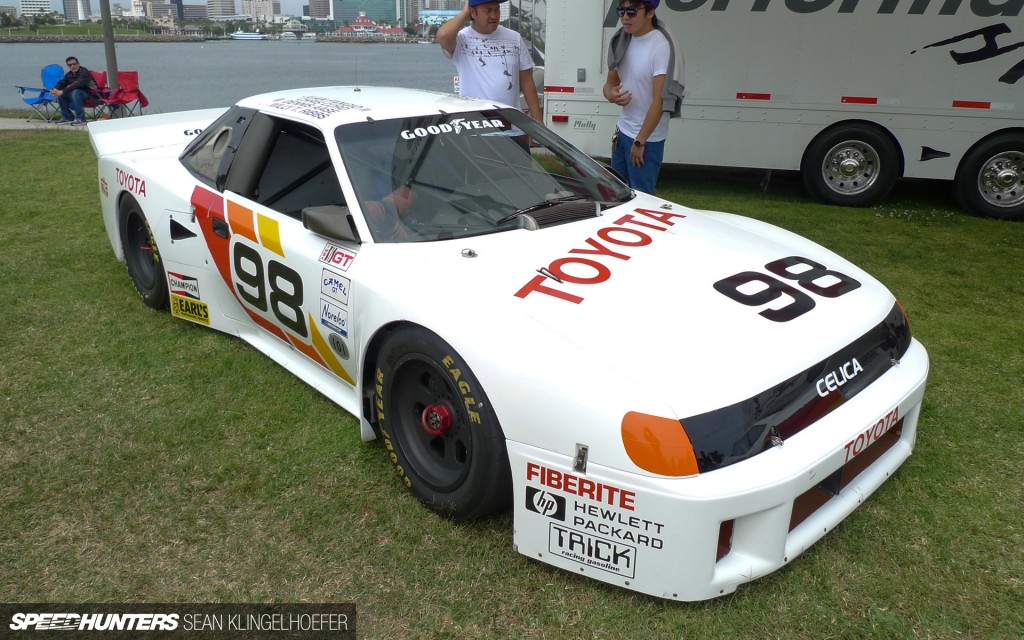 They should have won the Manufacturers' Championship in 1988 too, but the sheer number of Roush Mustangs put pay to that and Toyota finished as the runner-up.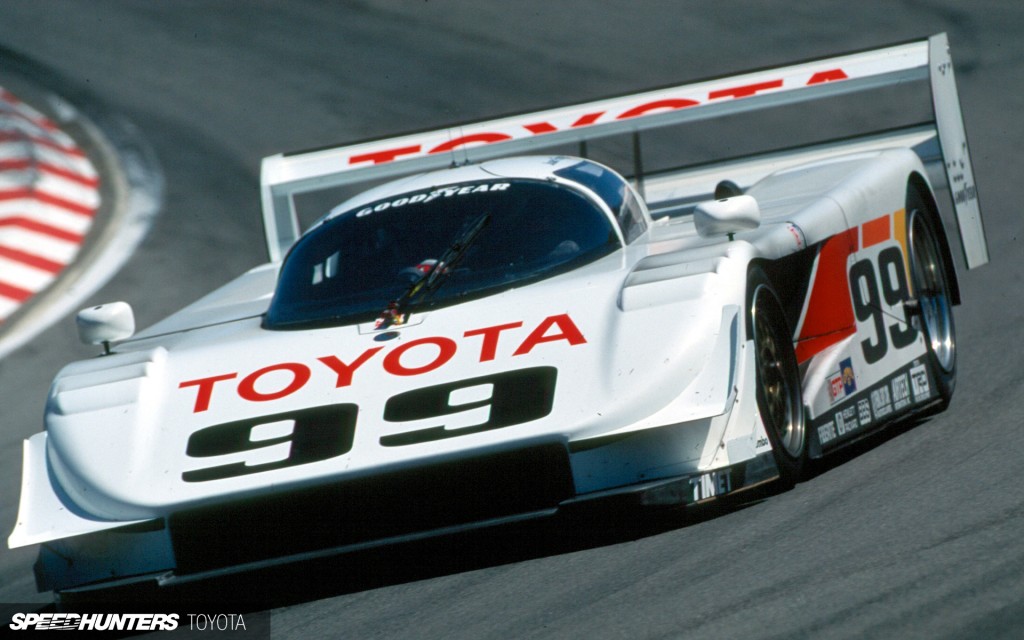 Following their success in GTO, the team moved up to the GTP class with the AAR Eagle prototype racecar and won the championship twice during the following decade.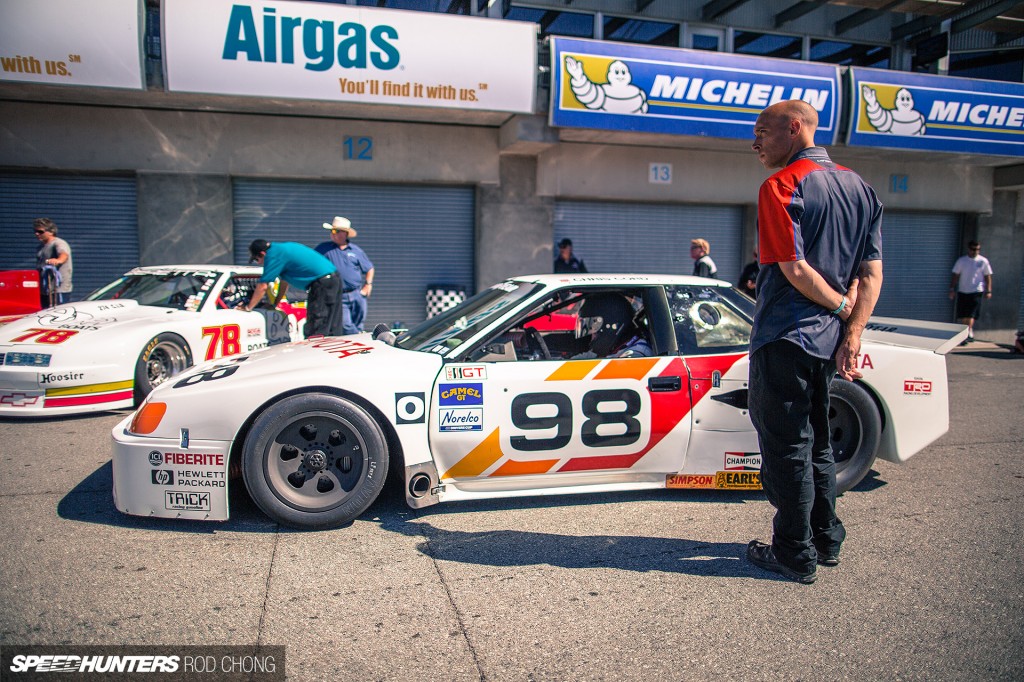 So, as you can see, with the success of the Celica program in Ford and GM's backyard, it was hard not to pay respect to this success and incorporate some iconic visual cues into the design of our Scion Tuner Challenge FR-S. I made contact with All American Racing and the then Team Manager, Gary Donahoe, along with Chuck Wade who looks after the Toyota Garage Museum in LA. I obtained the correct color codes and other technical info and our direction was further solidified.
As we showcased last month here on Speedhunters, we wanted to pay homage to the TRD look, but do our take on it. The Speedhunters collective voted and as the deadline drew close, the vote went back and forth between Concepts B and C.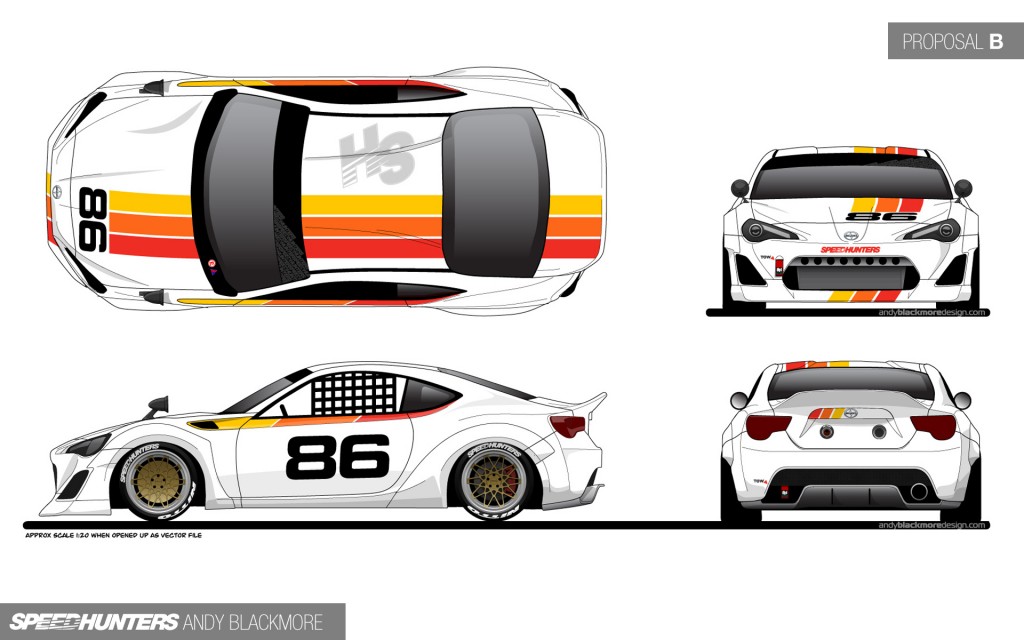 Eventually, Concept B won through – but only by a few votes. Thanks to everyone for getting involved and voting! Like the Mustang RTR-X, it's cool to involve the audience, and that's something that makes our Scion Tuner Challenge build quite unique.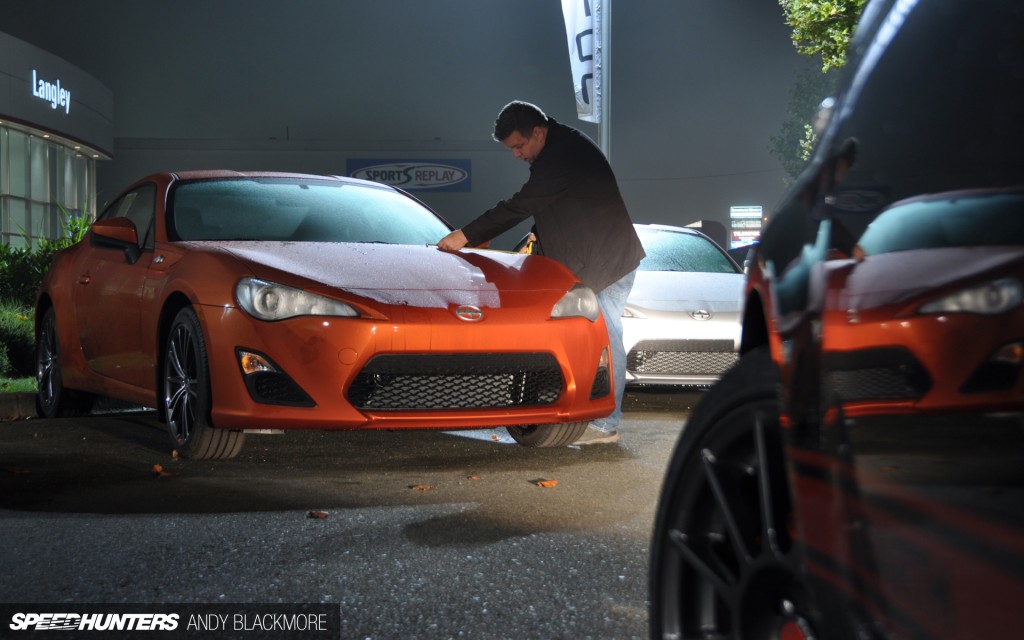 Despite what you might think, the livery was surprisingly time consuming to resolve. With an ever expanding list of partners we had to wait until the last minute to lock down the final design and placement. For me, there were many late-night visits to the local Scion dealership to measure and triple-check before sending off the artwork ready to be cut and then applied on our car.
As for the body work, in terms of 3D form we looked at a couple of approaches including not having a fender kit at all. There was a lengthy discussion driven by Rod as to the merits of the KM4SH kit and if we should buy something else or fabricate something different. An extreme wide body had been an option, but that had been done (successfully) with an FR-S in a previous Scion Tuner Challenge, so we wanted to move the game on. It's worth noting, the use of the KM4SH kit as a foundation was driven by me – someone who does not have a vested interest in the kit. It also allowed Keith to focus on other areas of the build. This is KM4SH kit #003 and it will be the only one at the SEMA Show this year.
Taking the best of IMSA GTU from the '70s and '80s, I wanted a clean and wide look – but without a full extreme silhouette style more reminiscent of later years. Keith suggested we remove the fixings from the kit for a smoother and unique appearance, and that sealed the deal.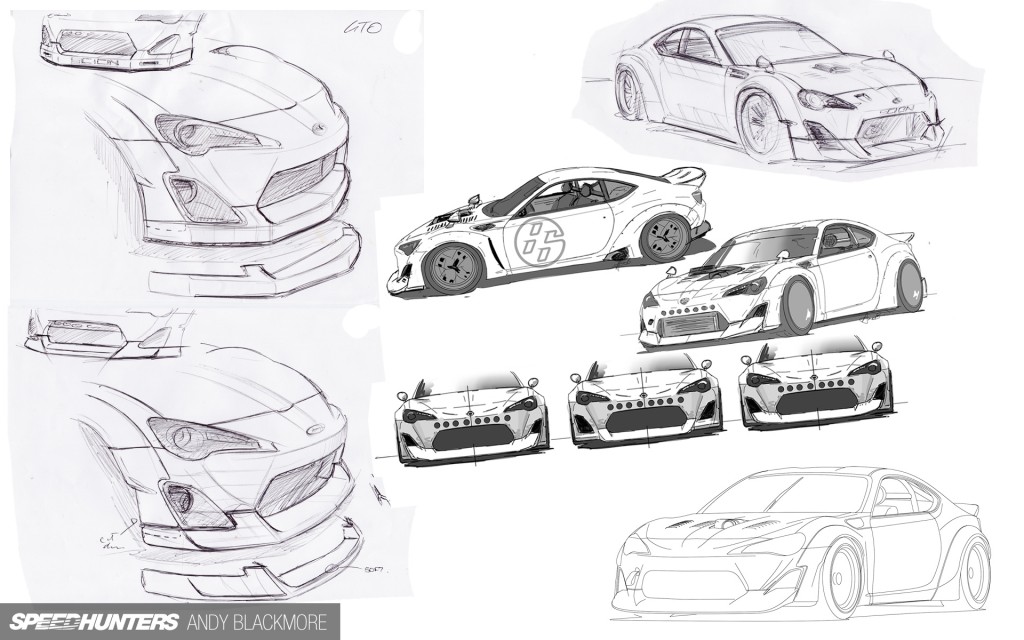 As I mentioned, I love the early front chin-type lips and was inspired by those. But this is an area that required quite a lot of development. Due to the FR-S having many complex angled forms – particularly between the main air intake and he outer dummy vents – it was a bit of challenge to get right.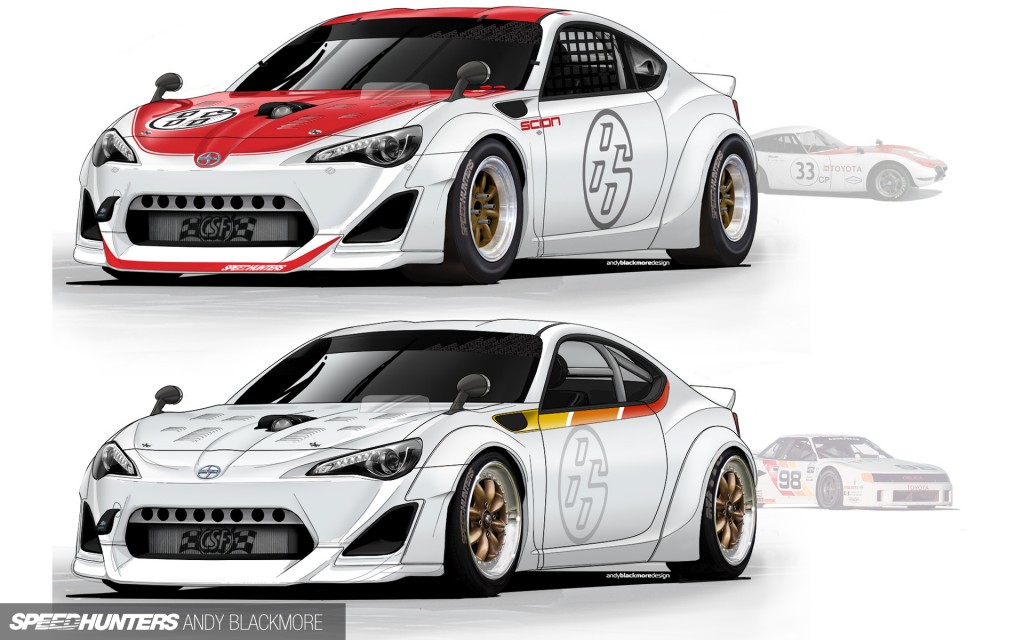 The Scion FR-S Release Series 1.0 with its TRD lip served as the inspiration and I explored a number of ideas including a lower extended section. It looks cool, but you have to be careful it doesn't look like a big oversized lip! The final design is much cleaner look which extends out far forward of the original front. We've already had one company express an interest in a production run!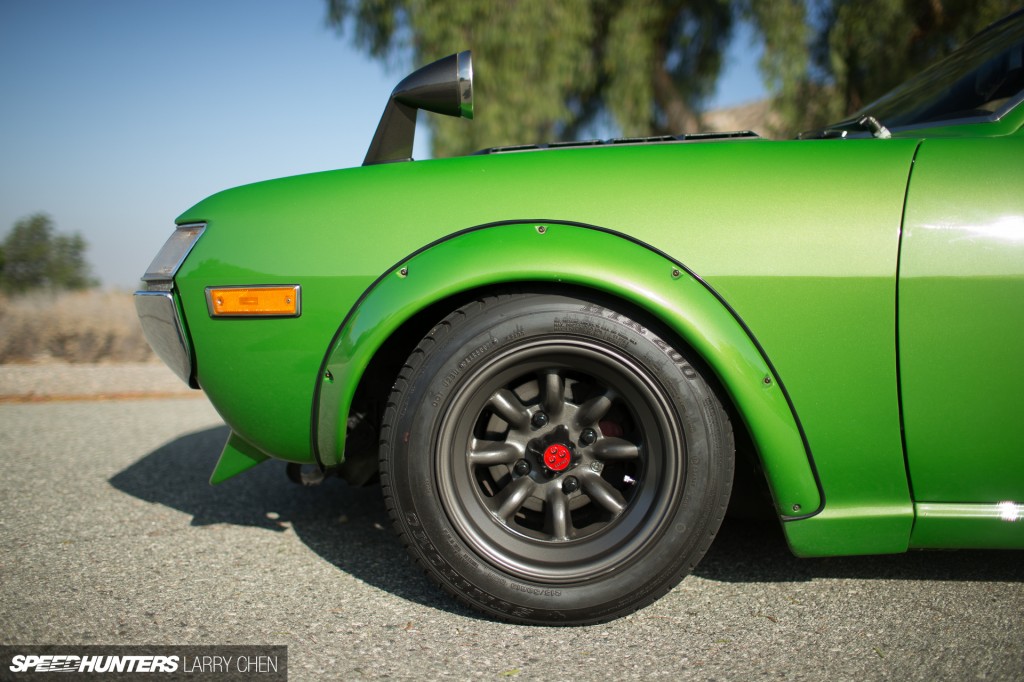 We're not going to spill the beans and show every detail of the car now – that's for the SEMA Show – but there are couple of other areas I'd like to comment on. I've always loved JDM fender mirrors and, to be honest, am a little surprised they have not appeared on more modern builds. I thought these would work well on the FR-S – particularly with its fender and hood 'humps' at the front. We had to wait a while to find a pair of authentic units which didn't require a mortgage, but were eventually successful in tracking down an awesome set from a Datsun 240Z!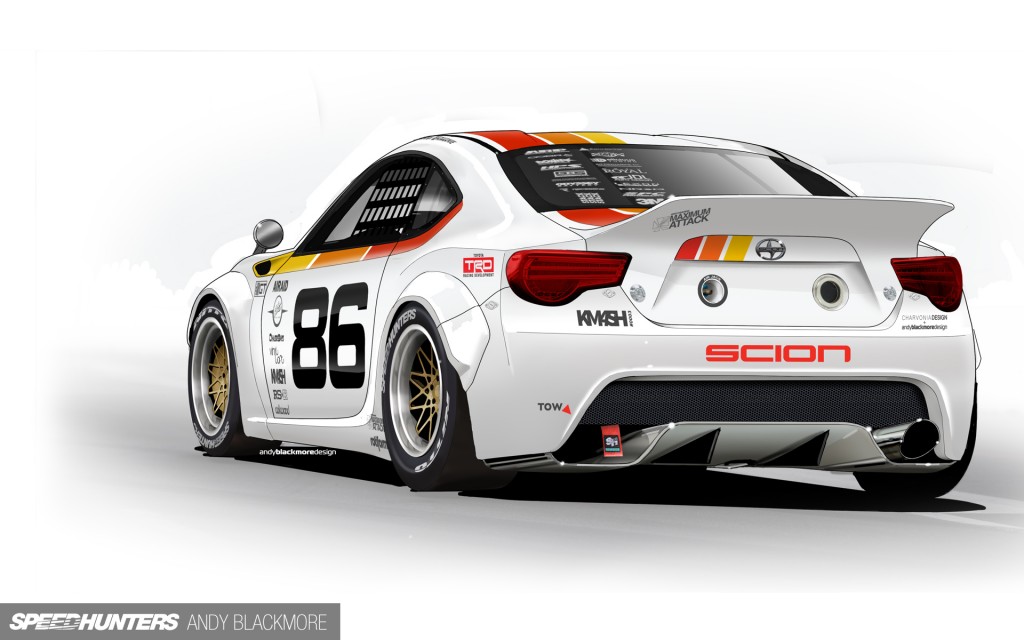 We also needed to explore a rear spoiler. A duck-tail style device made sense from the outset as these were used on a number of IMSA cars back in the day and were also a popular fitment on the original AE86 with TRD's N2 item. AeroJacket have recently debuted an extreme duck-tail, which uses the car's stock bodylines for a great integrated look.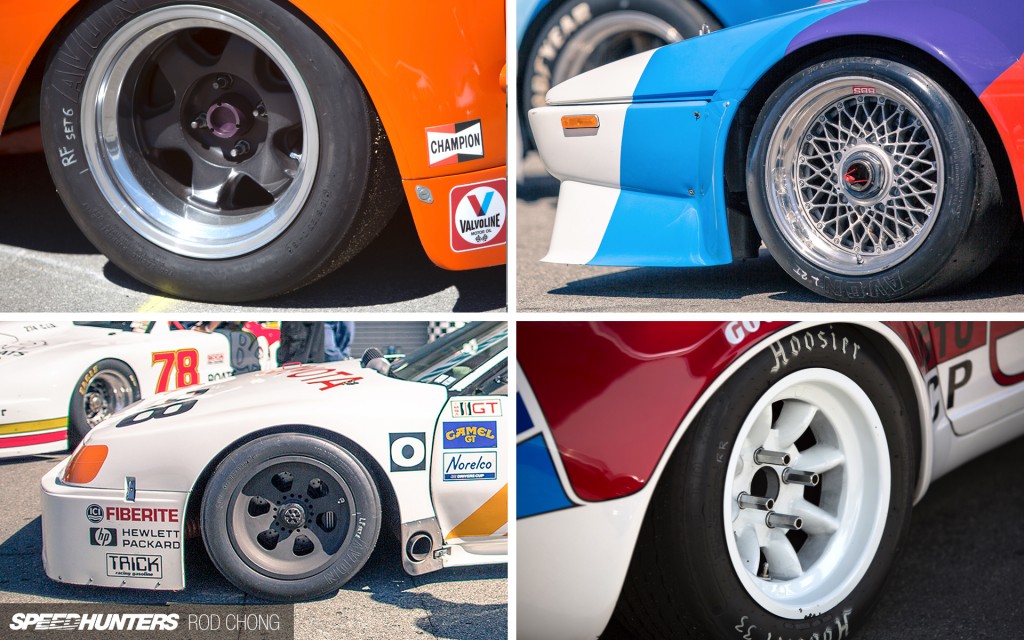 Of course, wheels and tires are a very important component in the appearance of any build too. We spent significant time looking at various designs – from TRD-style units to a modern interpretation of the Celica GTO's wheels. Panasports and BBS mesh 16-inch wheels were also popular on the race track. We wanted to retain small wheels and have a period look with bulging side walls – particularly at the rear.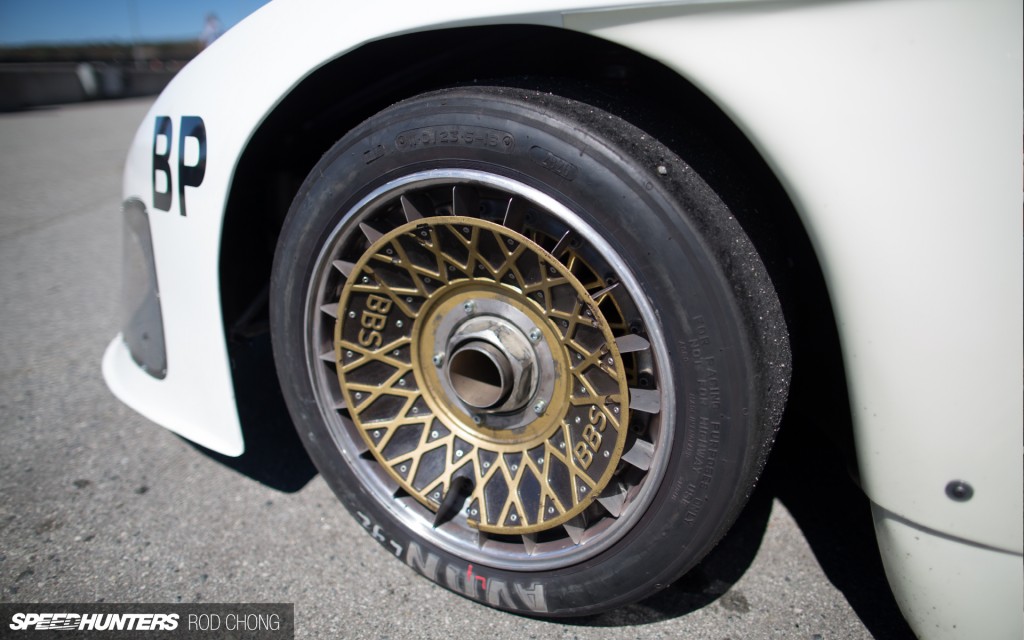 This is where we can have some fun. Turbo fan wheels were popular on Porsche 935s in Europe and the IMSA series. These were flat or cool concaved covers, which often replicated the mesh graphic for a dramatic and futuristic appearance. The 1980 Daytona 24 Hour class-winning Mazda RX-7 ran on these wheels, and the similar devices later featured on the Audi 80 GTO quattro and the Porsche 956/962 endurance racer. Outlawed in many series including Formula One, turbo fan blade covers are still in use today; Ken Block even utilising them on his current Fiesta gymkhana car. It's a look we really wanted to incorporate.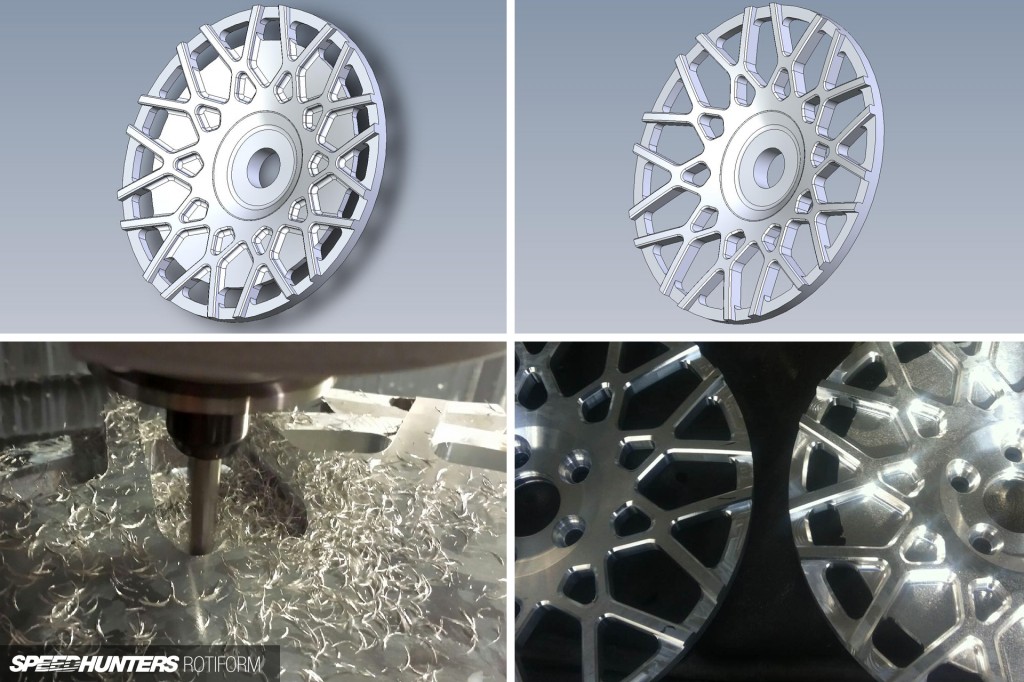 While Rotiform produce the BTH which has a similar, but fully integrated turbo fan appearance, we wanted to mix it up and have an open mesh version on the rear. Their multi-piece concave BLQ (above) was a good base for this process, so we've had some special one-off 17-inch units produced with a deeper satin chrome lip and retro-style gold centres. At the front, the voids between the mesh patten have not been machined out as they normally would be, but are retained for a unique, period-influenced appearance reminiscent of turbo fans. We did debate mixing the BLQ and BTH wheels, but decided to go this route to retain matching spokes front and rear.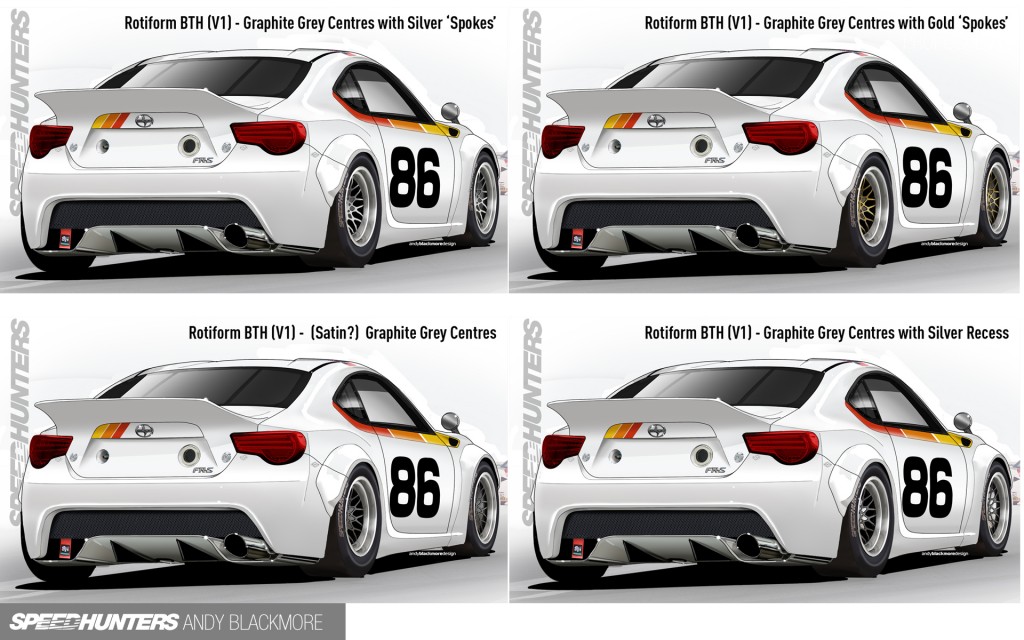 Setbacks come with the territory when you're building a car, but with Rotiform on board it's worked out much better than we could imagine. We now have a better wheel design, set up and tire fitment.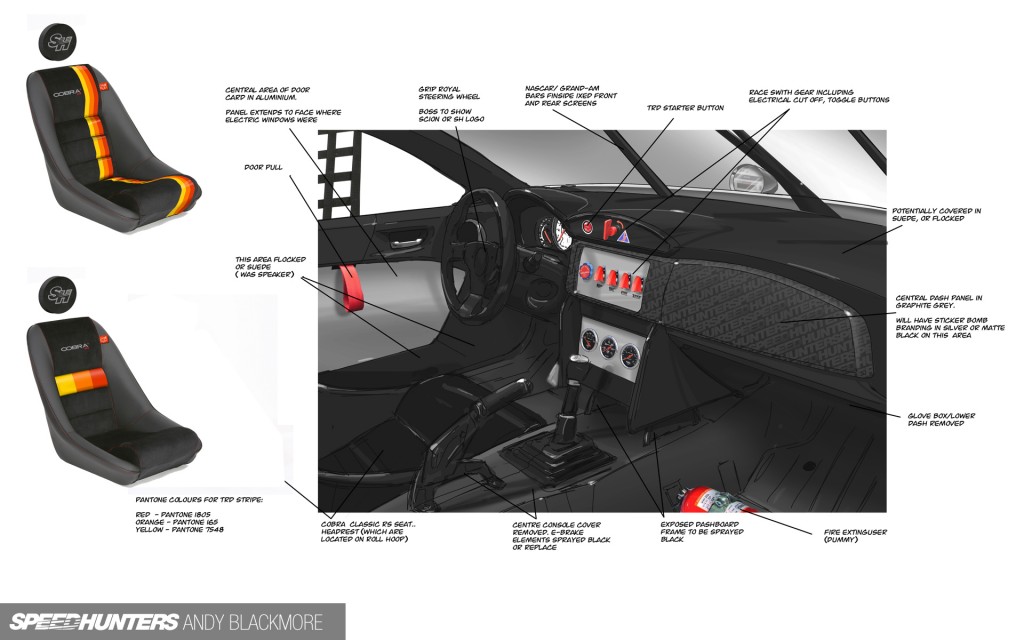 There are a number of other interesting and unique details on the build, but we will save that for our next build post. We don't want to spoil the party just yet…
As I write this, Keith is busy with his team finishing off the build as Scion are coming to collect the car on Friday. A few more late nights in Arizona and then he can sleep for a week!
A big shout-out for all the partners who have come on board to supply and assist on our Scion Tuner Challenge entry at short notice. Keep following Speedhunters and stay tuned for the Scion Tuner Challenge fan vote, where we need you to speak up!
Andy Blackmore
www.AndyBlackmoreDesign.com
Keith Charvonia
Instagram: SpeedhuntersKeith
keith@Speedhunters.com
Additional Photography by Mark Windecker
—————————–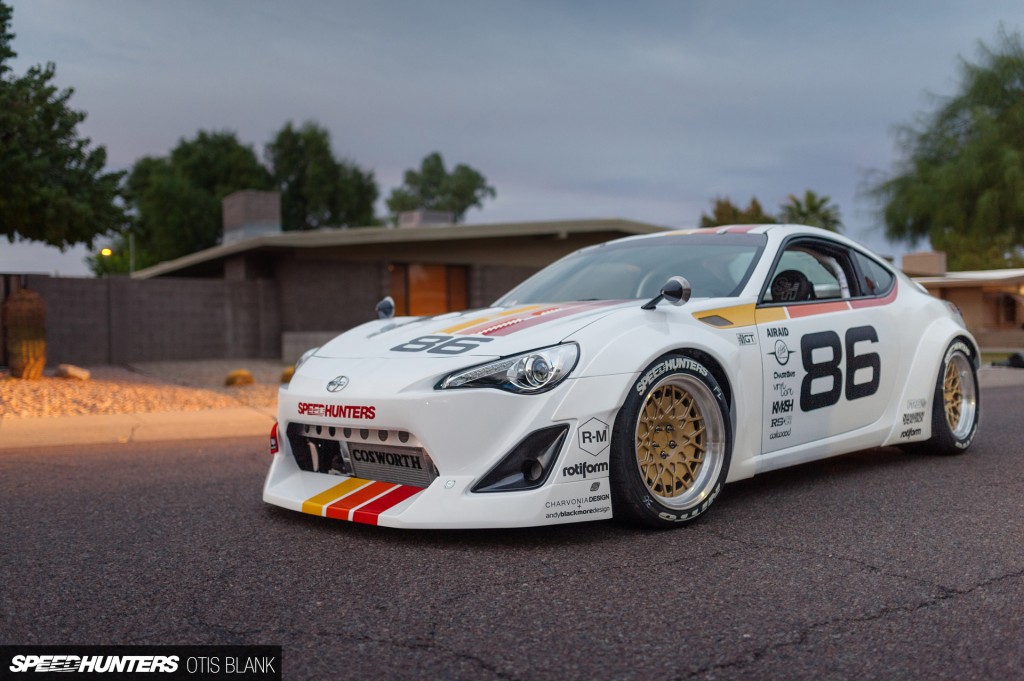 Post Car build Update
Keith did an amazing job on building this car. Speedhunters photographer, Otis Blank took these awesome images just before it was loaded on the truck back to Scion.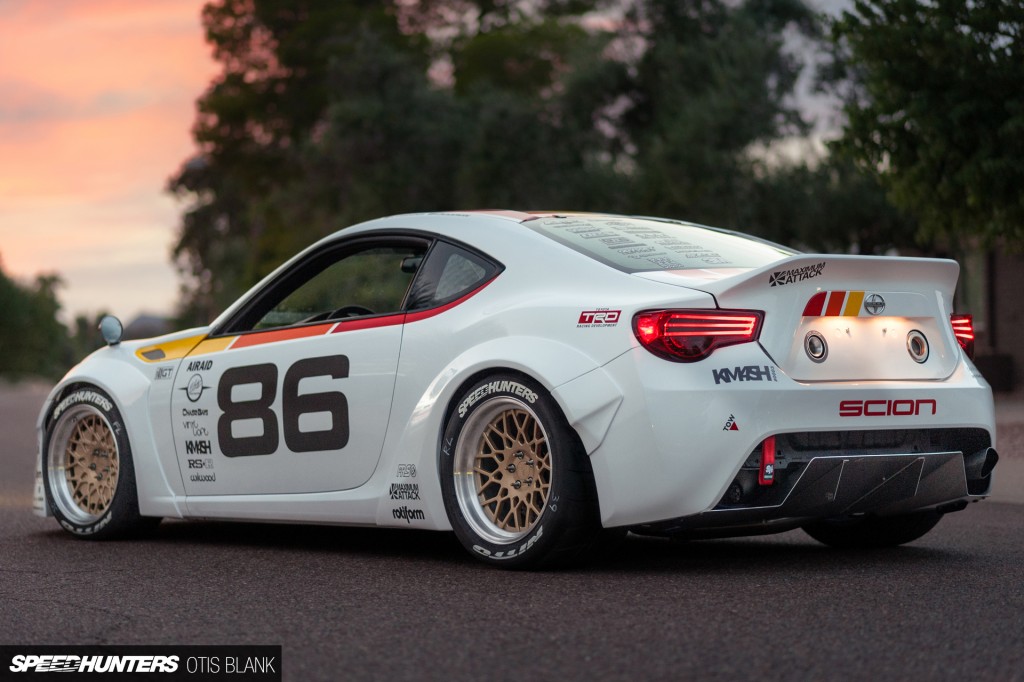 I was very lucky to be involved in start to finish with the design which really helped to ensure everything had been resolved.  The car was intially shown at the Scion SEMA Preview party in LA, a week before the main event.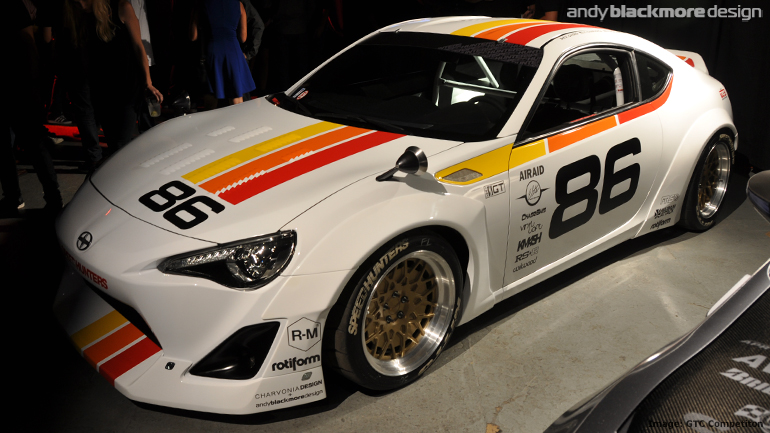 This was the first chance for me to see the car, although I had hundreds of emails and photos during the build. I remember seeing it for the first time and just standing there for 20-30 seconds in my own little world taking it in. I was so pleased with how the car turned out.
Along side were the other Scion Tuner Challenge entries from SuperStreet and GT Channel. This was going to be tough, each was a great build and each car was different which was great to showcase the diversity in car culture and aftermarket tuning.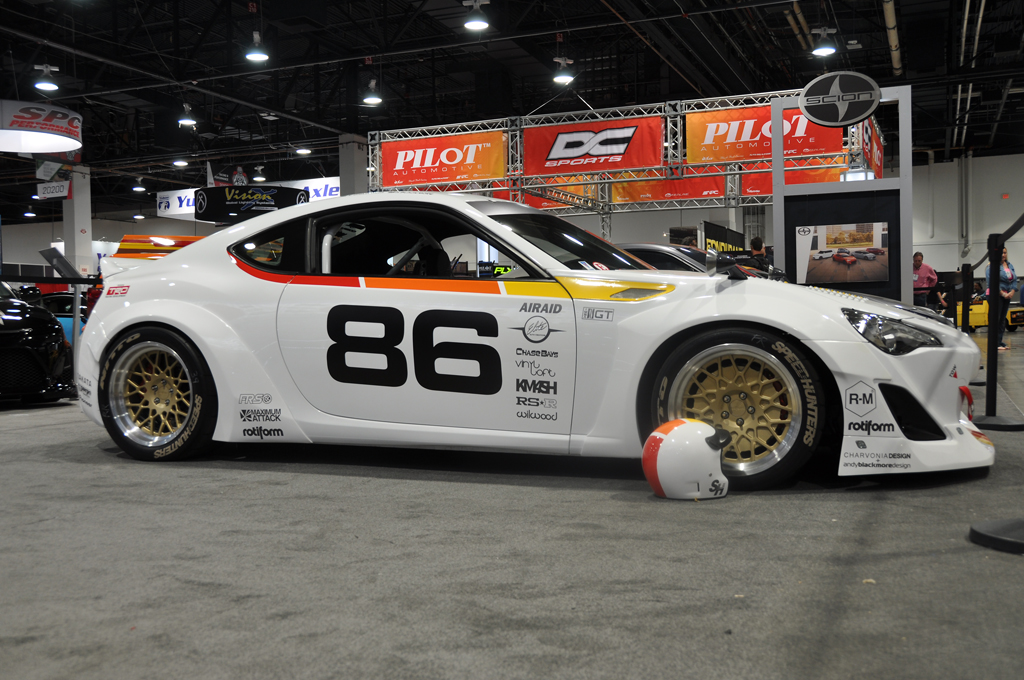 A few days later and I'm back in the US at the SEMA Show in Las Vegas where the car takes pride of place on the SEMA Stand. As our car was exhibited on the Scion stand, I had coverted Exhibitor passes which allowed me in the night before.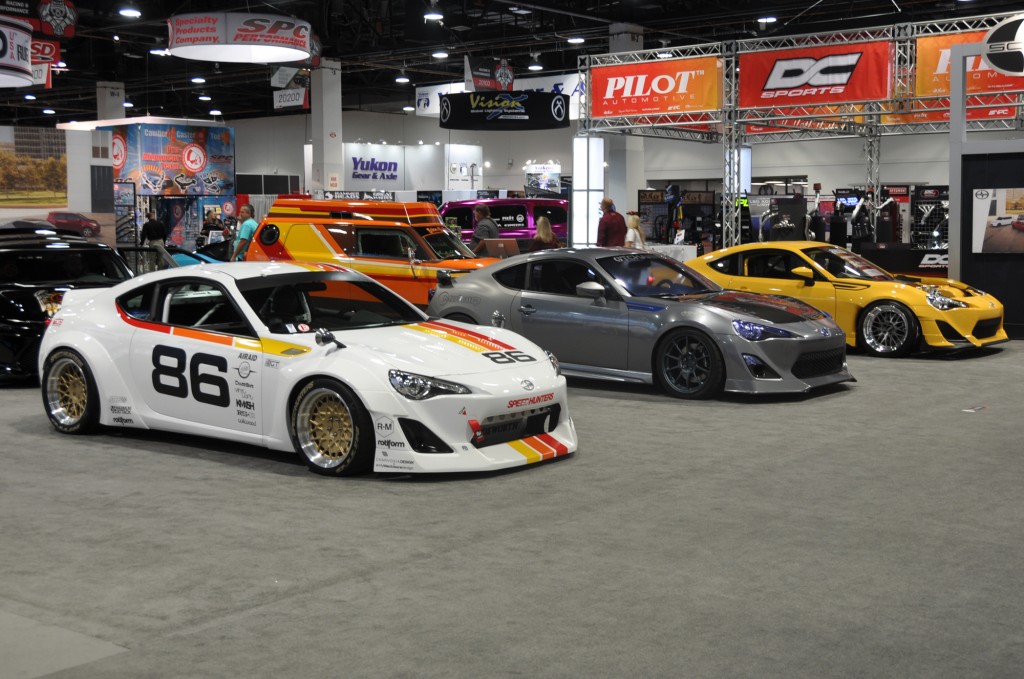 A great opportunity to walk around the show, but also detail and arrange everything on the Scion FR-S.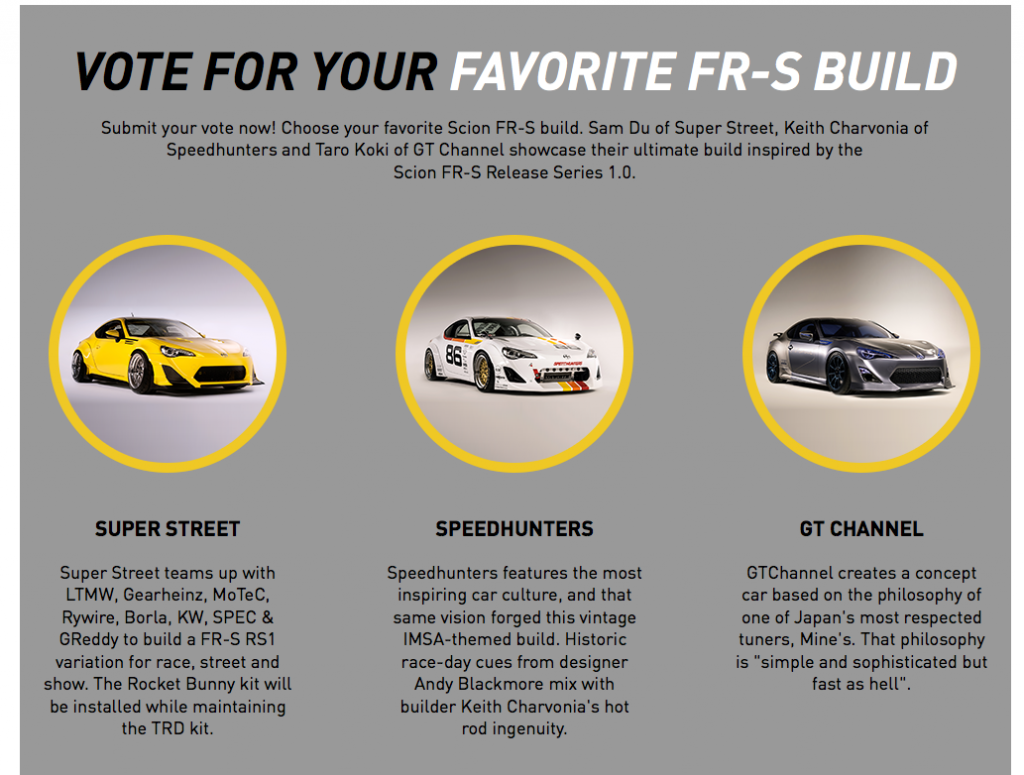 As the show opened, the Tuner Challenge Fan vote was drawing to a close. The result of this would be taken into account with the final judging voting and while we were leading comfortably for most of the voting period, SuperStreet gained a huge number of votes at the end to take the win with their ITB'd Scion FR-S.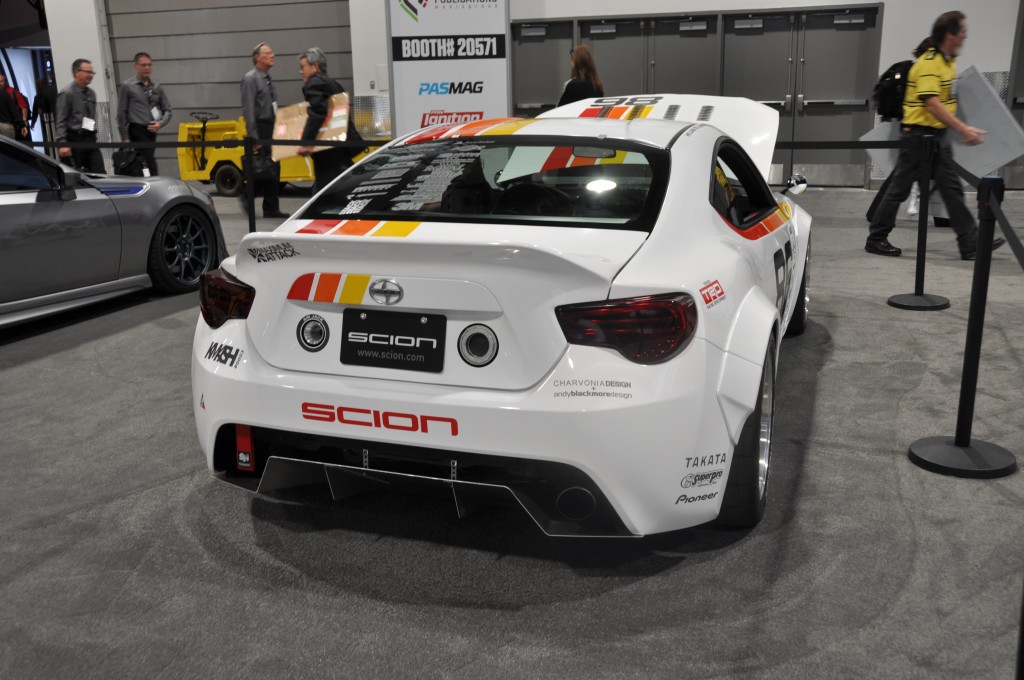 Keith and his wife had just had their second child (Born as the cars were on show in LA no less!) so Keith didnt arrive until Tuesday night. Was a great opportunity to catch up and then work on our presentation. While the judges analyzed the cars on Tuesday night, we had a chance to present our car to them individually the following morning, just before the announcement.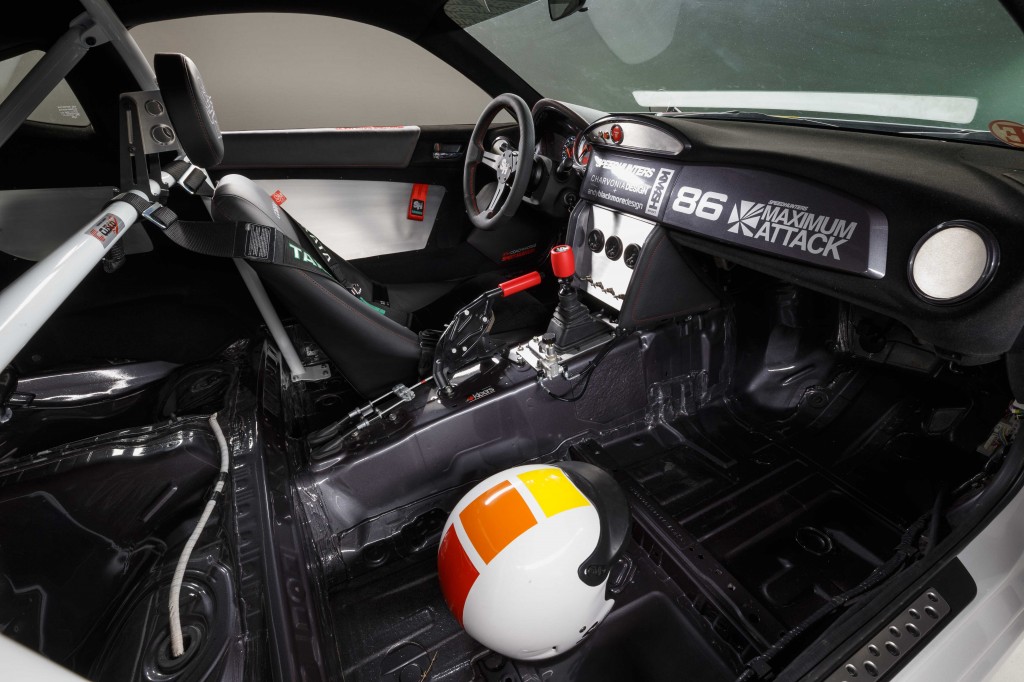 I believe we did a great job with the presenting. Even though the competition was centred around the Builder, Keith suggested we tag-team the presentation, so I presented the original vision, reference, styling and livery while Keith went over the actual build and all the technical aspects of the car.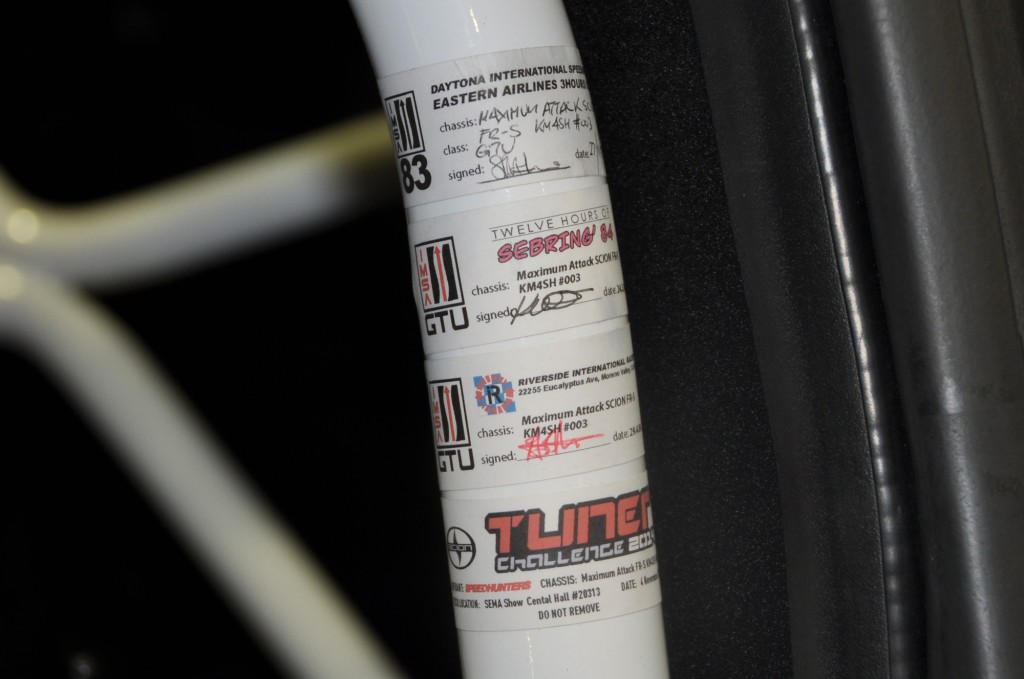 If one of us forgot a feature, the other would casually butt in!  Worked a treat. Every on the car served a purpose, right down to these period Tech stickers on the roll cage.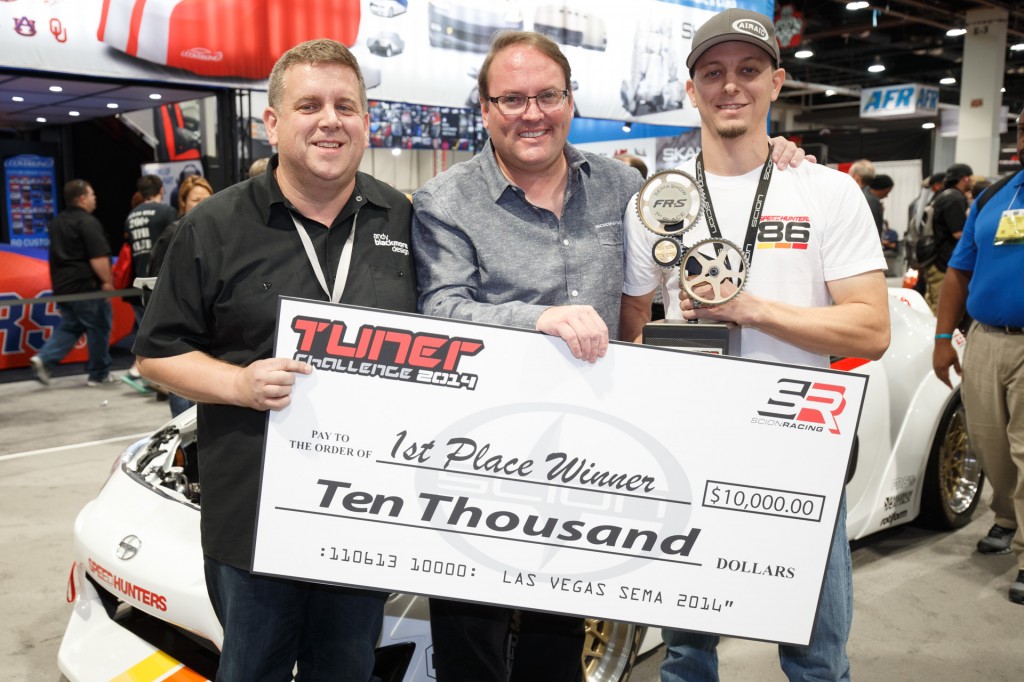 Thirty minutes later and good friend, Jarod DeAnda, announced we were the winners. Couldn't quite believe it really, but so revealed and excited. The rest of the show was a huge high. Was great listening to all the people pass by the car. I thank each and every one of them for stopping by and thank those for voting.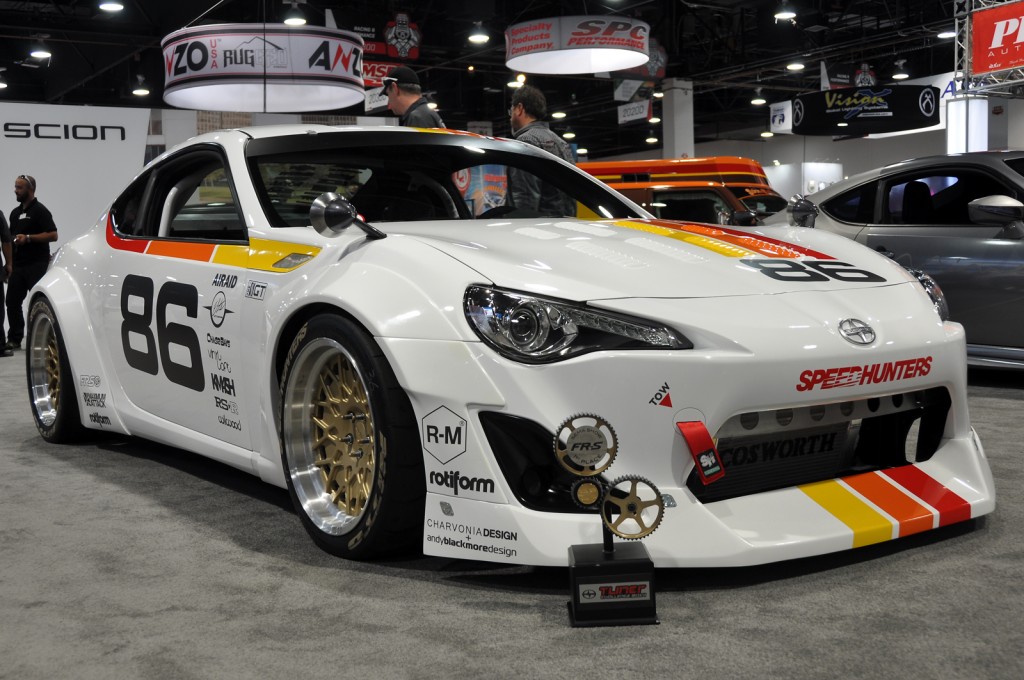 Lastly, thank you to Speedhunters for the opportunity, Keith Charvonia, one of the very best car builders I've ever met and all the partners, below who believed and supported the project.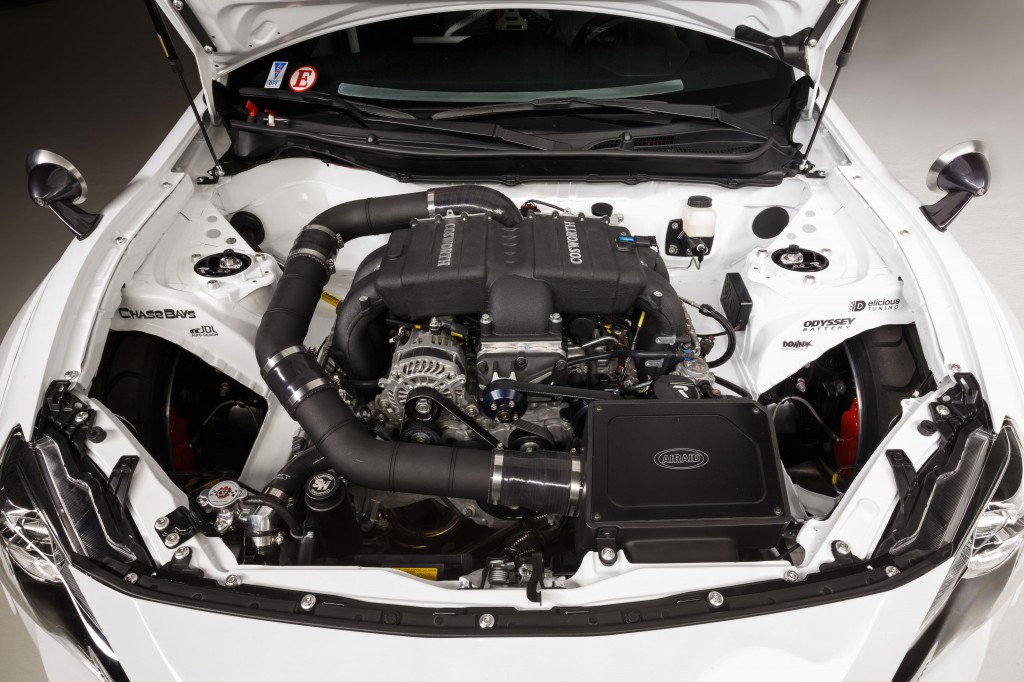 Scion Tuner Challenge Video Diary – Speedhunters Part 1
Keith Introduces the Speedhunters entry.
Scion Tuner Challenge Video Diary – Speedhunters Part 2
Scion bring an update on the Speedhunters entry, approximately 1/3rd way into the build
Scion Tuner Challenge Video Diary – Rush to the finish
Filmed with just a couple of days to go, the three teams rush to finish the builds.
Scion Tuner Challenge Press launch event video
This video was produced around the Press event ahead of SEMA, released just before the show (and final voting took place). Here you can see the other builds we were up against.
Scion Tuner Challenge Winners Announcement Video

Scion released a summary of the Scion Tuner Challenge Annoucement
Jay Leno meets out FR-S!
The Speedhunters 'Maximum Attack' Scion FR-S which I designed for Speedhunters and top car builder, Keith Charvonia has been on the show circuit recently but made a quick stop off at Jay Leno's Garage a couple of weeks ago. Keith was able to present the car in detail and give it a quick run on the outskirts of LA. Pretty cool to see one of my designs on Jay's internet show.