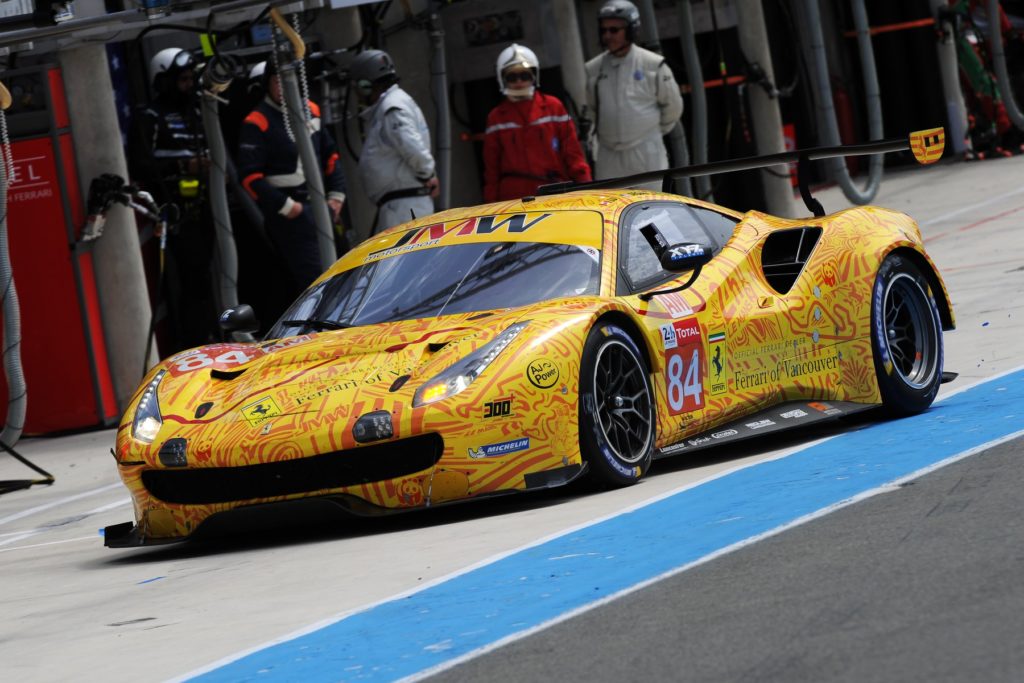 Client: Wei Lu
Design: Livery design, production, Race suit design, Renders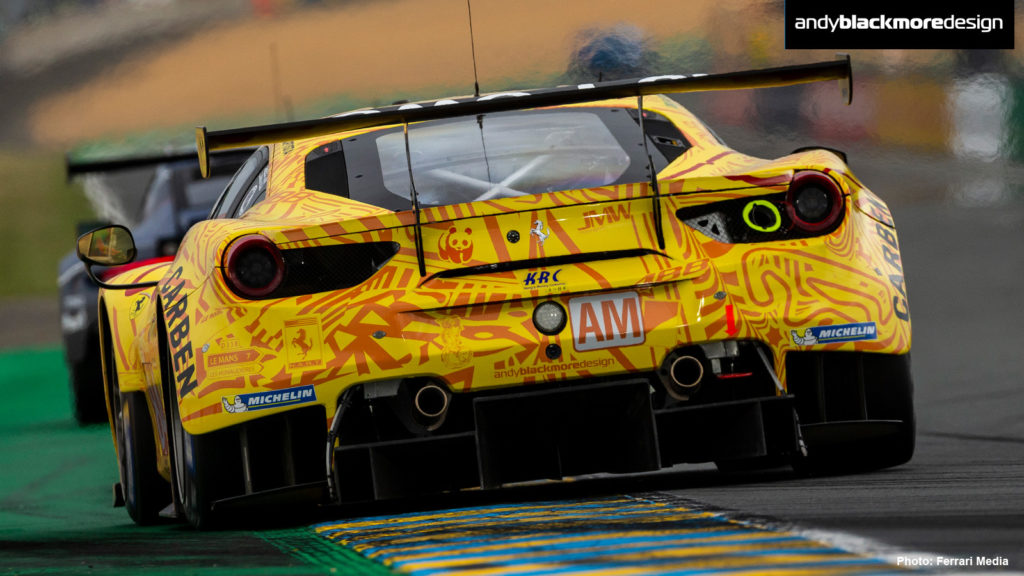 This was a fun project to work on for regular client, Jeff Segal and his ELMS and SRO driving partner Wei Lu.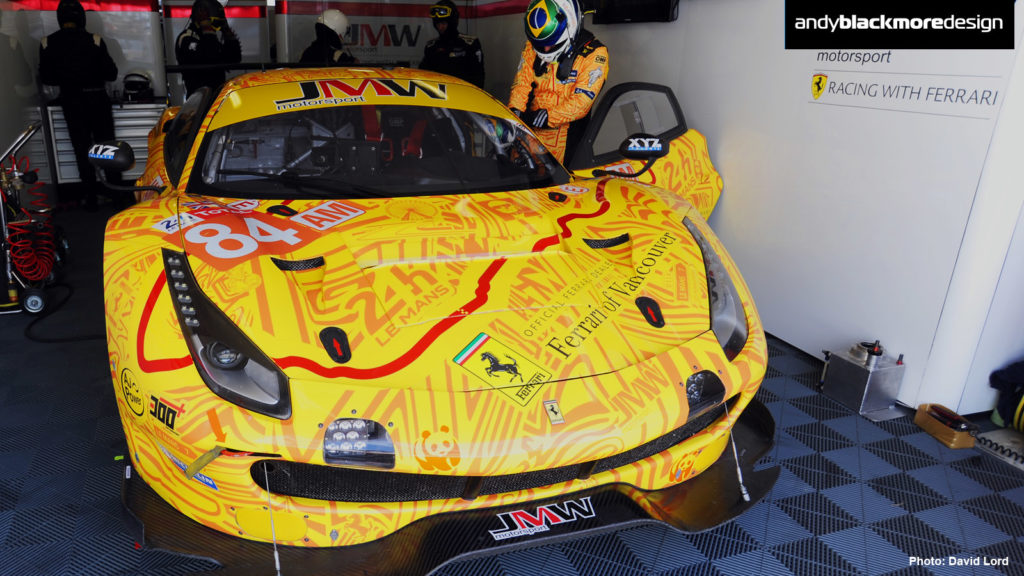 The duo are driving with Le Mans class winners, JMW Motorsport in the European Le Mans Series this year in the Ferrari 488 GTE. Jeff approached me earlier this year at Sebring about a possible project for Le Mans. As a coincidence, Wei Lu comes form my home city, Vancouver.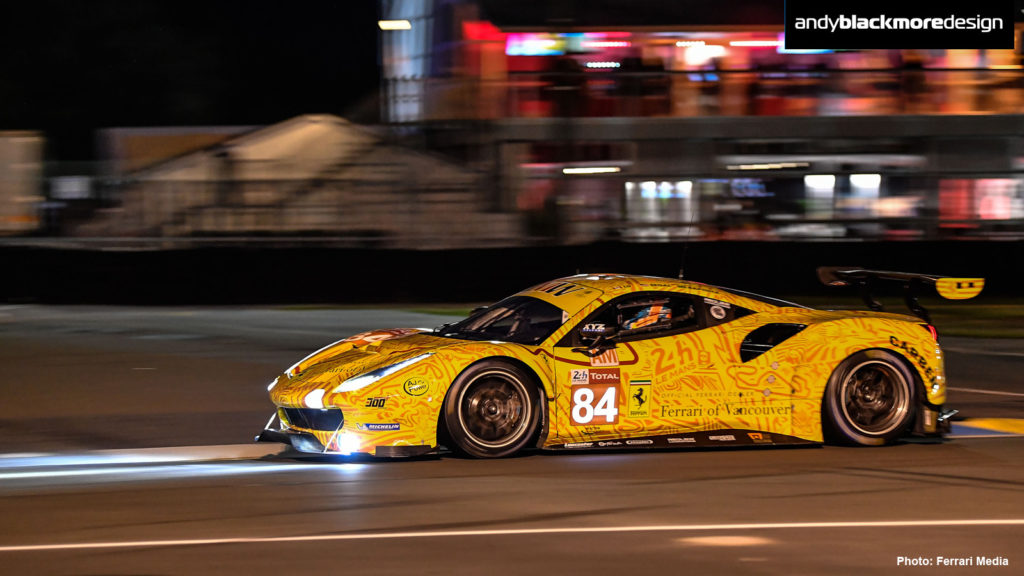 One the entry was accepted by the ACO we explored a few initial ideas. Jeff and Wei wanted a modern stand out livery, something fresh but ideally using the traditional JMW Yellow.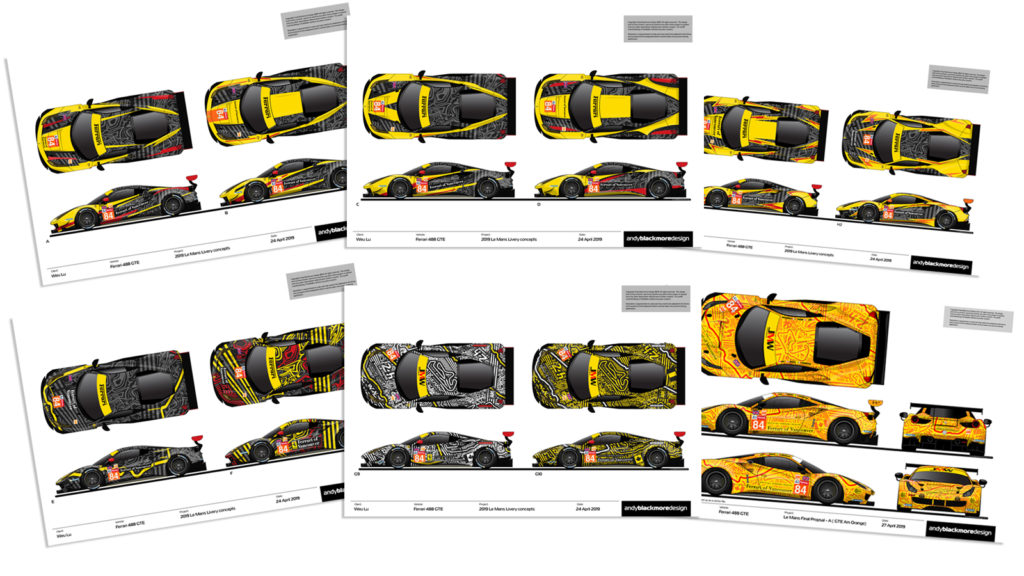 As you can see, we initially looked at some concepts which included yellow, black and red which JMW currently used, combined with a modern camouflage graphic, influenced by 'Dazzle Camo' and disguised test cars.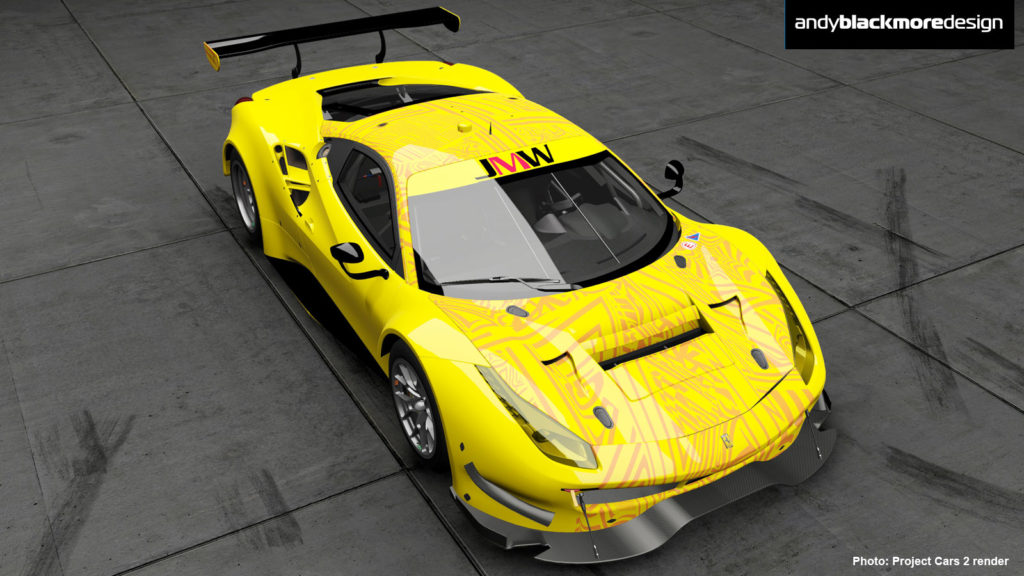 Jeff and Wei decided yellow needed to be the base color due to the team history which made total sense. It also gave the design a unique appearance against other camouflaged cars.

We decided to use the orange from the 'GTE Am' class panels (we reduced its vibrancy a little so it didn't pop too much against the yellow). We picked out the Le Mans track in a (reflective) red.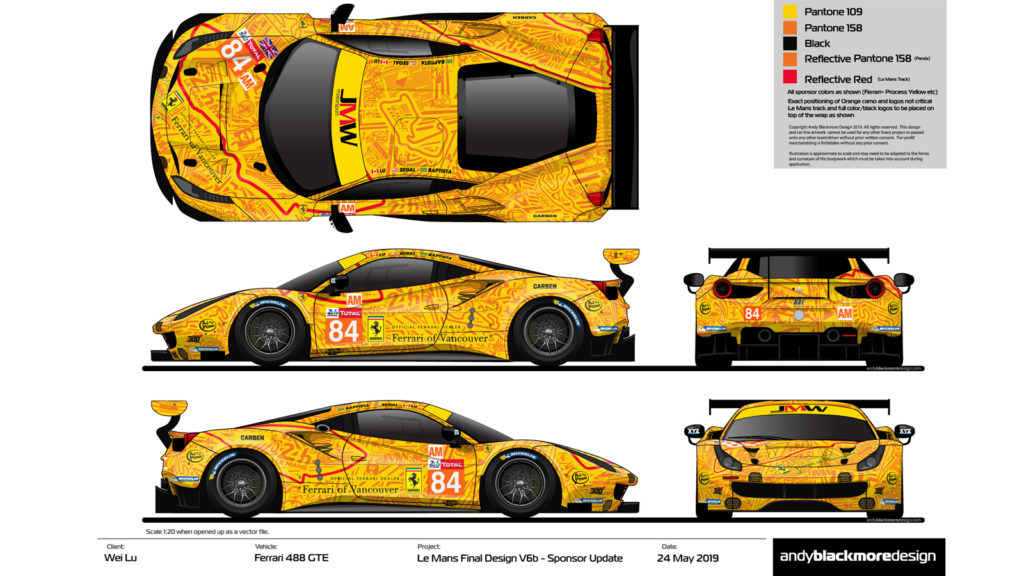 The final design was mocked up using Project Cars 2 prior to sign off to check everything would work. Placement of the actual camo is not critical, but the tracks and branding were.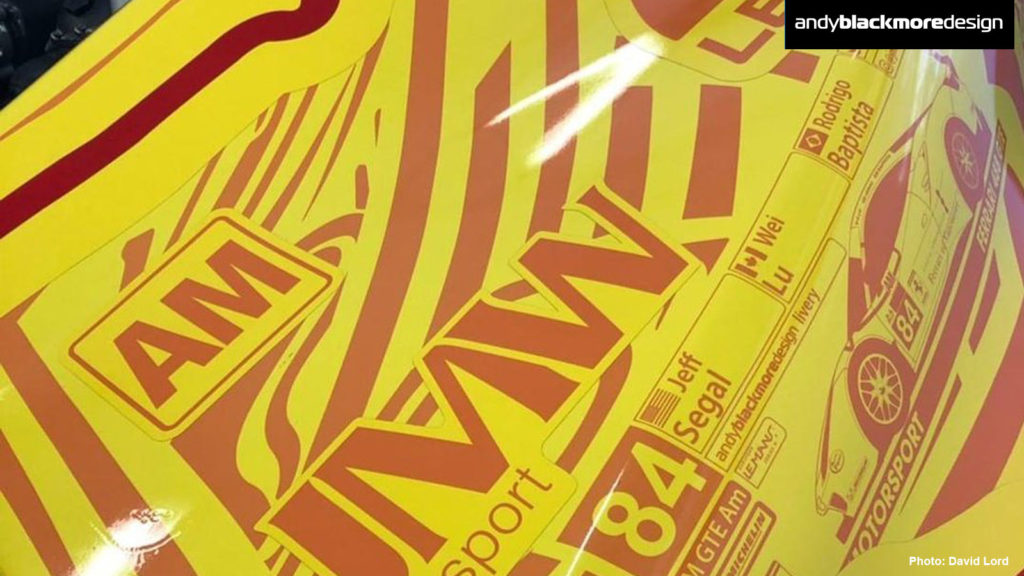 We also added some extra 'Easter eggs' inside the camo with references of JMW, Ferrari and LeMans, later added by a few scenes from Le Mans, Jeff's GPX Simulation company logo, a couple of Canadian references for Wei and sponsor Ferrari of Vancouver.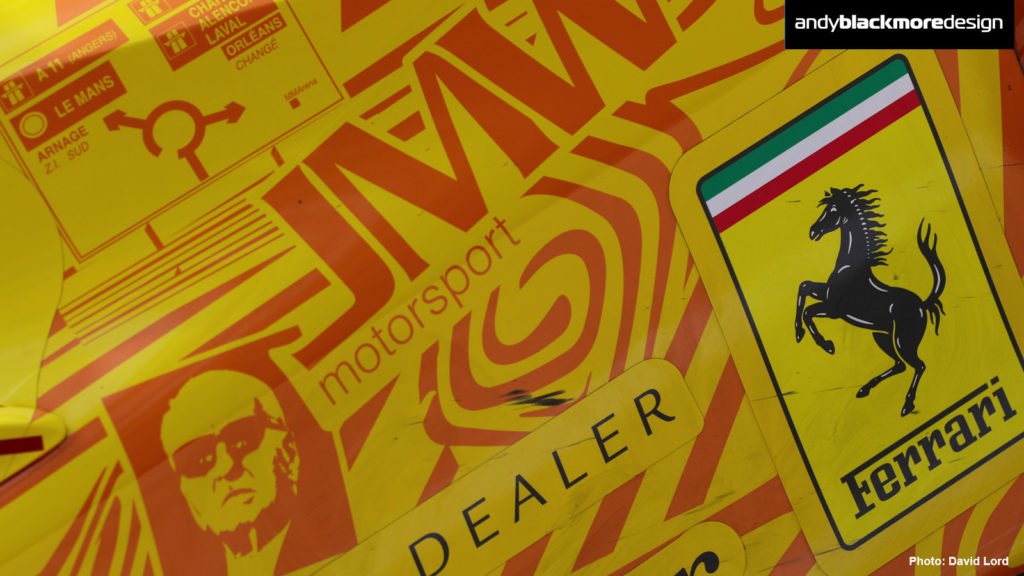 These are joined by a Chinese Dragon (drawn by my 10 year old daughter!) and a Panda graphic for Wei and a couple of Spotter Guide 'cell graphics'.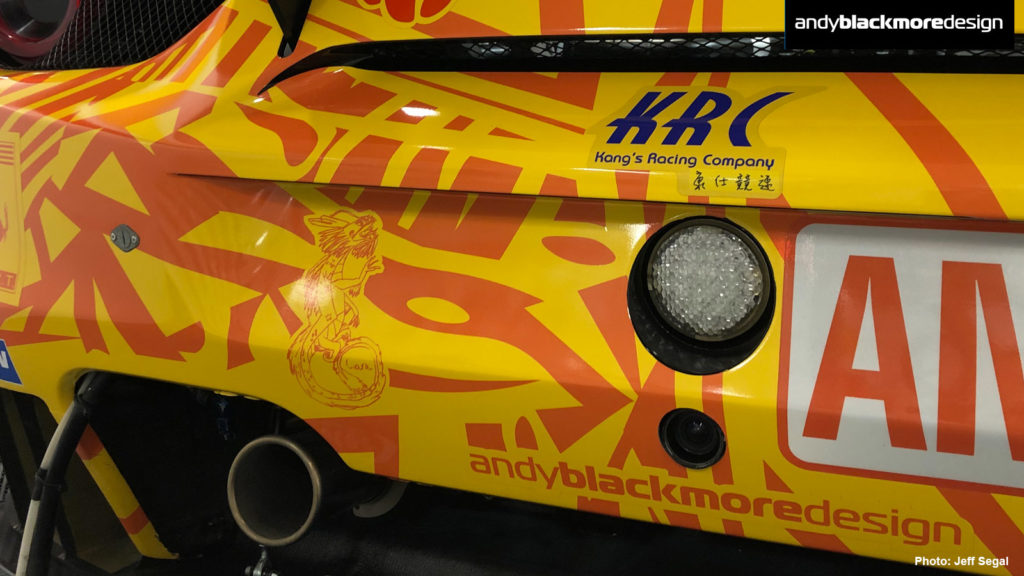 My daughter has gained a real love for art over the past couple of years, so we treated this just like a commission.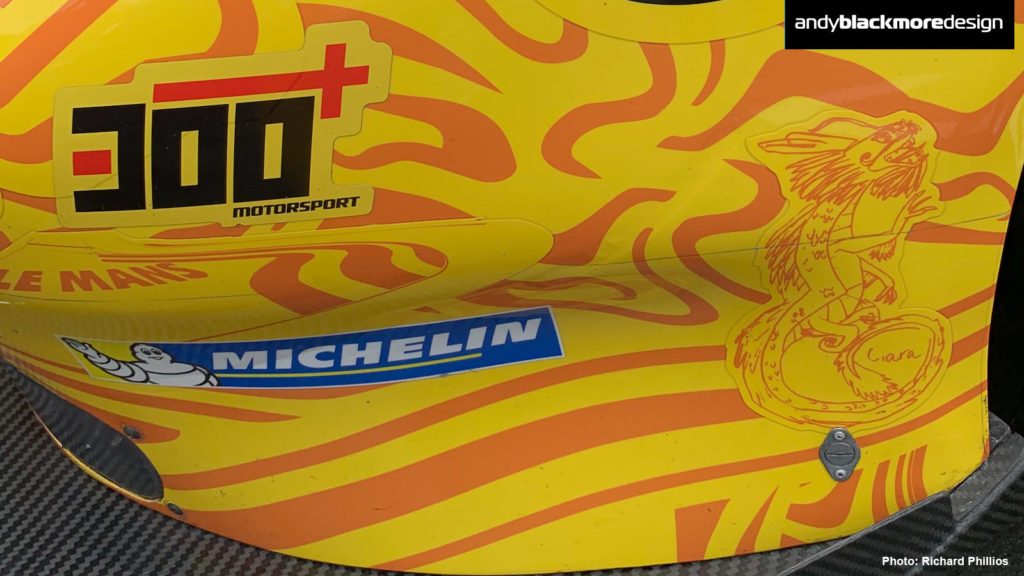 She is so excited to see her dragon on the car four times. Special thanks to Wei and Jeff for agreeing to her this after they asked if we could have a Chinese dragon.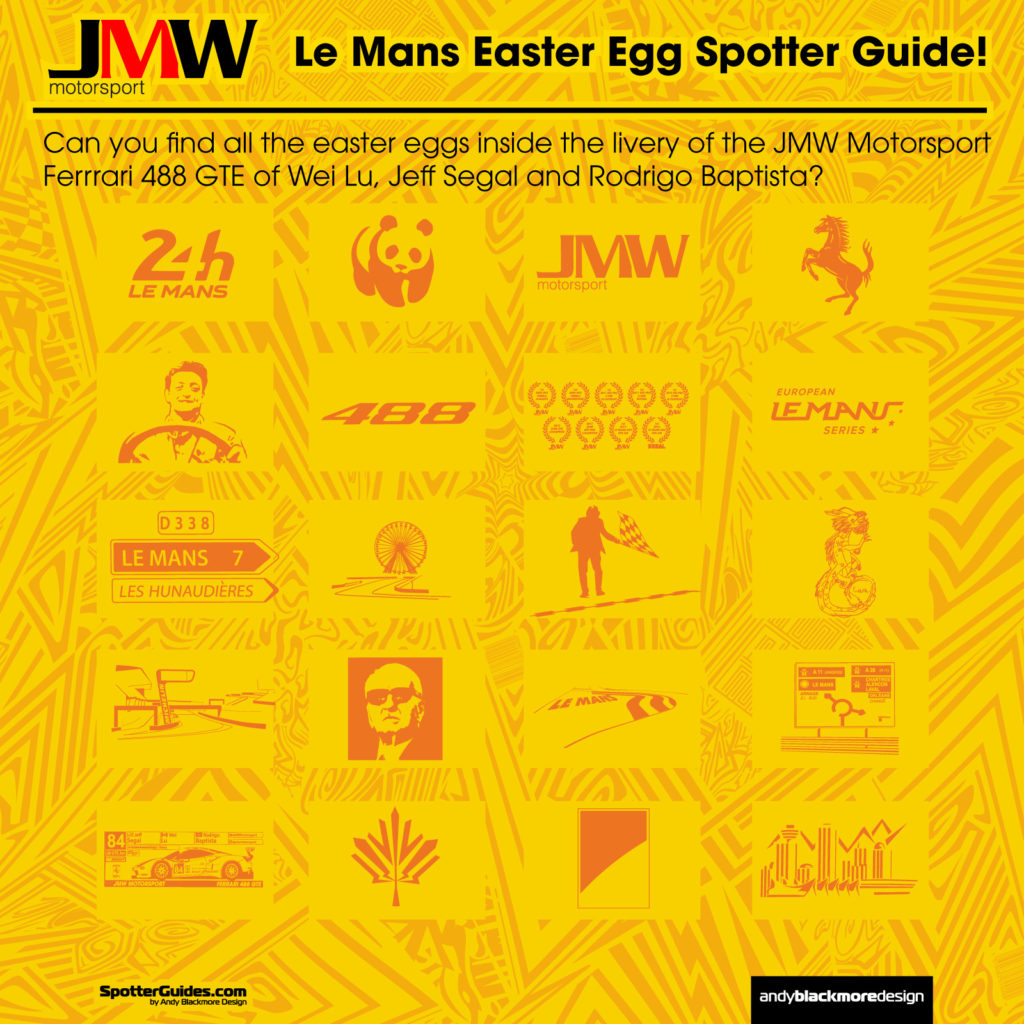 I produced special Spotter Guide for fans to see what they can find on the car and/or race-suit. (Click on image for full res)
The illustration of Canada Place (bottom right) is particularly hard to locate ……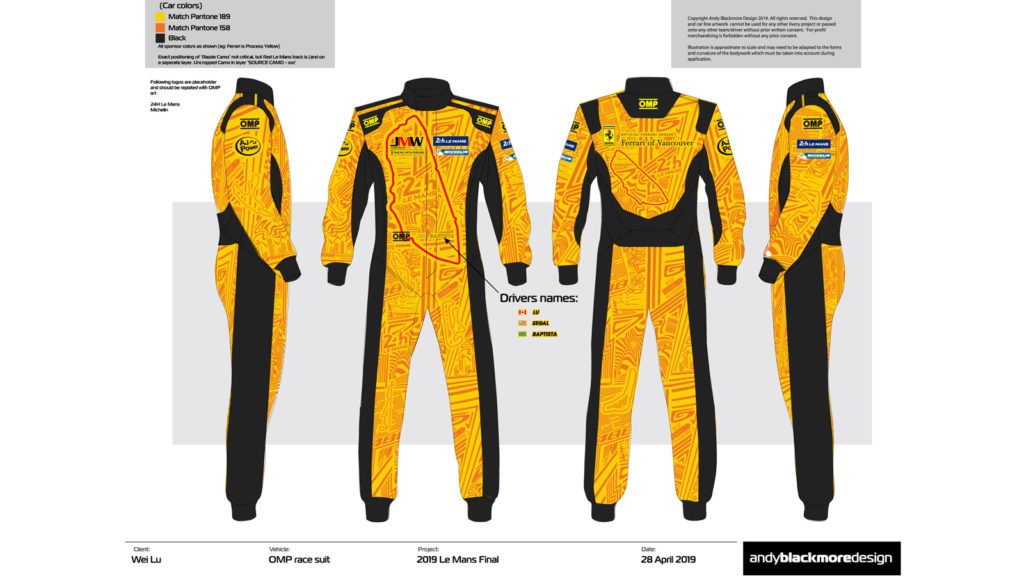 As we locked down the car design, the deadline approached for the race suits.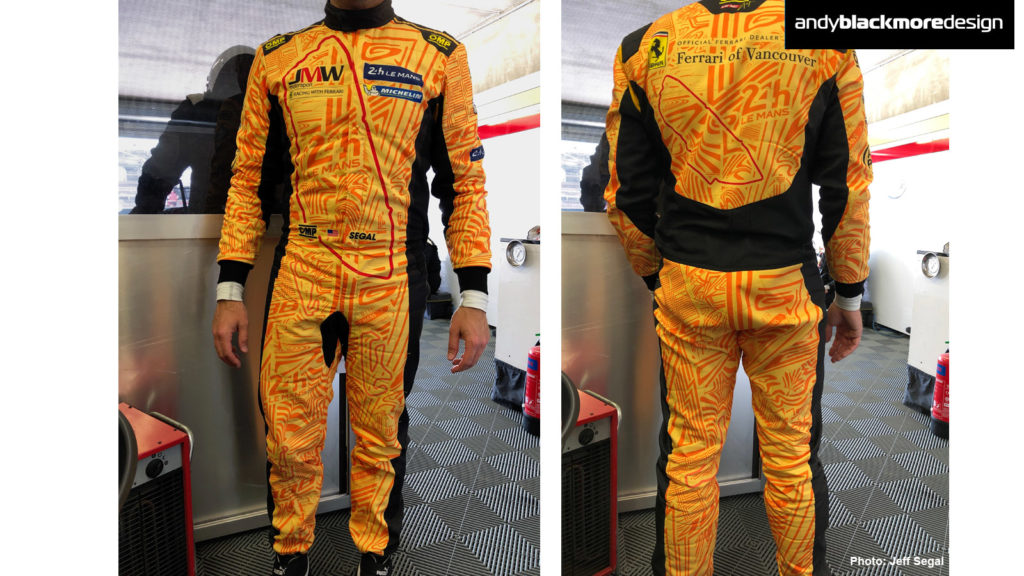 These can often have a long lead time, so this was completed before the car was signed off.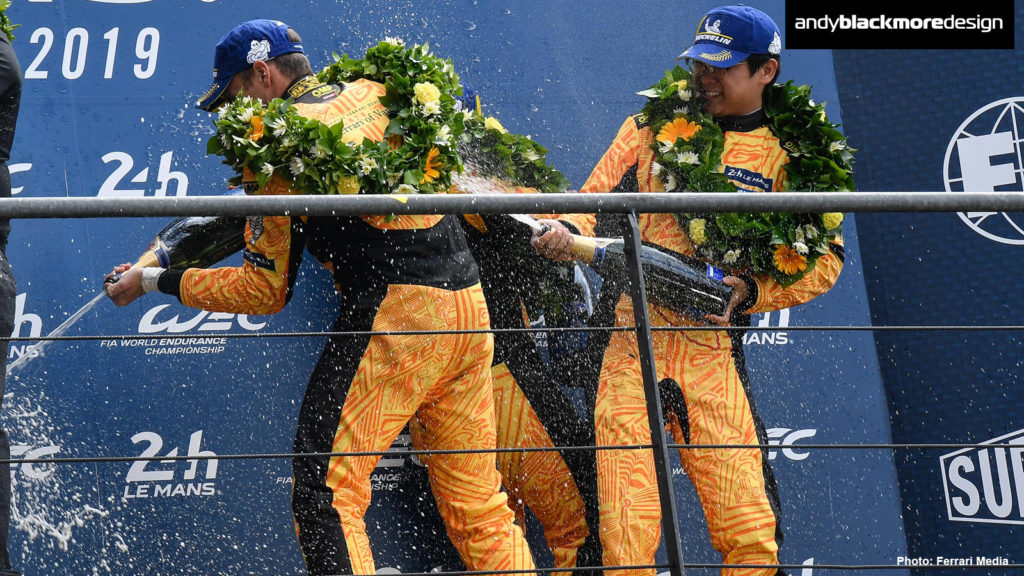 The suits came out really well, an awesome job by OMP and ended up on the podium.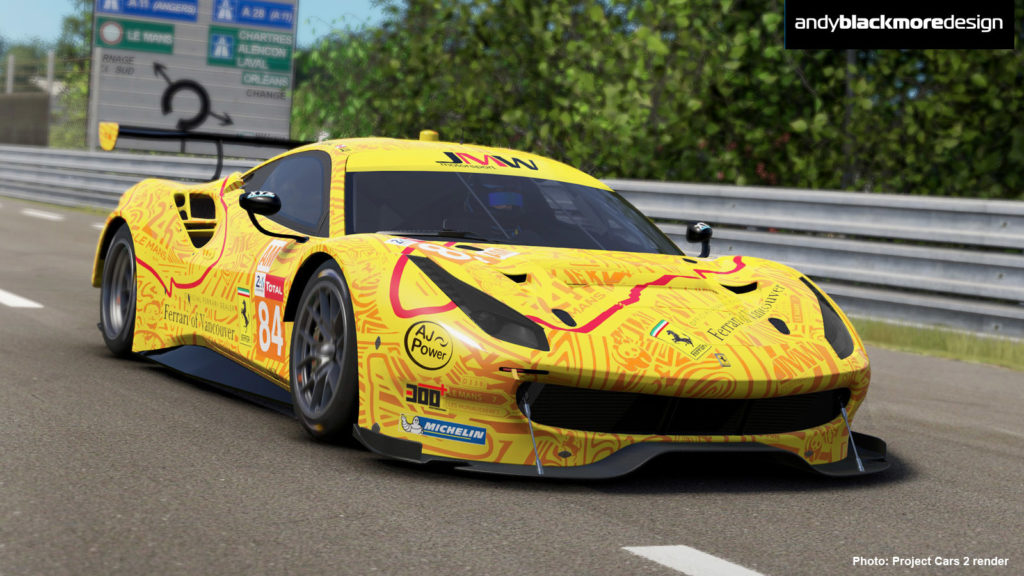 With timing tight, I produced some more screens from Project Cars for the press release. Its an awesome game with amazing graphics quality and has a great range of adjustment with its capture system.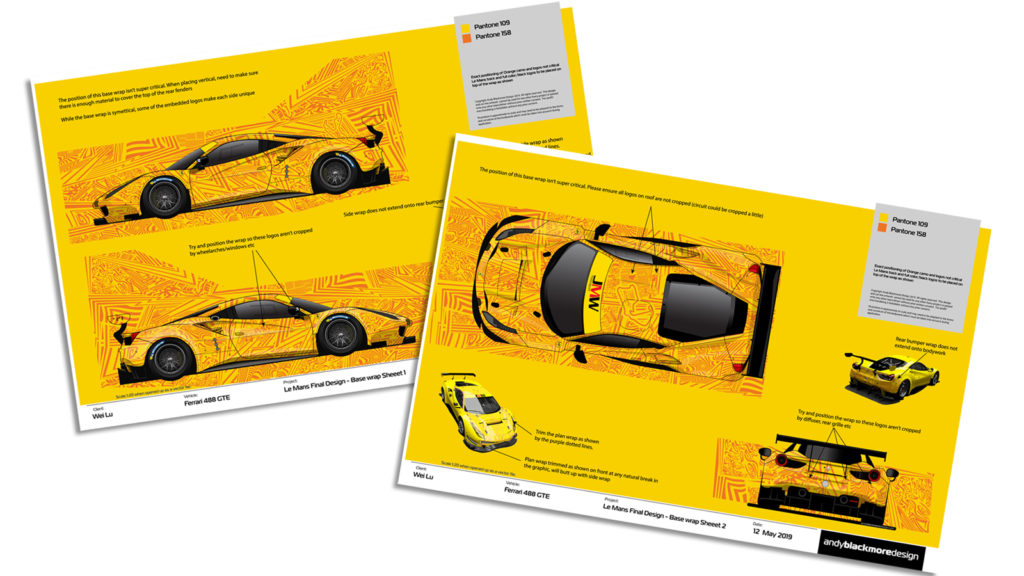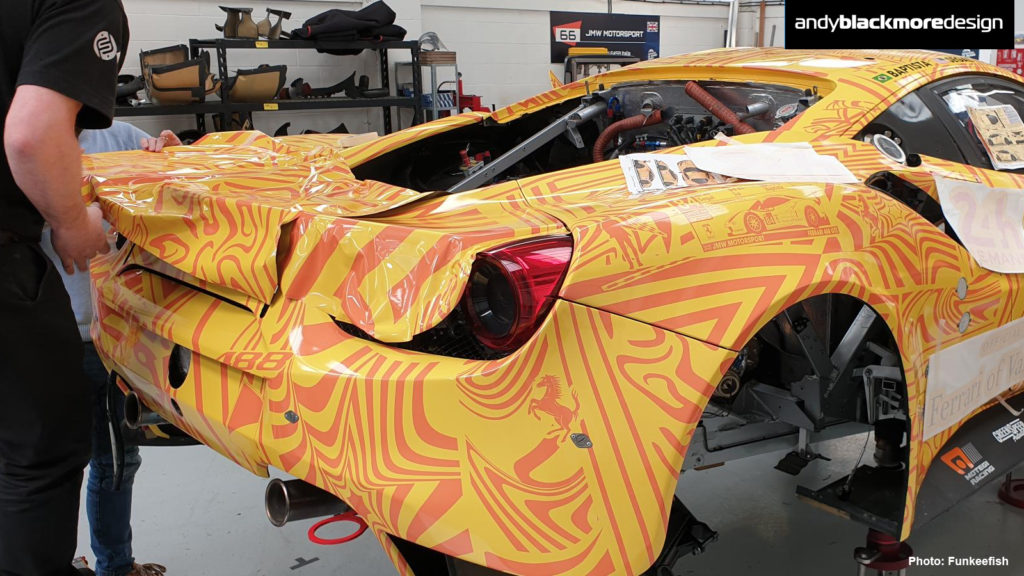 The final wrap files were produced and sent over to FunkeeFish of Essex, UK to print and install, just before the test.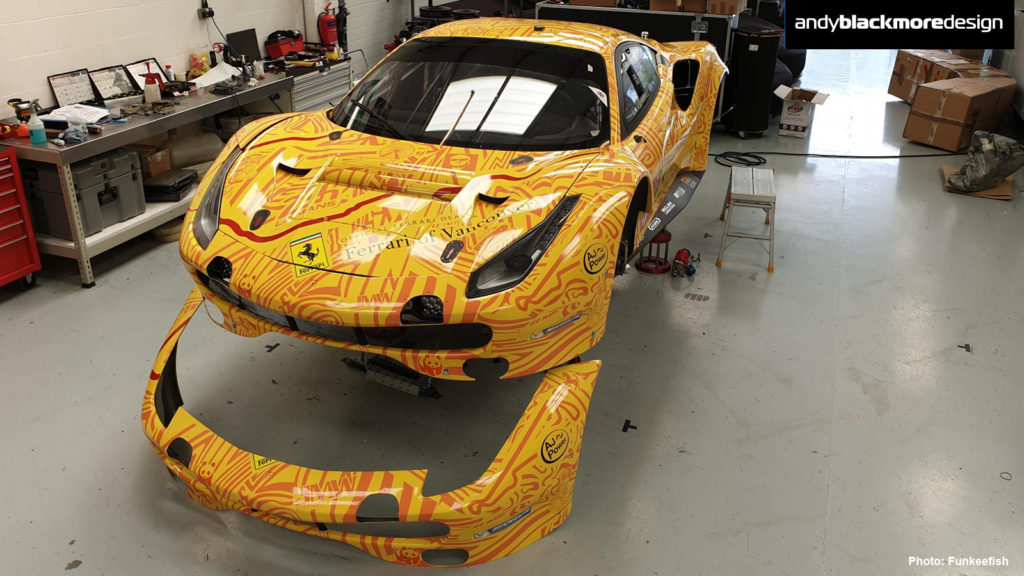 They did an awesome job and I highly recommend them for anyone around Essex and the home counties.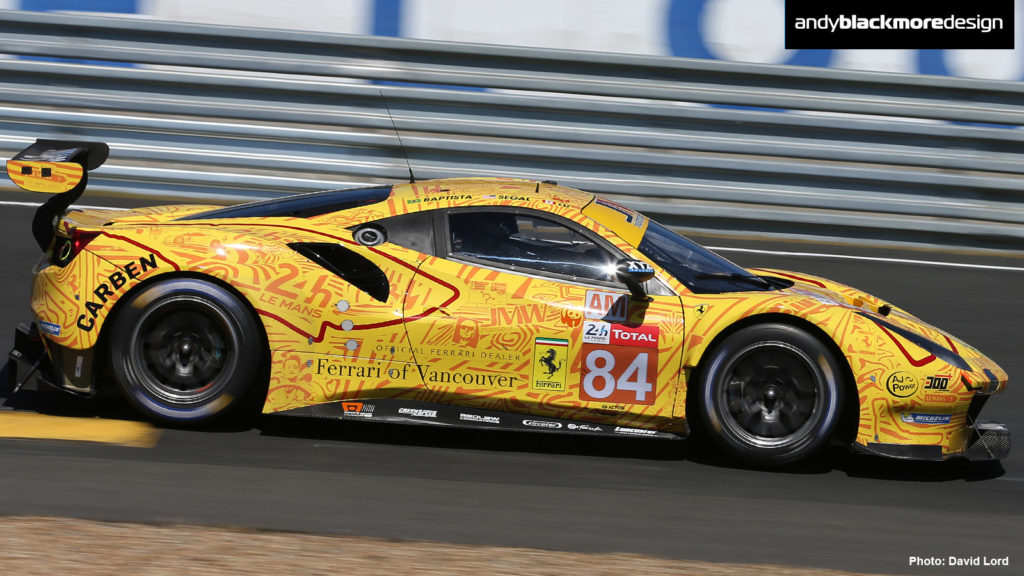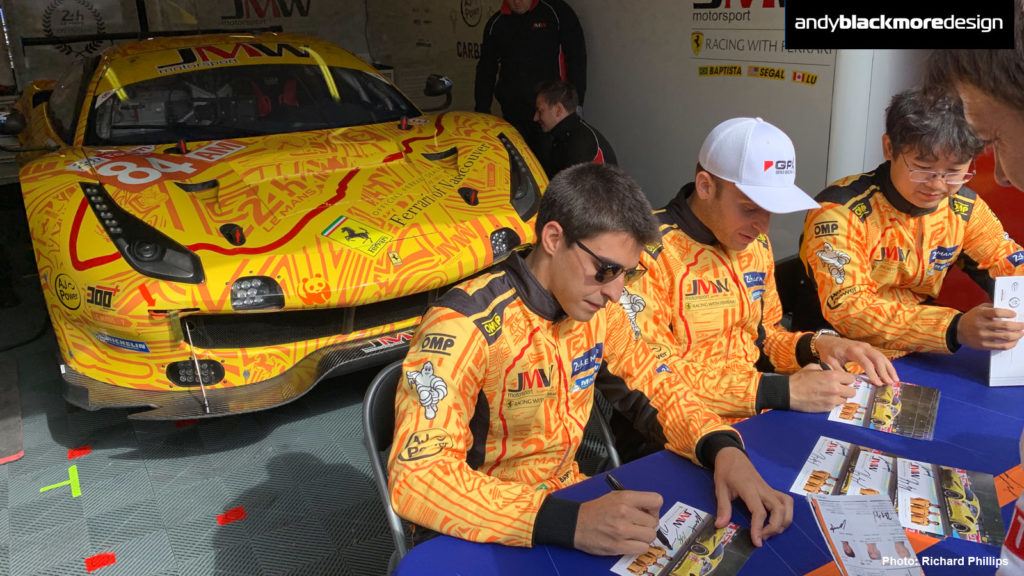 The livery has gone down very well and a number of people have mentioned the detail in the wrap during race coverage.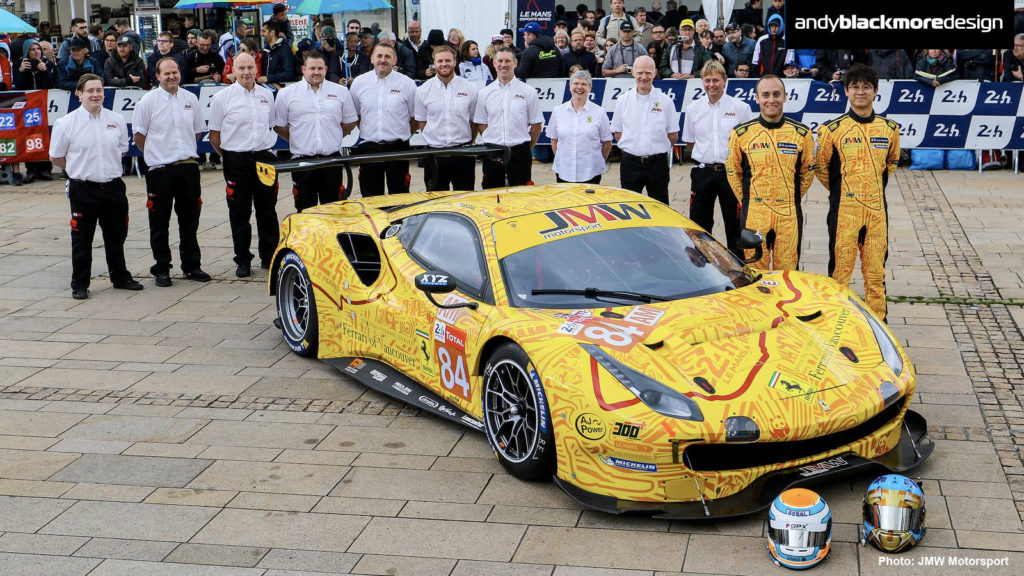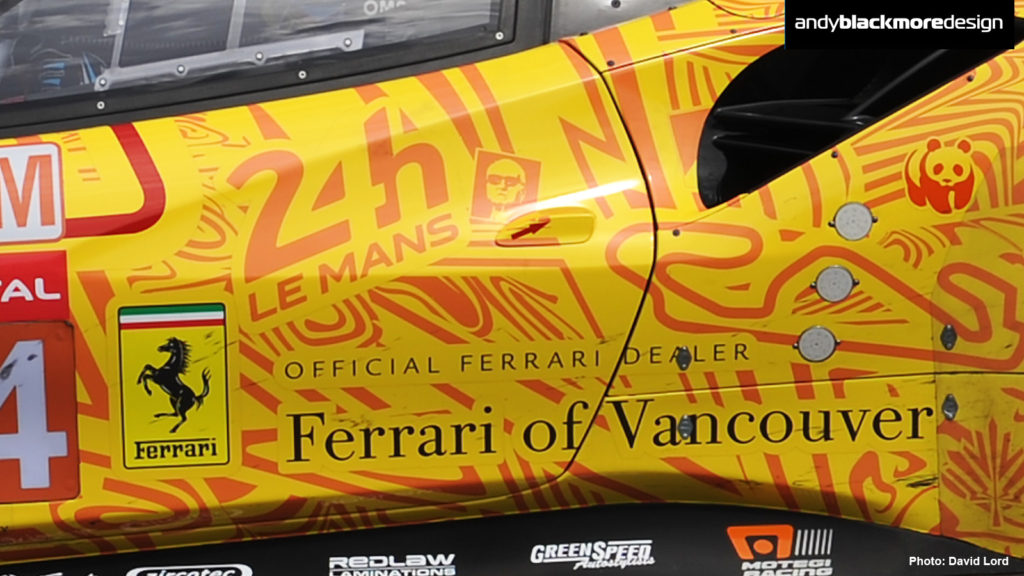 Thanks to Jeff and Wei for the commission and for sponsor, my local (!) Ferrari dealer 'Ferrari of Vancouver' for their help with this and the Risi Competizione Ferrari livery.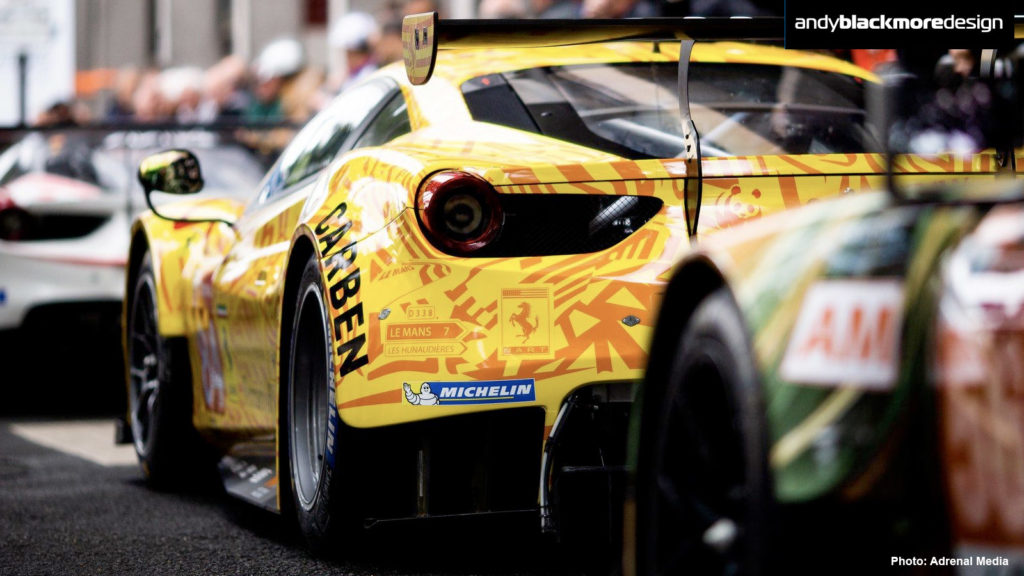 Images: David Lord, Jeff Segal, Ferrari Media, JWM Motorsport, Adenal Media plus renders and screen captures from Project Cars 2