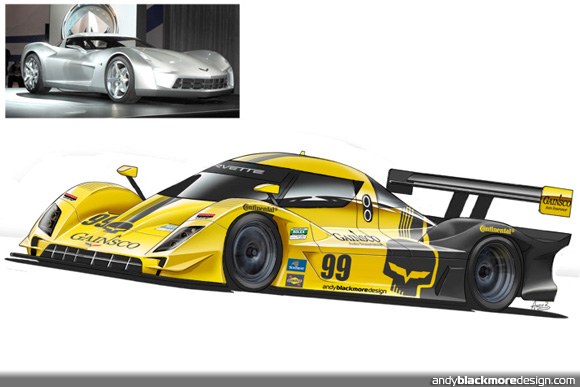 Andy has recently been working with SPEED.com on a design study for the 2012 GRAND-AM Cars. The series has been working with teams for new ideas to improve the look of Grand-Am cars via a chassis update.
With his vehicle styling experience at McLaren, Yamaha, KWM, Arena and Electronic Arts, Andy was commissioned by SPEED.com to work on some proposals.
You can read the full article at SPEED.com and all read more about the actual designs HERE including a Corvette Version, showing how a GRAND-AM Car with more extreme styling. The designs also featured on The Speed Report on SPEED TV.
The GRAND-AM Design was well received and spread around the net quickly, creating quite a buzz on Facebook, Twitter and forums such as Ten-Tenths.com, to the official GRAND-AM and SPEED.com forums, the study has been positively received.
Endurance-Info.com and DailySportsCar.com (subscription)have also run stories on the study.