Formula Drift Fan Favourite, Danny George reached out to me for his 2014 livery. Danny has been competing in Formula Drift for a couple of years with a first generation Mazda MX-5 Miata. In 2013 his introduced crowd sourcing and the ability for fans to donate and have a picture on his car in a camouflage livery.  For 2014, Danny wanted a new design around the same concept for his new purpose build second generation (NB) Miata.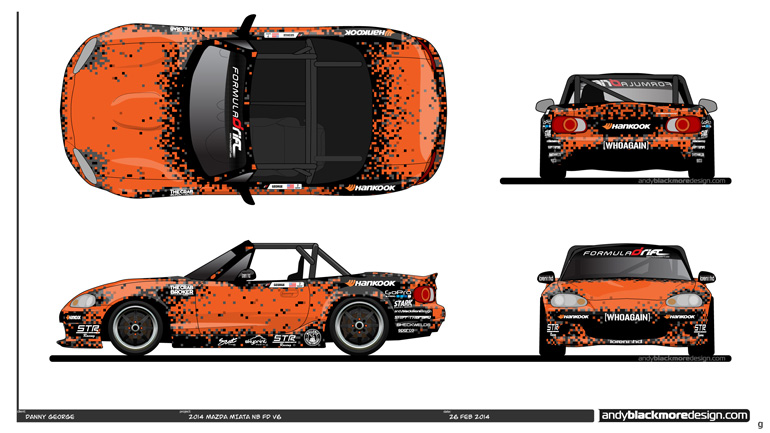 The original design was already striking, so it was really a case of refining the design and making the graphic, colours and brands more balanced while allowing the main partners to breath. The hood and door have been kept largely blank while Danny secures title sponsorship. The traditional camo look has morphed into a 8bit style Graphic Pixel design. Limiting the palette to Black, Grey, White and Orange, the design is distinctive and features squares placed loosely along the airflow of the car and behind sponsors logos to allow these to pop. The car will be populated with fan photos which will sit onto the squares.
You can read more about Danny George's 2014 plans, one of three liveries in Formula Drift in 2014, here on his website.