Andy Blackmore Design will feature heavily in this weekend's opening rounds of the Pirelli World Challenge event at The Circuit of The Americas.
Six cars and five liveries will make their debut for Turner Motorsports, HPA Motorsports, Corey Fergus Racing and Bayshore Racing.

More details on each design….

HPA Motorsports
Local Team,, HPA Motorsports make the Pirelli World Challenge debut after previously being involved with other PWC teams through sponsorship and partnership.
Jeff Altenburg and Photobucket co-founder, Alex Welch will drive the two VW Jetta's which feature a cutaway style graphic showing off various parts of the car.
The graphic helps to connect the race cars with their main tuning, performance and personalisation business.  This was expertly wrapped by local  company 37Inc.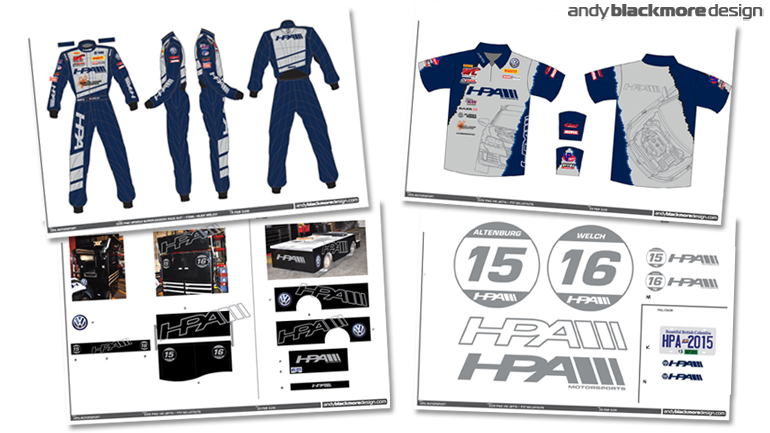 Working with the team and local specialists  Torque Branding, I was able to create a cohesive team identity, including pit equipment and apparel within a tight time-line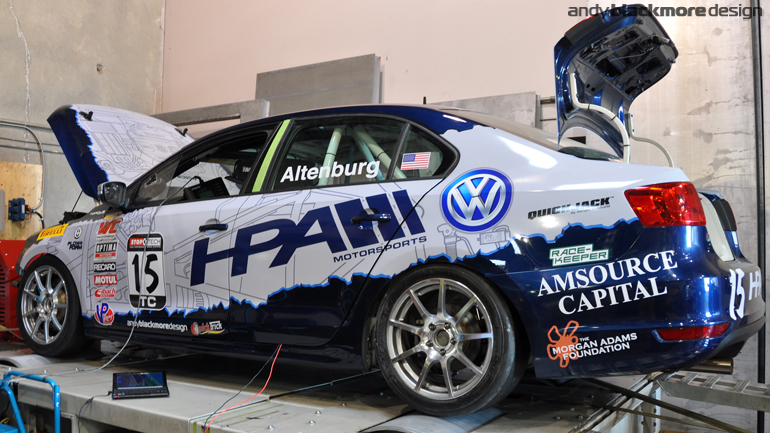 HPA have over 20 years experience at high end Volkswagen tuning, were the first people to legally bring the original VW Golf R32 and current VW Scirocco into North America and won the SONY Gran Turismo SEMA Show Car of the Show award a number of years ago.

Turner Motorsport
Will Turner and his team have a long history in GT and Touring car racing and will return to the Pirelli World Challenge in GT class with two BMW Z4 chassis in full GT3 specification. For the first two rounds, the Bret Curtis driven machine will be sponsored by Borla Exhausts with a menacing wrap featuring Black and Satin Graphite Grey with oversized Borla logos.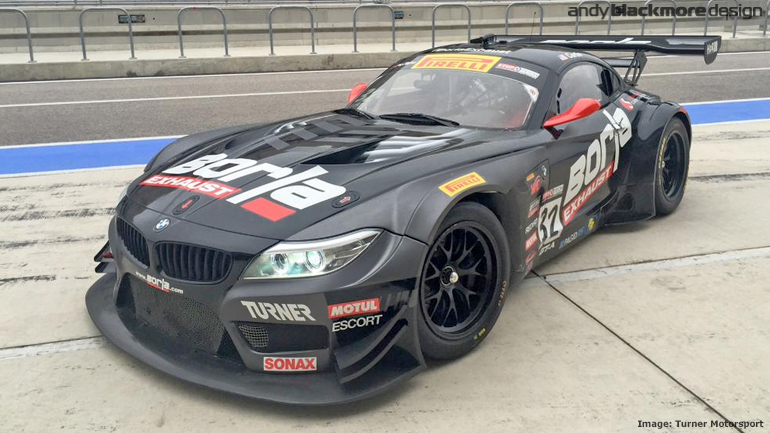 On the hood, exhaust graphics have been added while at the back, a set of stylized flames are placed about the exhaust. The traditional Yellow and Blue Z4 livery, which I also designed will reappear later in the year which will make six liveries in the series!

Bill Ziegler and Swisher Racing move from GMG Racing, where I contributed to the design of the 2014 livery to Turner Motorsports.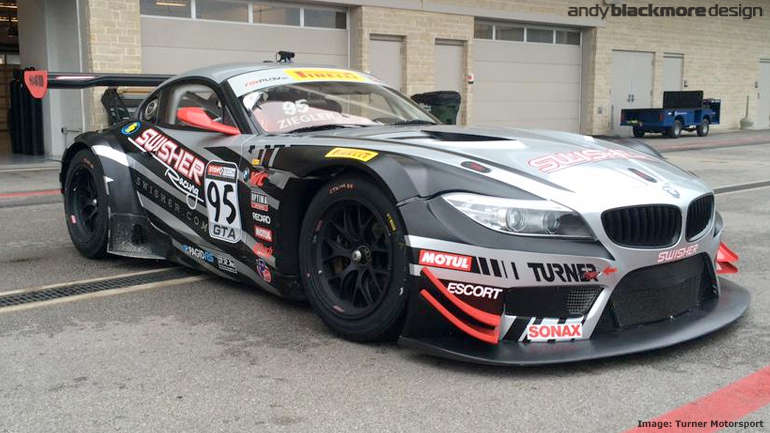 Massaging the standard Turner BMW Z4 Yellow and Blue livery with Swisher Racing colors and logos I have created a new identity which is instantly recognizable as both a Swisher and Turner Motorsport graphic.

Corey Fergus Racing
Commissioned by AERO paint films, sponsor of Corey Fergus, this livery for the 'TC' Spec Porsche Cayman uses contrasts of gloss white and the chrome silver, red and blue elements to showcase the Chrome films which AERO Produce.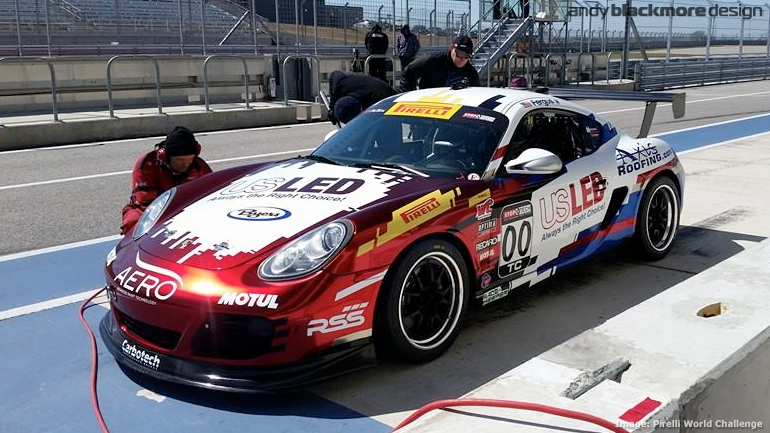 The client wanted a design which stood out and a sense of speed. I have also incorporated some of the series branding into the design to give a more cohesive look. Corey has previously raced for BimmerWorld Racing in the Continental Tire SportsCar Challenge, another client of mine.

Bayshore Racing with DragonSpeed.
Another repeat commission. Following my design for Bayshore Racing and Camp Boggy Creek Oreca PC racecar in the TUDOR series in 2014, Bayshore driver, Frankie Montecalvo commissioned me to produce a clean design using green elements which could be wrapped and produced in a matter of days. With time of the essence (car was already in the Hauler as I started designing, and was wrapped at CoTA earlier this week), we used a partial wrap which was then applied by Skinzwraps.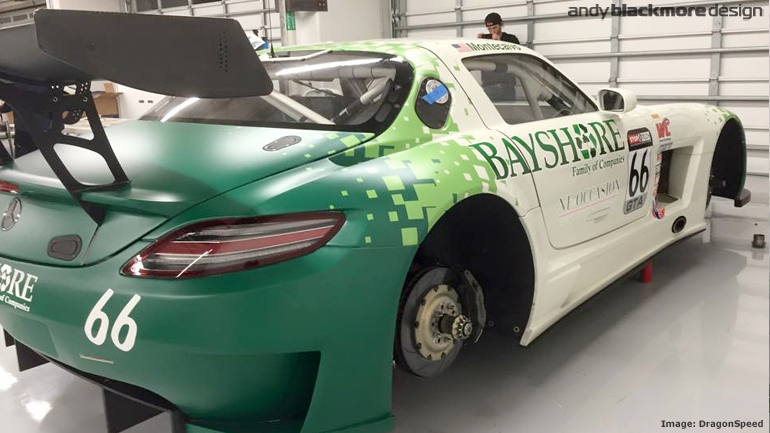 All the very best to these four teams and all 'abd' teams competing in 2015.
Online streaming of the race weekend is available on the Pirelli World Challenge YouTube page, while CBS Sports will show highlights on March 14th and 18th
Streaming Timetable
On Saturday, March 7, 2015,
TC round 1 at 11:05 AM ET (HPA, Corey Fergus Racing)
GT/GTA Round 1 at 3:50 PM ET (Turner, Bayshore)
TC Round 2 at 5:20 PM ET.
On Sunday, March 8, 2015,
GT/GTA/GT Cup Round 2 at 2:50 PM ET
TC/TCA/TCB Round 3 at 4:25 PM ET.