It is a cool experience when my clients join forces.
GT and Formula Drift racer, Tyler McQuarrie has been a client for many years as has CJ Wilson Racing, the team he has driven for during the past three seasons. Last year, Tyler teamed up with CLP Motorsport, owners of Safecraft Safety Equipment and Nexgen diesel fuel.
I have designed liveries for all three.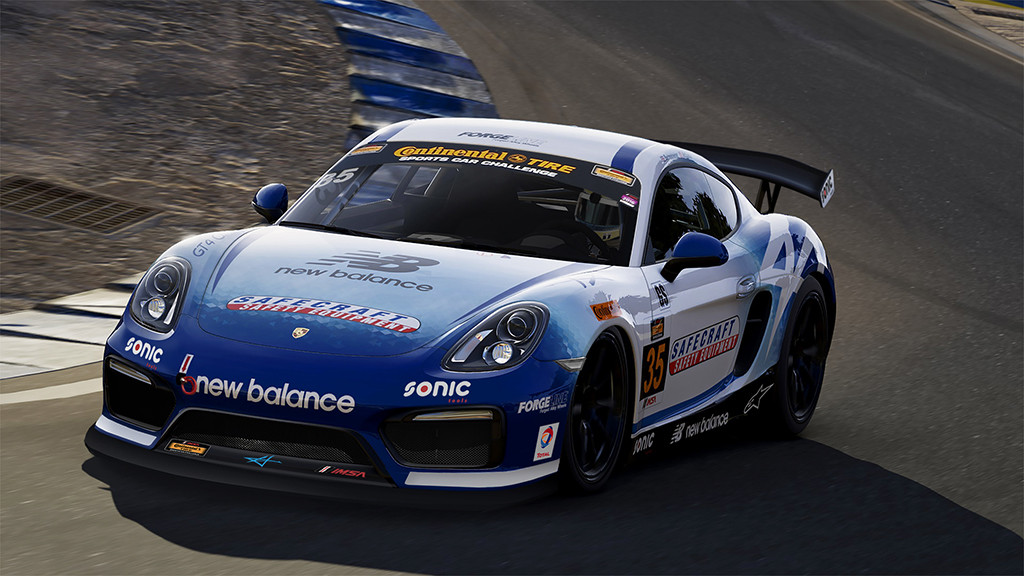 Safecraft wll be title sponsor on the CJ Wilson Racing Porsche Cayman GT4 of Tyler and Till Bechtolsheimer at the IMSA Continental Tire SportsCar Challenge round at Mazda Raceway Laguna Seca next weekend.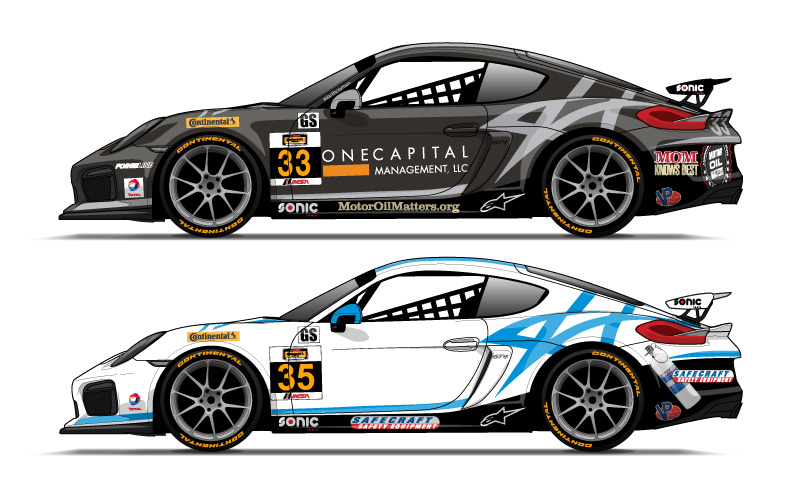 The now familiar Blue gradient triangle livery which I designed for Safecraft/Nexgen have been added to the base CJ Wilson Racing livery, keeping all the original elements.
This is a good example of the approach we took with the base livery for the Cayman so we could add brands and coloration without diluting the team identity.
You can read the full story of how this team identity developed in the folio section.

If you are going to Laguna Seca, make sure you grab a hero card as well.
This (and the lead image) was created using a Forza screenshot,created by 'SCSSkreamies' which I then updated to final livery and 'GT4 Clubsport' spec. This was a fun piece of Photoshop work to undertake and I will certainly be using Forza in the future. (You can download this and the other CJWR liveries for Forza)
You can read more about the CJ Wilson Racing liveries HERE.
I'll post a full Safecraft/Nexgen folio piece shortly.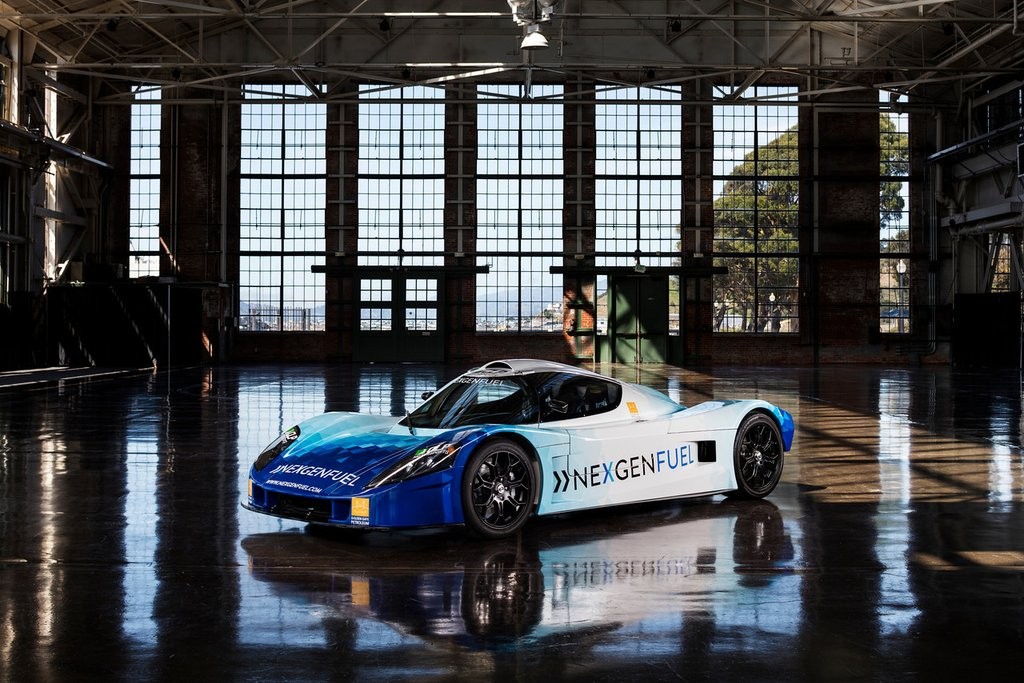 In the meantime, a couple of examples of the other Safecraft/Nexgen liveries follow, all bar the SLC (above), driven by a certain Tyler McQuarrie.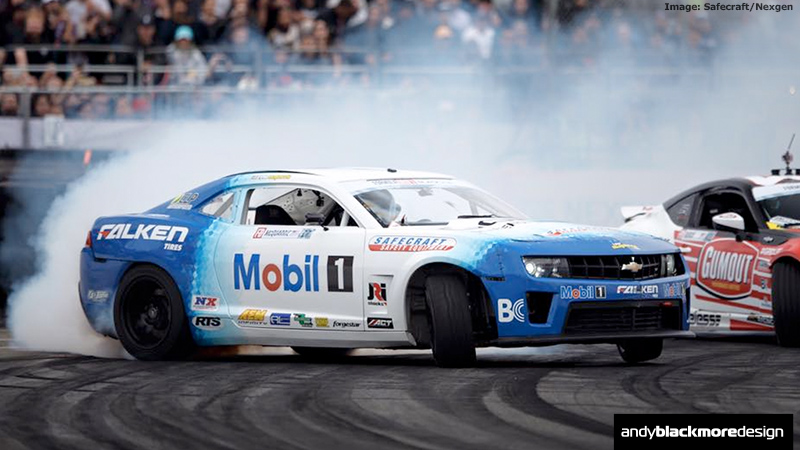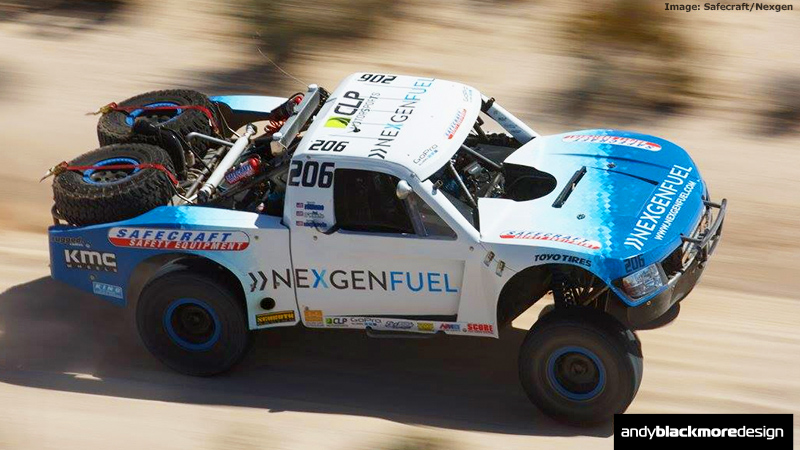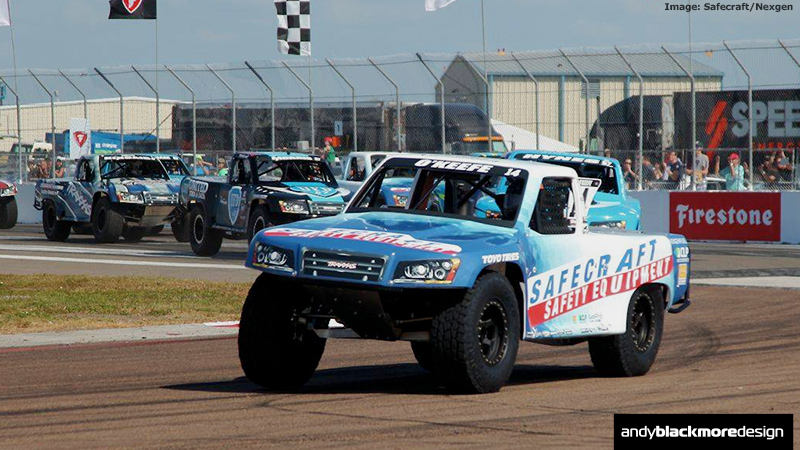 ---
Original press release:
CJWR partners with Safecraft Safety Equipment to #RaceEverything
Austin, TX, Friday, April 22nd, 2016
Safecraft Safety Equipment joins CJWR as primary partner of the #35 Porsche Cayman for Mazda Raceway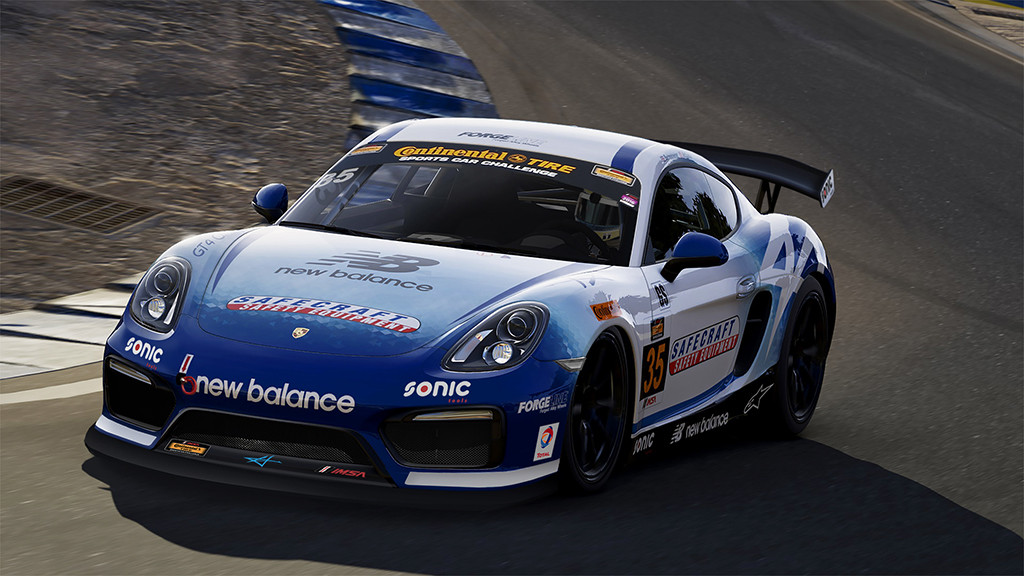 CJ Wilson Racing today announced Safecraft Safety Equipment will be the primary partner on the #35 Porsche Cayman GT4 Clubsport for the forthcoming Continental Tire SportsCar Challenge race at Mazda Raceway Laguna Seca. This is the second of a six-race partnership for the market-leading fire suppression experts and it is the first time the San Francisco Bay Area-based business has run the unmistakable Safecraft livery in sportscar competition. The car will once again be driven by Tyler McQuarrie and Till Bechtolsheimer.
For the Northern California native McQuarrie, this becomes the fifth different category of motorsport that he has competed in this season with Safecraft and it will be the fourth different discipline in as many weeks. The Safecraft Safety Equipment #RaceEverything campaign began in Mexico with the SCORE San Felipe 250 while April has seen McQuarrie pound the streets of Long Beach on consecutive weekends in Formula Drift and Stadium Super Trucks. McQuarrie and Safecraft will make their stock car debut in the ARCA Series at Salem Speedway, Indiana this weekend. A hectic month of racing will climax at Mazda Raceway Laguna Seca in the CJWR #35 Porsche Cayman GT4 Clubsport which will run in the now familiar Safecraft Safety Equipment livery for the first time.
The complexities and technical demands of McQuarrie's April schedule are not lost on the Danville, California based pro, "Racing on four consecutive weekends by itself is a lot to take on as a driver even if you are just going to different tracks. But to do it in four separate disciplines going from Drifting one week to Stadium Super Trucks the next then making my debut on an oval and then going straight to a road course, that's the tricky part."
The final leg of McQuarrie's April adventure sees him on very familiar ground. "Being able to race at Mazda Raceway with Safecraft, is just awesome. This is the track where my racing career started and it is pretty amazing to wind up this absolutely crazy month back where everything began for me. To have a local company like Safecraft on the car with all of their employees and supporters there at the event watching a car that is running in the full livery, that is now being seen in so many series, is very exciting."
Familiarity with his surroundings and his teammate in the #35 car is also a welcome benefit for McQuarrie. "I think the Safecraft car is going to be even more competitive, and having now had a race weekend with Till, I'm confident that we are going to be strong next weekend."
Those sentiments are echoed by Team Owner, CJ Wilson. "Having Tyler on the team with all of that experience in so many disciplines is a real benefit for his teammate, Till, whose racing resume to date has been in historic competition exclusively. It has been hugely helpful to have Tyler and Marc [Miller] coach Till and that is why Till is pretty much up to speed already as he clearly demonstrated at Sebring."
Wilson also sees the benefits of the Safecraft #RaceEverything campaign. "I've known Tyler for almost 10 years now and every time I turn around he has some extra tool in his driver's toolbelt. He can drive Trophy Trucks and rally cars and formula cars and prototypes and on and on. I think the only thing he hasn't tried, at this stage, is motocross so maybe that is something we have to throw at him."
The two-time MLB All-Star went on to explain the value, to CJ Wilson Racing, of Safecraft's involvement across so many disciplines. "Safecraft is a great partner for us because they really do understand how to operate across a wide variety of race vehicles and how to keep us safe when we need them the most. That is something that we are very comfortable with."
Round 3 of the 2016 Continental Tire SportsCar Challenge takes place on Saturday, April 30th at Mazda Raceway Laguna Seca. The Green Flag drops at 4:25 PM ET and the race can be seen live on IMSA.com or via the dedicated IMSA app.
– Ends