The forthcoming Road America round of the IMSA Continental Tires Sports Car Challenge will see a revised livery for the #35 CJ Wilson Racing Porsche Cayman GT4 Clubsport, supporting the Chicago Blackhawks Charities program.
While I wasn't involved in the small tweak to the existing livery I was able to contribute on a Forza based render which was used for the press announcement earlier this week. Top Forza skin creator, 'SCSSkreamies'  captured the image below from Forza, complete with the Road America bridge and I then photoshopped this Cayman into a full 'GT4 Clubsport' model with new splitter, air intakes, rear wing, additional branding, wheels and adjusted interior.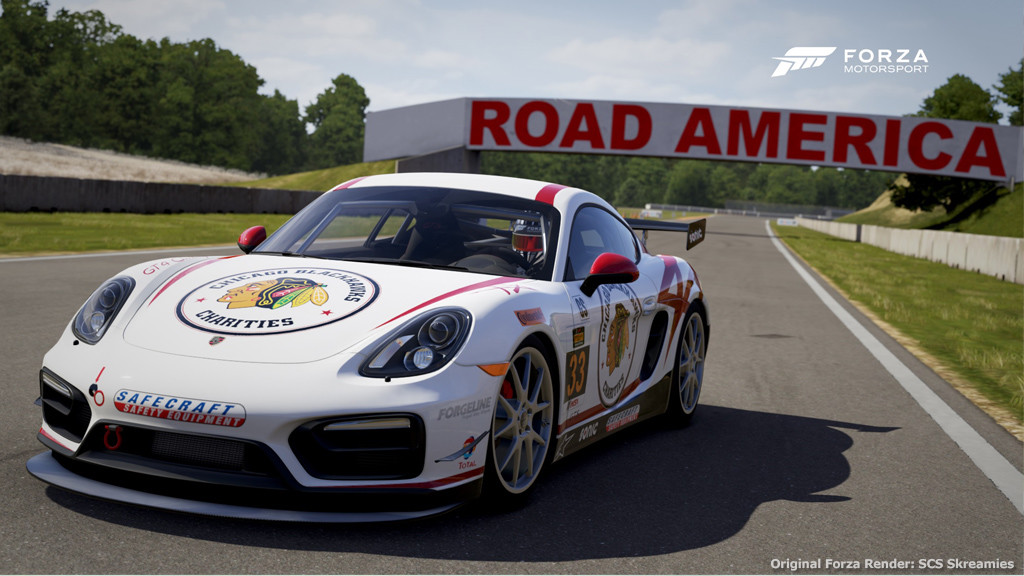 We needed this image to work on a forthcoming Hero Card, I also subtly moved the bridge and the right hand edge of the track to create the image you see above.
You can read about the full livery design process for this year's CJ Wilson Racing cars, along with supporting creative elements including Hero Cards in my folio section here.