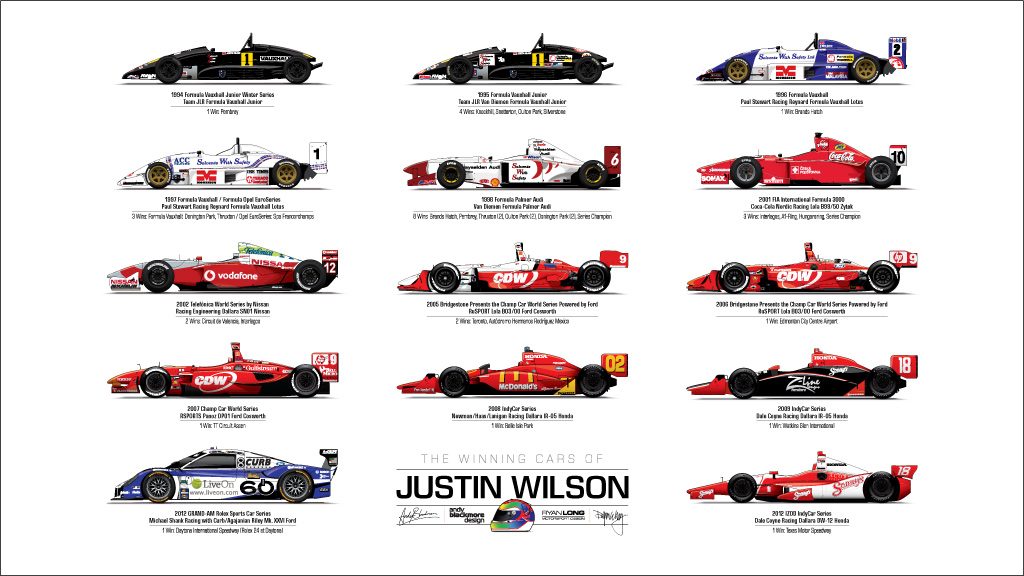 It is hard to imagine it has been a year since Justin Wilson passed away. As has been repeated around the world on the internet, at the circuits, in the media, Justin Wilson was a very special racer, to quote Robin Miller, "…he didn't have a bad bone in his body".
As part of the fundraising efforts following his death, I worked with then Indycar artist (now Haas F1 Creative Guru!) Ryan Long to produce a very limited edition print showcasing all of Justin's winning cars.
All 50 prints sold out within a couple of days and thanks to Rowland Printing, the print now hangs in various homes and workplaces round the globe, including the Wilsons.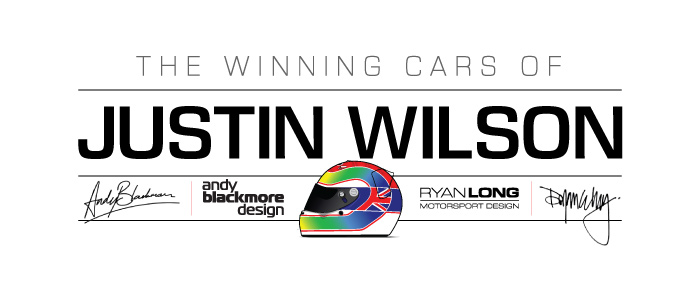 This year we thought it would be a good idea to release a 'Wallpaper' of the print which you can download here, or by clicking the lead image.
From the Formula Vauxhall Junior car Wilson used to earn his maiden win in 1994 to the Dallara DW12-Honda that took the Briton to Victory Lane for the final time in 2012, 14 cars were created between the two of us.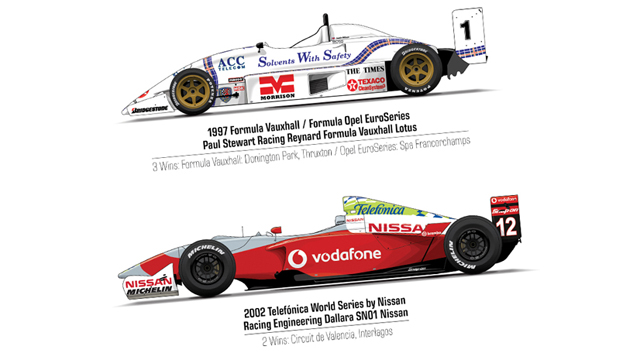 Reference of the early cars were hard to find.  LAT, Sutton Images, Autosport, old team personnel and Justin's family and friends provided invaluable help to accurately recreate the cars.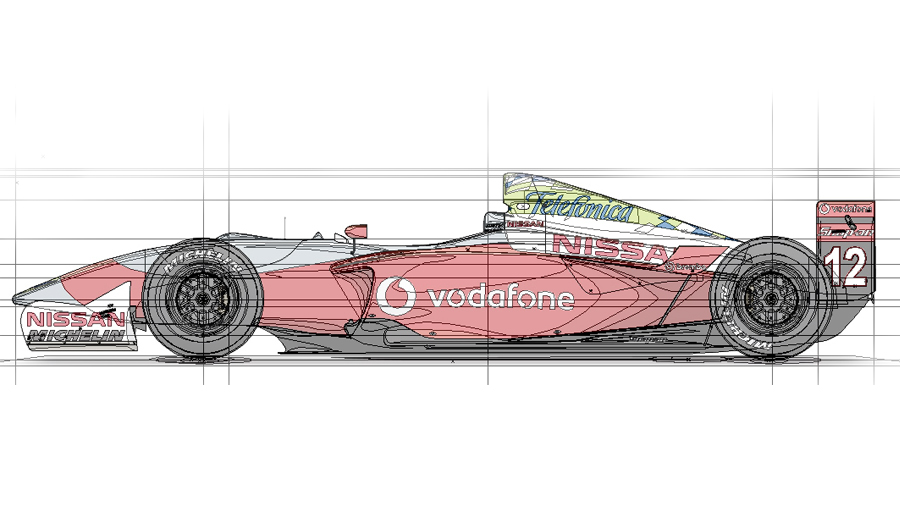 If you would like to see how one of the cars was created, I have a walk through tutorial here.
NOTE: This is available in one size only, so as not to devalue the original print. Despite almost weekly requests there will not be another print run. We would respectfully ask you do not modify the wallpaper, pass any of it on as your own creation or modify it in anyway.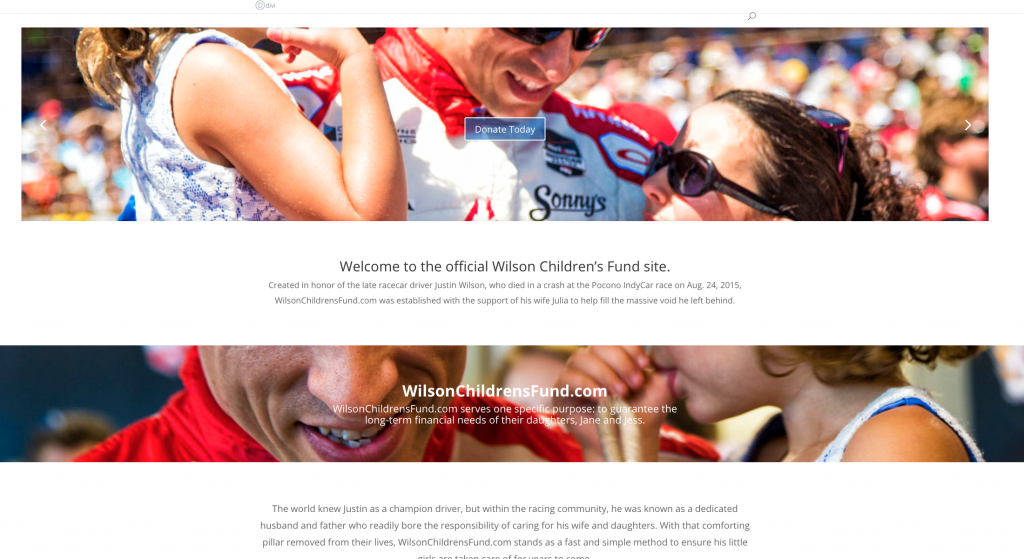 If you download the wallpaper and are in position to donate to the Wilson Childrens Fund, note matter how small, this would be appreciated. The Fund, will over time, help secure the financial future of Justin's girls and his wife.
You can make a donation HERE.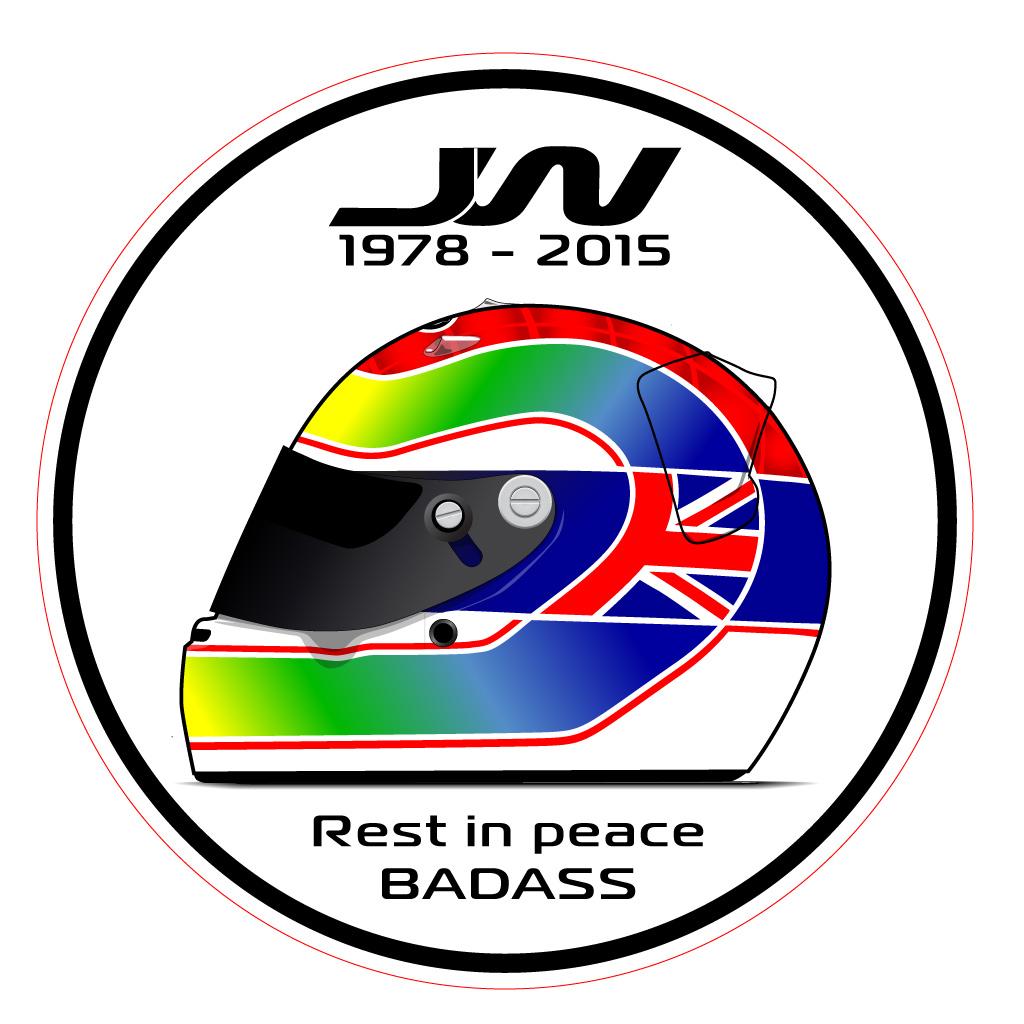 You are also welcome to use this graphic above, again provided this is not sold on.
Lastly, I invite you to watch this tribute by Robin Miller and NBC Sports. Robin, simple nails it.
Thank you to the following people who helped with reference, spread awareness and production of the illustration and print. Thank you all.
Ryan Long – This wouldn't be remotely possible without his collaboration and organising print run
Rowland Printing Co, Noblesville, IN (who printed these originally)
Stefan Wilson
Keith Wilson
Mike Levitt, LAT USA
Zoe Schafer,Fiona Fallon LAT
Keith Sutton, Chris Dando, Sutton Images
William Howe, VA Howe & Co Ltd
Simon Dagless, Universal Racing Services
INDYCAR
Gary Fong, John Leverett, Panoz
Dallara
Michael Shank Racing
Trevor Swttenham, BARC
Steph Sykes-Dugmore, BRDC
Pembrey Circuit.
Vauxhall
Paul Ryan Media
Marcus Simmonds, Autosport Magazine
Kevin Turner, Motorsport News
George Burgess, ISC Motorsports
Paul Laguette
Peter Leung
John Brooks
Brad Hoffner
Diane Swintal
Diana Kay and Russell Harvey of McLaren
Sam Smith
Also massive thanks to all those who championed and helped with the spread of the Justin Wilson decals. Too many to name, but a few who went above and beyond.
Marshall Pruett
Indycar
IMSA
NASCAR
GRC
Matt Cleary – Sunday Group
Jason Plato
Alex Wurz & GPDA
Allan McNish
Dan Rye, Steve Tarrant – Stickers4
Strakka Racing/Nick Bailey
ESM

Thoughts remain with the Wilsons,
Rest in peace Badass.