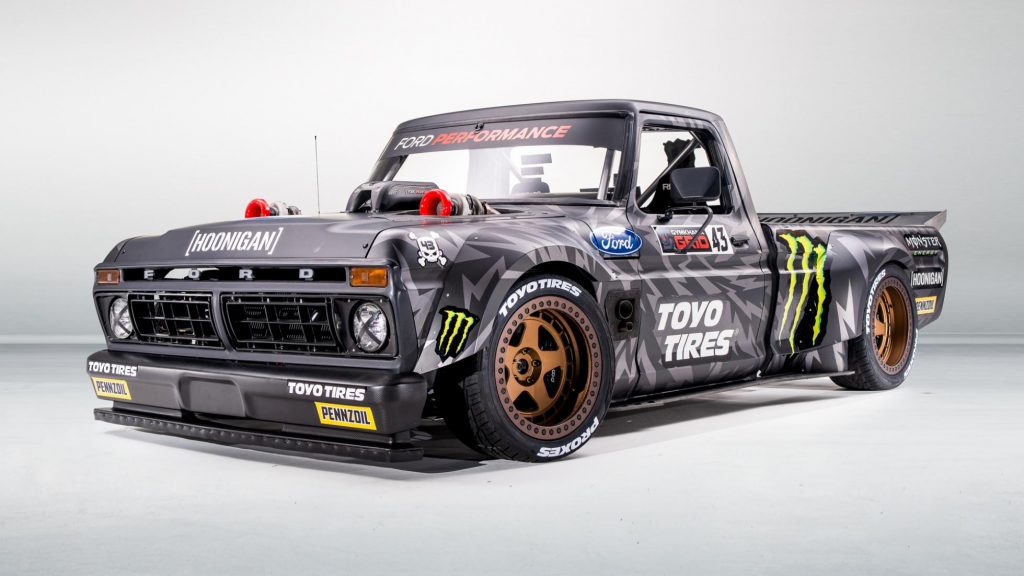 Client: Hoonigan
Following my commission to create the vehicle styling for Ken Block's Mustang 'Hoonicorn' in 2012, I was approached by the Hoonigan organization to create the vehicle styling for a new project centred around a 1970's Ford F-150, a truck close to Ken's heart as his father drove one when he was a kid.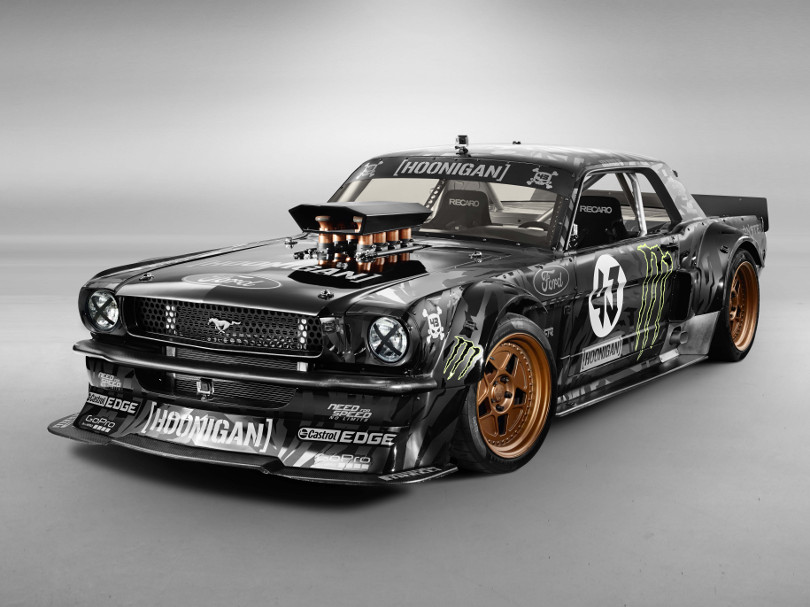 This was not to be any old F150 of course, which is thankfully, where I was brought in.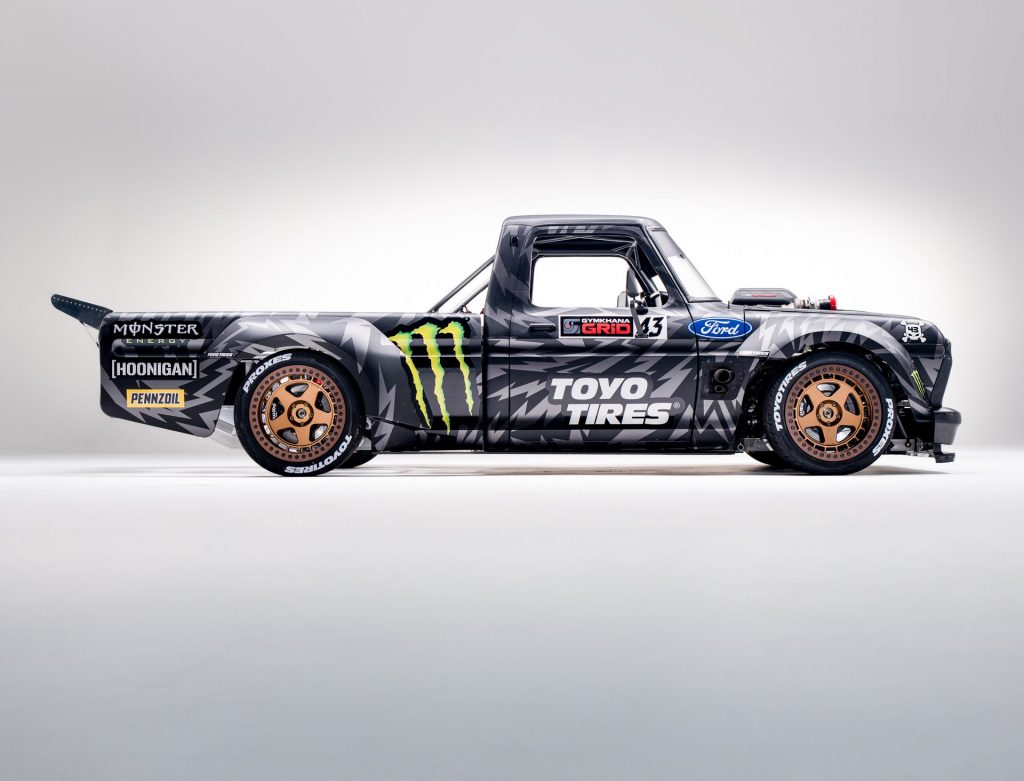 For transparency, its important to note, concept artist Khyzl Salem had previously supplied the Hoonigan team with a concept prior to me starting on this.
I was brought in to take over from the original brief, develop it and bring it closer to a Hoonicorn relative. His concept had a different approach to the fenders, side exhaust and the lower front end styling.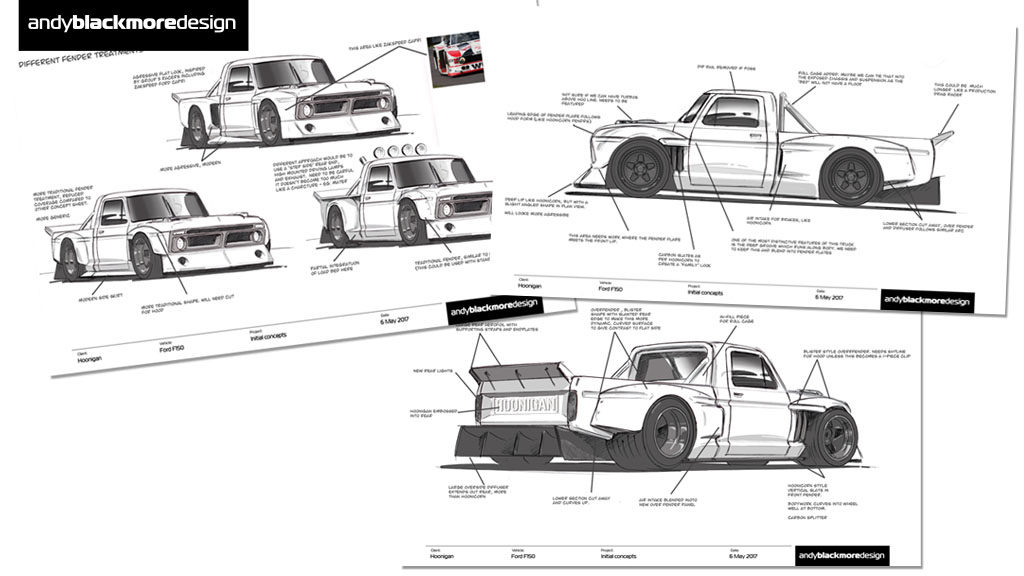 So we took the basic idea and developed it as you can see from these initial sketches receiving direction from Hoonigan's Matt Tuccillo who would receive feedback from Ken and Brian Scotto.
The initial sketches above, show a few different approaches to the over fenders, including a Ford Zakspeed Capri inspired and Group B look before deciding on a bolt on over-fender look

Exhausts became integrated (having been located along the side) and added an externalroll-cage which would later extended intorear of the cab.
One of the key elements of the Hoonicorn was the deep front lip, so initial designs focused around this. Once the chassis was drawn up, the team was able to confirm a lower stance, so the deep spoiler was no longer necessary.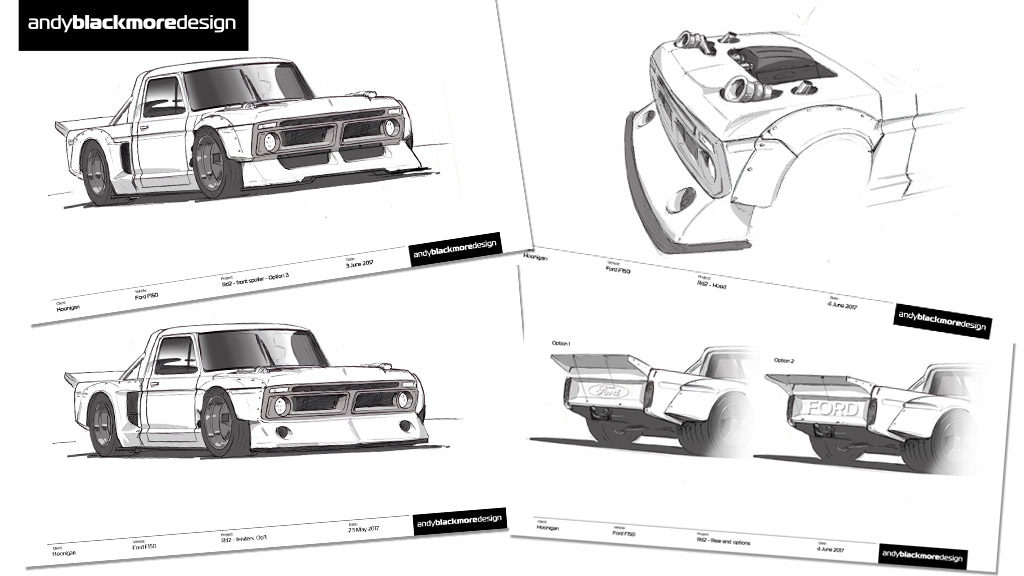 Finally a larger rear wing, a cross between the Hoonicorn and a Pro-Street dragster was added, initially, matched to a large oversized diffuser.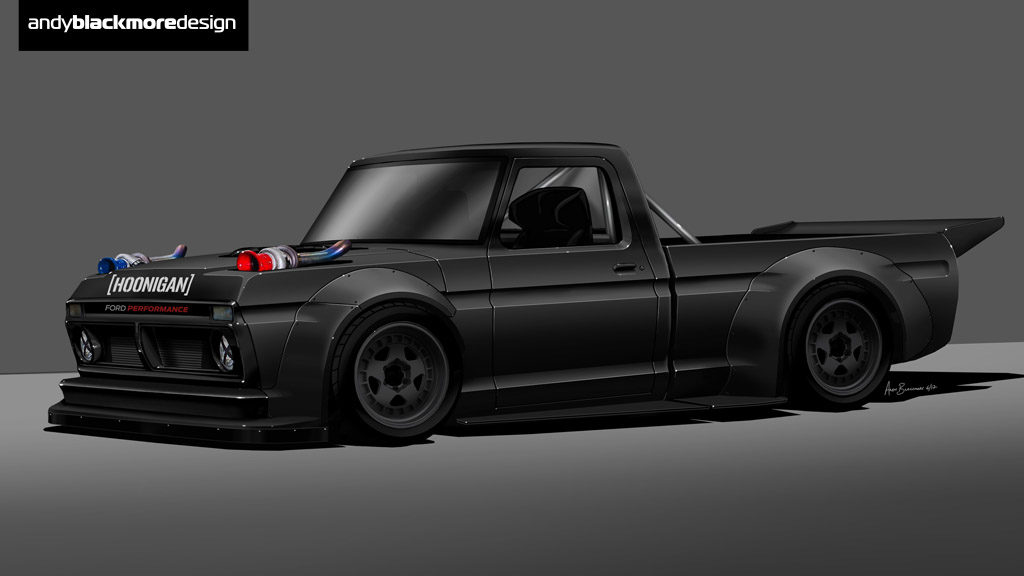 Following feedback, the truck was visually lowered further and developed to look much closer to the end result we see today.

I created this render as a proof of concept, but we went back to loose sketches to develop the ideas. You can see here I explored integrating the over fenders into the body more.
Following the Hoonicorn release, Ken and his team updated the Mustang to a new turbo set up and as this became a memorable feature of the car, we played around with a similar appearance on the truck.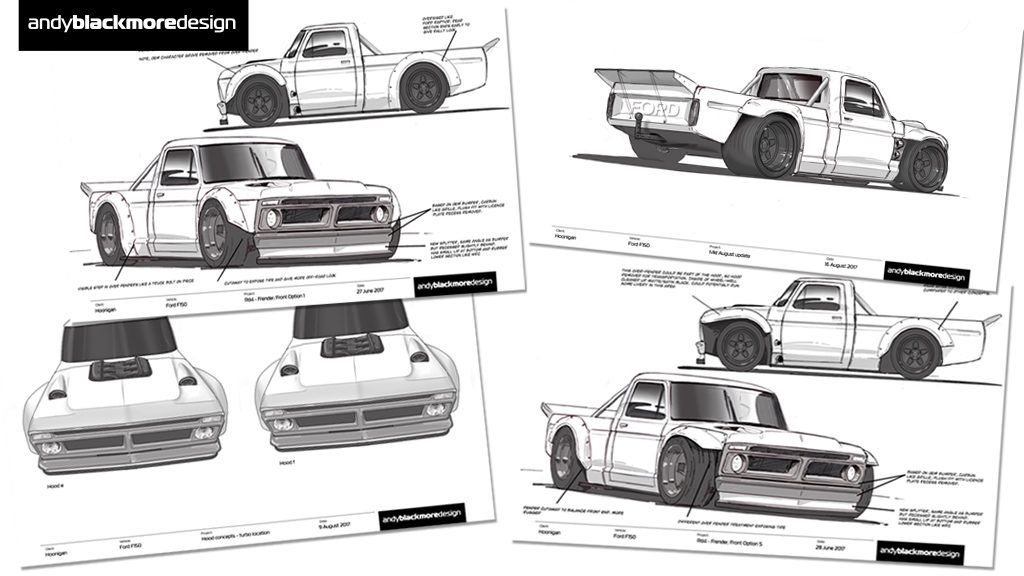 Further development, including recessing the turbo chargers back under the hood (later reverted) and different treatments of the front lower lip and leading edge of the front fender.

Also starting to look at exhaust outlets at the front fender, just like the Hoonicorn at this point.
These 'round 4′ sketches, above, show more of the locked in final form including the integrated tailgate and of course the tow-bar to tow the Hoonicorn!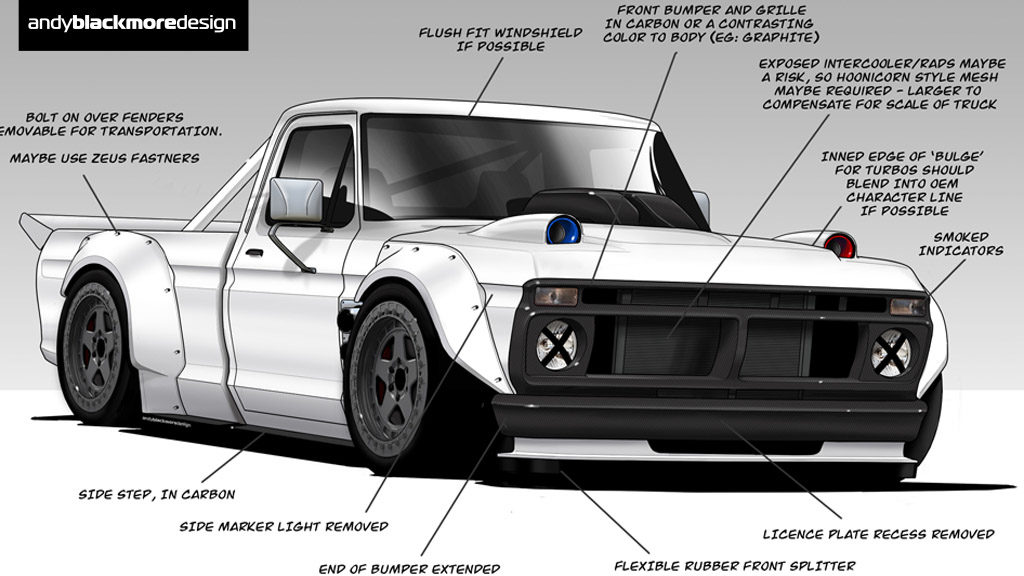 A final series of renders showed both turbo locations.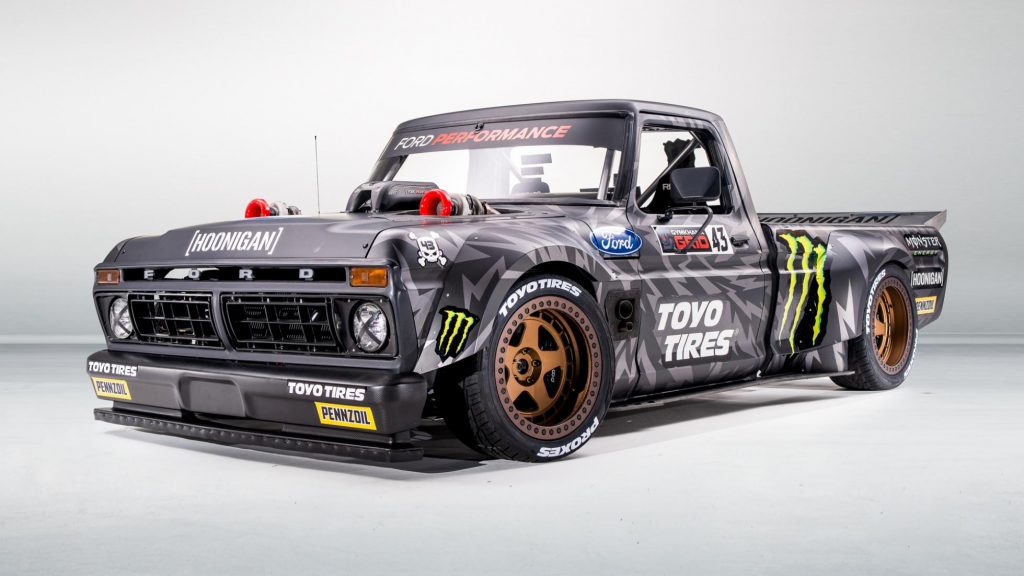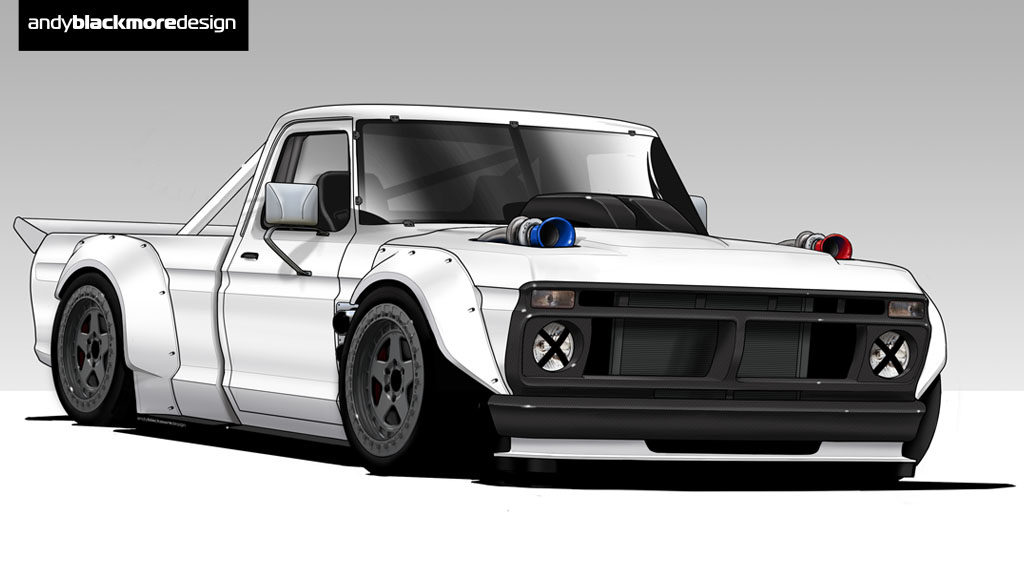 Once this was complete, the project was taken in-house and I unfortunately didn't have any further involvement, which was a shame as I would like to have continued to develop this as the build progressed.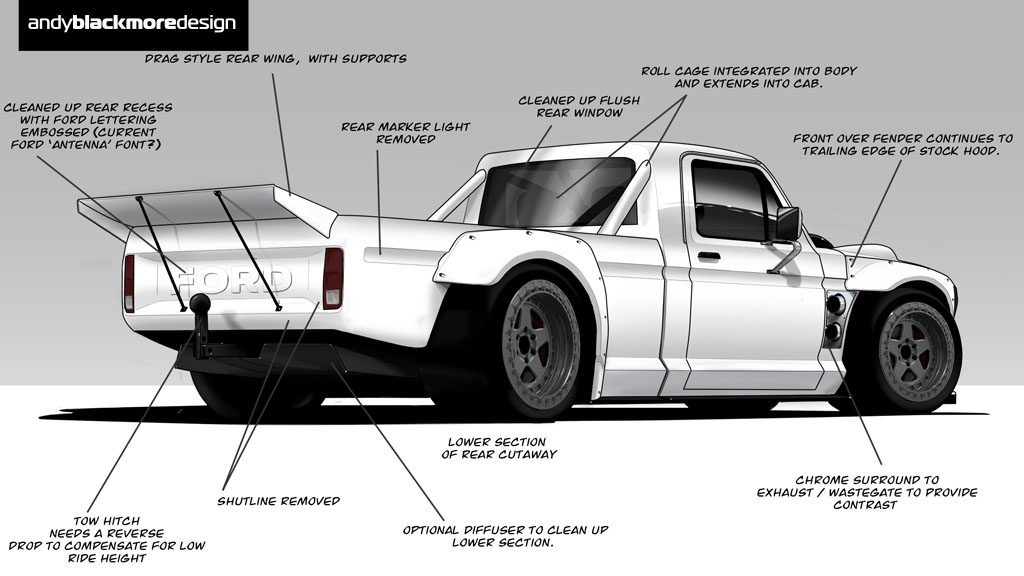 However, I was really pleased to see there were only a few detail changes to the final design compared to these last renders.

Detroit Speed did an absolutely amazing Job on the build.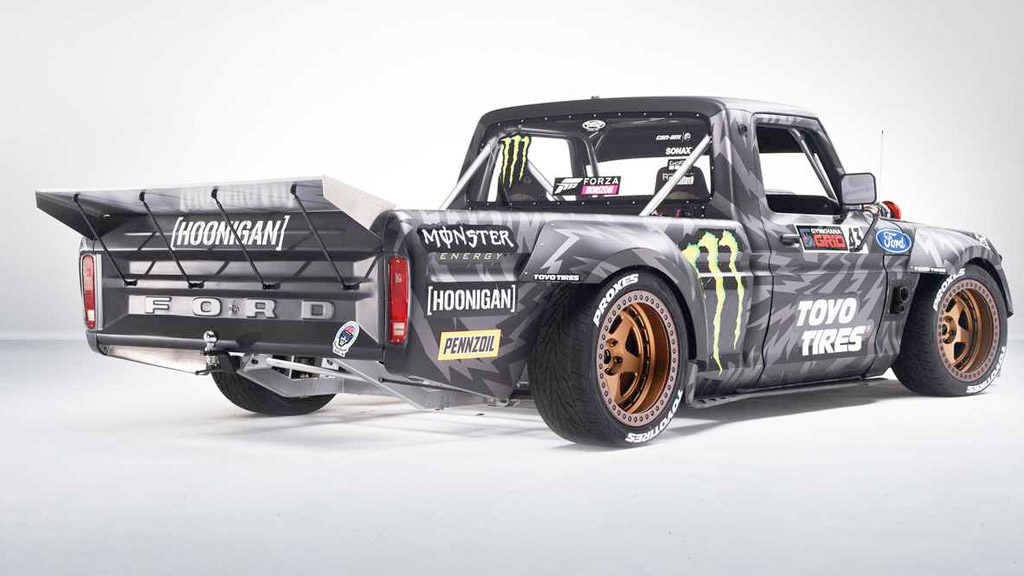 Hopefully it also ticked the box to make it a bigger cousin of Hoonicorn.

The Hoonitruck featured in Ken's Gymkhana 10 video alongside the Hoonicorn and other projects.

As of publication, this has in excess of 26 Million views!

The truck also won the 'best dressed' design award at the Tokyo Auto Salon.

Specification:
Body: 1977 Ford F-150 with chassis design, engineering, hand-hammered military- grade aluminum bodywork, and fabrication by Detroit Speed, in Mooresville, NC. Overall design and styling dictated by Block and his team at Hoonigan.
(EDIT: All styling WAS created by Andy Blackmore Design – nice of them to have left that off the specs, eh? Note: Livery by Hoonigan Team)
Power: 914hp at 7,400 rpm / Torque: 702 ft·lb at 6,450 rpm.
Engine: Custom-tuned, 3.5 liter, twin turbocharged, Ford Performance/Roush Yates EcoBoost V6 engine with a billet-aluminum block lifted directly out of the Ford Racing Ford GT Le Mans development program. Ford Performance direct metal 3D printed, aluminum intake manifold.
Transmission: Sadev 6-speed all wheel-drive gearbox (similar to the one used in Block's Hoonicorn).
Suspension: Custom ST/KW
Wheels: Fifteen52 forged 20×11" Turbomac HD BeadlocksTires: Toyo Tires Proxes ST III, 315/35R20
Interior: Custom Hoonigan hand brake handle, Hoonigan gauges by AutoMeter, Recaro Profi SPA carbon fiber race seats, full carbon fiber dash, Ford Pass remote start, and even a functional backup camera/tow hitch setup.
Studio Images : Tom Harmer/Hoonigan
SEMA Image: Andy Blackmore