HPA Motorsports Inc. are a local VAG Specialist and are well known for their Volkswagen builds. They have previously won SEMA Sony Gran Turismo awards and the first people to bring the original VW Golf R32 and now the Scirocco to North America.
This year, they decided to enter the Pirelli World Challenge in the TC (touring) class. They only had a couple of months to get everything ready, built up, organise and structure a race team.
Quite a tall order….oh and the also had to find someone to do design their team identity, if only there was someone less than 1km away….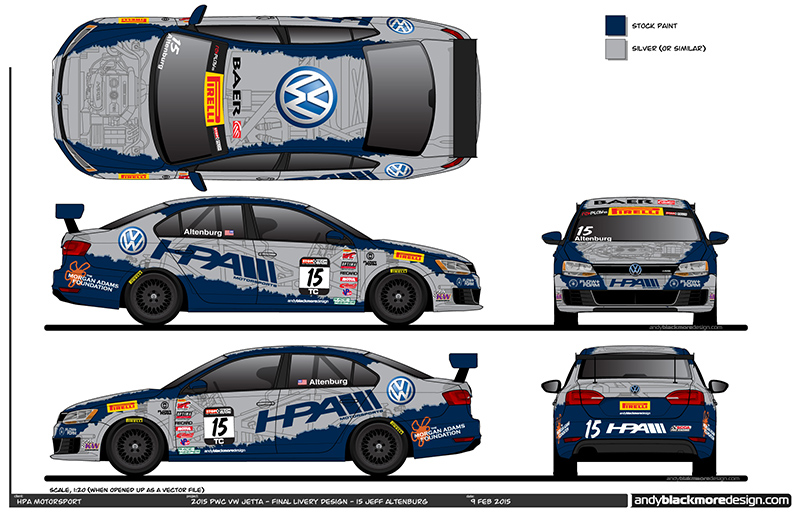 As a build and parts business, the idea from the outset was to show-off these parts with a cut-away graphic. Combined with a ripped graphic, pulled from their Corporate Identity, I'm very proud of this one and it was enjoyable to be so hands on. Expertly wrapped by 37inc.ca
Also designed much of their team gear including race-suits and pit crew shirts.
I'll have a design post up soon, but for now, take a look at this v-blog.
Full HPA Report follows: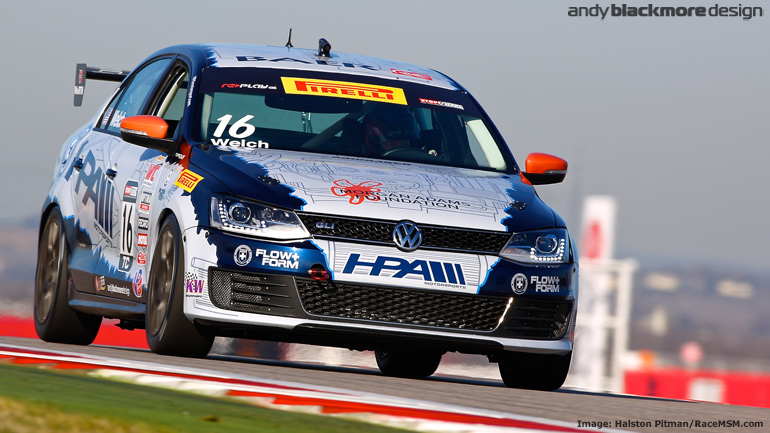 HPA Reflects On Pirelli World Challenge Experiences At CoTA
As a new team competing in the Pirelli World Challenge series, HPA Motorsports gained valuable experience from the inaugural event of the 2015 Touring Car Championship that took place during the first week of March. The Canadian team faced numerous challenges along the way to campaigning two DSG equipped Volkswagen Jetta GLI's amongst a field of highly competitive machines.
After a gruelling trip through blizzard-like conditions the HPA team arrived late in Austin, TX; resulting in missing the morning test session on Thursday, and having only one of the cars prepped in time for the afternoon session. Having no on-track experience in the front wheel drive Jetta, Car #16 driver Alex Welch was eager to get behind the wheel for an unofficial test session on Thursday afternoon. Unfortunately his experience was cut short after a handful of laps when a competitor's oil spill on track forced the course to be shut down.
Heading in to Friday morning's Official Practice, the temperatures had warmed up and the cars were being gently put through their paces to work out the kinks. Being Jeff Altenburg's first time at the Circuit of the Americas, he concentrated on learning the course and providing valuable feedback on Car #15 to the HPA pit crew so the suspension and alignment set up could be dialed in.
A last minute schedule change by the PWC had Friday afternoon Practice session become official Qualifying. Both HPA drivers made steady improvement in lap times as Welch and Altenburg gained confidence, finishing in 13th and 14th position respectively. However, a failure on the motor brought Welch's session to a premature ending and would prevent him from competing in the first race. The HPA team committed to a grueling night in the paddock and pulled in Car #16 to swap the engine.
Meanwhile, Altenburg took Car #15 to the grid Saturday morning for the first race and flawlessly pushed his way up to an eleventh place finish.
With the entire crew scrambling against the clock, the broken #16 Jetta was restored and delivered to pre-grid with only moments to spare before Race #2 on Saturday afternoon. Team Manager Melanie Hastings praised her team saying "I am so proud of how tirelessly our crew has worked together to make this event happen. Their dedication and determination is absolutely awe inspiring."
Both HPA cars started off strong and were steadily gaining in speed with each lap until Welch's gearbox overheated in his 6th lap, forcing him to limp back to pit lane. Altenburg had worked his way up to 10th position before a hard charge down the front straight and up the hill into Turn 1 resulted in a thrown rod and a disappointing end to the weekend for Car #15. Altenburg remarked, "My first outing with HPA Motorsports showed me the professionalism of the team and was a great learning experience for us all. HPA has a wealth of knowledge in engineering high performance solutions and it will be interesting and rewarding to witness the progress from race to race and over the course of the season. With Marcel and Melanie at the helm, HPA's more than able crew, and a great teammate in Alex Welch, I am very optimistic. We need some help from the folks at Pirelli World Challenge to even the field a bit, but we will do everything from our end to ensure success in the near future."
Sunday brought wet weather to Austin and after a quick fix to the gear box cooler on Car #16, rain tires were mounted and Welch was ready for the third race. Coming straight off the track from running his Audi R8 in the GT class, Welch was confident on the wet course and brought home a respectable 10th place finish, proving the durability of the HPA Jetta. "I felt the opening race of the year helped lay a good foundation for the remainder of the season.
The team did an amazing job dealing with some unexpected issues and I got much more comfortable in a new car." remarked Welch.
Looking forward to the second event to be held at Canadian Tire Motorsport Park in May, team owner Marcel Horn commented, "I am thankful for the grit and commitment of our team and the overwhelming efforts of our sponsors to get us to Texas. There will be some work needed to get the Jettas into contention for a top 5 finish, but I am confident in their durability and capability."
Follow along on YouTube as the team's experiences are showcased in the first Webisode documenting their 2015 PWC Touring Car season.